Majestic is a wonderful platform for link discovery but often it can take a lot more time to dig out the specific data points that you need. A very simple solution to access Majestic data is via OpenApps (requires paid account) which allow you to easily embed Majestic data into your third party applications.
I was finding that I was spending too much time manually entering data from Majestic into excel and there is the risk of a typo throwing your metrics out.  Also as I'm not a developer so I couldn't build my own application to make the process scale so I needed to find an easy way to import Majestic data into somewhere I could easily access it.
I decided that the best option was to bring the data directly into excel so I had more control over the data and could combine with other data points such as onpage analysis, search console and google analytics data.
So I decided to streamline the process using SEOTools for Excel PRO version (paid version) and plug the data straight into my workbooks via the OpenApps functionality as I had to undertake a large competitive link analysis for RAC Cars, which involved looking at the performance of their key pages and highlight where priority should be focused.
There was a lot of data I could export from Majestic but I was only after a handful of metrics but was also interested in the New & Lost backlinks report to understand competitors link velocity metrics so I could understand where they were focusing their offsite activities.
How to setup SEOTools for Excel OpenApps
One you have downloaded SEOTools for Excel PRO version you can begin the process of setting up Majestic OpenApp integration fairly quickly and easily, starting with logging into your Majestic account.
Step 1 – Setup
To enable the login option click the Majestic icon in the SEOTools menu bar.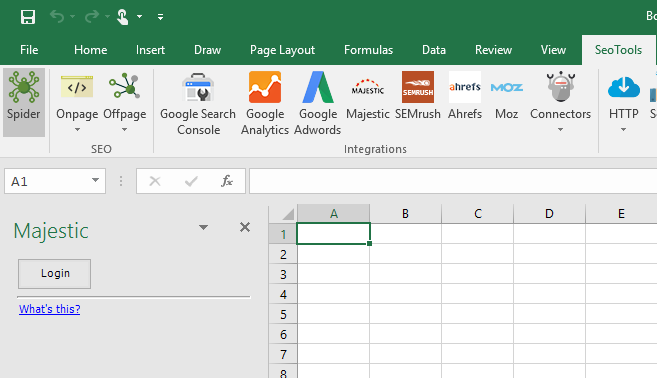 Step 2 – Login
The next step involves entering your Majestic login details into a popup window that opens after you hit the login button, also if you don't already have a Majestic paid account you can see their plans and pricing information.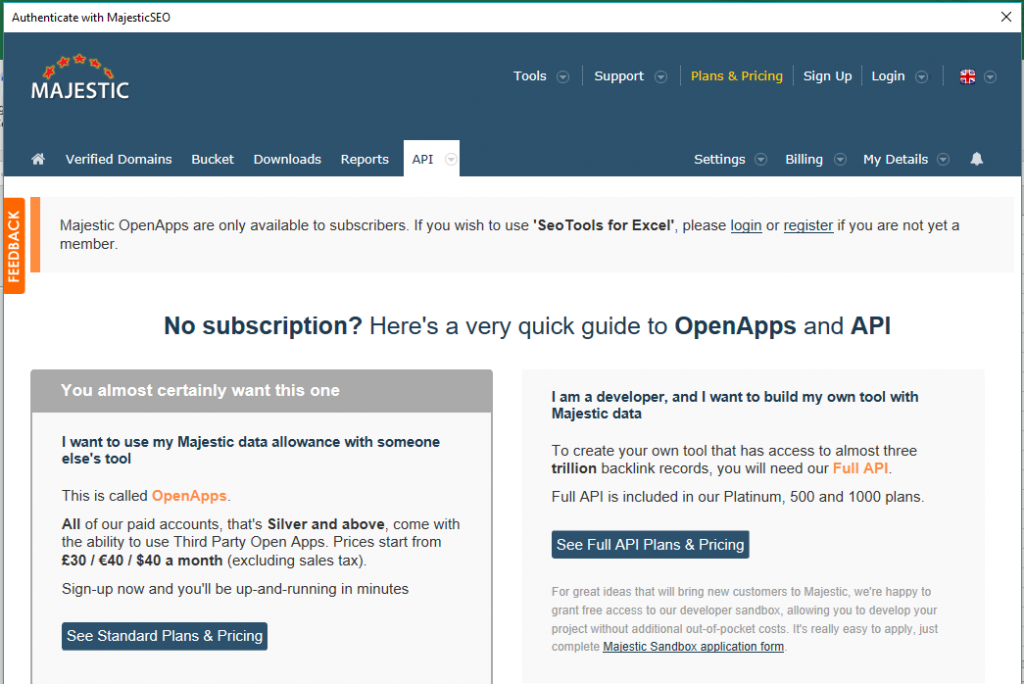 Step 3 – Authorize
The final step is to grant OpenApp Authorisation to your account, the advantage of this link is that you don't have to share your email and password with an external party and can easily remove the connection via Majestic platform which means your login details remain secure.  Be aware that OpenApps are not supported by Majestic so any issues ping Niels Bosma for support.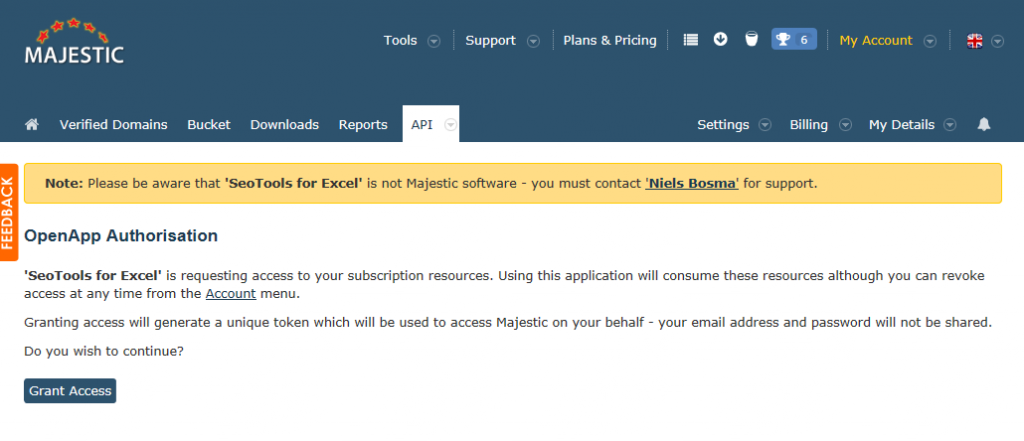 Step 4 – Collect Data
Now that you have your Majestic account linked to your SEOTools for Excel account you can proceed with importing data directly into your excel documents quickly and easily.
Advantages of using OpenApps?
I found the biggest advantage was I could easily import data from Majestic into existing excel documents based around the following data points
Index data
Backlinks
Anchor texts
Hosted domains
Keywords
New & Lost backlinks
Top pages
Topics
Search by keyword
Referring domains
Things to Watch with SEOTools for Excel?
Memory Limitations – be aware Excel is not always the most efficient when using large data sets, so save often and with different versions
Majestic API Credits – I started the process being a bit aggressive and managed to wipe out my monthly credits in a day or two
When low on Credits – Do the export in stages so you don't end up running out of credits
Looking for full Majestic API integration?
If you want to connect to the Majestic API directly some advice from Chris on their development team.
The undesirable elements of the web regularly look to intercept traffic on the web, or even write browser plugins which appear to give benefit, but really are designed to steal data from you. These and other techniques can be used to steal your key and use the data that you have paid for, using https, locking to ips and having separate keys which can be turned off or replaced easily will help stop this and allow easier recovery if this does happen.
David is now located in London, UK working with BlueGlass London, prior to this role he spent 3 years in Amsterdam working as SEO Product Manager with ebay classifieds group.A few years ago he was the marketing director of The Lost Agency, a web analytics focused search agency. His rants, interviews, research and thoughts on digital marketing can be found on his blog Lost Press Marketing.
Latest posts by David Iwanow (see all)