This is a guest article by Modestos Siotos who works at iCrossing UK as an SEO Strategist. The views and opinions expressed in this article are his own and not necessarily the views of MajesticSEO.
The last couple of years saw Google taking serious actions against sites relying on what its algorithms identify as "manipulative links". Penguin 2.0 according to Matt Cutts was supposed to look deeper into a site's inbound links and not just pay attention to those pointing to a site's homepage.
However, despite Google's actions black hats seem to still be able to game Google's SERPs by applying sophisticated spam links attacks by generating a quite high number of links over a short period of time on hacked websites. Most websites are hacked by certain Joomla plugins that allow black hats to generate hundreds (or even thousands) of links at no time, with various anchor text combinations. There are a couple of great examples of the above, both targeting one of the UK's most competitive keywords: car insurance.
Case Study #1: Citadel Insurance
Citadel-insurance.co.uk appeared in the UK SERPs around the middle of June (15/06), ranking on Google's first page for "car insurance" and "cheap car insurance". Clicking through to the site users were landing on a page that had no content, other than a Joomla login page. Indeed, the site ranking on Google's first page for such competitive keywords consisted of just one page site with NO content. The domain was registered just 3 days before it appeared ranking on Google's 1st page.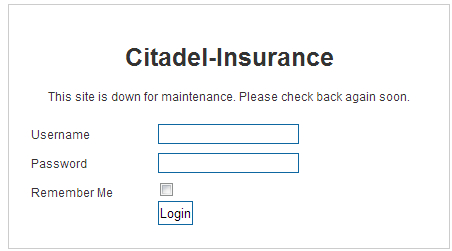 Two days (17/06) later Citadel was ranking at position 5 for "car insurance", the holy grail of all finance keywords.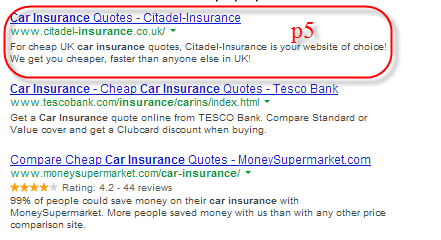 So, according to Google's SERPs on that day Citadel-insurance.co.uk was more important than long-established insurance providers such as Tesco Bank and Money Supermarket. In other words, Citadel-insurance.co.uk, a brand new domain with a website that had no content, managed to rank within just a few days in positions that other big budget long-running businesses with big spends may have never reached after years of effort.
On 18/06 its rankings rose further and the site ranked 4th for "car insurance". Finally, some relevant content was added onto the site, although the site wasn't functional yet but at least from that day onwards there was some sort of content relevancy. However, as the site's quotes facility wasn't functioning yet users must have been abandoning it within seconds, as they couldn't get a quote. In any case, the site's terrible bounce rate and negative user signals did not seem to be enough for Google to devalue its rankings that kept rising further.
However, on 20/06 as more and more people were getting annoyed by Google's inability to detect the manipulative intent of this site, started complaining to Matt Cutts on Twitter. Matt's response was rather odd, insinuating that a new multi-week update would deal with such cases although more about what may be sitting behind Matt's cryptic tweet can be found here and here.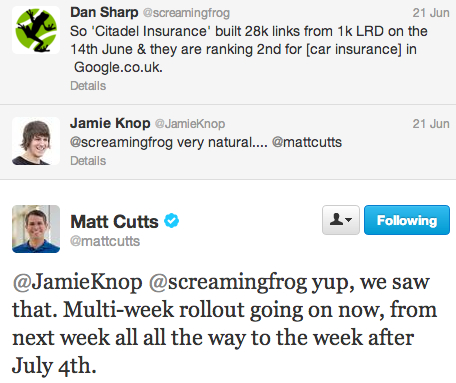 One day later (22/06), Citadel-insurance.co.uk was almost certainly manually removed from Google's index leaving everyone wondering why this site ranked so highly in the first place.
How Did Citadel-Insurance Game Google?
It all seems to be down to its enormous link velocity and anchor text manipulation. In total, Majestic reported a staggering 127,047 links generated on 2,923 hacked domains over just one week (14/06-21/06).
Just seven different variations of the anchor text were enough to go undetected, despite "car insurance" comprising 53%.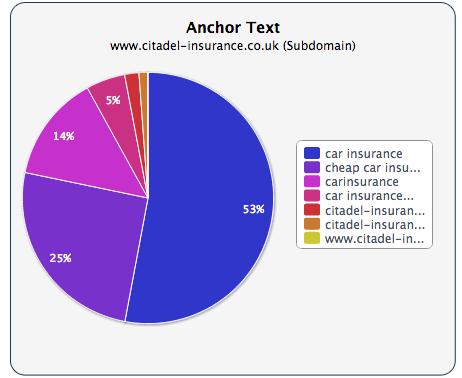 It is also worth noting that the vast majority of linking sites had low citation and trust flow, 34 and 21 respectively.
The site appears to be registered to Mr Ahmed Mamdouh who also owns "www.payday-precise.co.uk" and "jim-loans.co.uk" and apparently is an expert at gaming Google's algorithms and manipulating its SERPs as Barrie Smith explained in his post not too long ago. Ahmed (or Silver Hat as it was the name of the company that appeared on the site) didn't lose any time and right after the site was removed from Google's index, took down all the links from the hacked websites as we can see from Majestic's lost links tab:
Case study #2: Charming Ferret
Charming-ferret.co.uk was registered on 24/06 by Ahmed Mamdouh and exactly one week later (01/07) hit the UK car insurance SERPs in a similar way as Citadel-insurance had done a couple of weeks earlier.
However, this one managed to rank straight at position 10 right after 150k links were generated. What must have helped it jump straight on page one must have been the fact that this time relevant content was added to the site before it started ranking as the people behind it (again Silver Hat) probably thought to start monetising it early rather than later, as they were probably expecting it to rank highly given the previous experience they had. This time the site offered some decent design and was powered by a insurance quote engine making the site more useful.
It is worth noting that this time the volume of links was significantly higher as Silver Hat must have been more ambitious, aiming at Google's top spot for "car insurance".
Also, the linking domains were of much higher authority/trust with citation flow 62 and trust flow 56. Charming-ferret.co.uk was removed from Google's index on 02/07, as again several people brought it to Google's attention.
Further thoughts
It is unclear how much longer these two sites would remain in Google's SERPs if no one had reported them but both cases are quite embarrassing for Google. Black hats (as any savvy SEO would do) think in scale, hence it will be interesting to see what would happen if say black hats try to capitalise on Google's loopholes by orchestrating a simultaneous attack with 5-10 new domains, following the same process as above. If that works even for a day that would be Google's biggest ever embarrassment.
****** Further Comments are now Closed on this Post ****************
Latest posts by Amar Sagoo
(see all)