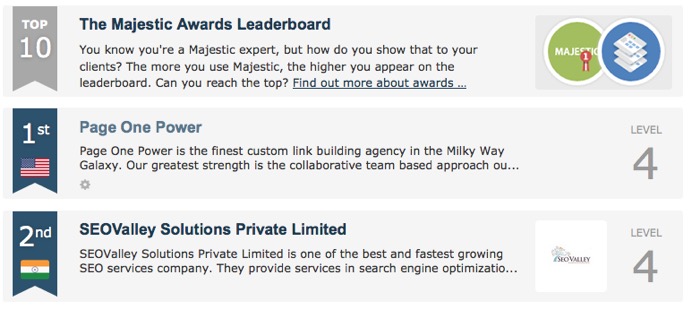 We're thrilled to announce a fun new way to get better at using Majestic and compare your skills with other Internet Marketers. Majestic Awards brings a rewarding new game and leaderboard to Majestic. As we go live the leaderboard is being reset, but congratulations in testing to Page One Power for topping our test leader board. Let's see what happens now the game is on!
Game Awards
We have identified over one hundred Majestic actions and traits. When you perform one for the first time, you get an award. Some of these actions are repeatable, meaning that you gain points every time you perform them.  (Well, not every time – we do limit to once every certain time period and we check for automated action harvesters).
Find out how far Majestic can take you
We spent a good part of last year looking through customer comments, suggestions, and our web stats. We found that there are areas of the site that some customers rarely visit, and a surprising amount of feedback that asked for features we already have.
For instance, did you know that you can choose between buttons and drop-down in Site Explorer?

Or that it's possible to filter our list of the top million websites, Majestic Million, by a specific TLD?
Or even that we have an API call that will return the Topical Trust Flow for almost any URL on the Internet?
We talked through lots of ways to improve this, and decided that we really wanted to pool all of our help and advice into a single area (one that's accessible 100% of the time on the main Majestic website). There became a really obvious front-runner of a solution, and we decided to turn Majestic usage into a well signposted game; a way to help you find some of the more valuable obscure tools and settings, while providing a sense of progression and some lovely awards.
This also has the huge benefit of giving us a nice tie-in with Majestic Business Pages.  We can now rank profiles based on how well and how much they use Majestic in their day-to-day business!
Getting Started

Let's get you familiar with your new awards page
If you're logged into majestic.com, you will now have an awards icon in your top toolbar.  The number is your current Awards level.

Click or tap on the icon to go straight to your Awards page.   You should start our quick guided tour that will talk you through the main themes of the page, be sure to stick with it, as there's an award for finishing.  (We'd love to hear your feedback on this guided tour – it's a first for us)


There's a lot going on here, but we're confident that you'll start to find your way around after a few short clicks.
The first item on the page is your level, this is a top-secret calculation based on the number of awards that you've won, and how often you repeat some of our key benchmark awards. This number is used to show where you fit on the Leaderboard (if you have a public Majestic Profile).
At the top you'll see Your Recent Awards and Award Notifications. Anyone who uses Majestic every day will collect many awards with little effort, and when you win an award we'll give you a happy little message at the bottom of the screen.  If you're not interested in happy little messages, use the Award Notifications toggle to turn them off.
The largest part of the page has our award categories, and the bar inside each category tells you how many awards that you have in that category. Give some categories a click to have a look at the different awards in each section and you will notice that the bar on the left-side changes with each award.  We've tried to bring as much information as possible into each sidebar, letting you know exactly how you win the award – while hopefully making you aware of some Majestic tools and functions that you may not have tried before.
As an example, here's how you win our Social Lookup award. Did you know you could do this?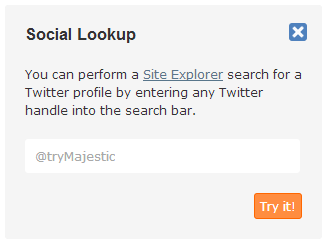 There's lots of different types of awards.  Some are obvious (use Site Explorer), some not so obvious.  Some are one-time-only, some will keep giving you points every time you use them. Some are automatic and some have to be manually awarded –there's even an category of awards for those of you who enjoy visiting us at our events throughout the World.  Some are top-secret easter eggs that you'll have to find for yourself.
If you choose an award category, you can see how you're doing compared to the Worldwide category leader. If you have all of the awards, and you're lagging behind the leader – remember that some awards give points every time you use them, part of the game is working out which ones those are!

One final thing on awards…
We do hope that you have a bit of fun while you're exploring the different strands of Majestic, but we do appreciate that this is not for everyone.  If you would rather turn all of this off, you can do these two things.
Turn off the Awards icon in your Toolbar Settings page
Turn off Award Notifications in your Awards page
Majestic Leaderboard
When we launched Majestic Business Pages in February, we really wanted a way to showcase the people and companies who are clearly the top Majestic users, those of you who use and depend on our tool every day.  Business Pages has been enhanced with a new Leaderboard, highlighting the top ten worldwide Majestic users – based on the points they can gather from collecting their awards.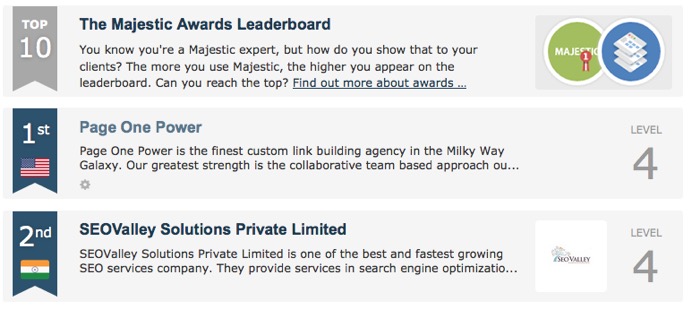 Everyone with a silver-and-above subscription has the option of a complimentary public Business Pages listing, and a potential shot at appearing on the leaderboard.  If you don't already have a profile you can submit one for verification right now.  You'll receive an award for that!
Go and win some awards.
We hope that you enjoy finding and earning your Majestic Awards, but we really hope that you enjoy discovering parts of the site that you had never really used.
As with every new release we'd love to hear your feedback, good or bad.  And as a "Thank You" for getting to the bottom of this Blog post, here's a extra-special secret award – just click or tap, on this link to go to collect it on your Awards page.
Latest posts by Steve Fitzpatrick
(see all)