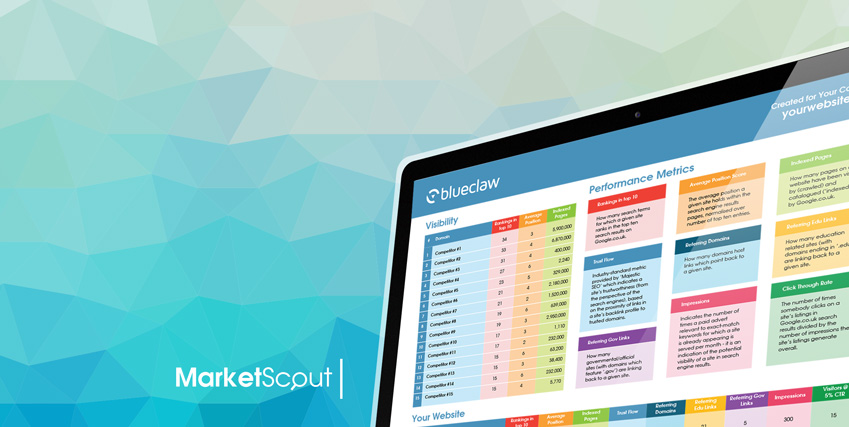 Blueclaw is a specialist search marketing agency. We therefore have a strong need for tools like Majestic's when it comes to gathering evidence to plan and strategize a campaign as well as reporting results to clients.
We used the Majestic API to create a bespoke set of inhouse tools that we use throughout our sales, account management and reporting processes.
MarketScout
The main tool we developed, MarketScout, provides a market comparison SEO report by integrating relevant data from Buzzsumo and Majestic. The key for us at Blueclaw is that the insights MarketScout produces are actionable and that they can help our clients overtake the competition in documentable ways.
At first, we had intended to just use MarketScout internally but we've found that it also helps us deliver value to clients by regularly providing account managers and internal staff granular data on key areas of SEO performance. We're also developing some more inhouse tools of a similar ilk but we aren't sharing them with the public just yet.
Using the Majestic API
We started work on MarketScout about two years ago. It took about 4 months to get the first prototype up and running. Our use of the API in MarketScout is an ongoing process and Majestic will be used extensively in the other tools we have in production.
During the process of developing MarketScout, we found the API to be fairly intuitive. It was well-documented with example calls and responses and also had solutions to commonly occurring problems in the documentation. We thought we would need to contact support at one point but in the end we managed to sort the problem out without needing any additional guidance.
We chose to use the Majestic API because it has several benefits that put it ahead of its competitors. First, it's faster and more reliable than the competition. It also offers an extensive database of domains and data on those domains. We found that the quotas are generous enough to allow us to experiment with different types of integration. Finally, we thought the price was reasonable considering the amount of insight we get from Majestic's data.
As mentioned above, we're really pleased with the Majestic API and what it allows us to do with MarketScout as well as our other forthcoming tools. If you want to try MarketScout, fill in the form at the Blueclaw website.
Andy Webb, Head of Development, Blueclaw
Latest posts by Andy Webb
(see all)