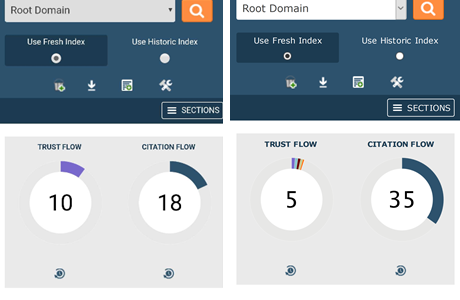 For this weeks showcase site, we are going new. Brand new.
It was about 8pm in the UK on Monday 4th November when Chrissy Teigen, an American TV Personality, Chef, and 'BRAND GENIUS' launched her new website cravingsbychrissyteigen.com.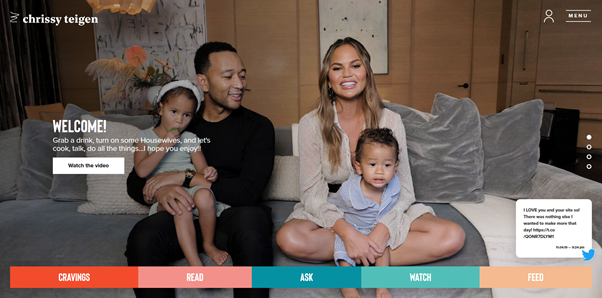 This offers us a unique opportunity to watch and explore the growth of a website in its early moments.
Searching for the 'cravings' website in Site Explorer shows us a number of interesting things.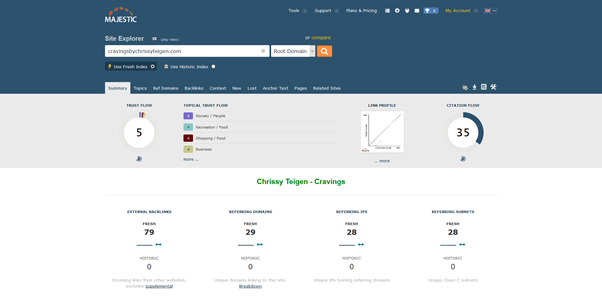 Evolving Topical Trust Flow
The following screenshots were taken less than 12 hours apart.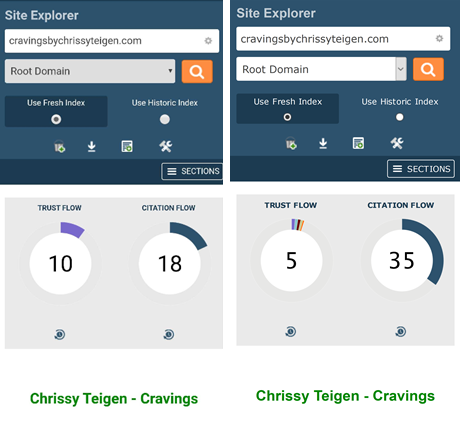 As more websites start linking and we begin discovering these links, the Topical Trust Flow for 'cravings' continues to evolve.
Over time this will settle, and as we can see already, there is now a spread of topics that include Recreation/Food and Shopping/Food as well as the Society/People topic that was given initially.

One of the first links that we found was from the website 'justjared.com' which provides "Celebrity Gossip and Entertainment News". This gave some initial influence for the Society/People topic.
It wasn't until we found links from websites like 'thekitchn.com' and 'delish.com' that the Topical Trust Flow for 'cravings' began to evolve and get more accurate.
Indexed Pages
The number of pages that we have indexed is already at 495.

For a website that is (at the time of writing) 36 hours old, this shows the amount of time and effort spent populating the 'cravings' website with content for launch.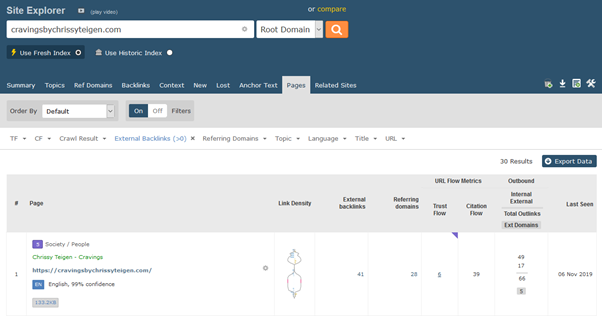 A look at the 'Pages' tab shows us 30 different pages that already have backlinks, which shows us that it's also quality content that is worth linking to.
Distribution of Link Density
The distribution of Link Density for 'cravings' indicates that the majority of links are of an 'editorial style'.

Our Link Density score shows how crammed full of links the area around the link to 'cravings' is.
An 'editorial style' link is a link in a block on text or content with a very low amount of other links near it.
We can see an example from the 'Context' area of the Summary page to see what this looks like.

A Breakdown of Link Types
Currently all of the links to 'cravings' are from 'Deep Links', which are links on any page that is NOT the homepage of a website.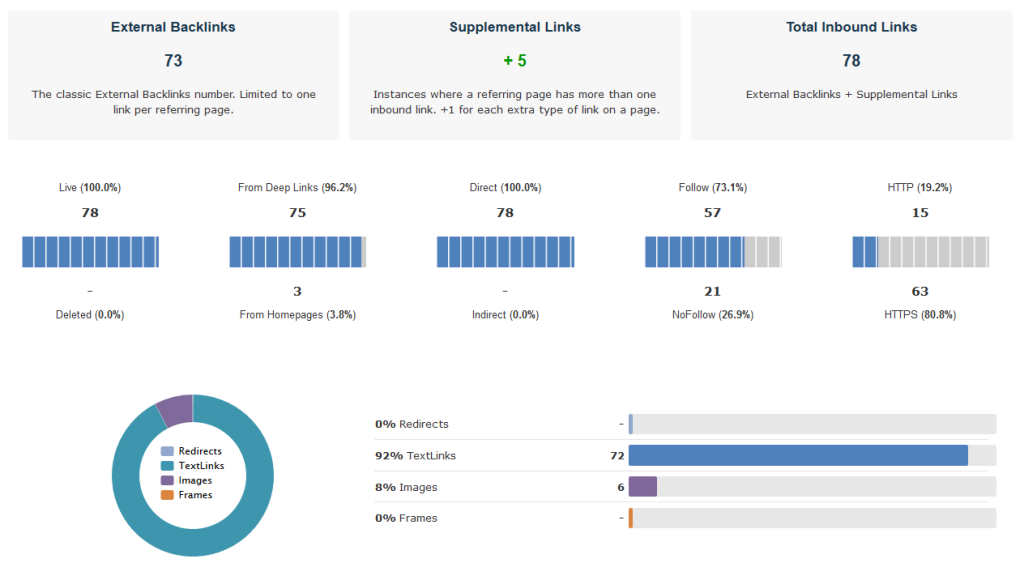 The percentage of NoFollow links could be a point of concern – but this would depend on how these are distributed.
Currently 'cravings' has 73 backlinks from 25 websites.
If 24 websites all link to 'cravings' once with a NoFollow link, and the remaining 49 times are Follow links from just 1 website, it could give the impression to search engines that the content doesn't have much value.
Fortunately for 'cravings' this isn't the case, as we can see in the stats below for the websites that link to it.
Here we can see that 88% of them have a Follow link, which means that only 3 websites have used the NoFollow tag on their links.
This indicates a healthy backlink profile.

We can see this in more detail by visiting the 'Backlinks' tab, selecting 1 backlink per domain and filtering by NoFollow links.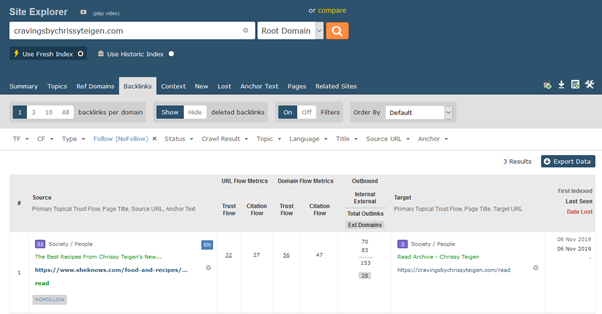 What Anchor Text is being used
When looking at the links to a website, the words used in the link are important. It gives readers an expectation of what is at the other end of the link, it can offer instructions on what to do, and it can be helpful for search engines to understand the context of the link.
John Mu has previously highlighted the importance of Anchor Text: "anchor text helps us quite a bit in understanding context".
Looking at 'cravings' it is great to see such a variety of anchor text already being used.

We can already pick out 'brand' anchors and recipes, as well as the number of times these words are used in backlinks.
Again this shows that the website launched with content that people care about and want to share.
Anything else?
For a website that is just 36 hours old, we can already make some fascinating discoveries and insights.
If you think we have missed anything, or can see something in this data that you think is useful, please leave a comment below.
We hope you'll join us watching the growth of 'cravings' over the next few days, and enjoy the new insights that we will try and share.