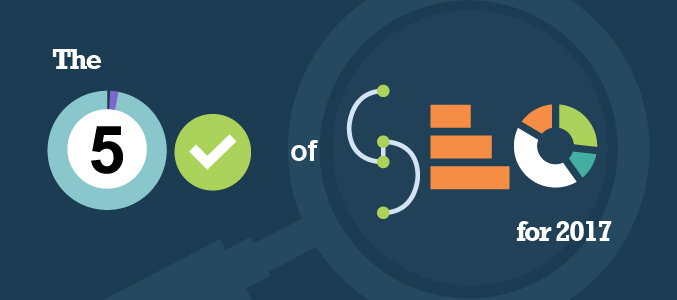 From its earliest days, search engine optimization (SEO) has been one of the most dynamic areas of digital marketing. Due to Google's dedication to consistently improving user experience (by offering relevant search results to users quickly and accurately), SEO professionals should always be on the lookout for updates and changes.
There is a problem, though. Learning about Google's algorithm updates only after they have hit your site's SERPs (like a truck) can cause major issues. This is exactly why the ability to get your site ready before any changes are made is what distinguishes a true professional from an amateur. Professionals look into the future to prevent problems, while amateurs simply solve issues as they arise.
In this article, I list five do's of SEO for 2017 so you can polish your site in expectation of pending changes. Implement all the do's before Google's updates roll out and tank your ranking. So, let's dive in!
SEO Do's for 2017
#1 Optimize for Mobile
If you haven't optimized your site for mobile yet, I have bad news for you. It is almost guaranteed that Google's mobile-first index will play an important role in 2017 (confirmed on Twitter). Not only will Google create a separate index for mobile sites, they will also start prioritizing mobile search results.
Basically, optimize your site for mobile as soon as possible or your site will not perform well in search results. You can choose to develop a responsive site or jump on the AMP bandwagon. The first option is costly but will help build search value in the long run. Meanwhile, AMPs are nice but rather clunky. Also, it seems that users don't like pages with enabled AMP.
#2 Pay Specific Attention to Behavioural Factors
Nobody knows exactly how Google calculates a site's search ranking position. However, behavioural factor metrics, such as Content Value and Bounce Rate, have been proven to be an integral part of the equation. As Bounce Rate is no stranger to any SEO expert, let's focus on Content Value.
Within the context of Google's value-driven approach, content is what provides real value to website visitors. However, as content is so diverse in form, type and quality, Google relies on user behaviour to denote value.
To evaluate a site's Content Value, Google tracks user behaviour both on-site and in search results. Let's imagine that a user looks for a link discovery platform. If he or she finds Majestic in search results, clicks on the link, stays on that site for a long period of time, and then doesn't continue to look for other platforms, this signals to Google that the Majestic site is helpful. Basically, the user has found what he or she was looking for.
Thus, make sure that you create high-quality content and optimize your content for better usability. Use bait such as CTAs, conversion forms, and valuable offers to keep your visitors on your site longer. This will surely help you improve Content Value and reduce Bounce Rate.
#3 Use Crowd Marketing to Build Backlinks
The tactic of buying and selling links is forbidden by Google, but it still helps sites rank better in search results. What you should remember, though, is that purchased links don't guarantee high SERPs. To get tangible results (and evade Google penalties), you need to mix purchased links in with naturally acquired, trustworthy links.
How can you do this? You are free to utilize multiple link building methods, but I recommend driving high-quality backlinks with crowd marketing. Comments you leave on blogs, forums, and social networks are a huge investment into your link profile. Don't be spammy, though. Only once your accounts look natural should you start placing links to your product and service pages.
Is it possible to attract backlinks naturally? Of course, but giving your site a bit of a leg up is never a bad thing. After all, your second goal should be to place links where they can help people and provide value.
#4 Focus on Keyword Research
Keywords have always been (and still are) the lifeblood of any SEO campaign. However, after Google introduced RankBrain, an algorithm learning artificial intelligence system, the importance of researching, selecting, and naturally incorporating keywords has become even greater.
In 2017, you need to invest enough time and resources into laying out a nice, clean keyword research process. You should not only take the time to properly select your main keyword (per page), but also look up at least two-three synonyms for those keywords as well as LSI keywords. Needless to say, all of these keywords must be placed into your content naturally.
In short, keep your content keyword-centric but avoid keyword stuffing at all cost. What you need is 4-5 LSI keywords per every exact-match keyword.
#5 Secure Your Site with HTTPS
This one is simple. Google does everything to protect users, so it is obvious why HTTPS is considered an important ranking signal. HTTPS helps secure the connection and protect users' data (like emails, passwords, and credit card numbers) from theft.
To put your site onto the HTTPS rails, you need to purchase and install an SSL Certificate. To learn more, check out this step-by-step guide.
If you still think your site will do fine without HTTPS, I have important news for you. Google will soon start displaying a "Not Secure" notification for non-HTTPS sites in the address bar in Chrome. This means that Google will notify your site's visitors that their data isn't protected if they navigate to your site. This puts you at risk for lower conversion rates and lower SERPs.
Conclusion
2017 promises to be an interesting year for SEO professionals. Keep doing everything you have been doing so far: drive and build trustworthy links, produce high-quality content, research keywords, etc. But, make sure that you develop a comprehensive strategy that focuses on driving results to scale (crowd marketing, social media, user behavior factors).
These do's will definitely help you to bring your SEO campaign to the next level. Not only will your site get a better ranking position in search results; it will also generate more traffic, which is great for your bottom-line.
Latest posts by Sergey Grybniak
(see all)