Before the New Year time we reported on some research into Top Level Domains. This time the Majestic Big Data insights team have analysed some of the individual domains, which have grew the most during 2016.
2016: The year in Domains
Diving straight in and look at the data in the Majestic Index. The increase in the numbers of backlinks of the top 10 is a mixture of the obvious big sites and a few surprises.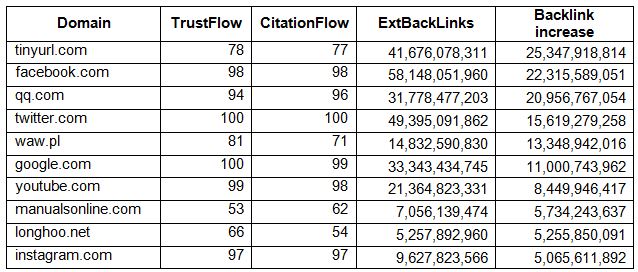 It shouldn't be a big surprise that tinyurl.com is there since it exists simply to make it easier to pass around links. Other sites, such as Facebook, Twitter, Google, YouTube and Instagram are household names. The other sites may be less familiar. Both qq.com and longhoo.net are Chinese language news sites. In 5th place, waw.pl looks like it should be a public suffix but is a web hosting company for Polish based websites. The surprise entry in the list is probably manualsonline.com, which does precisely what it says on the tin: it is a website hosting online copies of instruction manuals.
If we look at the increase in Referring Domains in the last 12 months, the top 10 looks like this: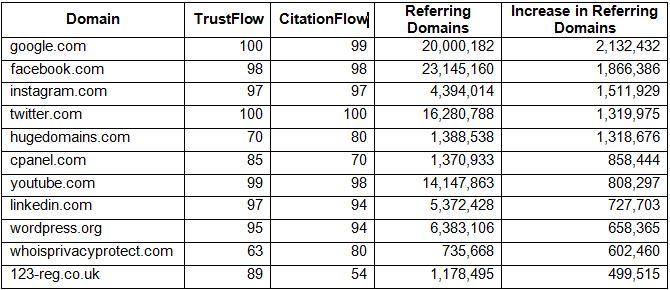 The list is comprised entirely of search, social media and sites related to Domain Name registration and web hosting. "whoisprivacyprotect.com" isn't a question but is a service which lets people remove personal information from appearing in a 'whois' lookup for a domain.
We can think of Referring Domains as the number of people posting links to a site and External Backlinks as the number of links being posted. If a site appears higher in the External Backlinks than the Referring Domains list then fewer people are linking to the site but those who do are posting larger numbers of links.
One example of this is tinyurl.com. The number of Referring Domains has actually decreased which suggests the number of active users of the service might have decreased but those who do use it must use it a lot.
Other Url Shorteners
There are 4 other url shorteners in the top 1,000 domains:

None of these are present in the top 1,000 for Referring Domains so the situation is similar to that for tinyurl.
Other things to note
The 18th greatest increase in Referring Domains is ascii.co.uk, a site which has an ascii character table but is mostly just big collection of ascii art. A lot of these links come from *.ascii.uk, where each subdomain displays a different ascii art and links back to ascii.co.uk (a total of 317,160 of 321,131links come from ascii.uk, so while there are many referring domains, there are only 817 referring IP addresses).
All of the sites in the fastest growing domains were of moderate to high Trust Flow, which is a contrast to what we see when we look at percent increases, which we look at next.
Percent Increase in Referring Domains
We get very different results if we look at the percent increases instead if absolute increase: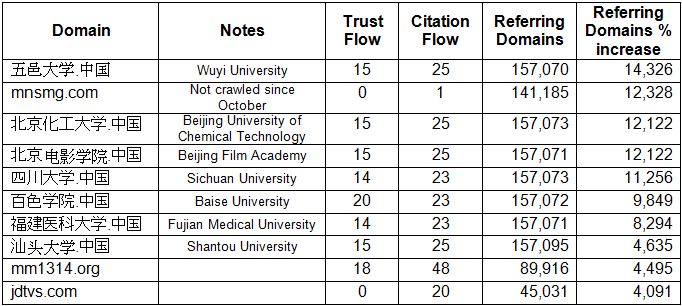 7 of the 10 domains are Universities. One (mm1314.org) is a health/beauty/news magazine site. The other two are likely to be spam-portals. All of the domains are Chinese or Hong Kong based, suggesting that the Chinese language web is growing rapidly compared to the rest of the Internet.
Percent Increase in Backlinks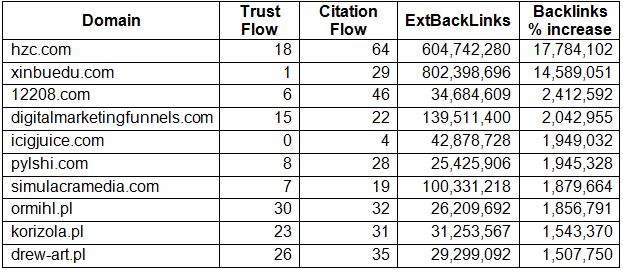 When we look at the increase in backlinks, we get a much more international set of results, from Europe, the USA and Asia.. All of the domains above have over one million percent increase during the year (actually a factor of x15,000 to 170,000).
Not all of these domains are new. Apart from "korizola.pl", which was first seen in January, all of the others were seen over a year ago. If we check the backlink history for these sites, they all started off low and rapidly grew during the year.

The three ".pl" domains actually resolve to an IP address in France. Rather suspiciously, they all grew at roughly the same rate over the same time period, indicating that they may have been part of the same link building campaign. Since they were all registered by the same Polish based SEO company, and they have a lot of backlinks in common, they are almost certainly part of the same link network.

Conclusions
It shouldn't be a surprise that the sites which gained the most backlinks or referring domains were already some of the biggest sites on the Internet. It is more difficult to draw any conclusions from measuring percent growth since it will always favour domains which start off small.
We were probably fortunate that we saw 3 domains from the same campaign. Since we have 1¼ billion domains in our database, it would be difficult to go through the list and find domains with similar growth characteristics.
Save
Save
Latest posts by Mike Downey
(see all)