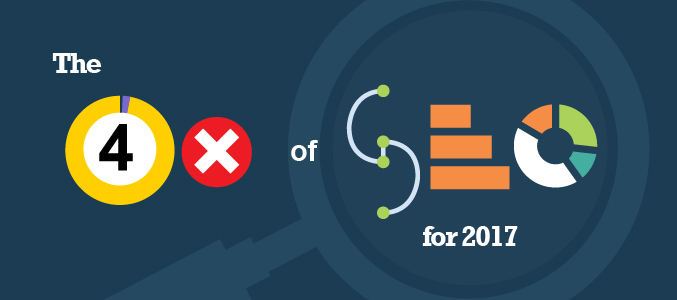 In this follow up to my first article, "The 5 Do's of SEO for 2017", I list four don'ts of SEO for 2017 so you can polish your site in expectation of pending changes. Eliminate all the don'ts before Google's updates roll out and tank your ranking. So, let's dive in!
SEO Don'ts for 2017
#1 Optimization without a Comprehensive Strategy
SEO in 2017 is all about having a proper plan behind your campaign. You need to strategize your on-page and off-page optimization efforts in order to get tangible, long-lasting results.
The times are gone when you could get away with doing a little bit of this and a little bit of that. You can't simply brush up keywords, fix metatags, post content, and purchase links — you must include analysis (competitors, niche, campaign performance, etc.), user engagement, user intent, and social media into your search engine optimization strategy.
Why are these so important? Well, there are at least three main reasons:
Fierce competition
Smarter Google
Picky customers
Your success in 2017 depends on your ability to step up your SEO game. If you fail to develop and execute a well-thought-out strategy, your site will slip down to the bottom of search results and you will have to spend months (or even years) climbing your way back to the top.
Crafting an authentic strategy based on analysis and facts (not on assumptions) is expensive and takes a lot of time, but you are better off investing in it now rather than waiting around just to see your SEO campaign destroy itself under its own weight.
#2 Site Isn't Mobile-Friendly
Having a mobile-unfriendly site in 2017 is a big no-no, for obvious reasons. First, Google wants to prioritize mobile searches. Second, Google is actively pushing for website owners to adapt AMP. Third, over 50% of traffic in the US is generated on mobile devices.
People love their smartphones. Even if you personally prefer desktop SEO, it is time to move forward and optimize your site to render well on mobile. Otherwise, you risk losing traffic and customers. Just do it!
#3 Load Speed Is Slow
Google loves sites that load fast and hates ones that are slow and clunky. Why? Because nobody wants to wait while heavy images, fancy sliders, or intrusive pop-ups appear on the screen (especially mobile users).
If you want to move the needle for your site's SEO, task developers with improving load times. They should cache your site's CSS, JavaScript, and images in order to figure out how to accelerate it. They will have to spend some time optimizing code, but it is worth it.
Remember: faster load speed is better user engagement, which means higher SERPs.
#4 Images Aren't Optimized
Though most SEO professionals know the importance of Alt tag optimization, images have always been a little overlooked. There are several reasons why:
Image Search on Google isn't convenient because it doesn't provide accurate search results. It's no wonder most users keep away from it.
There's no sense in optimizing images because they don't drive any traffic. Why polish image titles, Alt's, and descriptions if they don't bring value?
Image Search is unprofitable for Google. This, by itself, reduces image priority in search results.
However, image optimization is likely to become an important ranking factor in 2017. In summer 2016, Google acquired a French image recognition startup, Moodstocks. Then, Google introduced a specific sitemap for images. This signals that something image-related is coming.
I recommend optimizing your images by following these simple steps:
Check titles, Alt's, and descriptions (incorporate keywords)
Mark up your product pages properly to display images in search results
Polish your site's image sitemap to weed out mistakes
Image optimization is a boring process, but every little bit helps. Your images may become a deciding factor for catapulting your site to the top on Google search results.
Conclusion
Don't forget to optimize your site for mobile, improve load speed, install an SSL Certificate, and polish your site's visual elements. If you have time on your hands, you can also research voice search, which might be the next big thing in SEO.
These don'ts will definitely help you to bring your SEO campaign to the next level. Not only will your site get a better ranking position in search results; it will also generate more traffic, which is great for your bottom-line.
Latest posts by Sergey Grybniak
(see all)