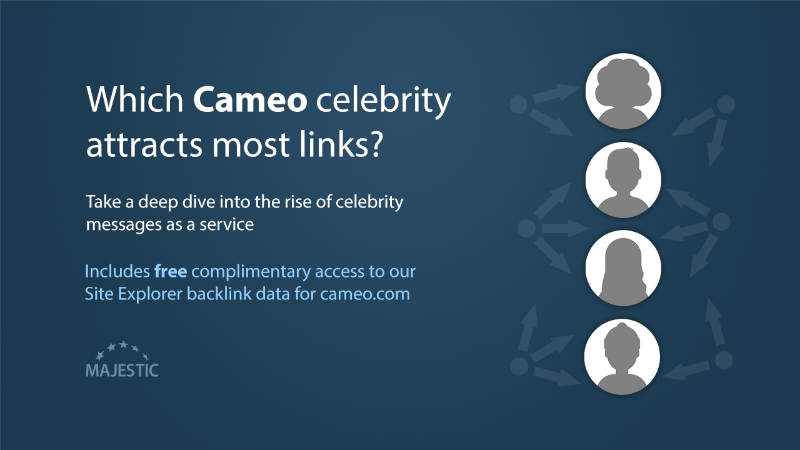 Early last week, a colleague sent a message to our team group chat, "David Hasselhoff is on Cameo now." While I like to think that I am reasonably au fait with Internet culture, I had absolutely no idea what this meant.
If, like me, you don't subscribe to updates from the world of celebrities (and you hadn't clicked on the link, above), let me bring you up to speed. It turns out that Cameo is a service where customers choose a willing celebrity from an online catalogue, and ask them to send a recorded message to one of their loved ones. The cost can range from a single dollar to thousands of dollars. A 2019 TechCrunch article reports that Cameo's fee is 25%.
Cameo isn't the only pioneer in this field, there are similar services out there. While I'm a celeb luddite, I HAD heard of one of their competitors, CelebVM. But why did Cameo take off, whereas CelebVM perhaps hasn't done so yet? Why has Cameo caught the public's imagination (and wallets), and why aren't my friends and colleagues talking about CelebVM's Hasselhoff moment?
Charting the Rise of Cameo
As purveyors of one of the biggest backlink indexes on the planet, we're well positioned to take a look. We can check the trend of web popularity of CelebVM and Cameo, look to see if there is a common baseline, and try to perhaps find a suggestion of when the latter service started to take off.
I'll be using Majestic for this, starting with the Flow Metric History tool.
This is a specialised tool for Majestic Pro subscribers that looks at how our Flow Metric scores for a website (or group of websites) have evolved over time.
I'll use it to compare the Flow Metric charts for both CelebVM (orange) and Cameo (blue).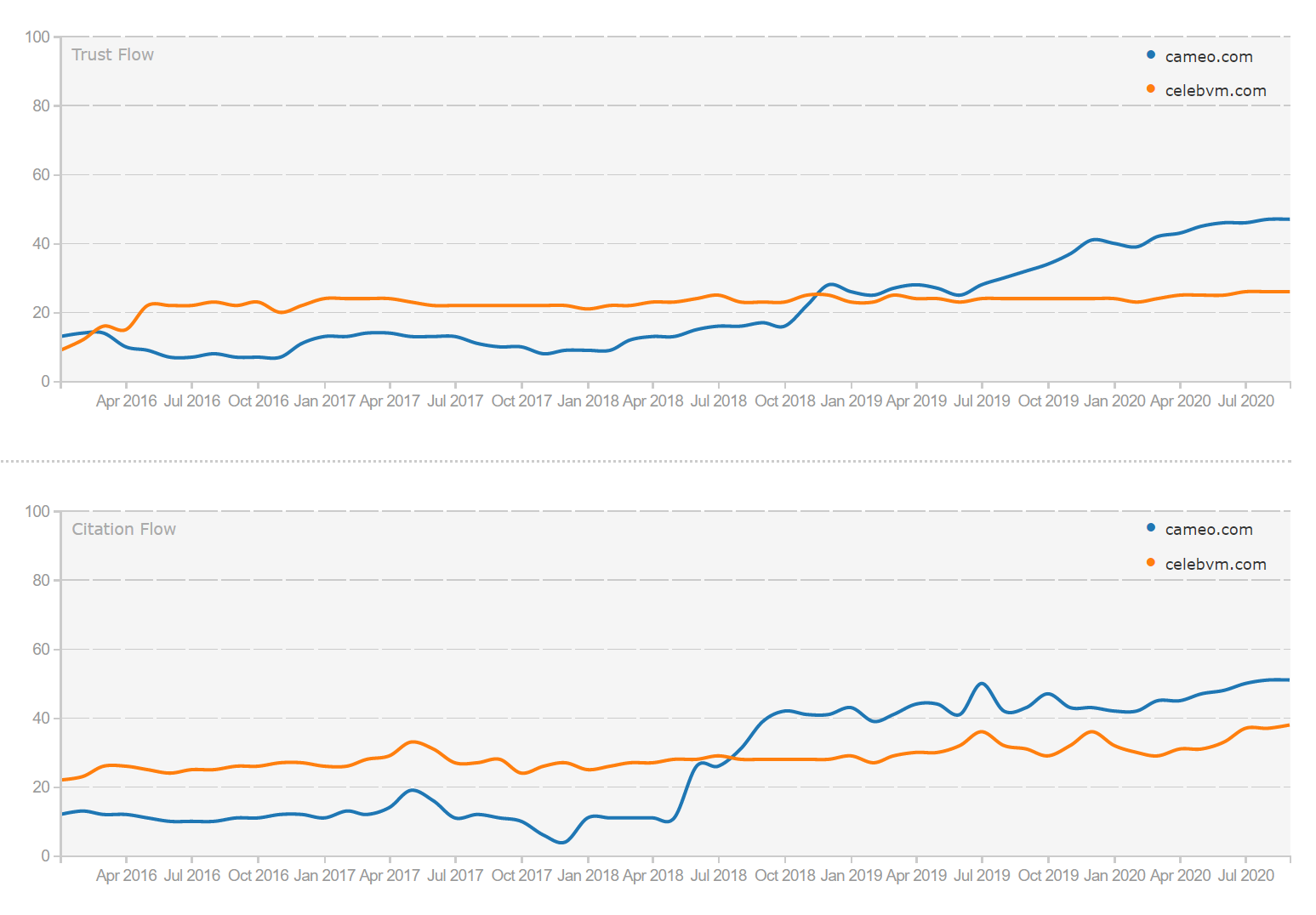 The top chart (Trust Flow) is measuring the quality of backlinks that a service gets (where link from the BBC is worth almost an infinitely higher amount than a link from your next-door neighbour's blog). The bottom chart is Citation Flow, that's measuring the volume of links that a website gets. Unlike its prejudiced sibling, Citation Flow treats both the BBC and your neighbour equally – it's nice like that.
Next I look at another of our comparison tools, the Backlink History chart. As I'm interested in long-term links, and not just those that we've found in the last 120 days, I'll switch to the massive Historic Index (almost 10 trillion URLs found, and counting).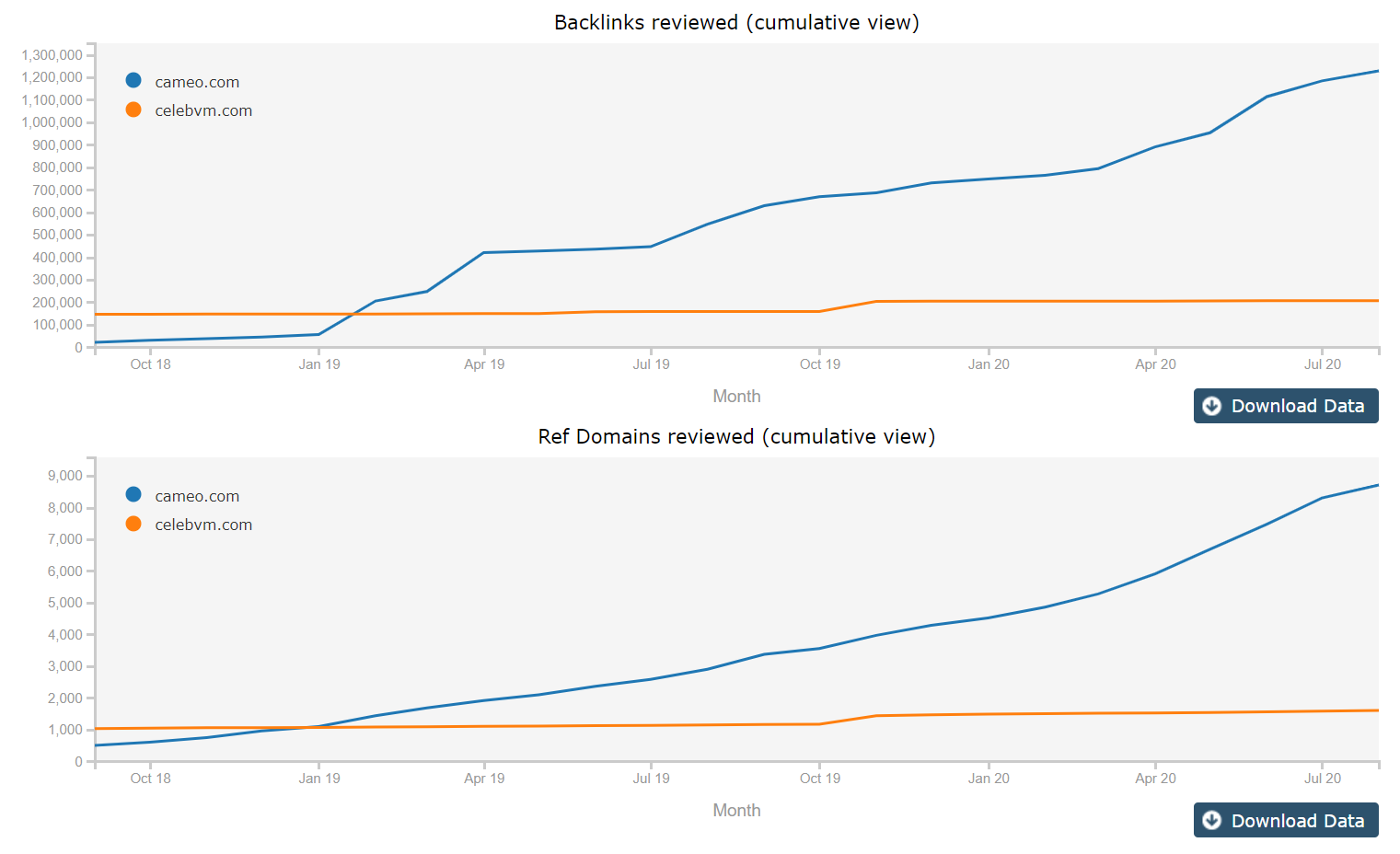 There's two things that jump out in these charts.
Firstly, Cameo's Trust Flow picked up around August to September 2019, that means that they started to collect some good quality links.
BUT, secondly, there is no equivalent uptake in the sheer number of domains or backlinks until January to March 2020. So the links that they were getting in the back-end of 2019 were really good quality links – enough to tip the Flow Metric balance in favour of Trust Flow (where Trust Flow quality overtakes Citation Flow quantity).
This would suggest that a few well-placed media stories started to build a platform in the second-half of 2019. That, perhaps, gave more celebrities the confidence to sign up and promote the service, delivering Cameo the momentum that it needed to break across into the next tier of Internet success.
What drove links?
I can use Majestic Site Explorer to look for any good links that Cameo got from that August – December period.
Here's some of the better ones from news and celebrity publications.
https://dailyhive.com/calgary/snoop-dogg-froze-shout-out
https://www.etonline.com/dan-aykroyd-confirms-bill-murray-will-return-for-new-ghostbusters-movie-136016
https://nerdcoremovement.com/dan-aykroyd-ernie-hudson-confirmed-to-return-for-ghostbusters-sequel/
https://ew.com/movies/2019/09/17/ernie-hudson-return-winston-zeddemore-jason-reitmans-upcoming-ghostbusters-film/
https://time.com/collection/genius-companies-2018/5412492/cameo/
While Snoop Dogg's endorsement and a Time magazine article helped the first wave of Cameo users, what is not in any doubt is that Ernie Hudson announcing (in a Cameo message to a fan) his return to the Ghostbusters franchise gained an incredible and sustained amount of traction from new sources over a few months.
To this day, his video is the most-linked-to piece of celebrity content on Cameo.
If you would like to play around with the data, we have set up Site Explorer for cameo.com as our free data site. All Majestic links from this point down are free to view (as at September 2020).

As the bandwagon gains momentum, more celebs have started to add Cameo links to their own websites, normalising Cameo messages, advertising the service, and building familiarity and trust.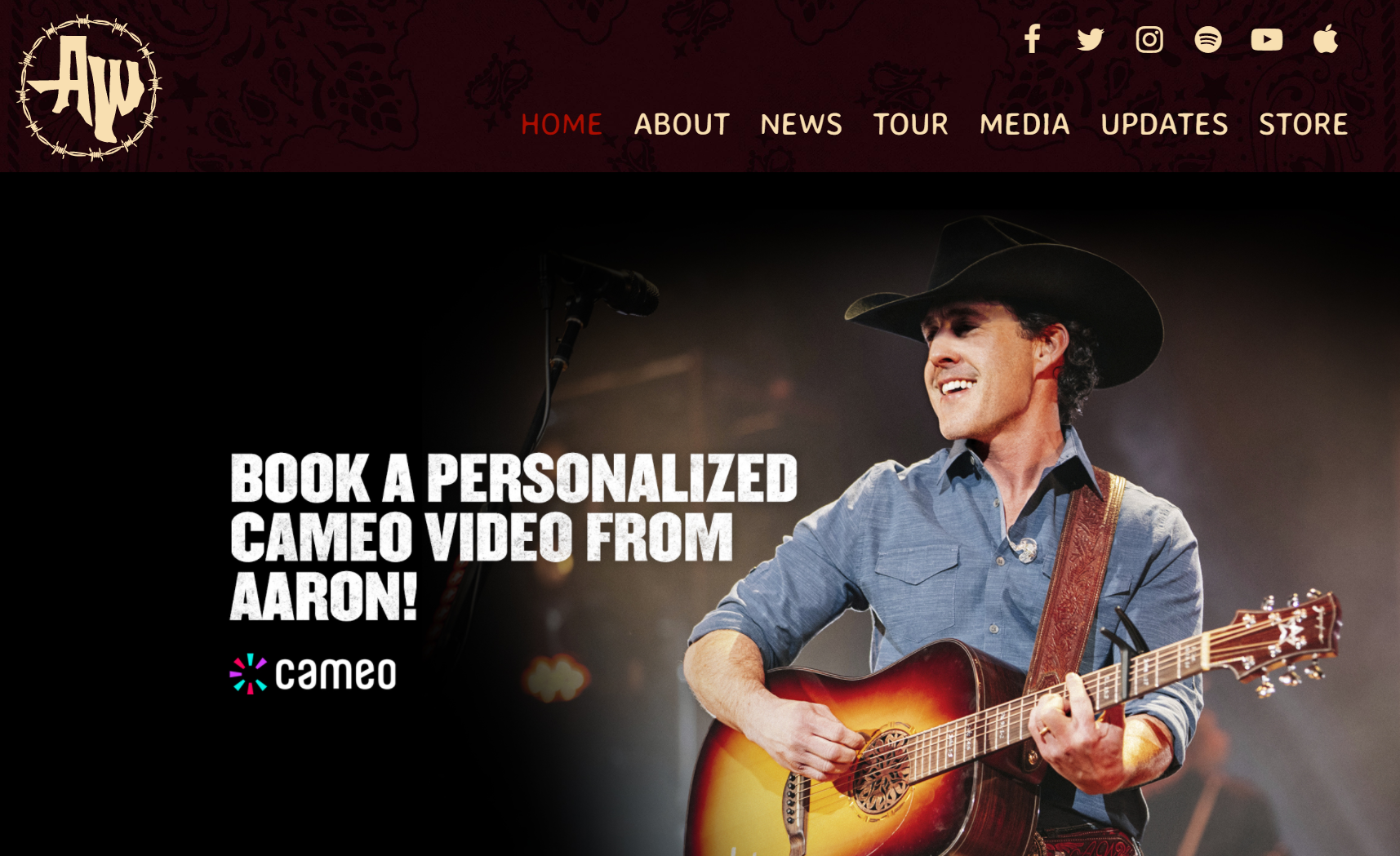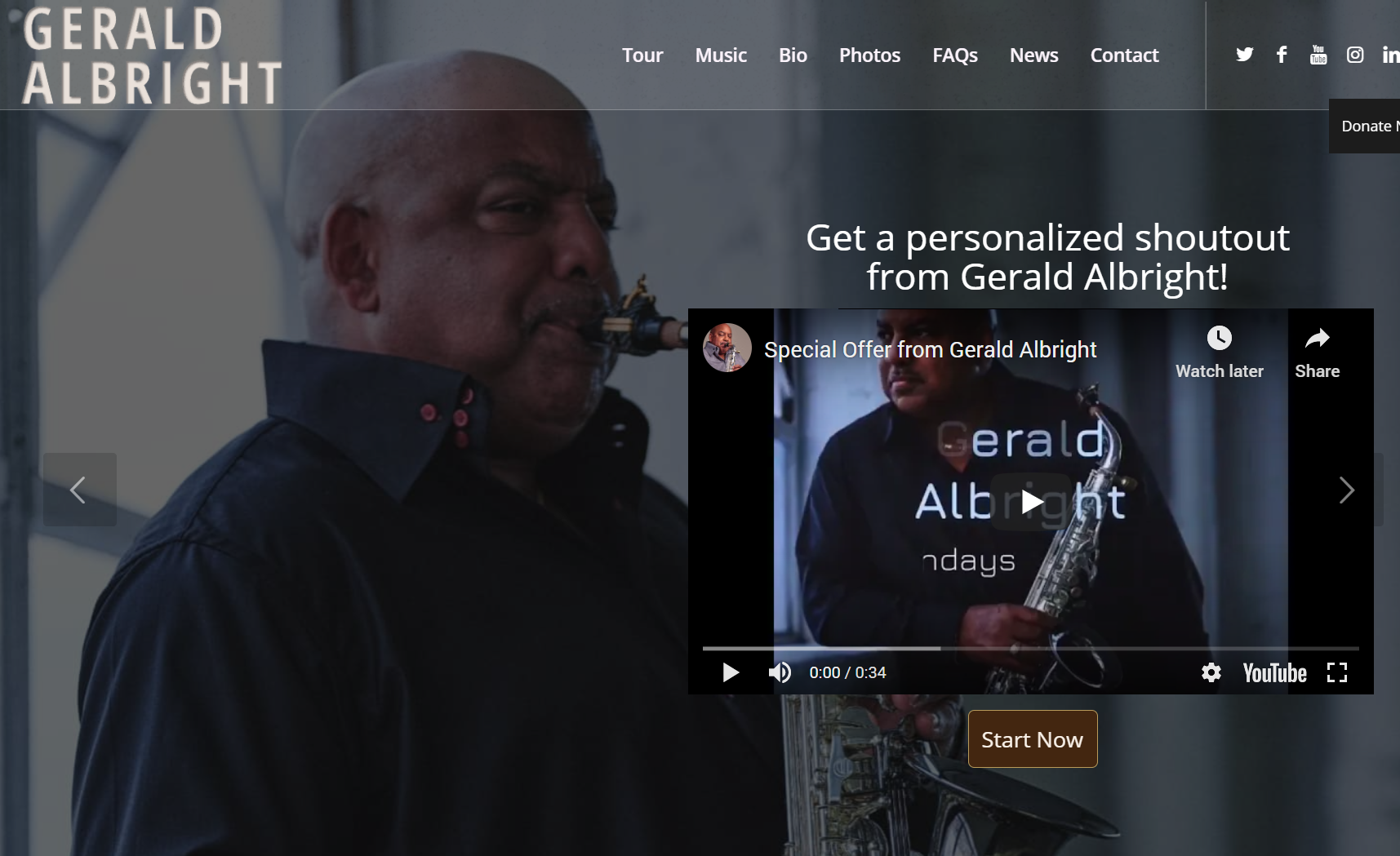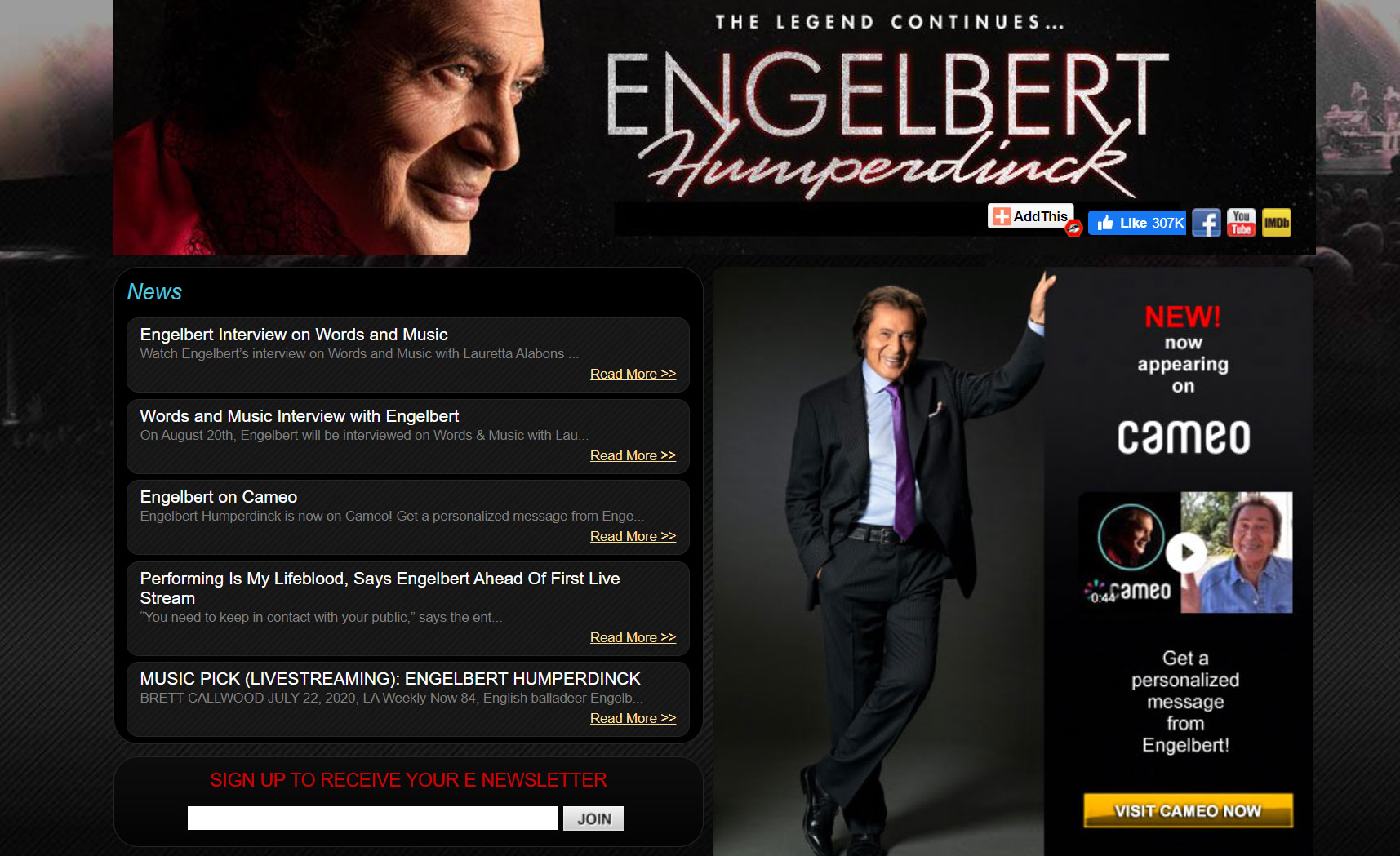 You can find more of these types of link from the Majestic Link Context page.
More than just being in the right place
Links from good quality sources will always help a backlink campaign, and these great links continue to push Cameo's link and Trust Flow numbers up and up. What can't be ignored is that, like other remote services, links and orders started to pour in when the pandemic kicked-in. Celebrities found themselves without work, and potential customers found themselves needing to find ways to replace birthday parties, anniversaries, and wedding events.
I admit that when I started this article, I assumed that the Covid pandemic was the sole major reason for the success of Cameo (and other remote services like Zoom). But it's clear that the groundwork was already there and people flocked to a good reputation site that already existed, rather than a brand new and uncertain tool.
Checking the price list
As soon as I knew about Cameo, I wanted to dig into the price data, I'm slightly fascinated by where celebs pitch their prices in market that is a pseudo popularity rank.
Cameo doesn't make this too easy, and forces you to go through each category in turn. Following an hour's analysis, it looks like the most expensive is Caitlin Jenner at $2,500 (£2,045) per video. (All prices accurate at September 2020)
At the other end, there are a few celebrities who charge a single dollar (89p). I liked actor David Arthur Sousa's profile the most – he seems to be annoyed that he can't charge $0.
As we seen from Ernie Hudson ($135 / £112) in his Ghostbusters costume, in-character shout-outs are very popular.
For $76 (£63), you can buy an in-character message from Robert Schafer, perhaps better known to fans of The Office as Bob Vance, Vance Refrigeration.
Finally, colleague, your David Hasselhoff video message will cost £249 ($300). I'll start a collection.
Cameo's Most Linked-to Celebs
But, you didn't come here to read all that. The clickbait title clearly promised you that you would find out who are the most-linked-to celebrities on Cameo. Sorry that you had to wait so long (or scroll down so far).
Here's the method I used to find the answer.
When a good-quality website deep-links to a page on Cameo, Majestic will almost always find that link. By gathering and collating all that information, I'm able to find out which celebrities have pushed Cameo from just another celeb-a-gram service, to the apparent leader in the field.
If you are a Majestic customer, or perhaps a journalist looking for a better written 'most-linked-to' article than this one, Majestic is full of the data that you need for this type of story. For instance, with 25k Fresh Referring Domains, you may be surprised at the top-linked-to video on Youtube!
Checking Fresh Links Only
Majestic has two indexes, a Fresh Index of all the links we've seen for Cameo in the past 120 days (569k links from 5.6k different domains), and a Historic Index, with all of the links that we have found pointing to Cameo in the past five-and-a-half years (1.22million backlinks from 8.6k domains).
As I want a snapshot of today's totals (and so that you can play along at home with our complimentary free Fresh Index cameo.com data), I am going to concentrate on Fresh.
First thing to do is to have a look at the cameo.com Pages tab in Site Explorer. This lists all of the URLs that we have found on cameo.com.
I'm going to decide that popularity should be based on the number of Referring Domains. That is, limit backlinks to a maximum of one link per website. This makes sure that we get a spread of links from a batch of websites, and not just 10,000 links from the footer panel on every page of a celebrity's own site.
For this, we want to change the top ordering to Referring Domains, Descending.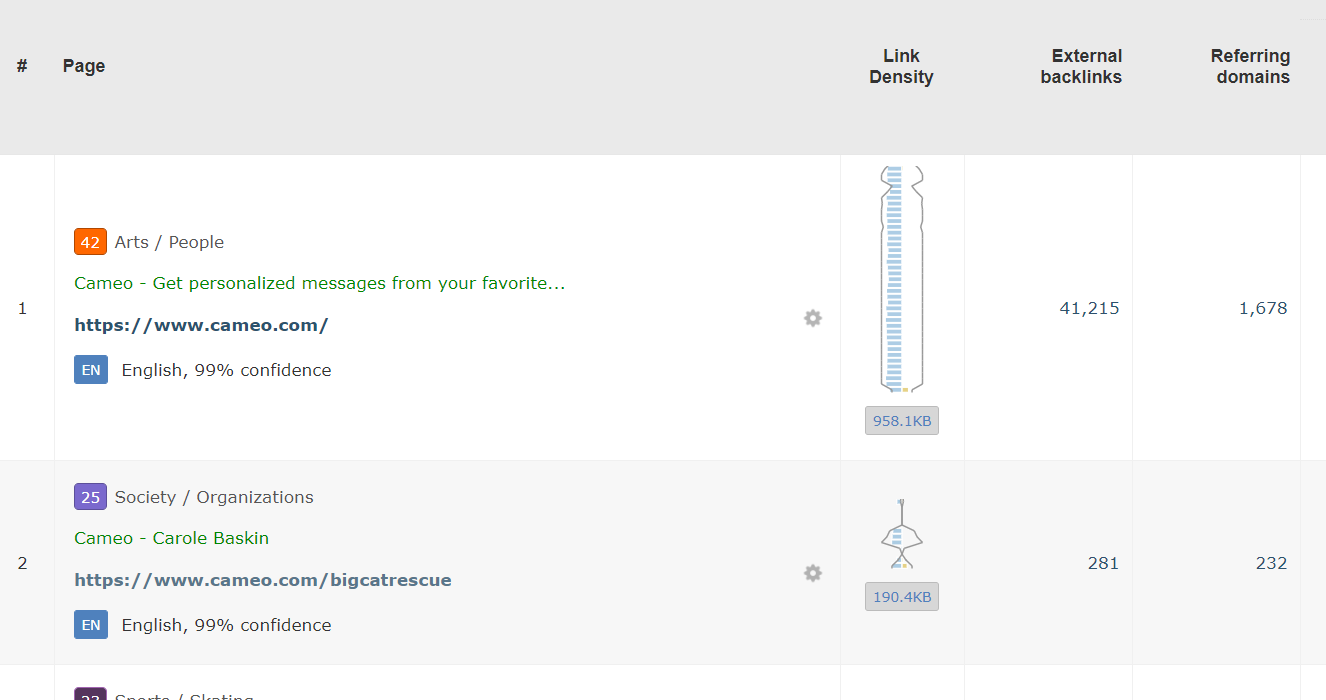 Now, It –looks- like we have a pretty clear result, the second-most linked-to URL on Cameo (after the home page) is /bigcatrescue… Carole Baskin from that Netflix show that I still haven't watched, Tiger King ($299 /£248).
And when you think about it, that kinda makes sense. I had thought of links to Cameo as a popularity contest, but such a left-field and controversial character (from what I've read) is always going to attract tabloid links. Indeed, she has had a lot of media coverage this year (I believe that she's on this season's Dancing with the Stars) and must bring a worthwhile amount of traffic to new websites as they keep printing stories about her adventures on Cameo.
Here is the rest of the Top 20.
For this table, I went one further than the Pages tab and grabbed an extract of the top 30k linked-to URLs on cameo.com (Lite subscribers can download table data in Excel or CSV format). I then tidied up the links, looking for places where more than one URL could point to a single celebrity.
Noteable celebs (ie, people I've heard of) just outside the top 30 include Sean Astin (Lord of the Rings), Dennis Rodman (basketball), Floyd Mayweather (boxing), Charlie Sheen (everything) and John Cleese (Monty Python).
Try the data out for yourself
As I mentioned, we have opened up the Fresh Index Site Explorer data for cameo.com so that you can try out Majestic for free, to see what you can find.
As a start, you may want to…
Find out where Cameo is linked to from editorial-style links near the top of a page.
See where Cameo is linked to with high-density (directory-style) links.
Check out a word cloud of the Anchor Text that sites use to link to Cameo.
Get a list of pages where Cameo is linked to NEAR a mention to a competitor site, CelebVM.
There is so much that you can do with Majestic, and I really hope that you find something good in there. If you would like to check out any other website, perhaps your own or a competitor site, Site Explorer access is available with our very low-priced, entry-level Lite plan.
If you want to use the Historic Index, or the Flow Metrics History tool mentioned at the top, you will need to grab one of our Pro plans.
I really hope that you enjoyed this article. If you have any questions, or would like to find out more about how Majestic can help you as a site owner or journalist, please get in touch with our customer support team. They are very nice.
Latest posts by Steve Fitzpatrick
(see all)