Today we are really excited to add a new twist to our offering in the form of a Keyword Checker and bulk Keyword Checker.
From today you can type a keyword into our home page instead of a web URL and start to see how many web pages use the phrase in the Anchor Text or in the title of a URL or a domain. These are commands that were once available in some search engines, but the functionality was taken away. We assume it was deemed to valuable for the general SEO public to have.
We have also created a bulk keyword checker tool, designed to let you add hundreds of keywords into a list and see these metrics or export them as a CSV file.
Why is this useful?
You now have the ability to see how competitive key phrases are in ORGANIC search. Until now, SEOs have had to rely largely on Google's paid search keyword tool bench-marked against its expected cost to rank in Adwords to make assessments as to how competitive a phrase is. However – there is a marked difference between the nature of organic and paid results and how you succeed in search partly depends on knowing how to blend the channels.
In its raw form, this is a great new research tool which we hope users will delve into. What is more important to people according to the "Big Data" map that is the web? "airline tickets", "flight tickets" or "plane flights"? Well now you can find out in a trice.
You can always test out the "good stuff" over on the live keyword checker tool, but you can cut and paste hundreds of keywords in at a time. The actual number depends on your subscription level – with silver users (£29/€39/$49/mth) currently getting 150 phrases at a time. The results are currently shown as two sets of counts: Phrase match and Broad match.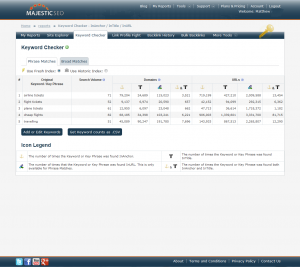 Can I see the ACTUAL domains that use these?
Not right now – but we are constantly developing. Ever since in:url, in:title and in:anchor was stripped from advanced search engine commands, this feature has been unavailable to most users. We are reincarnating the features, but rebirth isn't instant. We hope you will find value in this new feature and would love to especially see posts about how you might blend this data with PPC data to work out whether to focus on PPC or Organic for any given phrase.
Did we develop anything else while we were at it?
Wow – you guys are DEMANDING. OK – we sussed out how much people searched for most of these phrases and created a "Volume Score" which is a 1-100 scale for each phrase showing how often we believe it is searched for. A high number means a very highly searched phrase. We have embedded these numbers into the reports as well, so that when you analyse the phrases, you can make judgements in balancing search volumes with organic ranking challenges.
Latest posts by Dixon Jones
(see all)