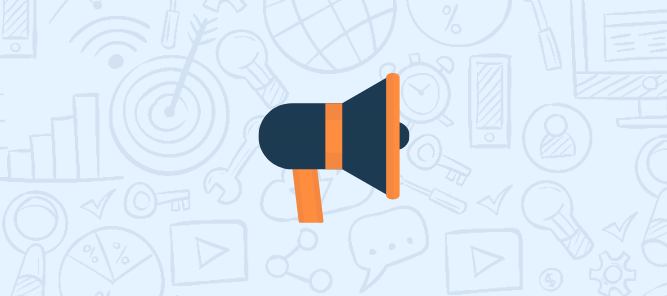 Majestic's Bulk Backlink Checker is the perfect way for you to get fast, reliable data on multiple domains or URLs – with no programming required.  Over the summer we boosted our Bulk Backlink Checker tool with many more pages of data on the domains that matter to you.
A customer got in touch a few weeks ago to ask if we could add the Backlink Breakdown information that we have on the Site Explorer Summary page.  That's the information that gives context to a backlink, for instance, does it come from an HTTPS page? Is it an image link? Is it a link from a frame?
We had a look, and it turns out that we can indeed add that data for you.
From today, you'll be able to check out these stats for up to 400 domains/URLs at once through our website.
To show how you can use the data that we have, we grabbed the top 50 domains in the gTLD ."store".  You can do this yourself on our Majestic Million tool.
Here is the first new view on those results, ordered by Trust Flow.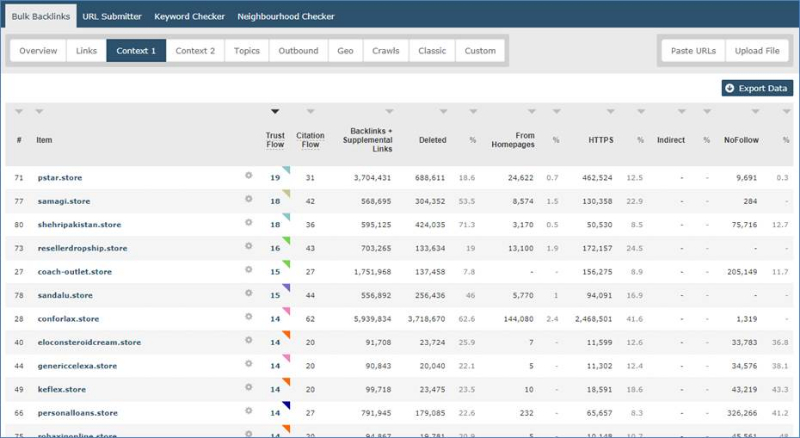 You can see the first batch of new backlink breakdown context columns.  It's also possible to sort any of these columns, so you can easily look through your list of sites, ranking and comparing on metrics like, "links that come from homepages," or, "% of links that are NoFollow."
The second Context view will return numbers of links that come from Frames, Images, Redirects and Text Links… the classic Majestic Backlink Breakdown numbers.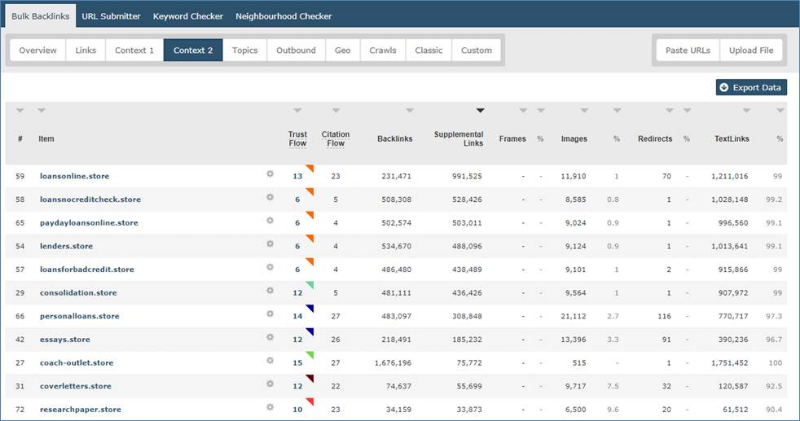 The number of Supplemental links is also there for you.  For anyone who hasn't come across this number before, this is a count for where we see more than one link of a type on a page.  For instance, if Page A links to Page B with three different links, one frame, one image, and one text link, that will be counted as one backlink, and two supplemental links.  In this instance it appears that a ratio of supplemental links to backlinks may be an symptom of a poor quality link profile.
Again, all of these new columns are sortable, here is a view on the Top 50 websites from the Majestic Million, sorted by the percentage of links that come from Frames.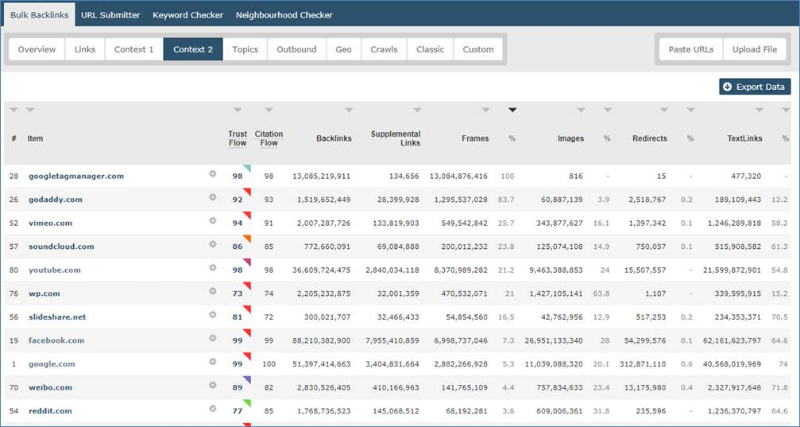 We hope that you find great use with this new way to compare.
Remember that while you can get up to 400 lookups at once through the website, a Bulk Backlinks file upload is the perfect way to get fast, reliable data on UP TO ONE MILLION domains or URLs at once. Just upload and submit a file containing your URLs and we will let you know when we finish processing.
Majestic Bulk Backlink Checker is available on all of our subscriptions, with more generous limits available to PRO and API subscribers.
Latest posts by Majestic Marketing
(see all)