We have updated the "new" tab as part of the Majestic toolset so that it is easier to work through the data and identify new links within the Fresh Index, as part of a particular time frame, because whilst our New Links tool is a great way to work through a comprehensive list of the new links, it can sometimes be difficult, or time-consuming, to find a summary of the very best new links our crawler has found.
There are two main reasons for this.
Firstly, that shiny new blog post that's linking to your site may also be new to Majestic – making it likely that the brand-new URL hasn't yet built up enough Trust Flow in the first days of discovery to float to the top of your best new links.
Secondly, we share a lot of important information about each individual link – there's a lot happening on the New Backlinks page. While many Majestic customers depend on the valuable information, we do appreciate that there are a group of you who just want to be able to scan down a list of links, get what you need and leave.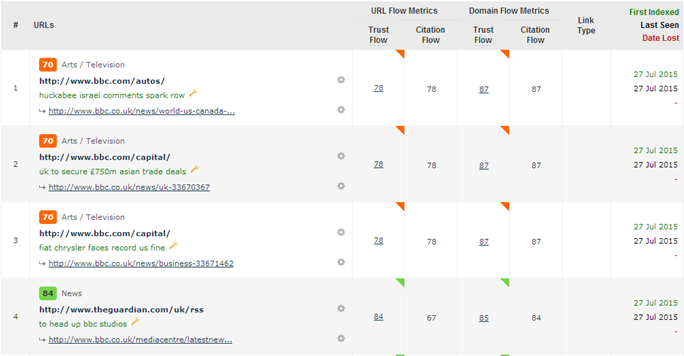 This is why we've created a new view for you.
From today, we have started to group, by subdomain, your Top 100 new links for your selected date range.  This way, we can use the Trust Flow of a link's parent subdomain to decide whether or not we think that a link is worth bringing to your attention.
You can access the view with the View by Subdomain button in the New Backlinks tab of Site Explorer.

To make things easy for you, we'll remember which way you like your New domains, so you don't have to keep re-toggling.
To show you how this works, here are the top new links to bbc.co.uk on July 27th 2015. It's from the same data set as the previous screenshot.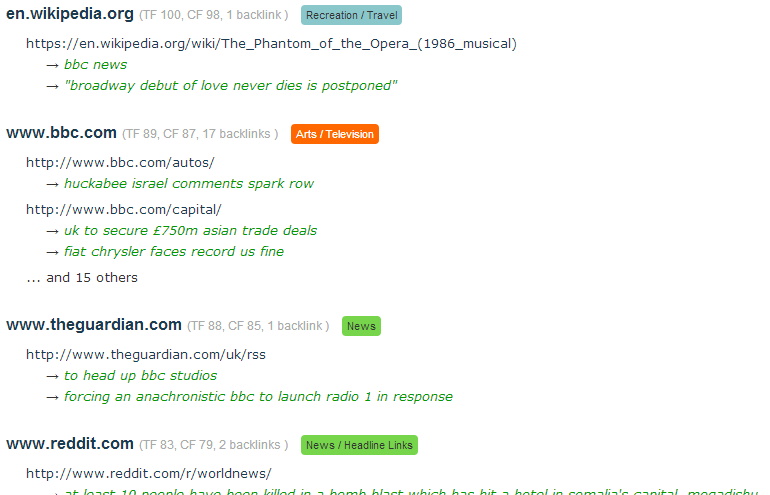 So, what's going on here?
You can see here that the best new Trust Flow links from this period were from the subdomain en.wikipedia.org. The group of green anchor text shows that are two links to your domain from this one page.
If you want to investigate this new link, or add it to your bucket of favourites, you can hover over (tap on a touch device) for your familiar cog toolkit.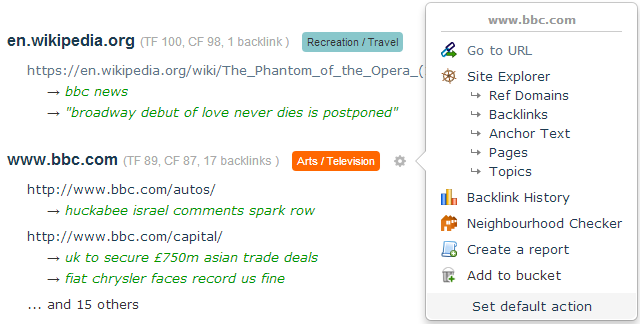 The next group of links are from bbc.com, and this time there are two main backlinks shown.  The top one has a single incoming backlink with the anchor text, "Huckabee Israel comments spark row," and the second link has two links to you from the same page.
You may notice that there is a "… and 15 others" footer to the subdomain.  We want to keep this page as concise and clean as possible, so this new view will only show the top two pages that link to your search term (note: while testing normal-sized sites, we found that more than two links from a single domain on the same day are almost always as a result of site-wide links).   If you desperately need to know about these extra links, you can always grab the entire data set from the blue [Download Data] button, and filter with your preferred offline method.
You may notice that there isn't much supplementary information on this page for each link.  We've tailored this page to help you scan rapidly down your list of links, and removing most of the other data from the page really lets you focus on that left column.  Don't worry – if you prefer your New Backlinks in the old format, it's still there – under the View by Page toggle.

New Date Picker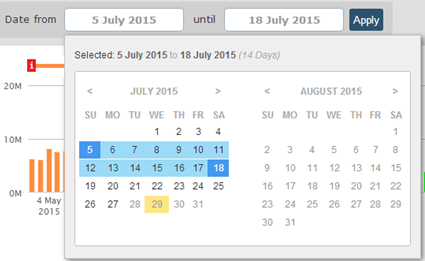 As before, you can choose anywhere between one to fourteen days for your report.
While you're looking at the filter bar, you may have noticed that we have introduced a date picker.  We found that dragging on the chart to select a date range wasn't particularly intuitive, so we've complimented the bar chart with an easy-to-use picker.  Again, if you enjoy dragging the bars, you still can – they work together seamlessly.  You may not have noticed that we've also stripped out some of the borders and grid lines of the chart – we think that the simplified version looks better on the eye.
What's that orange bit?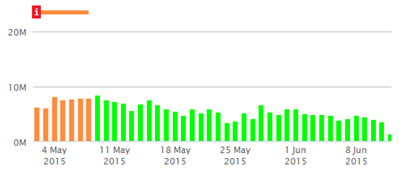 This is a nice, visual, reminder of how our Fresh Index crawler's, "memory effect," works.
If you're not aware of the effect; our Fresh Index has a short memory, currently 90 days, so the first week of new links in a memory cycle can often contain historic links rediscovered by our Fresh Index.  We colour this part of the chart orange to help show that these links may be a combination of Fresh and Historic. We believe all site explorers on the market suffer from some kind of similar memory effect, and hopefully the different bar colour helps to clarify something that can be difficult to explain.
Let us know if you're using the new view!
We've worked very hard on your Best New Links view, and we really are delighted to share the news today. We really hope that you enjoy it.
This is definitely just the beginning of this way of representing new backlinks and we have so many ideas for where we can take this. Please let us know if you find it useful, and if there's anything that it could do to make your life even easier.
Latest posts by Steve Fitzpatrick
(see all)