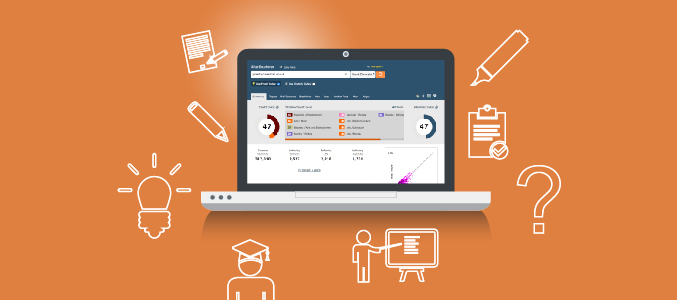 Majestic is a powerful SEO tool, but it's not just a backlink or authority checker. It's also a great asset for small businesses content marketing.
As more and more businesses become content publishers in their own right, it's important that SMEs invest their content budgets in the right things — creating a rich array of content that includes blogs, videos, podcasts, infographics etc. But it's not just about creating new content: SMEs need to make the most of what they've already got. When budgets are tight, every piece of content must work hard in order to justify its existence.
Using Majestic gives you the chance to focus on targeted content that's going to get you ahead. Learn how to make the most of Majestic to maximise your content marketing ROI.
Read more: How to brainstorm link building ideas with Majestic
Spying on the competition
Majestic is an excellent tool to help you weigh up the power of your own backlinks and domain authority against the competition.
After all, search is a competitive channel where you need to ensure that your website and content are performing well against industry benchmarks.
And what are definite signs of great content and a popular website?
High-authority contextual backlinks from a range of relevant referring domains.
Use Majestic as a starting point when you launch content campaigns to help guide your strategy and put realistic stakes in the ground.
Use the Trust Flow and Citation Flow metrics to judge the power of the sites you are up against. This should help you scope out budgets and timelines
Use the backlink checker for the number and quality of backlinks that other domains are scoring for their content
Check in with their anchor texts: can you learn more about what strategies seem to have worked before? Can you glean any keyword ideas from competitor anchors?
Look at what topic areas these backlinks are coming from: these are the niches you should focus on (and not just for link building, for content creation too).
The compare feature is great for when you really want to get under the hood of how your site is faring against the competition: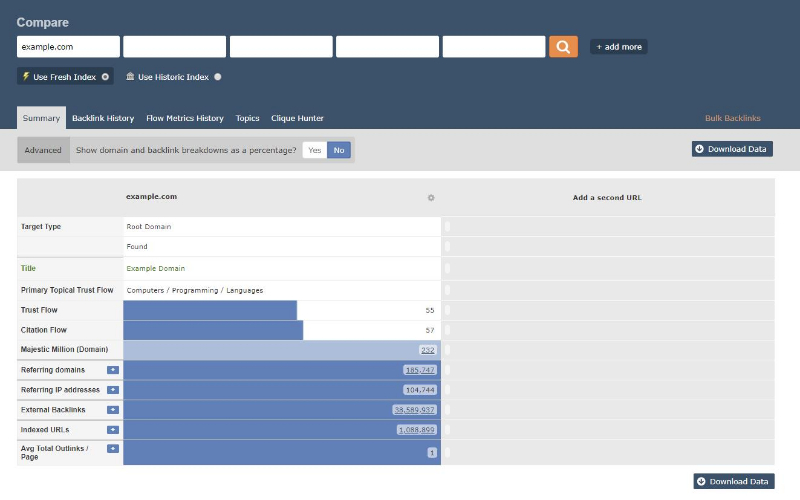 Use it to compare entire domains, or hone in on individual content pieces. It's a great feature that can really help you plan out a realistic content strategy anchored in data, not hunches.
Replicating competitor success
Delve into the backlink reports for your top 5 competitors. What kinds of blogs and sites have been sending them links and referral traffic?
If these sites are sending traffic to your competitor's site, they are likely to send traffic to your own as well — as long as you're offering the same sort of quality in terms of content or value exchange).
Send a personalised email to whoever is in charge of the site and explain why a link to your site benefits them. Really focus on the value proposition, and put yourself in their shoes. They are probably very busy and inundated with requests like these, so you need to really highlight how a partnership would benefit both parties
If you can't get listed on the same page, look around for similar pages that you can get a link from. Know when a site just isn't worth pursuing
You might even have to create content on your site first before asking for a link. If they still don't link to you, at least you have some great new content for your users and something you can build links to later.
Analysis over time
Sometimes historic data can shed light on what is happening today in the SERPs. How did the big players get so big?
By analysing the link profile of a competitor who has increased awareness over a period of time, it's possible to identify which campaigns and tactics appear to have benefited their progress the most
These individual campaigns can provide an understanding of the type of content marketing strategies being applied – whether it is in the form of editorials, video, graphics, guides or other content formats which help to entertain, educate, inspire or convince a prospect
Majestic has a feature which allows you to review a historic landscape of both you and your competitors. Simply go to the 'Backlink History' area and insert up to 5 competitors. This will provide an overview of their performance in terms of link quantity. To confirm whether these links are high in quality, use Majestic's Trust Flow metric. Anything above a 15 rating usually represents a good site.
If you want to learn from the big players — check out the Majestic Million for the best websites in the world. You can learn a lot from them!
Spotting content opportunities
One way that small businesses can use Majestic is to spot content collaboration opportunities. It can be a way to track who has linked to you, or talked about you — and then review whether there might be a way to make more of a potential partnership.
Example — maybe a local charity has linked to you on a donors page? You can use Majestic to pick up the link, and then think about how creating some targeted content about the partnership would be a way to get even more value out of the relationship.
I guarantee that spending 30 minutes looking around in Majestic and getting to know the dashboard will yield some interesting content ideas and collaboration opportunities. Approach it with an open mind.
Tracking & ROI
You can use Majestic Campaigns to create internal reports and projects. This is a great way to ensure accountability in a business, especially if different teams are reporting to each other.

Even if your business only has a small marketing team for now, reporting is something to get into the habit of from day one. Without accountability, content marketing can quickly get out of control and become a sinkhole for company cash.
Finding the right words
Everyone knows that Majestic is a brilliant source of data when it comes to analysing links and anchor texts, but it's also a great keyword research tool — just use the Keyword Checker when you want to validate your keywords.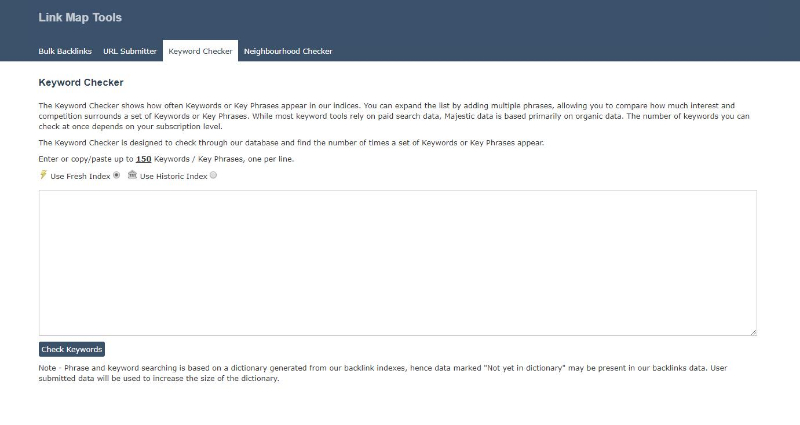 Basing its keyword data purely on organic search, you can plug in your head terms and get some guidance on popularity, instances, search volume etc.
It's a great way to validate key phrases, and by digging deeper with Majestic you are likely to discover new keyword phrases and ideas.

After all, you can never have too many keyword research tools…
Influencer marketing
Working with influencers isn't just a 'big brand' thing. All businesses have the ability to partner with influencers (large and small). It all boils down to the value proposition. Free product giveaways, a great content proposition, a fantastic story, free exposure, or other value propositions that are genuinely useful to the influencer can help sweeten the deal.
Majestic's free browser plugin is great for when you are vetting sites on the go. Just download it, and you can quickly check out any site's TF, CF, and referring domain count — all without having to leave the site and open up Majestic. It can give you a good idea of whether a site is worth engaging with, and is a quick way to flag up potentially toxic sites. If something doesn't look right — keep digging.
Influencer marketing is a powerful strategy for anyone selling products online as it's one of the quickest routes to compelling social proof. An influencer marketing platform, coupled with data from Majestic, will help you hone in on the creators who are going to bring in business for you.
It's also fun to keep tabs on how your own website is doing using the Majestic plugin. It's rewarding to see your Trust Flow creep up thanks to all your hard work…
Content ideation
It can be tricky to come up with great content ideas on the spot. It's even harder when you factor in how competitive today's search landscape can be.
So how about getting access to the most linked to (arguably the best) content out there for any given topic?
Meet the Search Explore from Majestic: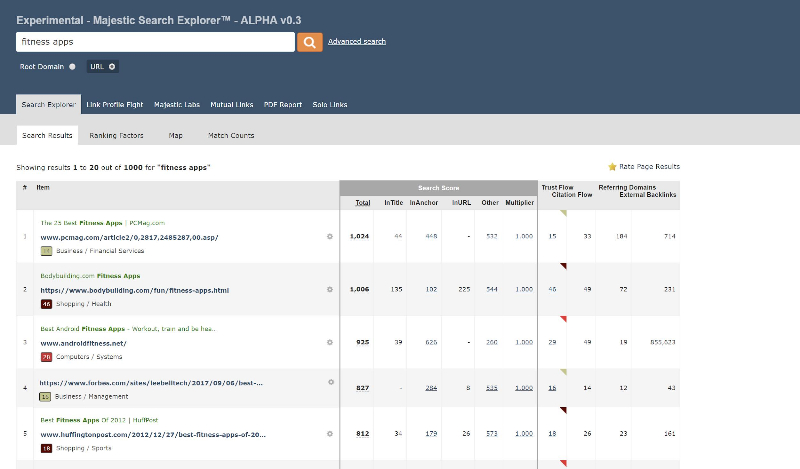 In just a few short clicks, you have a list of the most valuable pages for that keyword — and you will be well on your way to coming up with a great page of your own.
Top tip — mash-up all the best features of these top results and you will be in with a strong chance of ranking. Look at how page titles, headings, and structuring decisions have all contributed to getting the top spots.
Content marketing is a mixture of creative, commercial, and data-oriented approaches. Use Majestic to help you make the most of your content by combining all three. On the more techy side, Majestic is also great for developers, APIs, and more custom tracking needs. As you grow, Majestic can grow with you.
Latest posts by Victoria Greene
(see all)