On Wednesday 27th May, two generations, with two different sets of perspectives and life experiences, will join Dixon Jones to discuss how they approach's differ depending on where they work.
Sign up to the webinar over on Zoom: https://us02web.zoom.us/webinar/register/WN_dEapL0TlRuS5bnUhCnn3Iw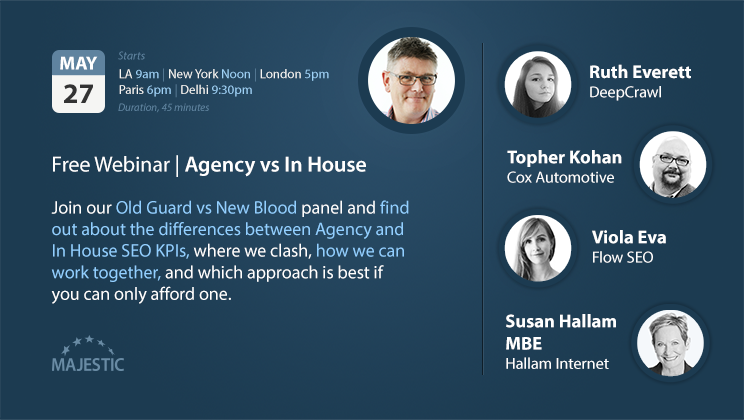 The Old Guard:
Dixon Jones, Brand Ambassador of Majestic and previously founder of one of the UK's earliest SEO Consultancies, Receptional, back in 1999.
Susan Hallam MBE, Founder of Hallam Internet.
Topher Kohan. InHouse SEO of Cox Automotive and previously the weather channel and IBM.
The New Blood:
Viola Eva, SEO Consultant and founder of Flow-SEO in Berlin.
Ruth Everett, Technical SEO analyst inhouse at DeepCrawl.
Majestic Webinars
Follow our Twitter account @Majestic to hear about more upcoming webinars!
Or if you want to catch up on our previous webinars, you can find them over on YouTube: "Old Guard vs New Blood" webinars.