As we all get into the new reality, Digital Marketing is better placed than most to work remotely. But how do you manage teams remotely or how do you want to be managed remotely?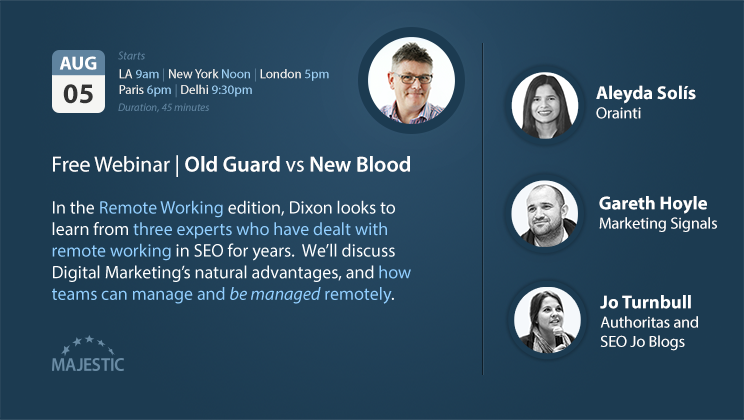 On Wednesday 5th August we talk with people that have dealt with remote working in SEO for years.
Register now: https://us02web.zoom.us/webinar/register/WN_kLyWaTjDSkyTyJvuQoMADw
Your Host
Dixon Jones is your host, and while he may be ancient in industry terms, remote work and managing people remotely is a whole new thing to him. Luckily he has some amazingly well qualified panellists to ask:
The Old Guard
Gareth Hoyle of Marketing Signals has been running large scale remote teams in India and across the world for years as well as more local teams.
The Vanguard
Aleyda Solis is the co-founder of remoters.net, a remote work hub offering a free remote job board, how-to guides, tools, events and more resources to facilitate remote work.
The New Blood
Jo Juliana Turnbull has been remote working since 2010. Now growth hacking for Authoritas plus SEO consultant for SMEs, Jo is also well known for running Search London and Turn Digi.
Previous Webinars
If you are interested in this webinar and want to see more, you can find our previous webinars here.