There seems to be a renewed focus in the Search industry on whether SEOs should start looking more closely at Search Engines Results Pages; (SERPs) that are actively, or passively, using URL categorization. A recent and recommended article by Roger Monti goes into the significant research, whitepapers and even patents about how the main search engines may first be grouping URLs into buckets of thematically similar content before ranking them.
Is there a correlation between Categorization and SERPs?
Yesterday, if you were lucky enough to catch it, I did a joint webinar with SEMrush on how quickly you can see correlations between Categorization and SERPs. We'll come onto the exact caveat of correlation <> causation in a bit, but for now let's discuss how time and again there seems to be correlation when a search term is well defined, with the results that the search engine displays. For example, if I type "Rock climbing" into Google.com, as if searching from Miami, the following top 10 results are displayed;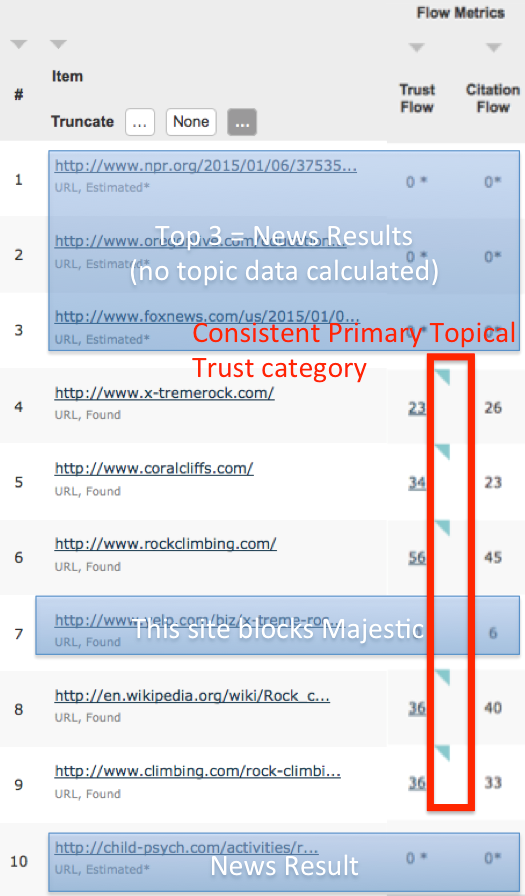 I then put these results into the Majestic Bulk Backlink Checker Tool; (also as above). The light blue triangle represents the most significant top level topic that Majestic believes the page is about. In this case the light blue represents "Recreation". This is pretty interesting, because another top level category for the search term "Rock Climbing" is sport. But as above, the pages coming back in the SERPs are consistently travel (and primarily Recreation / Climbing) focused. Even the Wikipedia page in this example is categorized Recreation / Travel. Plus, it seems wherever Majestic – in comparison – is able to categorize a page, we see a huge correlation between a SERP ranking and a consistent topic.
What happens when the keyword is too generic?
Now it gets interesting. If you enter a "generic" search term, the categorization is not so evident. This time, let's look at the word "Majestic" as seen from Washington DC within Google.com. Again Google grabs its best guess, but now it is not altogether clear what the user means when they type in this search term as can be seen by the screenshot below. The results are all over the place – a range of results, and also topics: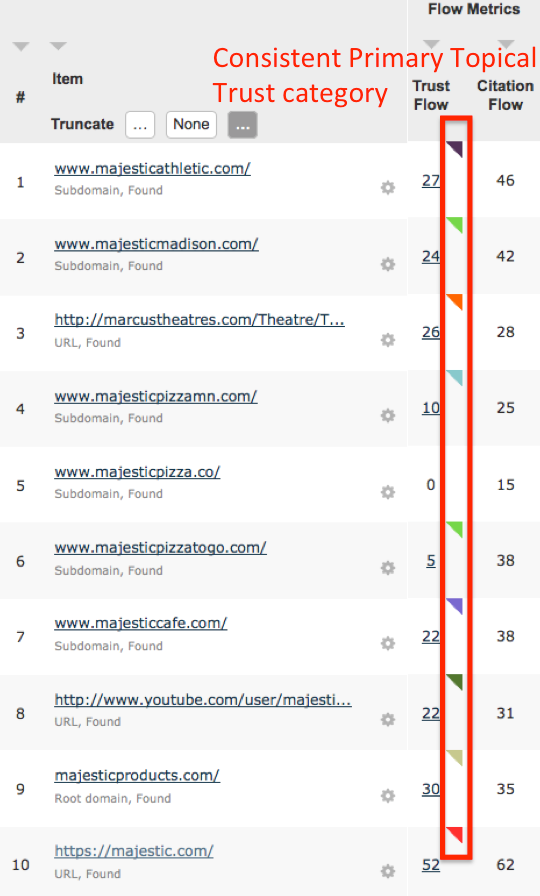 Here is the point of the post… Google learns!
We have learnt that when a word is generic, Google and search engines have trouble deciding what genre of content to return in the result, and when it is specific; it becomes closely associated to a tighter group of websites. However I think Google can quickly learn over time. An excellent example of this was picked up by SEObserver – a French company. The keyword is hidden not because I do not want to show it, but because I am a family man. It's in French anyway. But the point is that the phrase relates to an adult toy which suddenly came to the forefront of a different context to French commentators late last year. Until that point, Google had little idea what the phrase was about, but as the phrase became associated with a specific topic, the search results changed dramatically into a common theme. Below is a screenshot from SEObserver, which integrates Topical Trust flow. There was a big change in Primary Topical Trust categories over a 10 day cycle.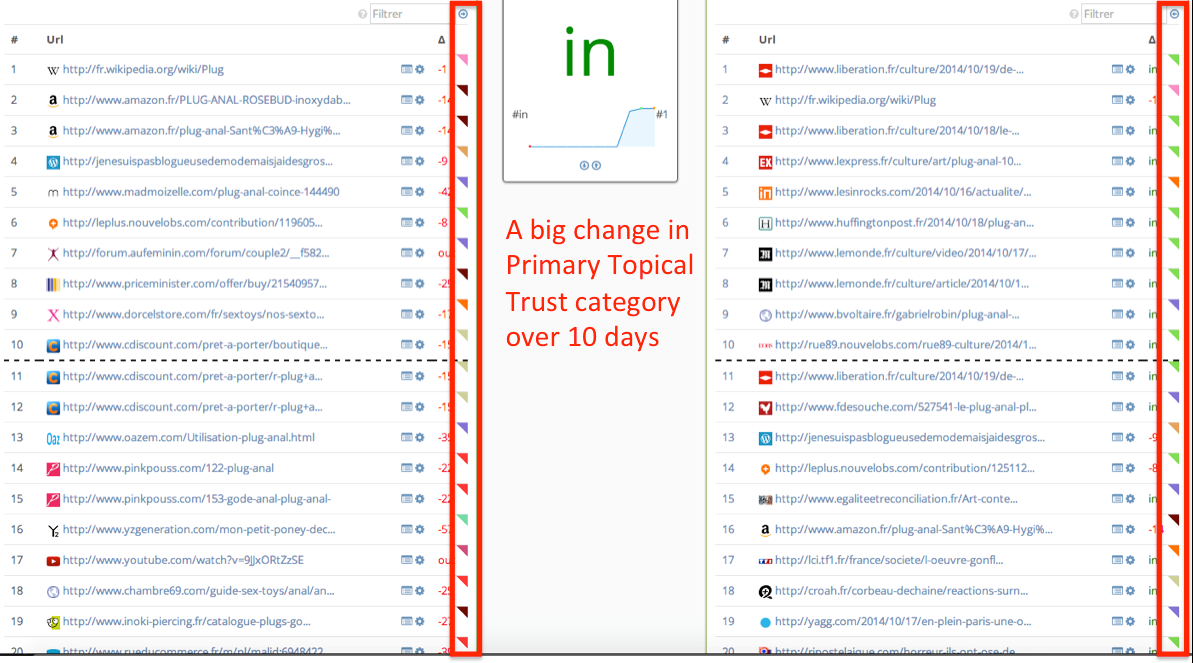 The above image may require a bit of explanation. It shows the rankings on Google in France according to SEObserver on two days, 10 days apart. The triangle is then Majestic's Primary Topical Trust Flow – identifying the industry category the link is associated with. Before the event that changed Google, (and France's), perception of the phrase, the colours are all over the place, whilst 10 days later, half of the results are flagged green; (Green actually relates to the "News"!). One other thing to note is that SEObserver is showing the primary Topic of the domain, not the URL, and I believe that the URL's primary topic is what counts here – as can be seen by the first image within this post, and in specific a Wikipedia page that is about Travel / Recreation, rather than the context of Wikipedia itself, which is primarily about "reference".
Correlation or Causation?
Whilst the links to the research papers from the major search engines at the start of this article suggests that the engines have been actively looking at breaking down "Page Rank" and "Trust Rank" into "Topical Page Rank" and "Topical Trust Rank", this research does not prove causation. There is a case of Google following, (and possibly leading), humanity here. As things change in the real world, so the search engines can algorithmically adapt in near real time. Before hurricane Katrina, the keyword "Katrina" was either a girls name or related to a pop group. After the hurricane, it was universally seen as related to weather where Google clearly sees this as is today.
Further to this, Majestic is of course its own Marketing search engine, and we can categorically say that WE believe that our future in search revolves around categorization being a CAUSAL factor in our own ranking systems, not a CAUSAL one. Whilst we cannot speak for other search engines or of cause for Yahoo, Microsoft or Google – nor pretend to have their computing power – we do think a causal algorithm works in returning relevant results for a given keyword. In saying this, there is – as always – a caveat here, in that we have left out some key information as to how we calculate Topical Trust Flow. I can say that there are several scaling challenges associated with getting a sound categorization system though.
Takeaways
I think that there is increasing evidence that getting links from pages that are themselves not thematically relevant is probably fine on the odd occasion, but will break down your chance of ranking at the very point at which it is important for you to do so.
Knowing that a phrase like "majestic" with a small "m" is very generic, and is therefore presumably hard to rank for, you may consider we were unwise to spend time and energy changing our own brand. But we do feel, we are only at the start of building up a brand. The much harder challenge is to get into the hearts and minds of people so they know "majestic" as us. If we achieve this, we will change the perception of the word "Majestic" 😉
Being able to categorize the web, (as Majestic now does), is a fundamentally sound approach to building a search engine. It can clearly make SERPs more relevant to the user.
See Topical Trust Flow in Action
Although Topical Trust Flow is not available in Majestic's free offering, having referred to it during this post, I feel I should mention that you do have unlimited ability; (subject to fair usage), to see the topical trust flow of any URL and compare this flow between multiple URLs in our paid offering, which starts at less than $50 a month. You can also see multiple ways in which to use Majestic to dramatically improve your online presence through our free link building training program.
Latest posts by Dixon Jones
(see all)