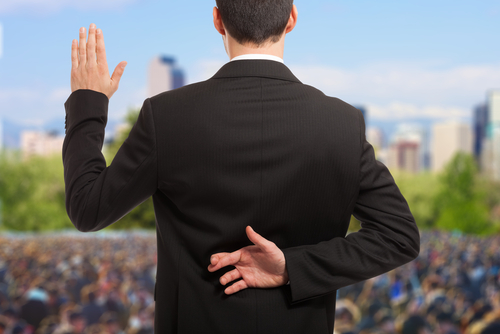 Some clever students have created www.edulect.co.uk which I recommend everyone in the UK try for 60 seconds before the election. No login. No cost. But you will be a much more educated voter.
The Problem: We are all individuals, with different needs, but every five years we vote for a party, which (in no way) will represent us, instead of a person.
This solution lets you instantly see which candidate has the potential to impact areas that affect me and vote for them instead of the party they stand for.
The great thing is that it does not measure what the candidate says to measure impact, so a candidate's rhetoric is not so likely to sway you.
The Edulect site is a free tool that needs no sign up or fee. You simply put in your postcode and the site first calls "whosypunextmp.co.uk" to get a list of candidates. But then it looks up their Twitter handle, or web profile URL. That's the key, because they can then show you how much impact each candidate is likely to have in any of about 800 categories, by converting Topical Trust Flow into an impact metric!
Interested in parliament spending more time on the Health service!? Look for candidates with a score in a health category. Want more attention to the Arts? That's there too.
Even though the app was crudely built (in 24 hours straight, with no sleep), I think it is a hugely significant step in how our approach to democracy should change in a world with more than 2 party politics. The biggest challenge in parliament is not money or parties. It is time. Getting the things you care about even onto the agenda is almost impossible – and if Parliament is discussing the wrong agenda for you, then it is probably because the people we voted for are not passionate or knowledgable about the things we want. Even if you vote for a candidate strongly opposed to your view on (say) electronic cigarettes, you are more likely to get your opinion onto the agenda by voting for someone that has any opinion at all that voting for a patsy, just parachuted in from some party HQ to make up the numbers.
60 Seconds you say? Show me.
Well if you read this far, you could have tried it already – but this is the screen you are trying to get to:
As I have just returned from Brighton I thought I would bring up the data for the UK's only Green MP.
What did the "Impact" Scores mean?
They are log based scores between 0 and 100. They are in fact Topical Trust Flow scores from Majestic, but the students didn't want voters to feel that these scores in any way suggested you could TRUST the candidate in any given area, only that they had or could make some IMPACT in that area. (Right there the students hot extra brownie points for understanding the underlying data!).
Why do so many Candidates have no impact scores?
Honestly? I think it is because they have not yet given any evidence that they CAN make any impact! There will be exceptions, of course, but if a tree falls down in the woods and there is nobody in earshot, does the tree make a sound?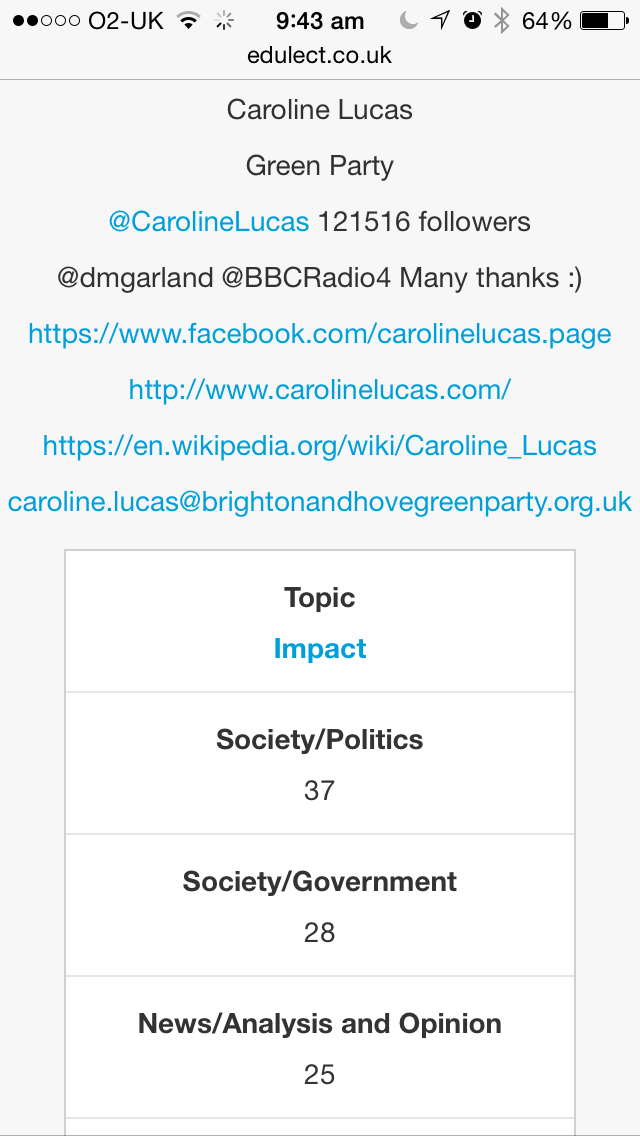 Latest posts by Dixon Jones
(see all)