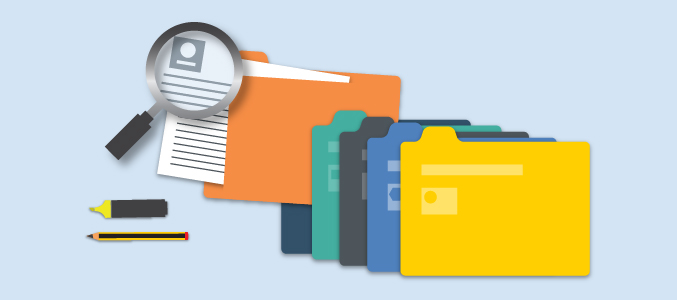 Occasionally, I get emails from people asking me about nonprofit and government sites and whether there are any particular ways to use Majestic for promoting such sites. I do have some experience working in the nonprofit sector – I worked full-time for a nonprofit for 12 years in my early career and have since done occasional work in the sector.
So in this article, I want to take a quick look at nonprofits – and then follow up next month with a piece on government websites.
I've also repurposed this article as a video lesson:
This is part of the growing collection of resources on our free video course, Getting up to speed with Majestic (now 24 lectures).
If you work in a non-profit or are considering taking on a non-profit client, I want to show how Majestic does a fantastic job of exploring the sector for you – both in getting inspiration for creative campaigns and in finding excellent link prospects.
So let's say you had an inquiry from a non-profit organisation who wanted a creative marketing campaign, and you wanted some quick insights into the non-profit sector.
It was the advertising legend, David Ogilvy who said "without research I am lost". He learned how to quickly look at competitors, evaluate their work and get inspiration for new creative ideas. Majestic can you help do the same and gather research in any sector.
The first task
The first task I'd set myself is to find great examples of nonprofit campaigns that I could draw inspiration from. I'm sure there's a number of sites that provide such insight – and indeed a quick Google search brought me to a fantastic website, Osocio.org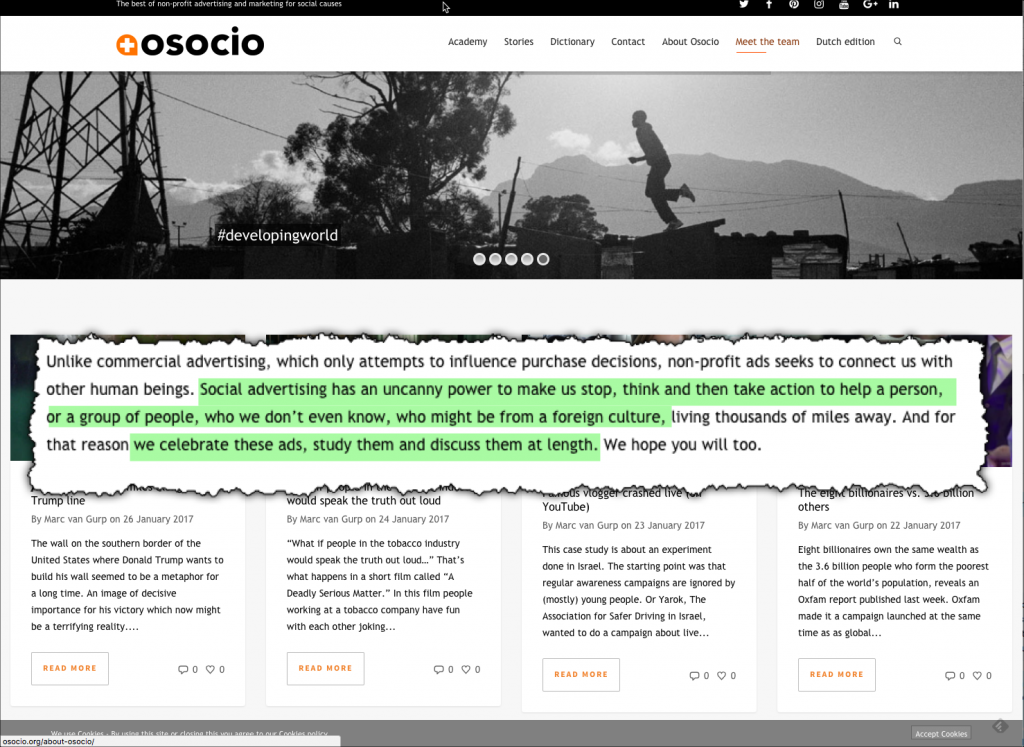 This is clearly a great authority on nonprofit and social advertising campaigns. As they say on their website,
"Social advertising has an uncanny power to make us stop, think and then take action to help a person or a group of people…
…we celebrate these ads, study them and discuss them at length".
The site features a new social campaign every day – with a commentary by editor, Marc van Gurp. It's a fantastic source of inspiration.
And here's the summary of the link profile in Majestic: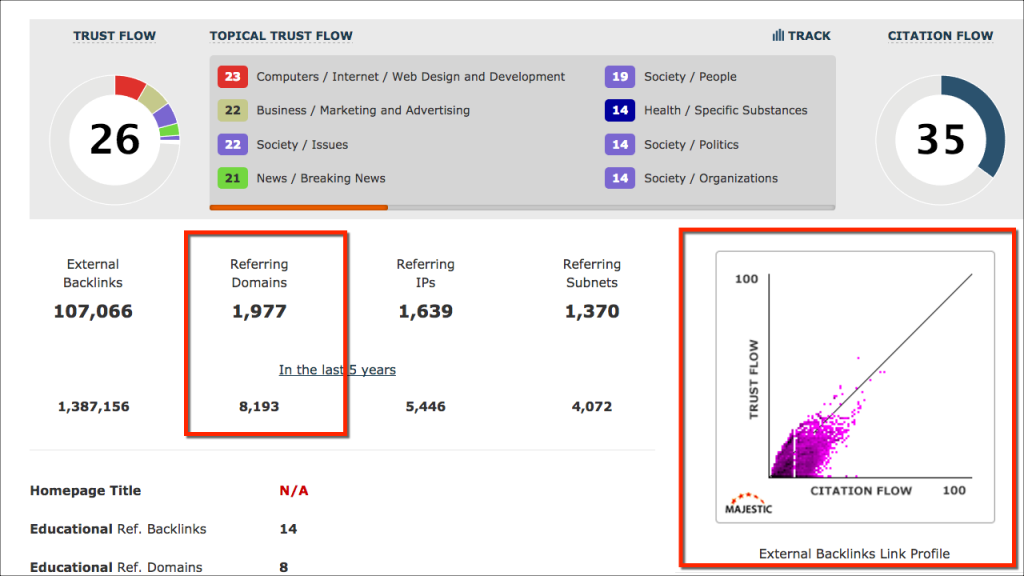 Now we could do a link analysis of the site and we'd definitely get hundreds of prospects. But at this early stage, that's not the most important task.
The first thing I'd recommend is exploring the 'online marketplaces' or 'online communities' that can be discovered using link analysis.
So what are online marketplaces or communities?
Sites in the same industry write about and link to many other resources within that industry. These sites include news sites, blogs, resource sites and directories, competitors, influencers and journalists and others who write about and link within the industry. Collectively they make up the online marketplace or community around that industry. I like to think that online marketing is not just about 'earning links from that marketplace' but more about 'establishing your position within it'.
So let's look for evidence of online communities in Osocio's link profile.
Here's a link on Adweek that I find interesting – I'm not sure what I'll find but at this stage, I just want to absorb ideas and influences so I'll just take some time to dig around.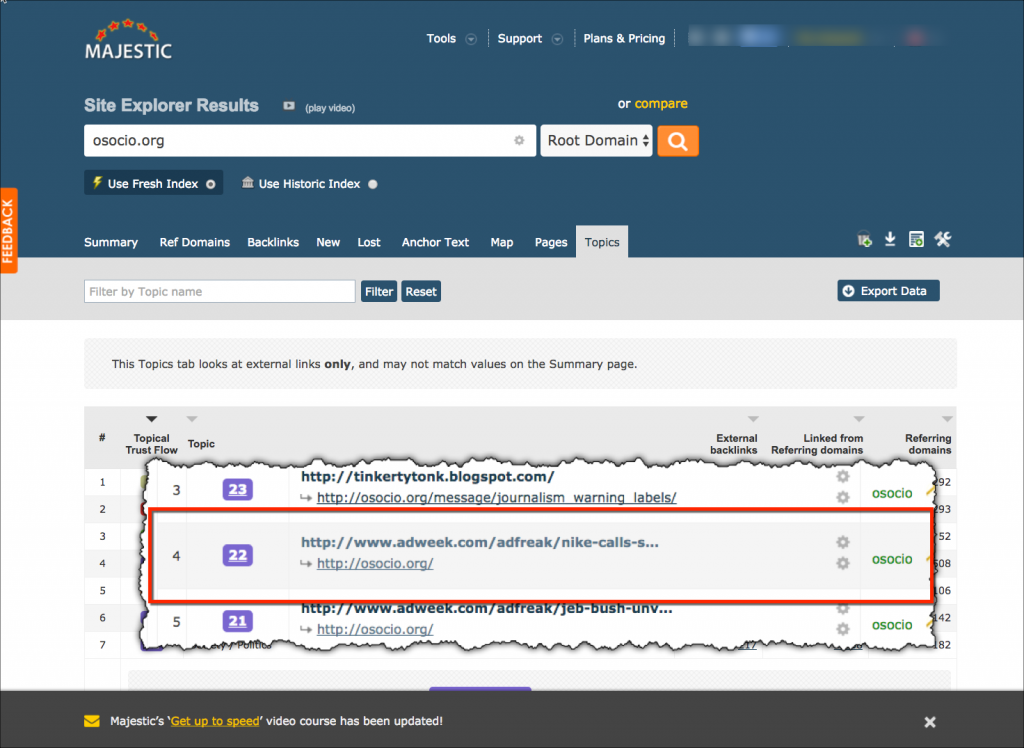 The article turns out to be about Serena Williams and a promotion she was involved with for Nike.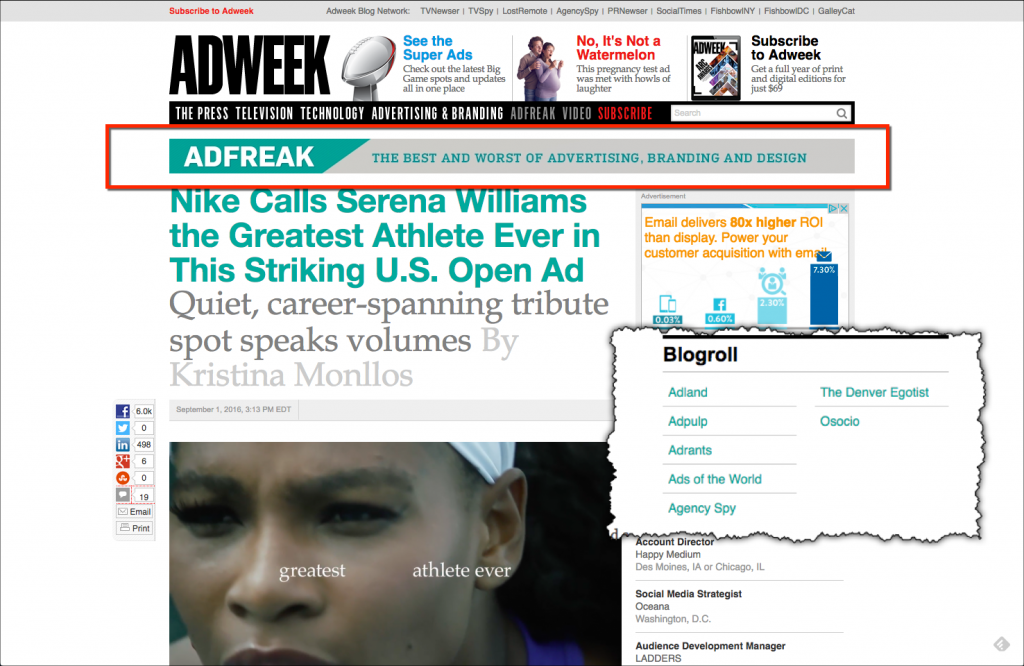 I also see this sits on a section of the Adweek site called Adfreak –  a section that reviews 'The Best and Worst of Advertising, Branding and Design' – obviously another creative resource that I could use for inspiration.
That's interesting but there is more. As I scan the page I see Osocio.org listed in a short blog roll with another 6 sites that also appear to comment on advertising campaigns.
So I have even more immediate sources to scan for creative nonprofit campaigns and ideas.
But as each of these sites seems to be about reviewing ad campaigns, it is quite reasonable to assume from my definition of online communities that many other sites interested in ad campaigns will also link to them.
These sites are perfect for exploring in Clique Hunter – just enter the domains into the tool and we'll find hundreds of sites that link to two or more of our initial set. Here's a screenshot from Clique Hunter: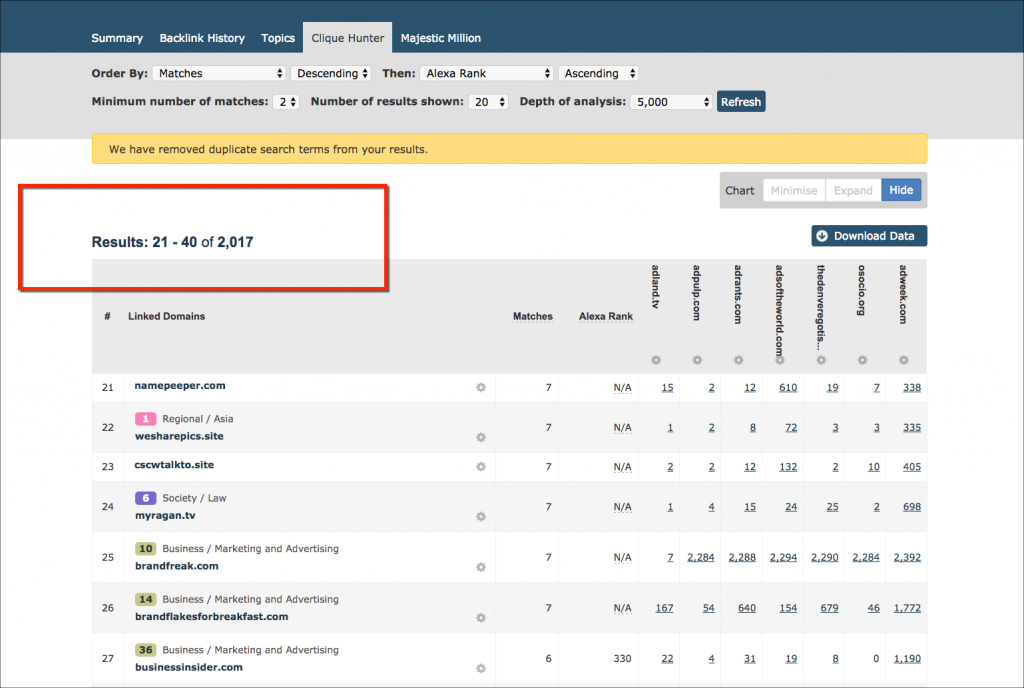 So these 7 sites have generated over 2000 prospects that are part of the online community. And because these sites tend to link to each other, there will be many opportunities for earning links in the future.
And the beauty of analysing an online community like this, is that there are many different communities to explore – it really depends on what you're after.
For example, if I choose another result from the link analysis of Osocio.org, I'll get access to a completely different online community.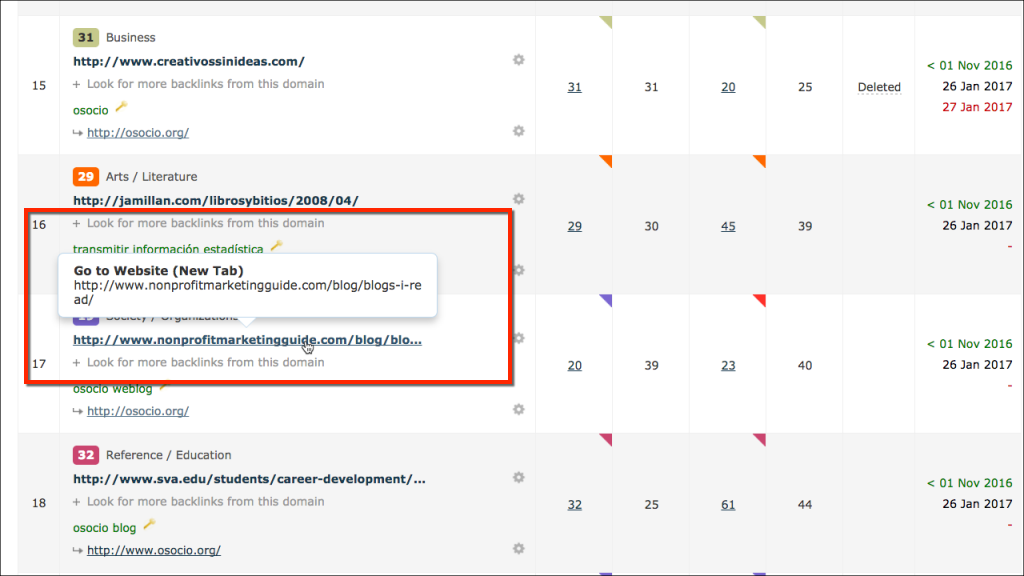 The link above comes from the NonProfitMarketingGuide.com and when we click through and visit the page, we see Osocio.org listed among other highly relevant blogs.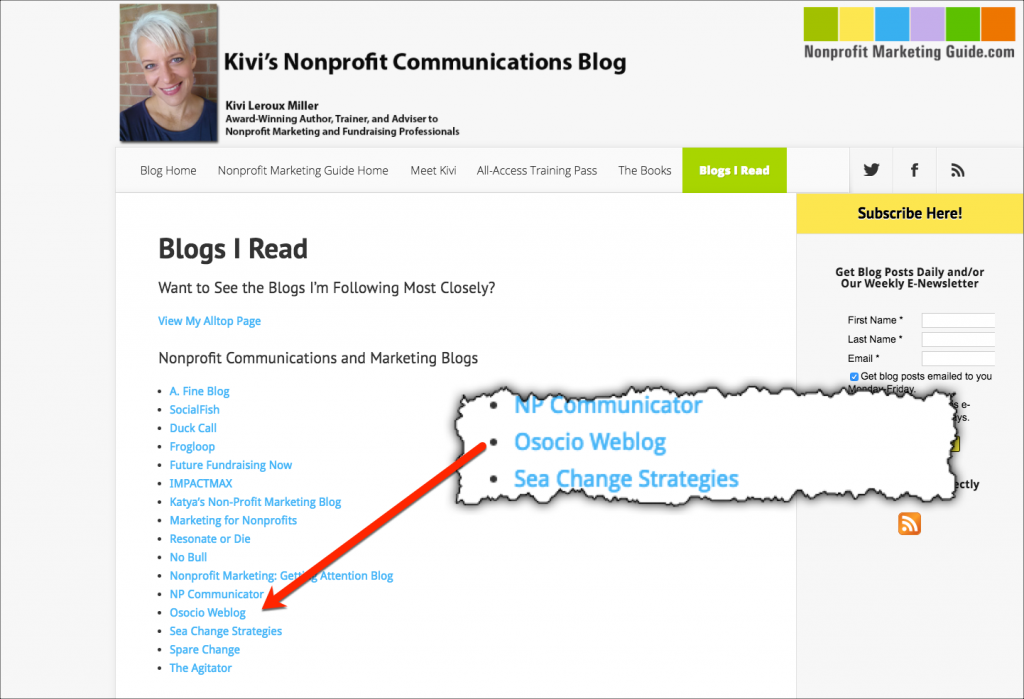 Kivi's Nonprofit Communications Blog has published a great resource list under the title of 'Blogs I Read'. We can choose the most interesting 10 from this list and enter them into Clique Hunter.
The process
So we've identified two different 'online communities' from the original authority site we chose, Osocio.org – one community around 'advertising campaigns' and another around 'non-profit marketing'. This for me is one of the most exciting things we can do with Clique Hunter – and it all starts by identifying just one authority site.
So here is the five-step process:
All you need is one highly relevant article to start the whole process. A couple of searches on Google or Google News should provide plenty of candidates. This gives you the initial authority site.

Look at the link profile of the authority site on which the article sits. You should be looking for the sort of strong profile that we saw with Osocio.org.

Scan through the results, looking for the online communities they might suggest – and concentrate on the communities that you think will be the most appropriate to explore.

Find interesting links that hold the promise of digging deeper into those communities – as I did with AdWeek's AdFreak and the NonProfitMarketingGuide. Can you find other sites either from the blog roll or by scanning the article?

Collect up to 10 sites for each of the online communities that you think might be important. Enter these into Clique Hunter to find a wide range of link prospects.
Final words
So this simple process starting from a single article has given us lists of hundreds, even thousands of link prospects to explore. It also allows us to go further than just link analysis and has given us ideas on the multiple online communities that might be relevant.








Save
Save
Save
Save
Save
Save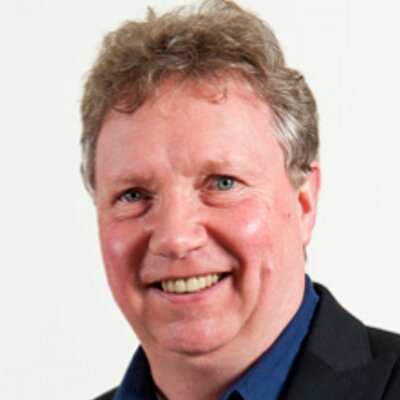 Latest posts by Ken McGaffin
(see all)