In modern SEO the relationship you have with the site that links to you is just as important as the link itself. Build on that relationship and you build the presence and influence of your client's site. Majestic's Clique Hunter tool not only gives you many hundreds of link prospects that link to multiple competitors, but with a little bit of effort, allows you to isolate those prospects that already link to you. So in this post I'm going to show you why that's important and walk you through the process in more detail.
A link is a declaration of interest
The fact that a site links to you or your client shows that they're interested in what you have to offer – they have declared their interest in you.
That makes them ideal prospects for any new initiatives that you want to promote.
I'll illustrate this with an example of a link to the gourmet food retailer, Zabars on the magazine site, Epicurious.com: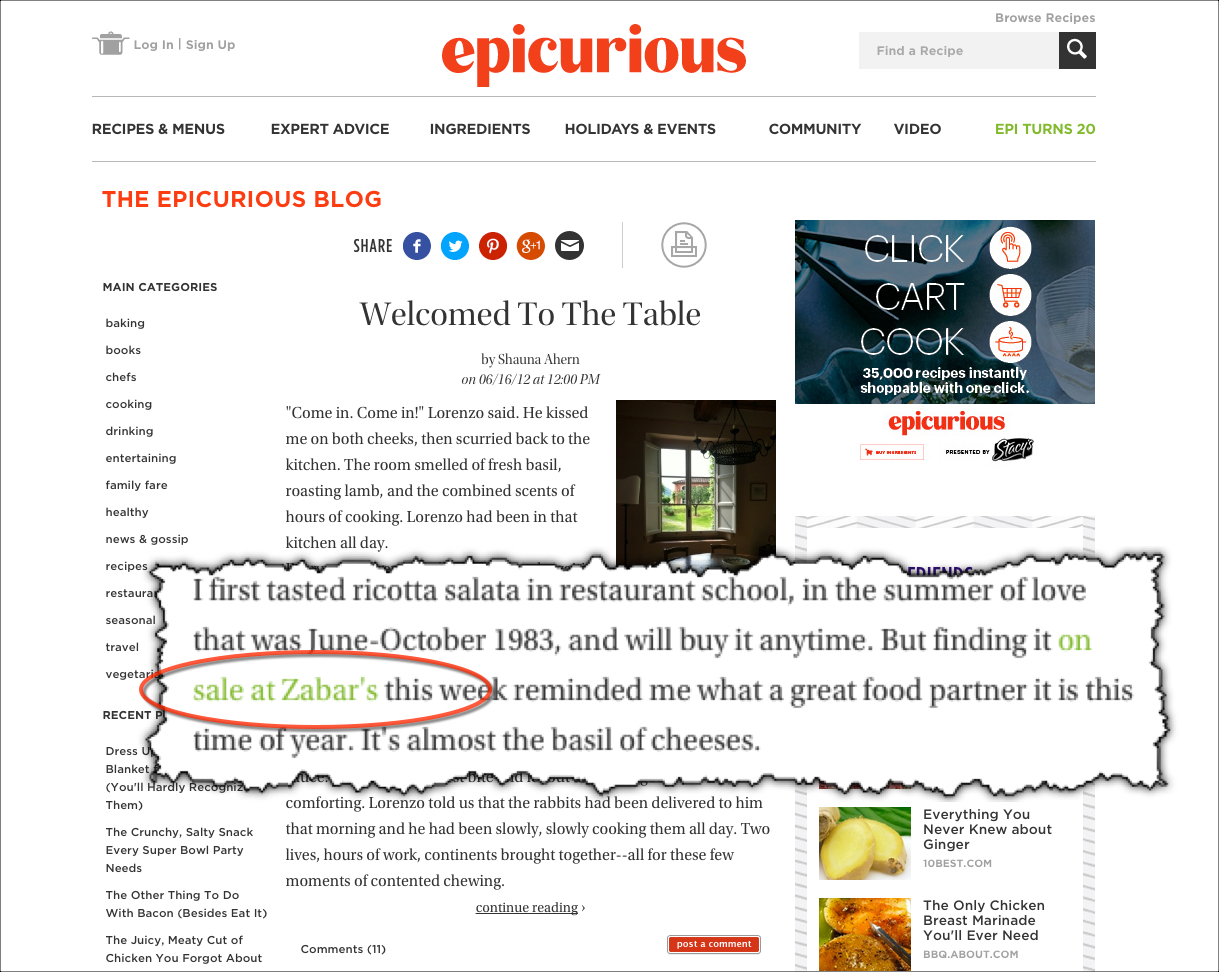 It's not hard to see that Zabars earned this link because the writer found 'ricotta salata' on sale on their site.
I can see that the link is part of a story, not just a list of offers or discounts.
So from this link I can deduce that Epicurious.com might be interested in other discounts from Zabars – as long as the discount was accompanied by a good story. And if I can provide that, then my chances of getting further links are good.
The big lesson is that understanding who links to your site at the moment – and why they did so – increases your chances of success in the future.
There are many reasons to go back to sites that already link to you
Here's just a few to think about:
discounts and special offers as we've seen with Zabars – but make sure you create a 'story' that is linkworthy
product improvement or update – if you've just solved a common customer problem or introduced an exciting new feature
publications or training – if you've just published a 'how-to- guide, industry research or a new training course
offer an exclusive for their readers – especially if the site has good traffic and a decent TrustFlow
involve the site that in a research project that is of benefit to you both
explore some kind of joint venture or initiative.
No doubt you can come up the more ideas – and if you have please share them in the comments below.
And this approach works too if you've just taken on a new client
You can build on the work that's already been done by the client themselves or by the agency that went before you.
Here's how to get started
I'll use 7 gourmet food sites and I'll treat Zabars.com as I would a client – just to illustrate.
The screenshot below shows you the end-result I'm after. It took me about 30 minutes to compile this from Clique Hunter results: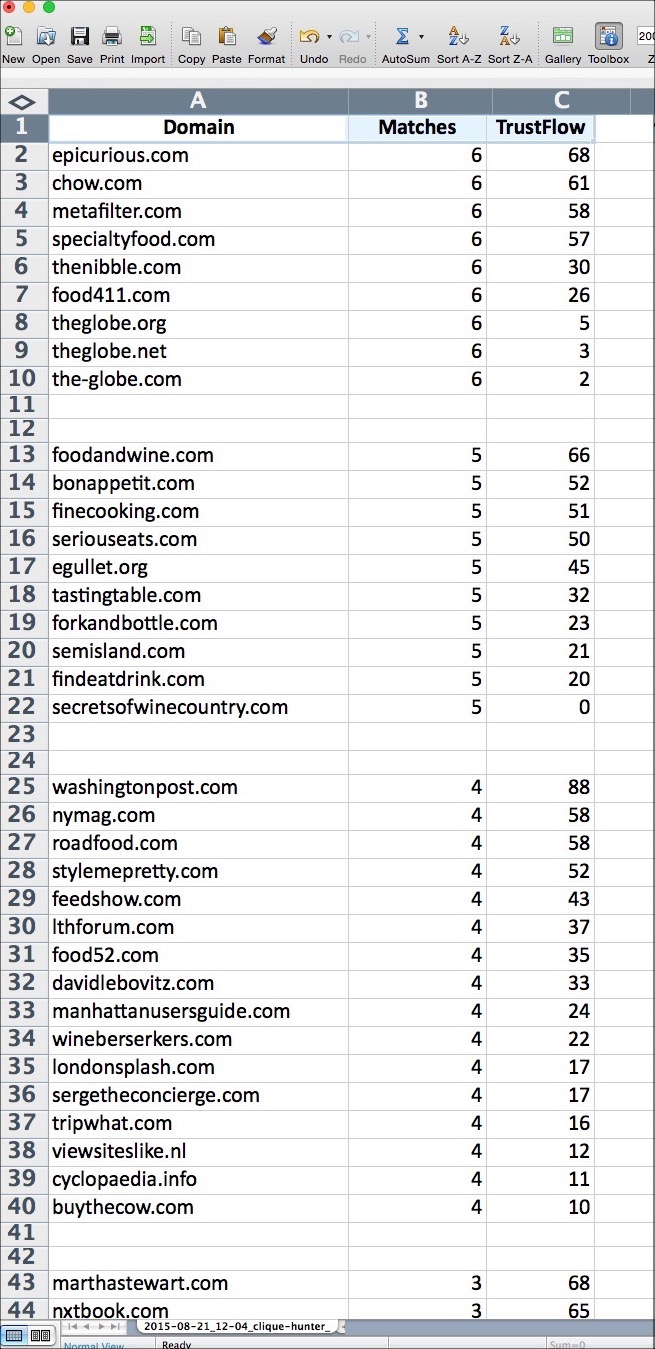 The 3 columns cover:
Domains – these are link prospects that I know already link to my 'client', Zabars.
Matches – the number of sites from my list of 7 that the domain links to
TrustFlow – the sites are organised in descending order of TrustFlow within each set of matches (6, 5, 4 and so on) so that I can see the most important within each.
In all, I identified over 250 domains that already link to Zabars and multiple competitors.
Now I'll take you through the 7 steps involved.
(i) Enter your competitors PLUS your own domain into Clique Hunter
By including your own domain, you'll be able to isolate the prospects that already link to you later on in this process. Here's the results: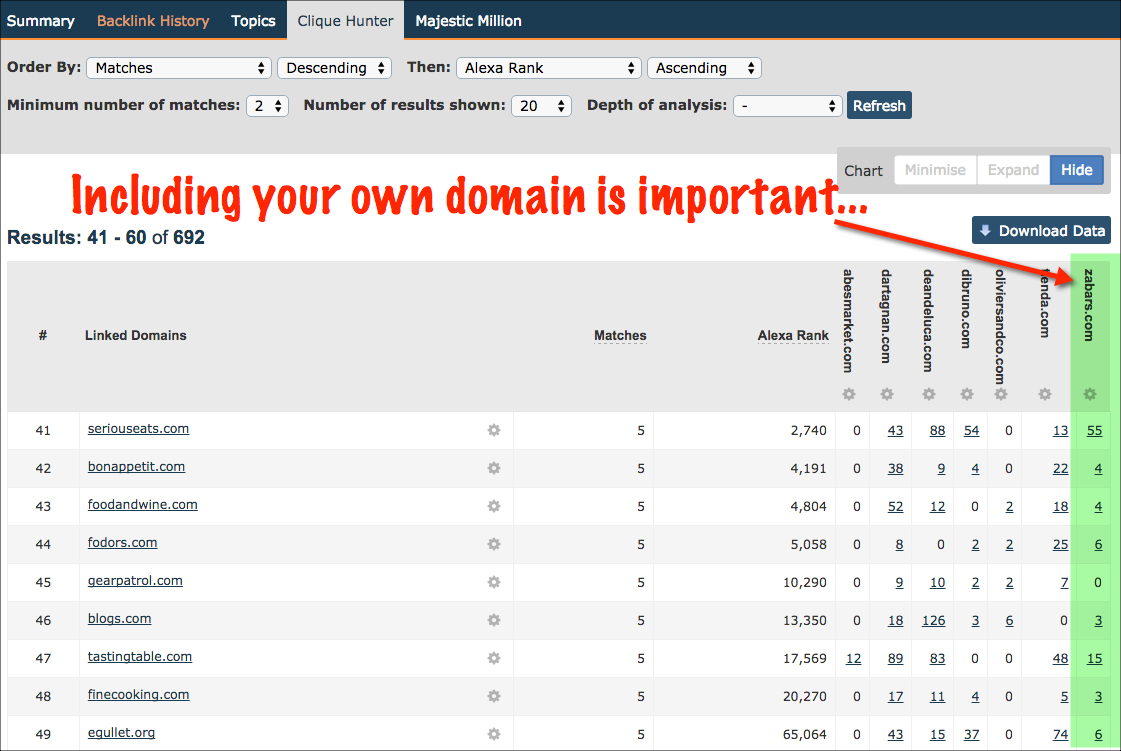 (ii) Download the results that appear
Now hit 'Download Data'.
Keep the Clique Hunter window open because I want to come back to it later.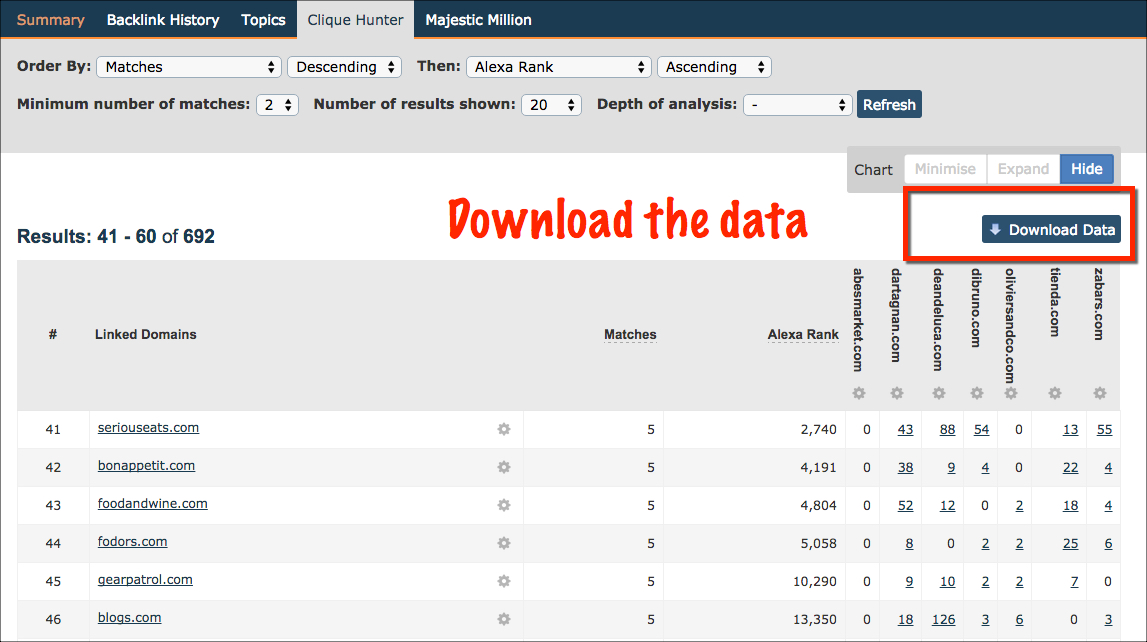 (iii) Open the results in Excel
Here's the raw data when I first open it in Excel.
This looks complicated because there is so much useful data, but don't worry – it's easy to edit and create the clean spreadsheet I showed you earlier.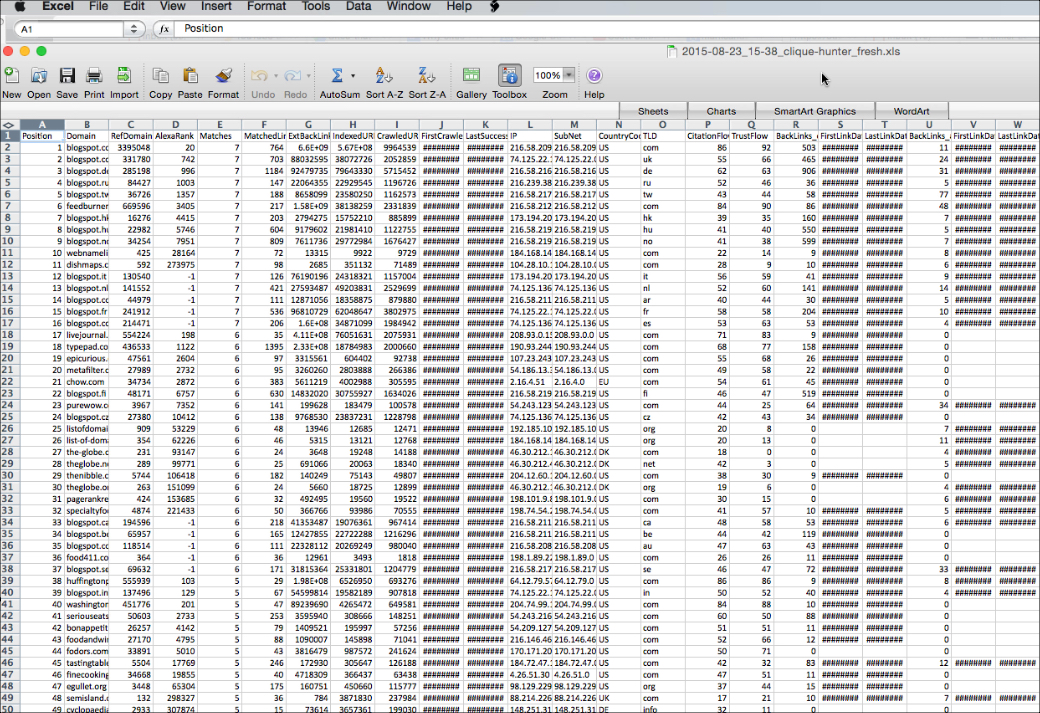 (iv) Look for the specific data for your site
Now I want to edit the data to give me the simple spreadsheet I'm after.
Move along the header row in the Excel document until the come to the column that says 'FirstLinkDate_zabars.com'. This is the date Majestic first discovered the link and I can use this to isolate and group the sites that I know already link to Zabars.com: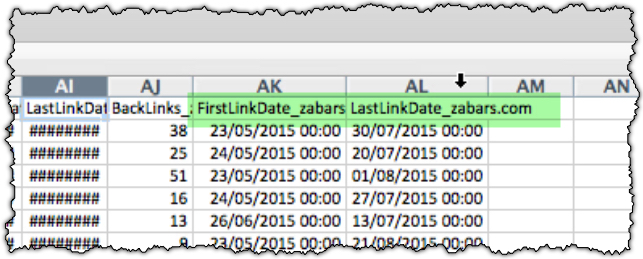 Select all and then sort as follows: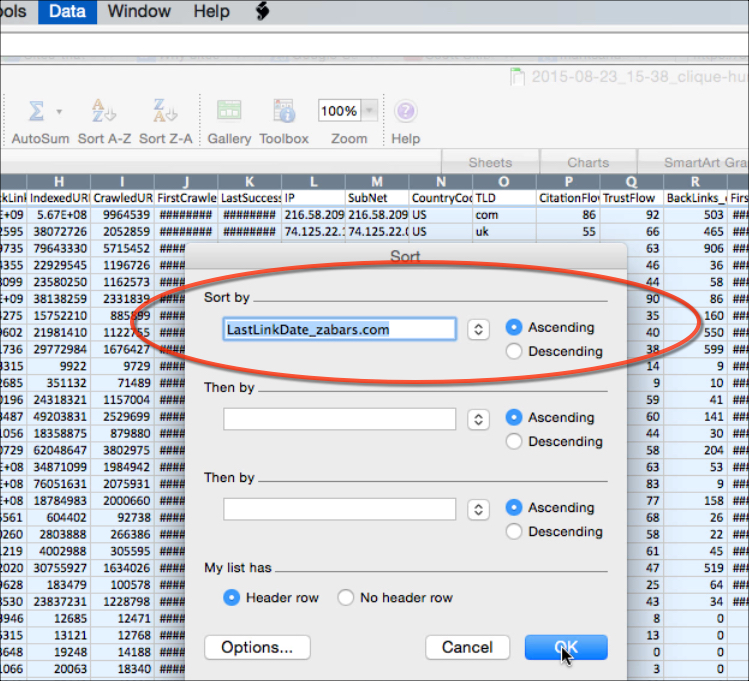 This now brings all the domains that already link to you to the top of the spreadsheet.
(v) Scroll down to where the data stops
Now I want to edit the spreadsheet to remove all the prospects that don't link to Zabars.com: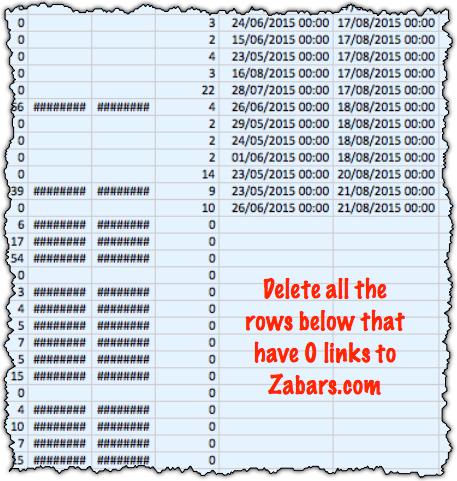 Select all the rows below and delete them. This leaves you only with prospects who already link to Zabars.com
(vi) Now get rid of everything except 3 columns
Now edit the spreadsheet to give you only 3 columns – Domains, Matches and TrustFlow. At this stage you can also edit out prospects that are obviously poor.
Save your Excel spreadsheet and if you like print it out.
(vii) Now back to Clique Hunter to see the links in situation
I've now finished editing the spreadsheet and it's time to go back to the live Clique Hunter screen.
From here you can explore all of the links to Zabars.com – and deduce the reason the link was given. Here's how I found that discount link on Epicurious.com that I used earlier: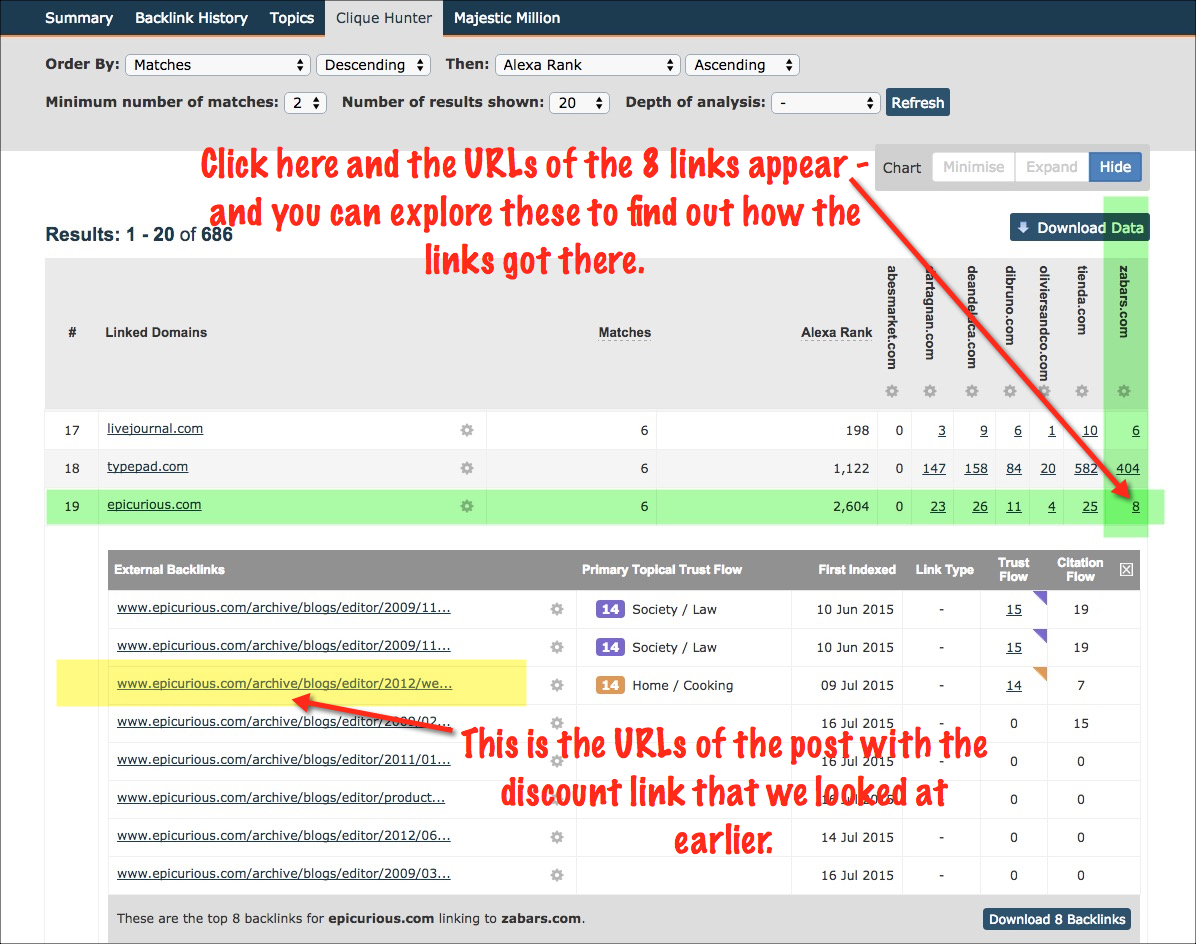 I can now use the spreadsheet I created in conjunction with the open Clique Hunter window to explore other reasons why links were given.
Here's another example from theNibble.com: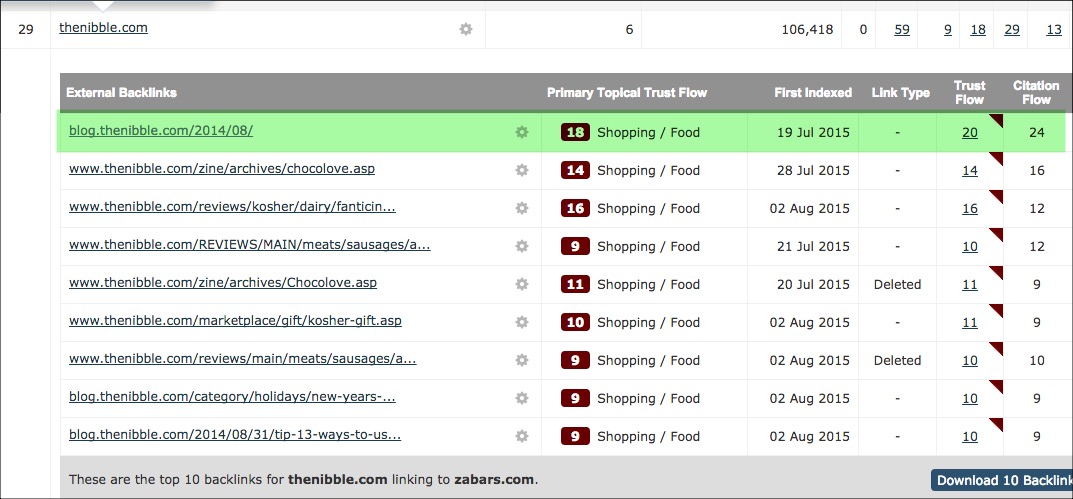 And I can click on the link to go direct to the page on which the link sits: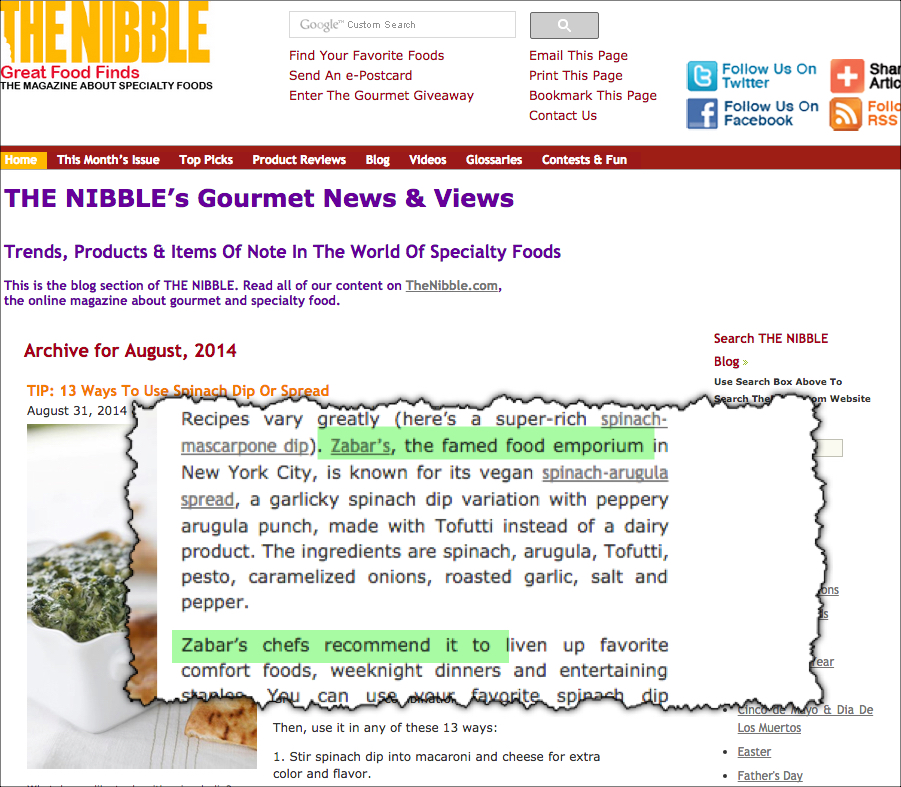 And this time I can see that the link was earned because of a Zabar chef recommended a particular vegan product.
Final words
This exercise might seem a bit fiddly to some but I think it's worthwhile because of the tremendous insights it brings. Now what about you?
Have you been successful in getting links from sites that already link to you or your client? Do you think it's a worthwhile strategy? Have you any examples or tips you'd like to share?
If so, please share them in the comments below.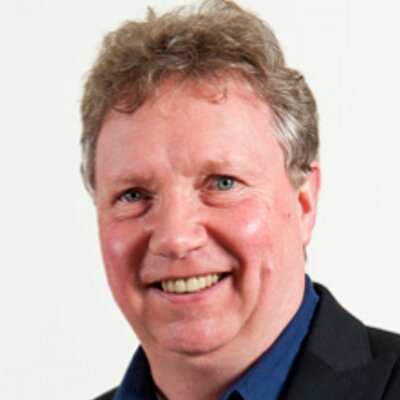 Latest posts by Ken McGaffin
(see all)