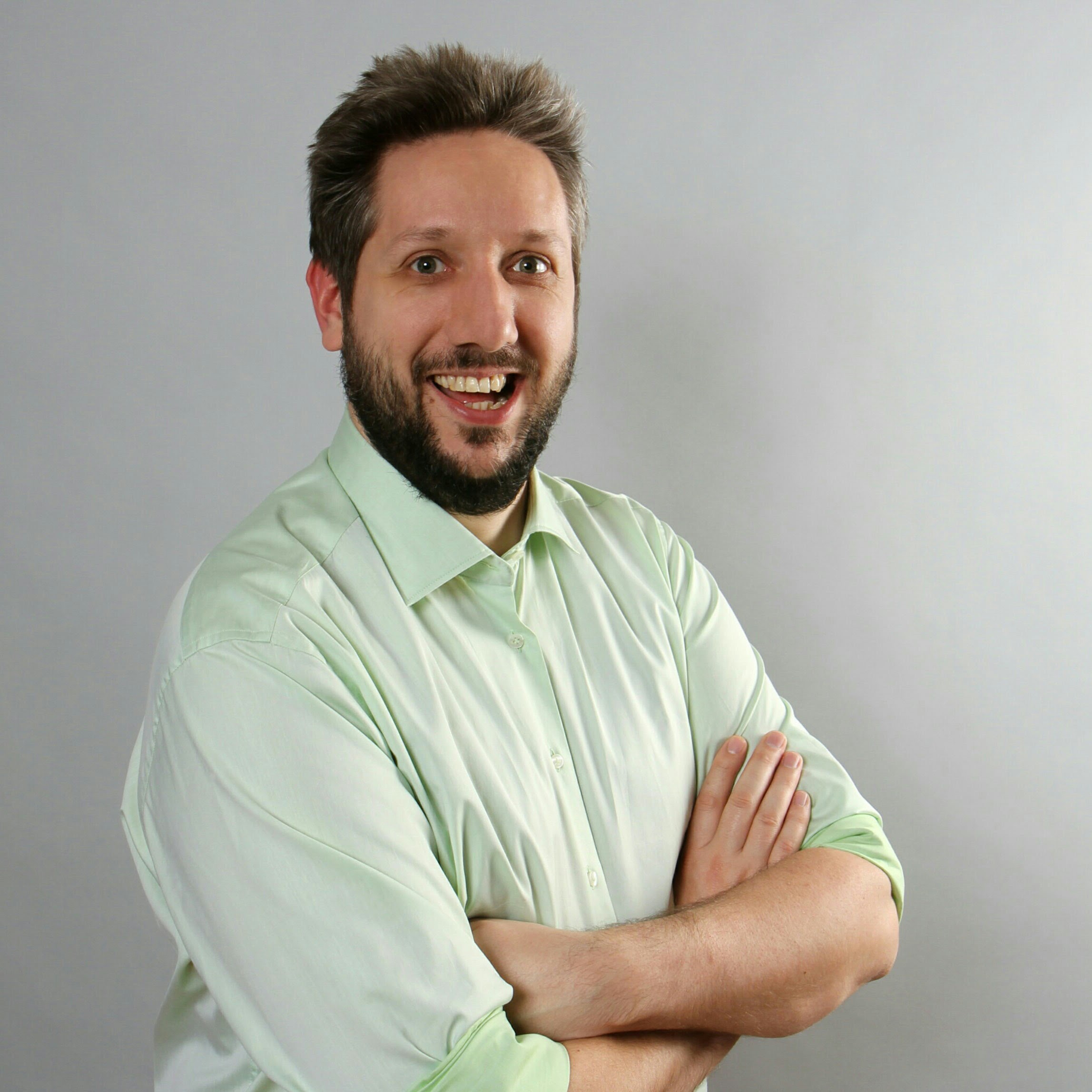 There are a lot of factors which impact Google Search Ranking. There are manual spam actions which are penalties applied by the Google Search Quality team to websites found to be in violation of the Google Webmaster Guidelines. Then, popular Google algorithms, such as Google Penguin, (which focuses on the quality of backlinks), and Google Panda, (which looks at the quality of content), that can pose a serious problem to Webmasters as they try to improve their online presence.
Using Majestic to monitor and maintain backlinks I feel these risks can not only be alleviated, but a website's rankings previously held back by past link building legacy issues, can recover.
Backlink Volume
The total number of live backlinks contributes to the backlink volume. There is a lot of discussion about PageRank at the moment but I feel it's still an important metric to indicate the passing backlinks pointing to the root or deep URL's of a website that Google may be aware of. Before specific Google Webmaster Guidelines identified them as a violation in Google's mind, it was not relevant how old links were or whether they had been built in good faith, but now the Trust and Quantity of links is highly relevant and is why scores such as the Flow Metrics from Majestic are so significant; (as screenshot below). Please note that PageRank is a Trade Mark of Google and is not in any way related to Majestic too.
The Trust Flow and Citation Flow scores provide an indication to the framework of your backlinks, which Google is now tracking. The total volume of backlinks can for old, reputable websites and/or websites covering highly competitive niches, such as real estate, travel, insurance and finance services, online gambling or celebrity news to name only a few, be very high and go into hundreds of millions of hosts. Typically, every successful site will over time attract some less desirable backlinks, which contribute to the overall backlink profile. That's why monitoring backlinks and their context is an absolute necessity.

Anchor Text Distribution
While the total backlink volume is an early indicator for potential loose ends that may become an SEO problem, the anchor text distribution is the entry point for an investigation or a periodic safety check. Here it is where Majestic turns out to be an indispensable asset in the process. Even without a deep dive into the data the Anchor Text pie chart alone imminently uncovers any imbalance in the anchor text distribution. Websites heavily linked with highly commercial anchor text links that pass PageRank tend to be exposed to a higher risk for a manual spam action to be applied by Google. Depending on the quality of their neighbourhood; (which are websites linking to your site in such a dubious manner), the risk of triggering signals for the Penguin algorithm can be equally assessed. It's also important to keep in mind those manual spam actions known as Google penalties and Google Penguin are not mutually exclusive and can simultaneously affect the same website. More often than not, one look at the visualised Majestic Anchor Text distribution can trigger the alarm bells before it is too late and a clean-up audit followed by a reconsideration request becomes necessary.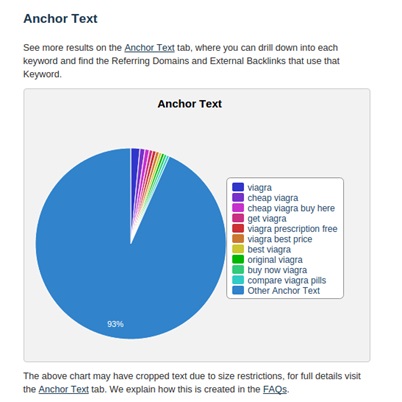 Backlink Growth
Legitimate brand websites often grow their backlink profile steadily over time; discounting occasional product releases or marketing campaigns, which may trigger a temporary spike in backlink growth. A constant up-and-to-the-right trend in attracting more backlinks, rather than overwhelming volumes and surges of new backlinks is the expected norm. But there are legitimate reasons for sudden increases of backlink growth which are recognised as per the Google Webmaster Guidelines. For example, newly established collaboration with media partners adding site wide boilerplate links can massively grow the backlink profile. So can news coverage and seasonal trends, such as ongoing legal battles which receive a lot of attention in public media over extended periods of time. Of course, allocating a budget to link building, whether in-house or assigned to a trusted third party, will have the same effect on the data and graph trajectory. The latter is however likely to be a contributing factor to a painful loss in visibility over time, as all scalable PageRank passing link building activities are a Google Webmaster Guidelines violation. As a result the website may grow significantly in organic visibility in Google's natural search results and the competitors may be inclined to use the Google spam report.
Not every instance of rapid link growth will raise a red flag however, and you can find the significance of your backlink surges by studying the Majestic backlink charts. These are highly indicative of the current state of affairs and will show any peaks or troughs, and thus link building risks.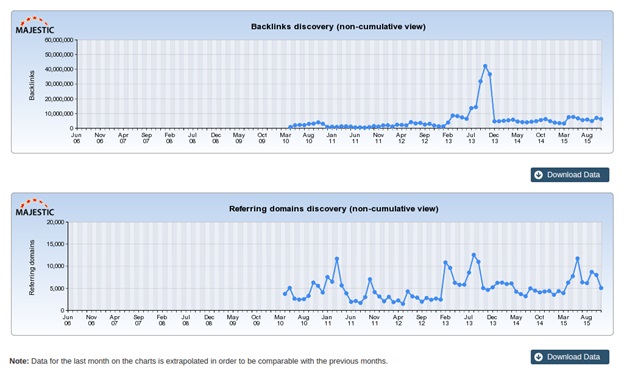 Backlink Samples
No backlink maintenance cycle or one-off audit is complete without a deep dive into the actual websites where the backlinks are originating from. The context of links, where they otherwise link to, their authority, content quality and more, are all extremely valuable factors in assessing backlink risks. Here's where once again Majestic comes in handy, offering an overview of not merely pages linking to your website but also indicating the landing pages and authority using Trust Flow and Citation Flow. This information can be utilized beyond risk evaluation as it can also indicate where a website is losing on incoming authority links and possibly converting traffic by pointing to broken or little optimized landing pages. With the right expertise the sample data listed and displayed in Majestic is a great source to investigate the intention behind the linking. Even a preliminary investigation on a limited number of URLs will be a good indicator of the bigger picture. Of course no partial review can be deemed satisfactory from a risk management point of view if the initial analysis raised any potential red flags. When that happens, the Majestic data export features come in handy.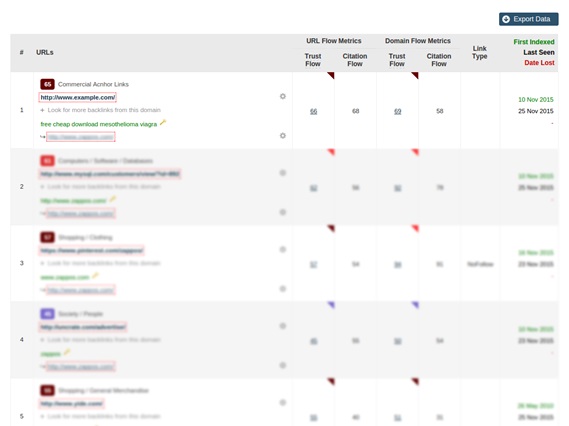 Data Export
Great tools allow for data export and further analysis or processing and so does Majestic. When it comes to link auditing and possible penalty recovery, manually reviewing sample links is absolutely essential. No tool can compete with the intuition and experience of a seasoned SEO. Majestic however greatly aides any expert team working on backlink assessments by enabling the export of a backlink profile in a number of formats, catering to individual post-processing approaches. Then, with the aid of third party tools such as Powerdrill.com it is an efficient task to find the difference between a legacy spammy backlink profile seriously endangering a websites visibility in Google Search, and a well maintained, high quality backlink profile that works for, rather than against the same website.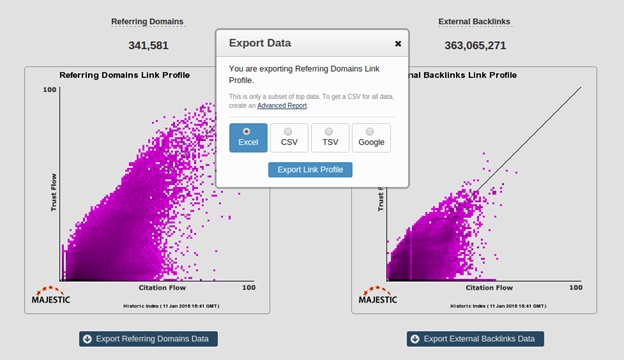 Majestic, both as a tool and a source of data is a potent weapon in the SEO game. Its applications are manifold and by far not limited to mitigating backlink risks or monitoring backlink profiles as described in this article. Used wisely and possibly in combination with other supplementing and specialised tools, there is a great ability to build and maintain a disavow file with a proven method of reducing Google penalties and algorithm updates. Thus helping and reducing risks for websites that have large backlink profiles which have grown or cultivated over many years. It's therefore easy to see why it's also the go-to tool for any site already experiencing backlink related drops from Google Search, as any website can be recovered with the right tools and expertise available.
——————————————————————————————————————————————————
Bio
Fili Wiese is a renowned technical SEO expert and former member of Google's Search Quality team. At SearchBrothers.com he successfully recovers websites from Google penalties, offers SEO consulting with SEO Audits and numerous SEO workshops. Fili acts as an official Brand Ambassador for Majestic, sits on the DeepCrawl Advisory Board and frequently speaks at online marketing events such as SEOktoberfest, BrightonSEO, SMX, SES, Ungagged, London Affiliate Conference and Performance Marketing Insights.
Latest posts by Fili Wiese
(see all)