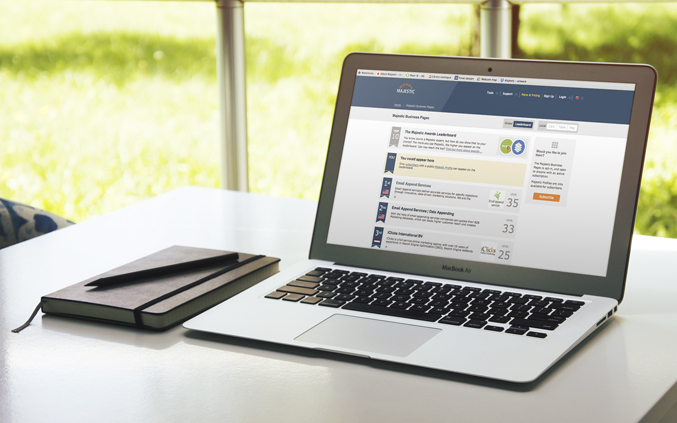 At the start of the year we set up the Majestic Business Pages. For those of you who aren't aware of what these are, or what they actually do – they're a list of customers who have a lot of experience using Majestic and who we would perhaps recommend for help with Link Building, SEO and/or other Online Marketing.
This means that via the Business Pages summary you can find potential clients who have the experience you want, but also look to promote your own service OR match possible buyers with the right expertise.
To view the Majestic Business Page Summary – which is listed in order of "levels" (so the level someone is at using Majestic) you can easily spot the location of companies, the support businesses offer, and what awards they have recently won; (as can be seen by the image below)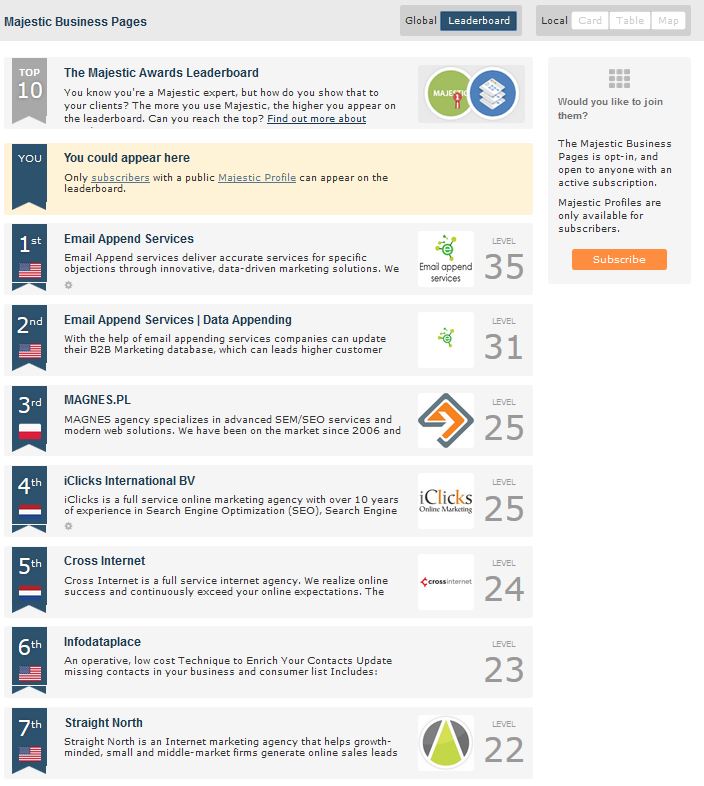 At the moment the Leader board and some aspects of the business pages are in English, but as you can see that doesn't mean your profile has to be.
What is an award?
We have added over one hundred one-off awards. Some are obvious; some will take much longer to find. Each award will boost your Majestic score. Many of them are located around the site, for example we have a "Site Explorer" award for when you use the Site Explorer, but others are if you engage with us at events. Some awards have different weights but you use them to increase your level.
What's the point of being on the Business Pages?
If you're an undervalued in-house SEO agency, or someone who wants to be able to compare your achievements with your competitors, promote yourself on third party sites through your hard work of using tools, or simply want a targeted page for yourself to generate real engagement then this is your opportunity.
I'm convinced, but how do I get on the Business Page?
To be listed within the Business Pages, you just have to set up your own profile card. You're in charge of the details you share. I'm afraid it is only possible for paid users to have a profile at this time though. Then, once you have set up your profile, you can review how it looks and then send it through to us for a quick manual "approval".
The smart looking card that is created is then an interactive profile which will remain in your control – even whether it is visible to others – as we will not share your details without your express permission.
Profile URLs will be on a first come first served, no reserve basis.
Save
Save
Save
Save
Latest posts by Nicola Carey (see all)