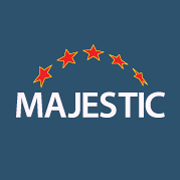 During Majestic product demonstrations we are often asked, "is there a way that I can upload a big list of domains, and get back all the major data points for each row?"
Our response is, "Yes! You can use the Majestic Bulk Backlink Checker to fetch key metrics on up to 1,000,000 items at once!"
In this post, we'll explain 5 ways the tool can make your job as an SEO specialist more efficient:
Rapidly retrieve the data you need
Detailed backlink breakdown
Easily sort and filter the data
Identify the authoritative and respectable .edu and .gov links
Strength within the dominant topics
What is the Bulk Backlink Checker?
If you aren't familiar with it, the Bulk Backlink Checker is an easy way for anyone looking to start with backlink analysis. You can use it to inform many of your technical SEO decisions…
Quickly check the backlink data of up to one million domains
Gain insights into Flow Metric scores
Identify link-building opportunities
Compare link counts.
What is the difference between the Bulk Backlink Checker and a Backlink Checker?
Backlink Checker is an industry term that covers a variety of tools that report on links to a page or website of your choice. As "Bulk Backlink Checker" and "Backlink Checker" sound similar, it's reasonable to ask, what is the difference?
A backlink checker reports on your backlinks and the sites linking to you. Better backlink checkers also enable you to filter, group, sort and export your backlink data. This detailed view of the backlinks to a site or page typically focuses on the backlinks to the site or page at a time. New backlink checker reports need to be generated to see details of links to different sites. While a backlink checker is excellent for its intended use, If you have a lot of sites to examine, distilling all of the data you need from a simple backlink checker can be very time-consuming.
As its name implies, the Bulk Backlink Checker supports those who need to look at headline data about many sites. Bulk Backlink Checker reports high-level Trust Flow and Citation Flow, Referring Domain and backlink counts, and has a huge analysis capacity, facilitating batch analysis of up to one Million Domains at a time via CSV upload.
Rapidly retrieve the data you need
Do you ever find yourself doing manual checks for links on your website? It can be incredibly time-consuming and tedious. One of the most beneficial advantages of the Bulk Backlink Checker is how quickly you can analyse up to one million URLs. Letting us worry about processing and organising the data enables you to focus on using it to aid your link building efforts. Reviewing your backlink profile in precise detail is hassle-free, fast, and powerful.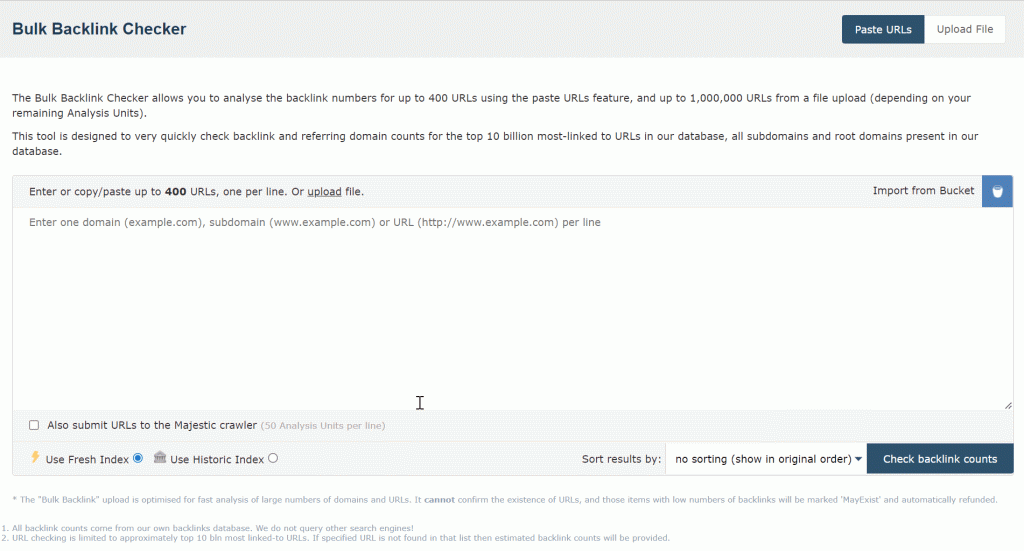 Detailed backlink breakdown
The Bulk Backlink Checker provides additional information about a backlink, such as whether the link is HTTPS, is an image link, or comes from a frame. The analysis is easy to understand and you can quickly contextualize the data. This information can give you a valuable perspective on what drives traffic and in turn, what are certain aspects you should pay attention to. It's also useful to you as an SEO professional as it can help you with research and outreach work on your clients' websites.

Easily sort and filter the data
The Bulk Backlink Checker also enables you to sort your results as you go – without having to download all the results to a CSV file first (although you can do that too if you like!). You can filter the results by Trust Flow, referring domains count and so much more! It offers a lot of different options and filters so you have your work and results easily organized. This can help tremendously as you will be saving both time and effort whilst simultaneously benefitting your SEO strategy.

Identify the authoritative and respectable .edu and .gov links
Schools and government websites provide the valuable and informational content that Google's algorithms are looking for. The end result is that this type of content typically ranks well in Google's search results. The tool will give you the total number of referring URLs that are coming from educational and governmental websites, for the domains that you have entered. It will also give you their referring domains count with their respective number of referring IPs.
So, it's worthwhile to investigate the links further to see if you can create content worthy of being linked to by these authoritative organisations. To get links from these organisations, the content needs to be helpful to its readers.

Strength within the dominant topics
The Bulk Backlink Checker also allows you to identify the topics that your competitors are successfully addressing. You can discover new topics of interest and use that information to do outreach within those topics. Enter your domain and your competitors to see what the most dominant topics are within your industry and what your strengths are for those topics.
If you use the Bulk Backlink Checker tool, you can see the backlink and referring domains counts that your competitors have for their sites. This way, you can identify those topics on which your competitors are doing well, and focus on improving your presence among those topics (if they are relevant to your industry).

Is bulk backlink checker free?
The good news is that if you have a paid Majestic Subscription, you should have access to Bulk Backlink Checker. Bulk Backlink Checker is a premium tool, powered by what our team refers to as "Analysis Resource Units" or "Max. analyzable backlinks". To keep things simple, we will refer to this resource as "credits", like other tools do.
There are a few different options available. The most efficient use of your credits is to use the File upload feature, which depending on your plan, can analyse up to 1 million lines of domains. File upload uses 10 credits per line of input data ( ie 10 credits analyse one domain ). The Lite plan provides enough credits to perform 100,000 rows of analysis this way. More powerful plans provide far greater scope of analysis. For more immediate results, you can copy and paste data into the tool, albeit at a slight increase in credits usage of 200 credits per line.
Because the tool focuses on batch retreival of backlink data, please note that some smaller URLs may be out of scope of this tool, which will return a status of "MayExist", indicating that the information may be available via Site Explorer, if the URL has been analysed.
Wrapping Up
The Bulk Backlink Checker tool is excellent for analysing the key metrics of a number of sites to understand their key difference. It can provide a wealth of information to allow you to make well-informed decisions regarding your marketing campaigns and provide you with valuable information that you'll want to use in your next link strategy.
It is easy to use, and convenient, and it can help make your job as an SEO so much more efficient and less work-intensive. Plus, you'll gain a competitive edge over other SEOs. It's a win-win!
Bulk Backlink Checker is included in all our subscription levels (see https://majestic.com/plans-pricing). If you would like a 1-2-1 demonstration of the Majestic Bulk Backlink Checker, you can book one at https://walkthrough.majestic.com. Simply select a date and time and benefit from a walkthrough of our tools that lasts around 45 minutes including the opportunity to ask questions of our in-house expert team. In the meantime, if you have any questions, then feel free to reach out to us at support@majestic.com. We're a friendly bunch!
Latest posts by Kainat Malik
(see all)