Speed up your competitor research and have confidence that you're comparing against the correct sites, with the Compare Suite's new Related Sites import.
Our compare tools are among the best in the business. From a single panel, you can check side-by-side high-level metrics, backlink and referring domain acquisition, flow metrics history, and topical categories for up to ten websites or URLs of your choice. You can even look for link opportunities by seeing who links to your competitors, but not to you.
But up until now, YOU have had to supply the list of websites that you'd like to check – and sometimes you don't know who your client's competitors are. In fact, some clients won't even know who their online competitors are.
Find Similar Websites
You may have noticed that we've had a busy year at Majestic, and one of the new tools we're most blown away with is Related Sites. If you're not familiar with it, that's the brand new tool where we take all of the other websites that appear near links to your website, and aggregate them into a "Sites That Are Linked To Most Often Near Your Site" list. It's really incredible, and a great way to find similar websites.
Here is a list of sites that appear most often near links to Majestic.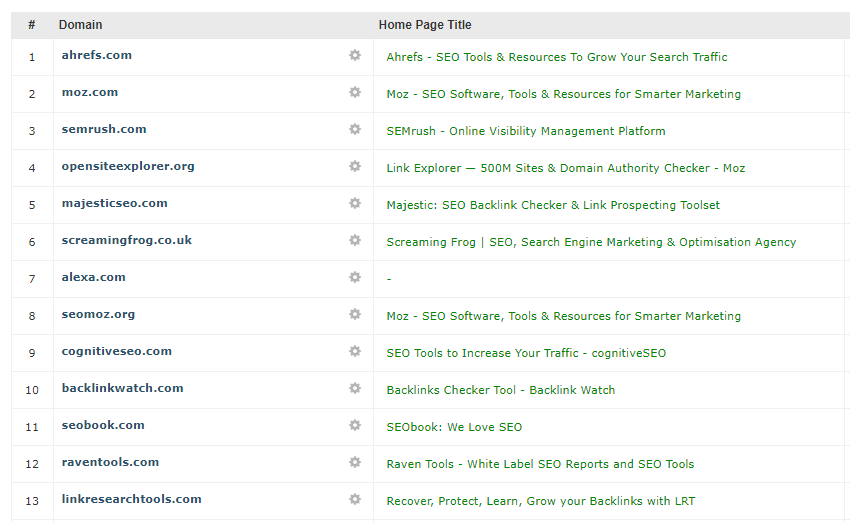 Since launching, we've received the same piece of feedback from a few customers, "Can we get this list in Compare?" And we're delighted to release that today.
Compare Similar Sites

We have added a brand new button to all of the Compare Suite tools. When you press it, magic happens.
To try it out, just add the site you want to compare, then press the orange Import Related Sites button. We will fetch and bring back the top twenty sites that we think are related to your search.
Here is an example where we type in the website of an American Football team, and click to see competitors.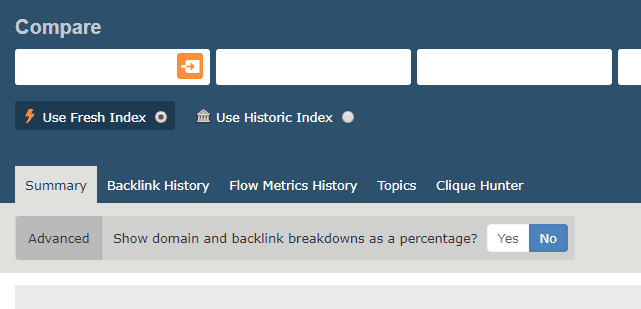 As you can see, we fetch the top Related Sites for the search, then give you the option to choose to compare up to nine other sites. For this example, we'll select this team's three divisional rivals.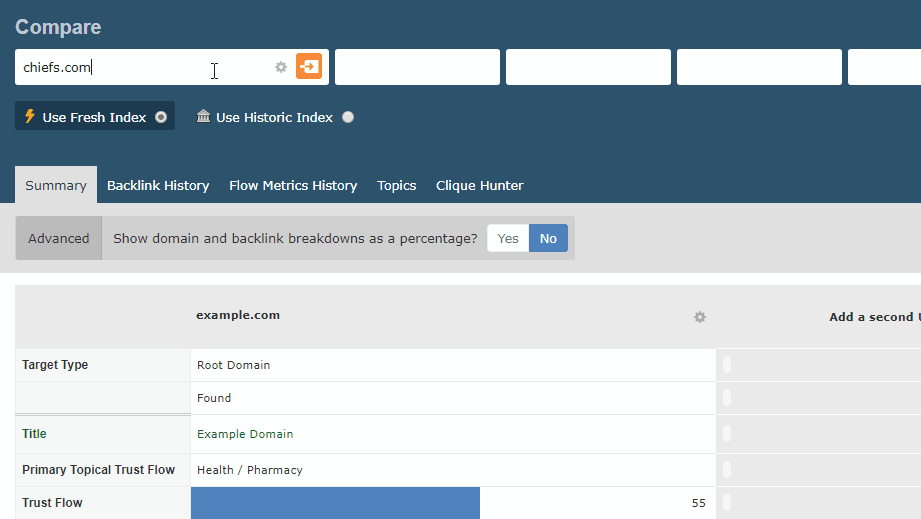 Note: when we say that Related Sites has blown us away, we really mean it… of 32 NFL teams, those top three rivals were in the first six returned results. This is not hard wired – it's all done algorithmically, Related Sites worked it out without any help.
It's as easy as that. You have now chosen relevant websites to compare – without having to type.
Reuse Your List
Related Sites Import works for all of our Compare Tools. You can work your way across the tabs, and take in all of the information about your chosen sites, exporting and saving anything that looks interesting. Then, when you're done, you can press the button again, choose another set of domains and refresh your view with all the new data.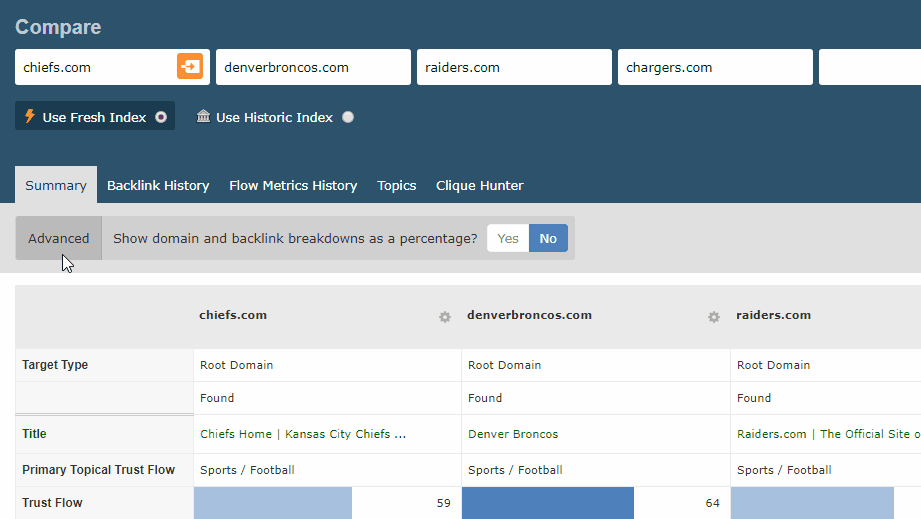 An unintended side-effect is that you no longer have overwhelm your screen with the data for the full compliment of ten domains. With your new button, you can break your data gathering into manageable chunks, then use the popup to mix and match websites as you zoom in on what's important to you.
Backwards Compatible
Your new time-saver is fully backwards-compatible. If you like things the old way, you can ignore the new button and keep entering your domains manually.
If you would rather mix and match some related sites with your own suggestions, you can use the existing input boxes to add your own sites, or perhaps to overwrite one you no longer need.
To make sure you don't accidentally overwrite one of your own domains, the Related Sites popup will always save and highlight any of your manually inputted sites.

Get the most out of Compare Suite with a Pro account
The Compare Suite is one of the core parts of our Pro plan. Customers with Pro and API plans can start importing related sites right now, and compare up to ten websites in each of the compare tools.
Imagine being able to use this when you start to work for a brand new client. You can find out where they position beside their peers, even when you don't really know who their competitors are.
Lite customers can try the new button by checking out two different URLs or domains. Once you can see the ease and convenience of Related Sites in Compare, then it's very easy to move to a more powerful plan.
We hope that you have fun comparing related sites. As always, leave a comment, or get in touch with our support team if you have any feedback.