We hope regular users of Majestic Clique Hunter will be delighted with our latest time saving addition to this tool. We've made it far easier to find sites that don't link to you, but do link to competitors.
In January 2019, Ken McGaffin wrote a cracking introduction to Clique Hunter. Ken's article demonstrates how Clique Hunter can contribute to link building strategy. Kens method is well worth a read here – especially for more advanced analysis.
The method described gave good results, but could be more efficient:
Enter your competitors along with your site onto Clique Hunter.
Set the depth of research.
Download the results in Excel and open the file.
Select all the results and sort the column that contains backlink scores for your domain.
Sort this column by value ascending and moving all the domains that have a score of '0' to the top of the spreadsheet.
Clique Hunter Upgrade
Majestic has added a 'Link Opportunities' option to Clique Hunter, allowing you to filter the sites that link to your competitors and not you. This reduces the need to export to excel for this stage of processing.
All you have to do is click the 'Link Opportunities' checkbox and choose your domain from the menu. The filtered dataset is displayed and is ready to be exported (or further examined in Majestic)!
Use Case: Cycling Blogs
Using Ken's example PerformanceBike.com, we will be looking at how the new Clique Hunter upgrade can be used in Link Building research. The tool now makes it easy to find top sites that link to competitors, but have missed out your site.
Step 1:
As this update is based on Ken's excellent Clique Hunter introduction, we too will start by searching for "top cycling blogs":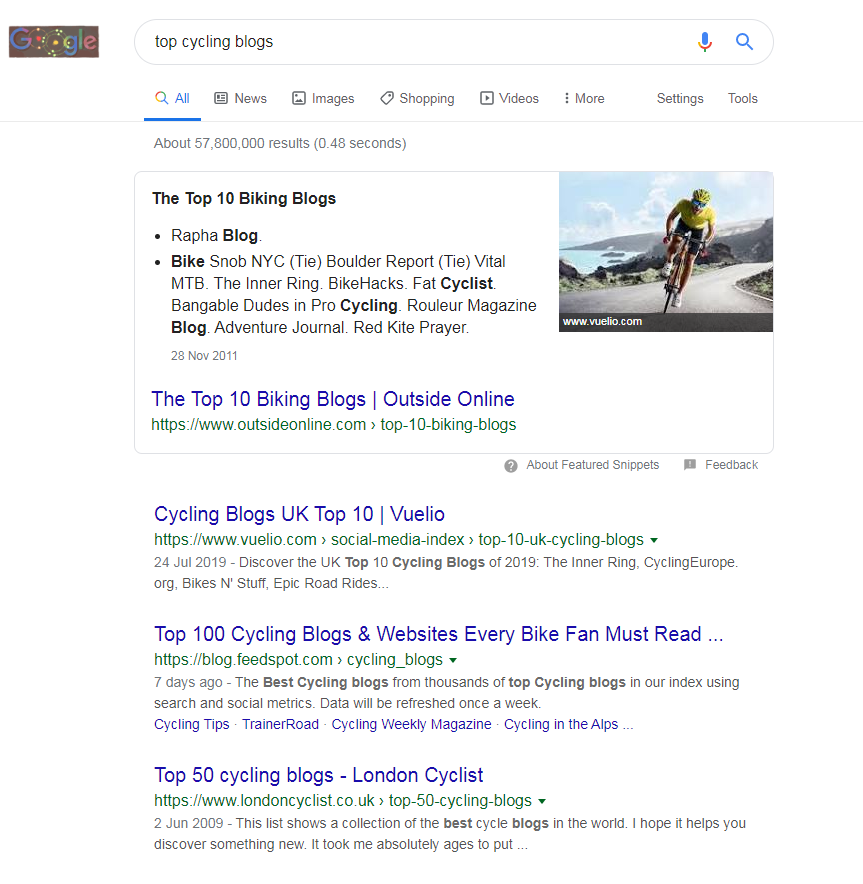 Step 2:
Now copy and paste the blogs you like into Bulk Backlinks and choose sort by Trust Flow descending.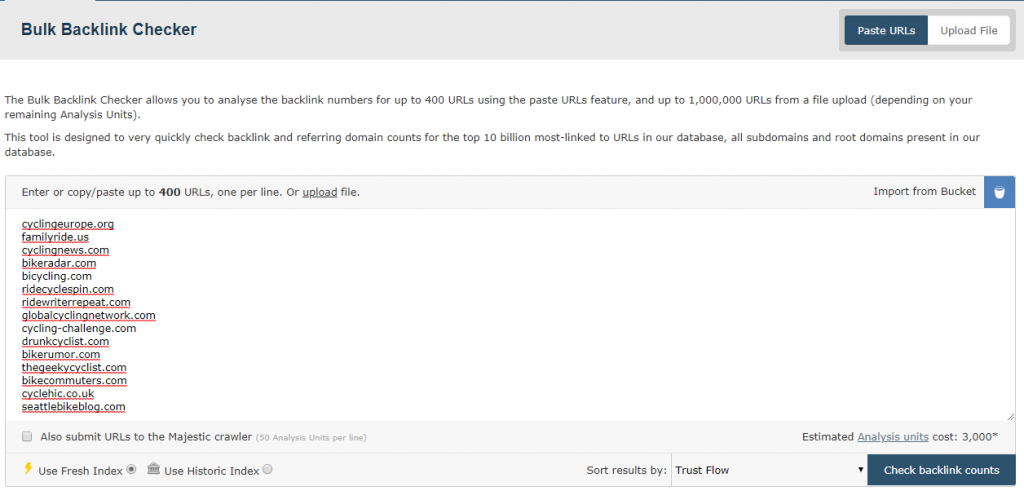 Step 3:
Add the 9 root domains with the highest Trust Flow to your bucket, by clicking on the cog wheel next to each domain.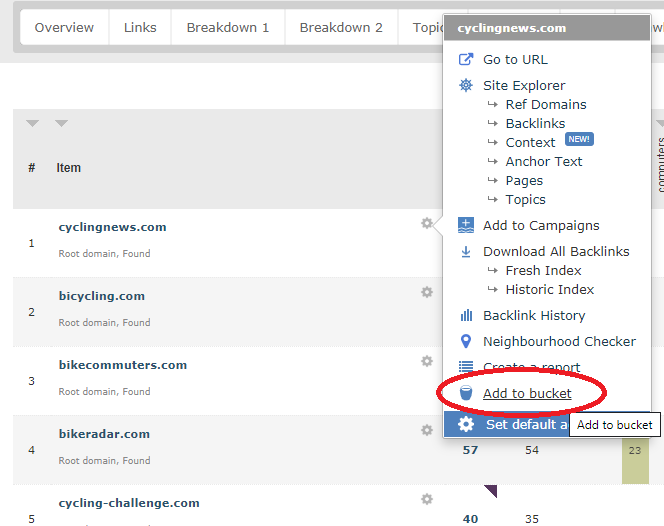 Step 4:
As with Ken's example, enter your primary domain onto Site Explorer (1), and add it to your bucket (2).

Step 5:
Go to your bucket and select all the domains (1). Then click the 'Clique Hunter' button on the right, to add all your domains to clique hunter (2).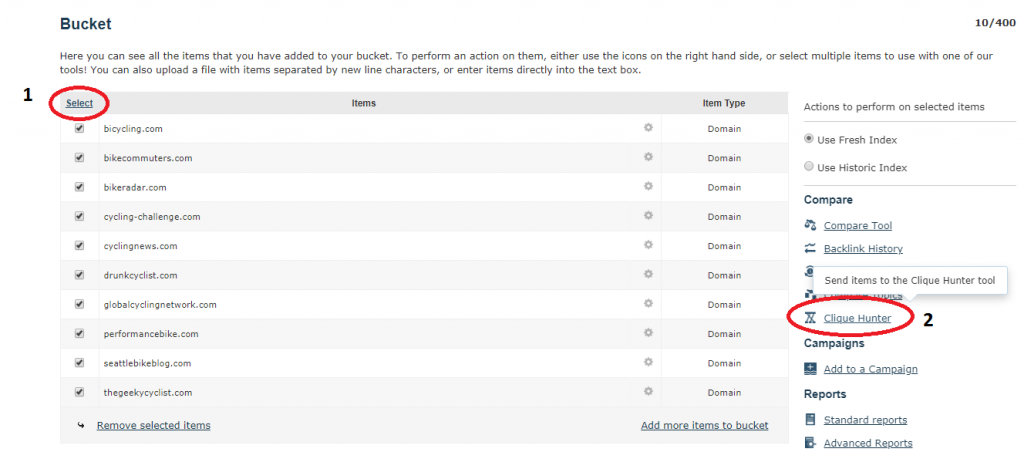 Step 6:
You can see that 3,960 prospects have been found. Tune the Clique Hunter parameters to order the prospects.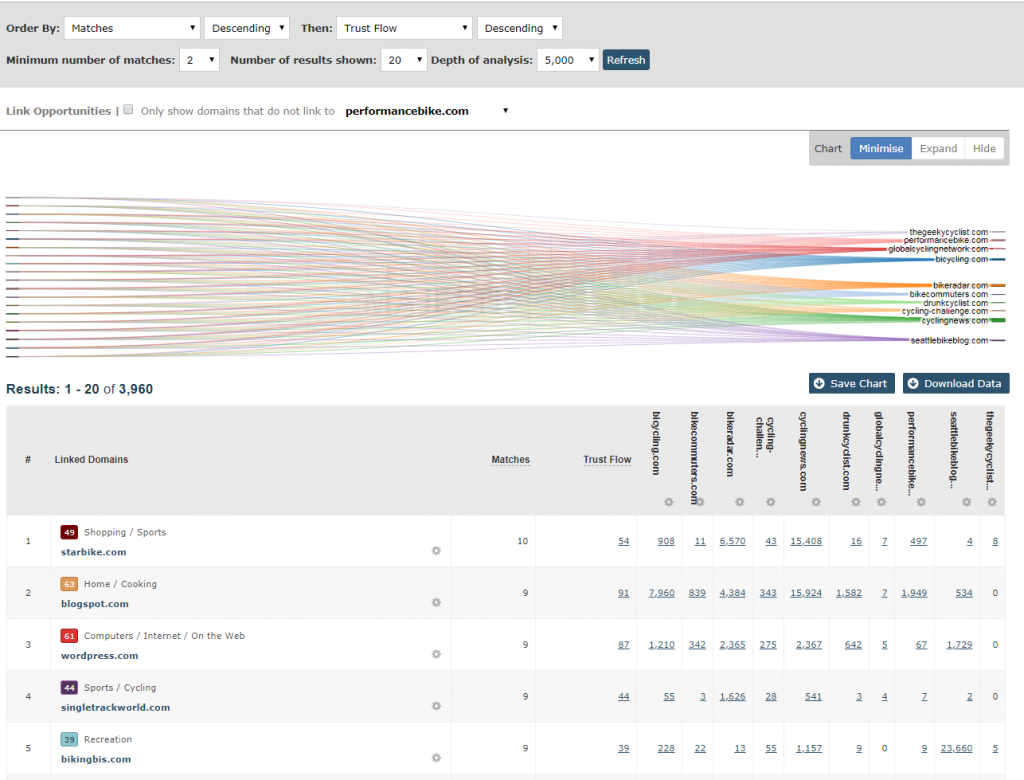 Step 7:
Now you can filter out the prospects that do not link to your site by clicking the 'Link Opportunities' check box and selecting your domain.

Step 8:
You can now see the 2,535 prospects that do not link to your website.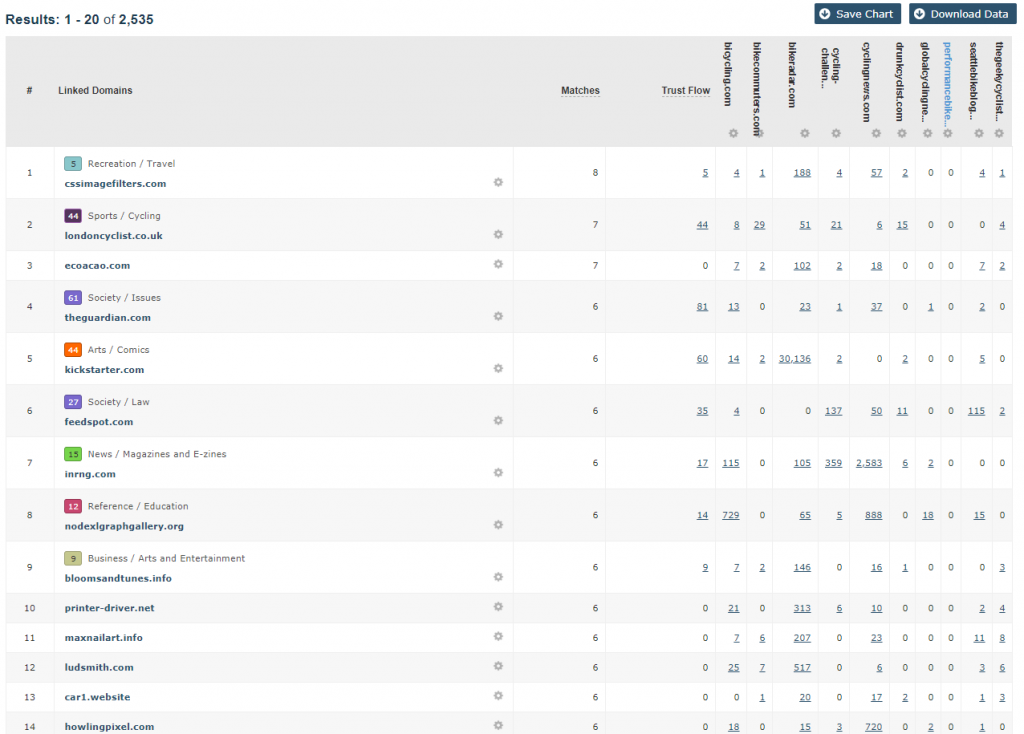 Step 9:
You can now use other Majestic tools or export the data, and continue with your analysis.
In Conclusion
The new Clique Hunter update allows you to view sites that link to your competitors and not to you. This reduces the need to export the backlinks to excel.
Existing subscribers on the Pro plan are able to use this feature. Lite plan users are able to upgrade to the Pro plan to use Clique Hunter, at a monthly cost of £79.99/ €94.99/ $99.99. New subscribers are able to use Clique Hunter by subscribing to the PRO plan at a monthly cost of £79.99/ €94.99/ $99.99. This comes with a 7-day money back guarantee for brand new customers. Try it out
Latest posts by Miraj Shah
(see all)