Keyword Generator has been updated to let you rapidly find out which of our generated keywords were found closest to each of your chosen seed websites.
At the end of our last Keyword Generator tool update, we shared with you that our customers aren't just using the tool to create keyword lists, but they are using it as a fantastic way to compare keywords across a variety of websites.
If you haven't used Keyword Generator yet, you can…
Enter (up to) five websites
… or add a keyword and we'll recommend some websites to help choose your five
Get a list of the organic keywords we find near links to those sites
See a breakdown of which sites are linked most to each keyword
Choose any of your keywords to create a new list of semantically similar alternatives
New: Keyword Frequency by Site
Here is the table of results when we generate keywords from five UK-based financial comparison websites.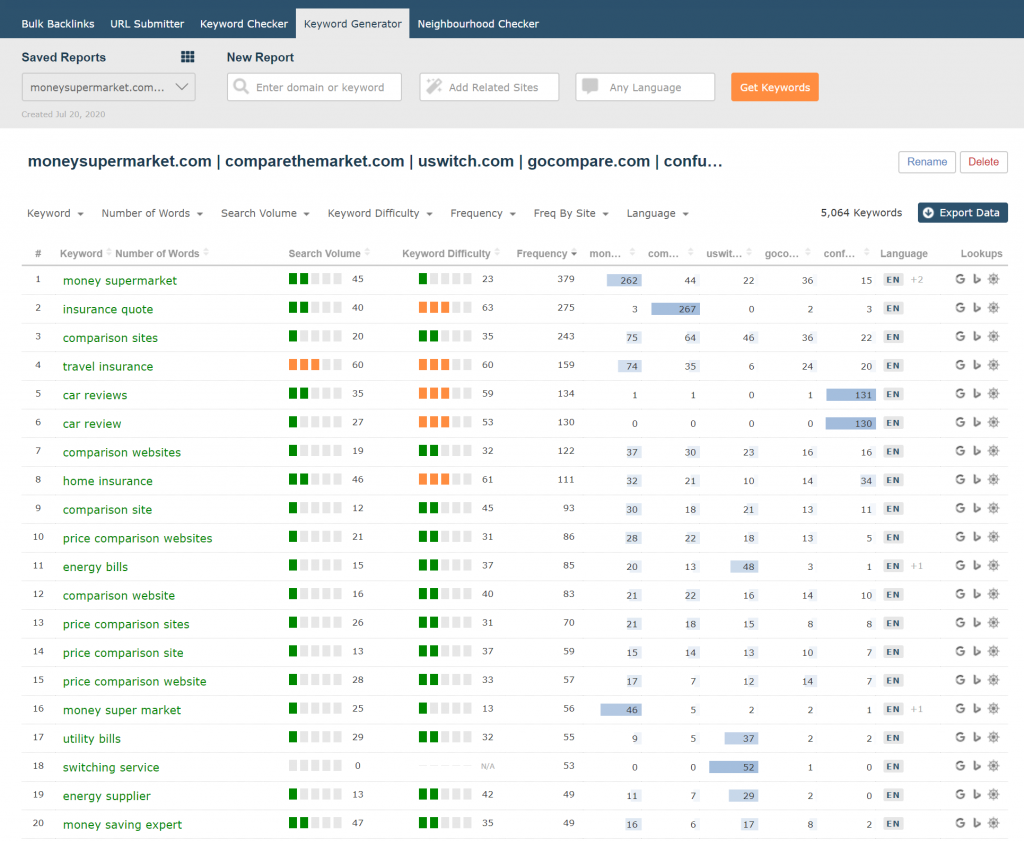 The tool extracted 5,064 organic keywords/phrases that appear near good-quality links for these five domains.
The columns are ordered by highest frequency first.
As a reminder, frequency is calculated when we take all of the Link Context that surrounds good-quality links to your group of websites, and combine them into a big dictionary (or, a corpus, should you prefer that term). The frequency that we share in the results is how often we see each individual keyword in that group of phrases.
The new data is to the right of frequency. You will notice that there are now dedicated columns for our entered websites. Each column gives a breakdown of how the volume of links to that specific website have contributed to the total frequency of individual keywords.
Here is a closer look, to explain.

The website in the first new column is moneysupermarket.com (abbreviated to 'mon…' in the incredibly limited table space we have, sorry).
Sites that are more dominant for a keyword will have a larger and darker blue bar. Keywords that are more evenly distributed will have a lighter and smaller bar behind the number.
Looking at the first row, it's not a surprise that most of the on-brand 'money supermarket' keywords will appear near links to that site. The exact figure, if you hover over the blue bar, is 69%.

What may be surprising is that 31% of their on-brand terms are near links to the other sites.
But, when you think about it, this is perfectly normal. Our organic keywords are sourced from words that are used near links to websites, and as it is natural for some pages to have competitor links very close together, they should all pick up some nearby other-brand mentions.
If you are looking at your own competitors, and your site is NOT collecting some of their brand terms on this list, it is very likely that you may be missing out on some potential co-citations. In this case, you should check out Link Context to see where your competitors are mentioned, and you are not.
Here is an example of non-branded terms.

"Uswitch" is a UK provider of a service that monitors household utility bills and offers a switching service to alternative providers. You can see from their results that they do far better than the other websites for their USPs of, "switching service," and "utility bills," and do slightly better for the more general term of, "energy supplier."
A note on using site frequencies while filtering by language
When you use our Language filter, the frequency column changes to show the frequency for that language only.
However, be mindful that the percentages calculated in the frequency-by-site column do not take this smaller language-frequency number into consideration. The percentages, for now, are calculated from the total frequency across all languages.
Export as CSV
For those of you who prefer to use your own prospecting tools, all of the new data is available in the CSV export.

Other Updates – New Saved Reports List
If you used Keyword Generator before, you'll notice a change when you go back to the tool.
As we needed table space to add the keyword-by-site comparison columns, we have moved your list of saved reports. When you first enter the tool, you'll see a new mini-dashboard for your reports.

When you are checking out a single report, there is a shortcut drop-down menu on the top-left where you can jump straight to any other report.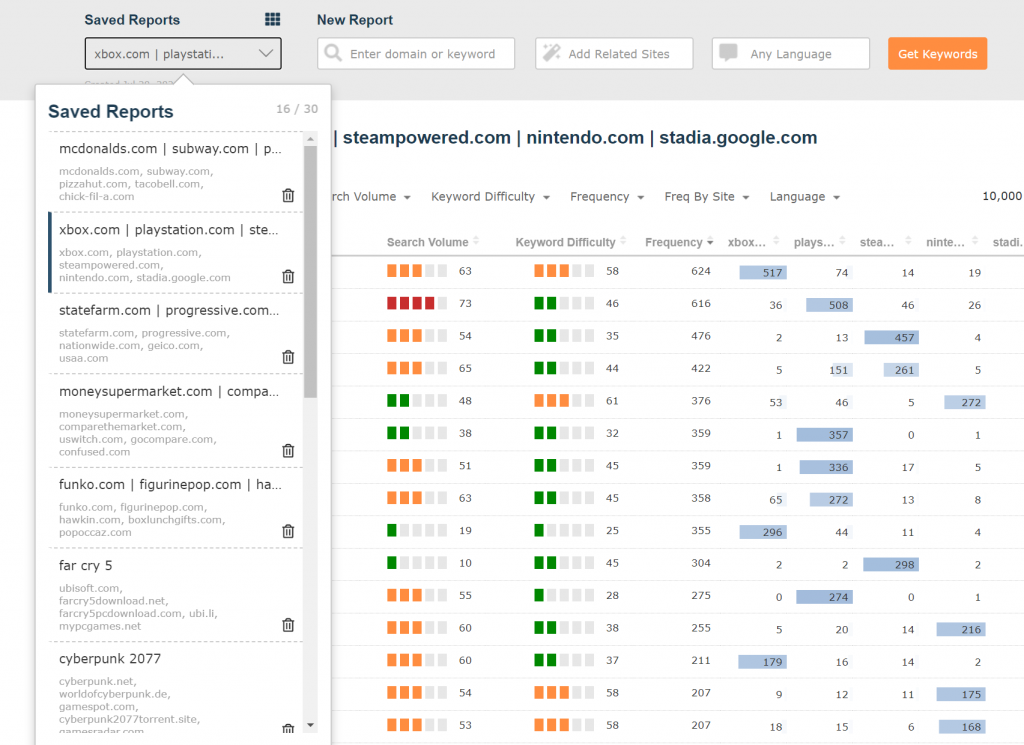 If you need to get back to the dashboard grid view, just use the new icon to the right of Saved Reports.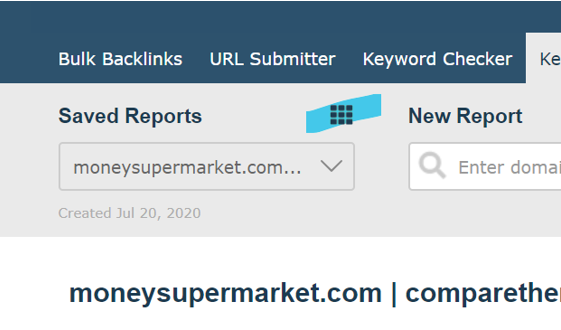 Improved Filters
We had feedback that the way that we added filters to the results table wasn't obvious. We have moved filtering away from the table headers to a dedicated filter row above the table that is more consistent with our style for Site Explorer filters.

New Filter: Site Frequency
Should you wish to focus on a single site, or perhaps temporarily exclude one from your results, a new filter lets you target the frequency of keywords for particular sites.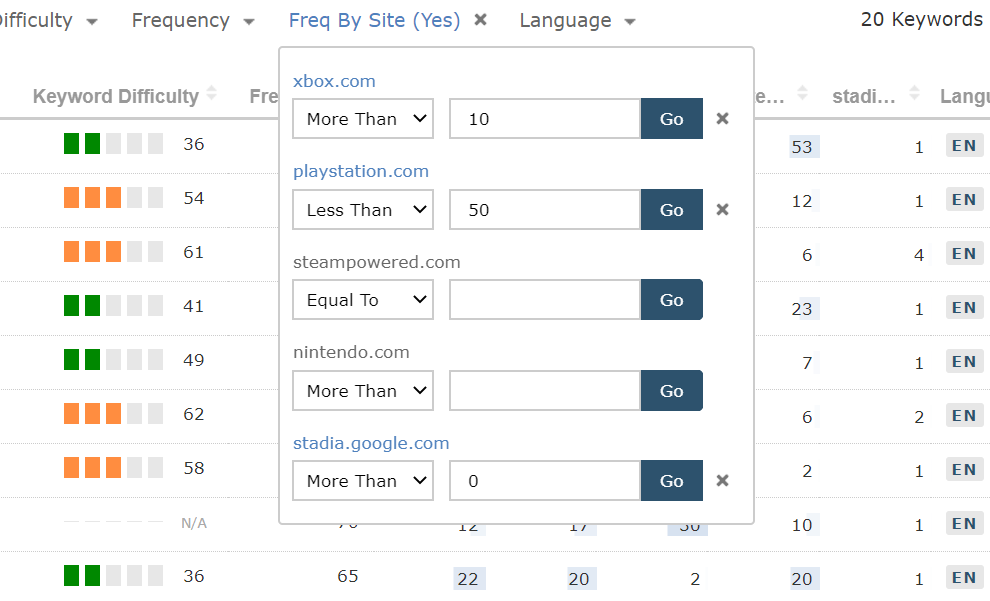 Site Frequency Data for Older Reports
Reports that have been created in the last few weeks will contain all of the new Site Frequency data.
Older reports, particularly from the first month of the tool launch may not contain the new data. If your report doesn't have the new columns, we have added a 'Refresh' button so that you can quickly regenerate your report with the new data.
Finally, thank you
When we started work on keyword generator, we thought that we were making a cool tool that would give our customers a way to create organic keyword lists from a source of data that is exclusive to them. And that's still the case. Even without today's update, you can still use the tool to add some seed websites, download your list and export to your workflow.
We didn't anticipate that we would end up with a tool that would let you compare keywords across websites, and that is thanks to you and the great feedback that you have given us. If you have any suggestion that will make our tools even better, our customer support team is just a click away.
Keyword Generator is available today on all Majestic paid subscriptions.
Latest posts by Steve Fitzpatrick
(see all)