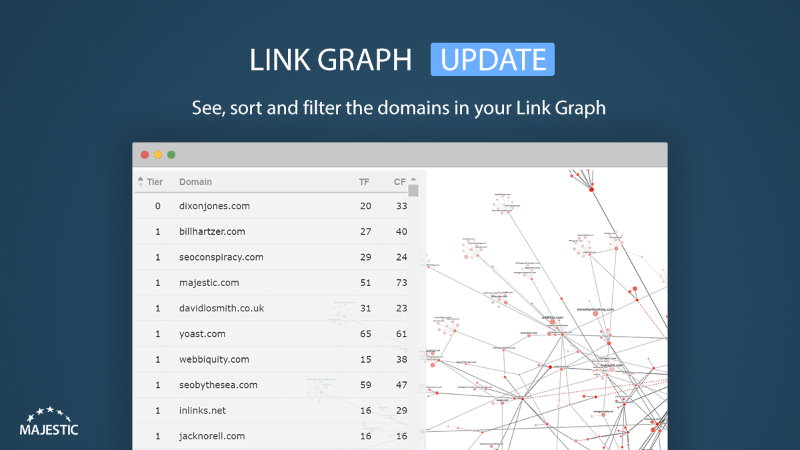 We have released our first significant update for Link Graph.
If you haven't used our Link Graphs yet, click through to our link graph launch blog post to see why we think you should be excited.
Today's launch adds a table view of your Link Graph data, and it's available now for you to take a look.
The table view gives you a readable, and sortable list of the domains and URLs in an entire link network.
The data table isn't yet fully integrated with the graph (for instance, we'd LOVE if you could click on a data table row, and the graph pans and zooms to that domain), and we're still working on the best way to deliver exports. But we think that this is a big enough leap forward that we'd like you to be able to play with what he have, while we work on the next version.
Update: Since this launch post, we've added Link Graph Update #2, including a CSV export of the domain data, link direction arrows, mutual links, selection filters, and a freehand domain select lasso.
How do you get the data view?
Link Graph now has a "Domains" panel, top-left.
To save space, and avoid adding more noise to the page as the graph loads, this list is closed by default.
Click "Domains" to open a panel that contains a list of the domains in your graph.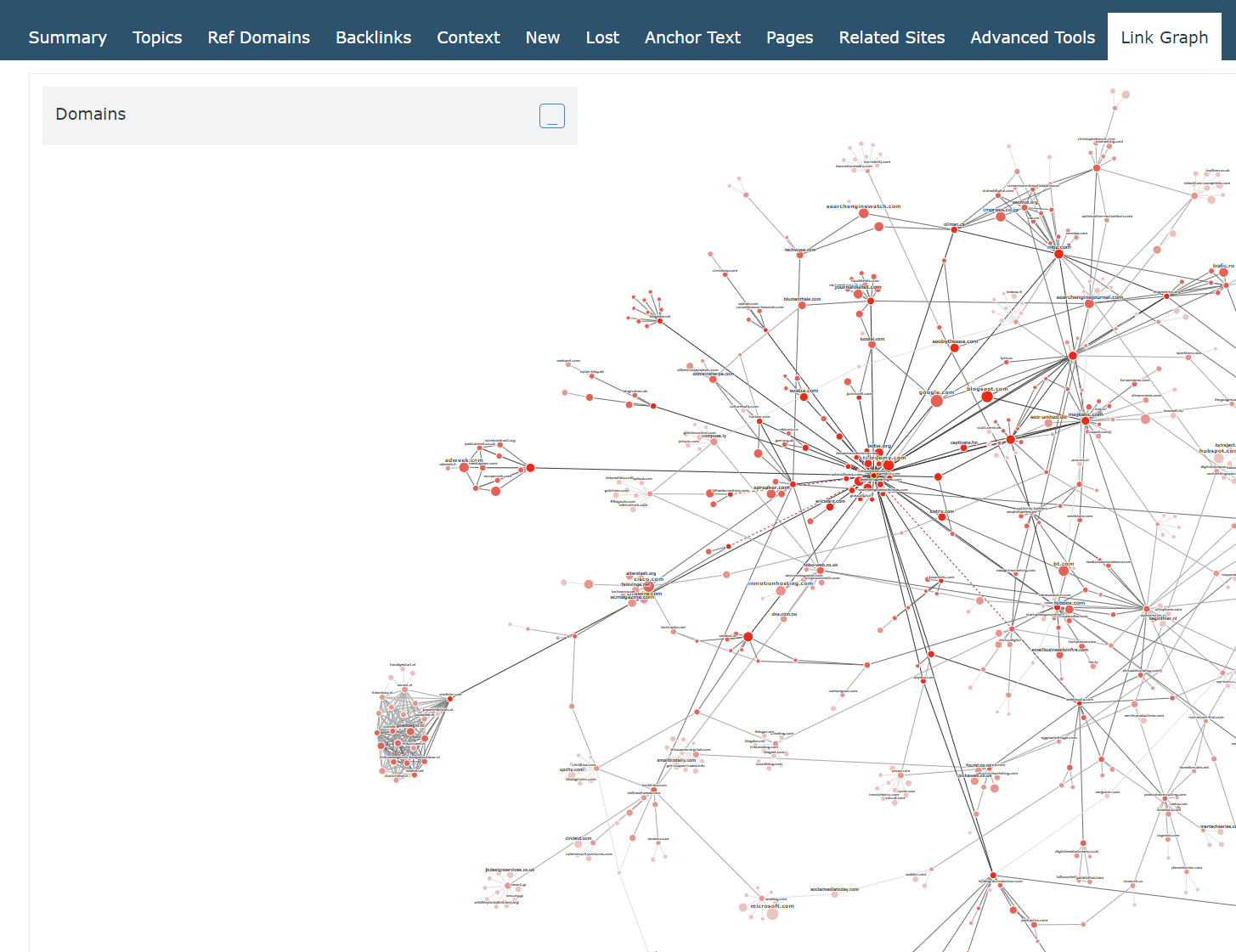 Domains are listed in Tier order, together with the Trust Flow and Citation Flow of the domain.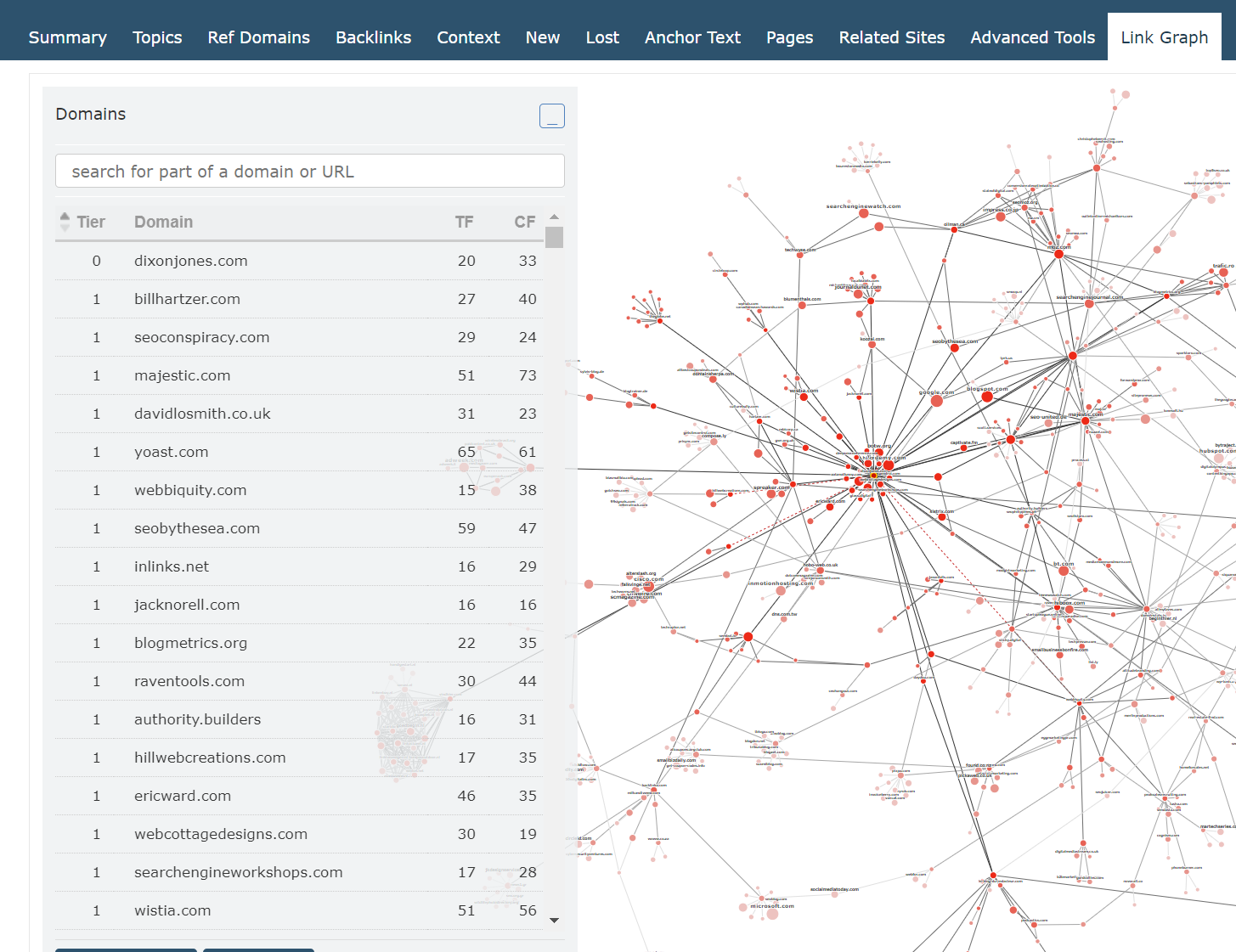 Sort your results
If you would like to check out the high Trust Flow domains in a network (or the low Citation Flow domains), you can click on any of the column headers to sort the list by that value.
Here is the same list, this time ordered by Trust Flow.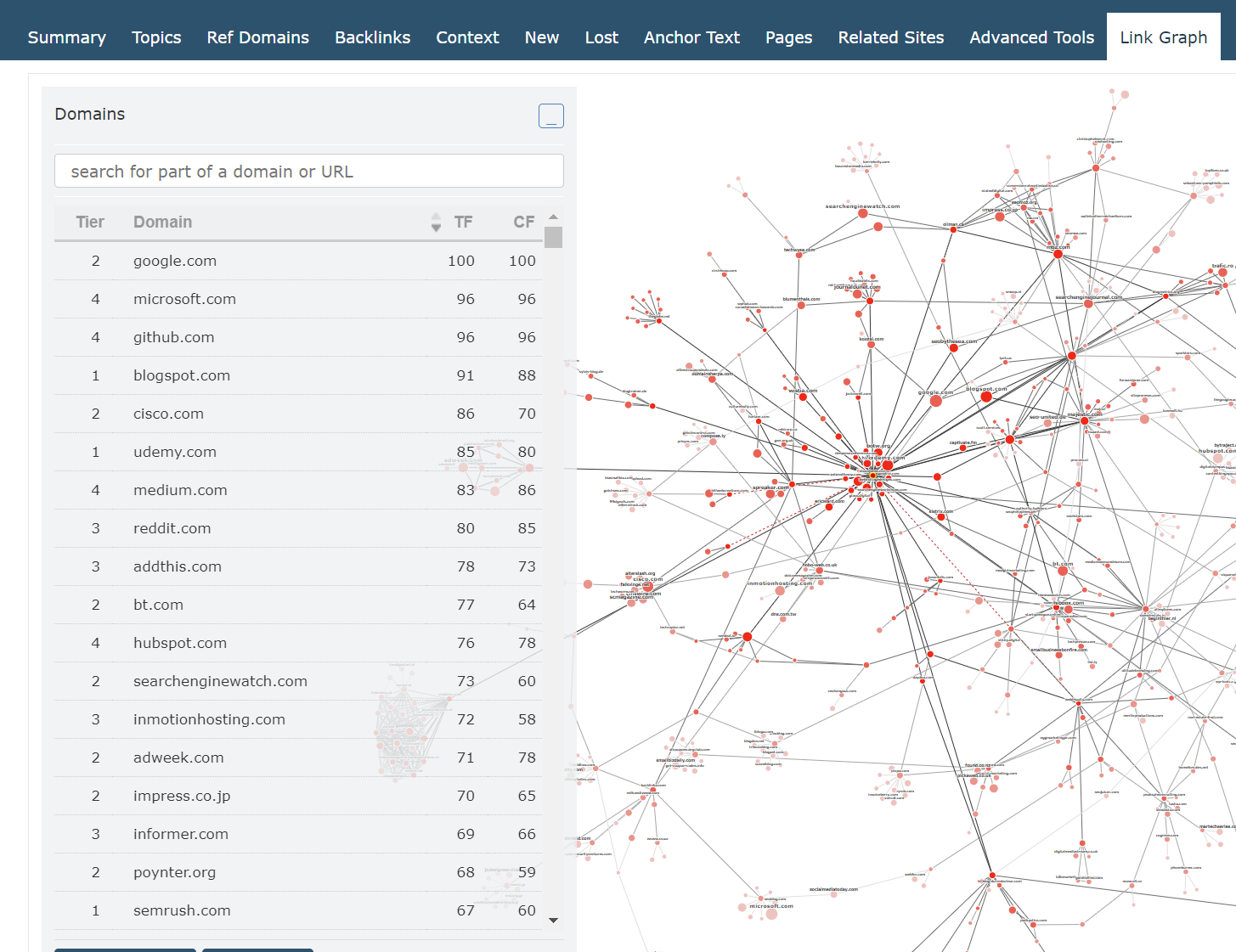 Free-text search
If you would like to look for a domain (or part of a domain), you can free-text search in the input box at the top.
Here are all of Dixon's Link Graph domains that contain the letters, "seo."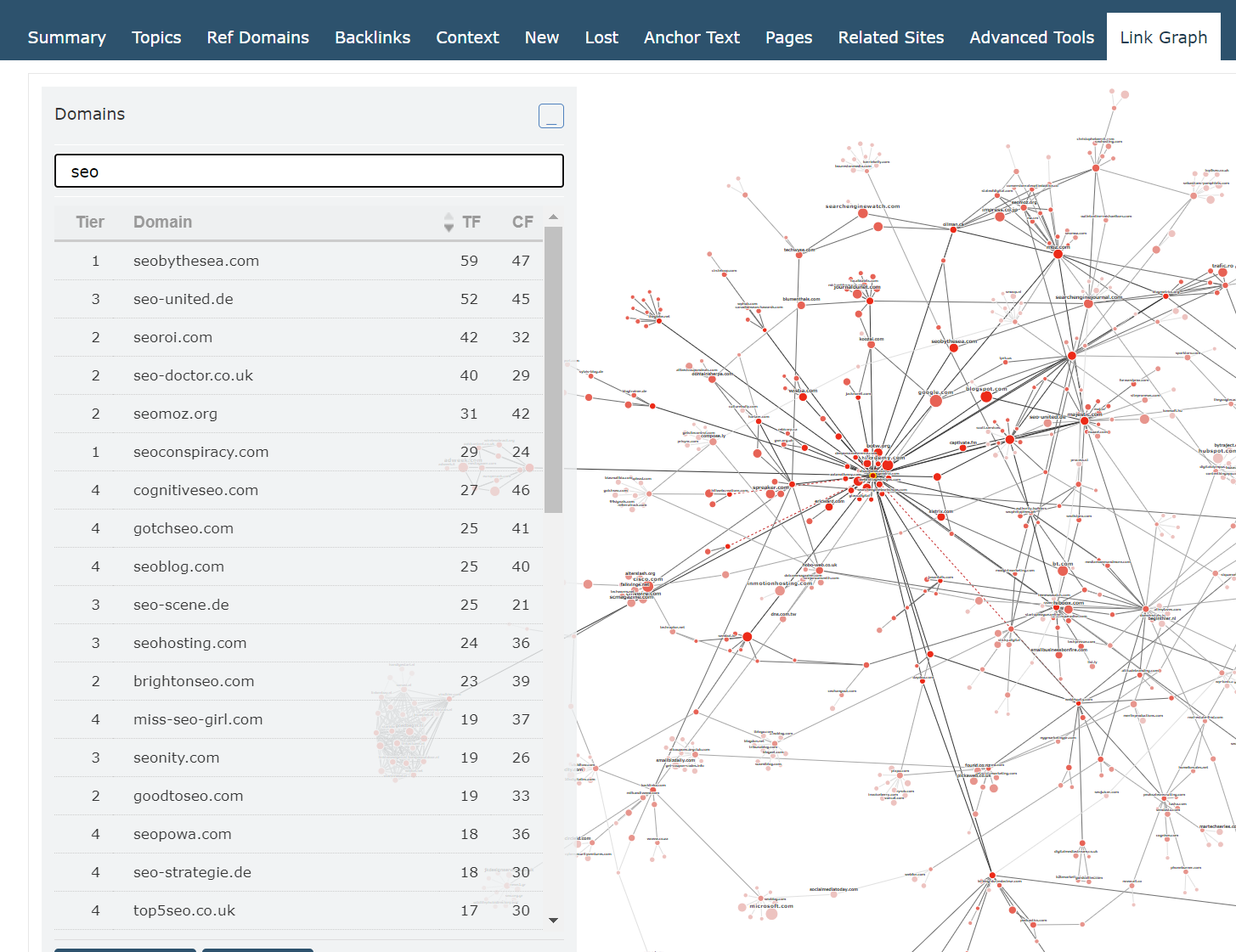 Domains with multiple URLs
A link graph domain can contain multiple URLs.
Click on any domain to see the URLs that make up the Link Graph.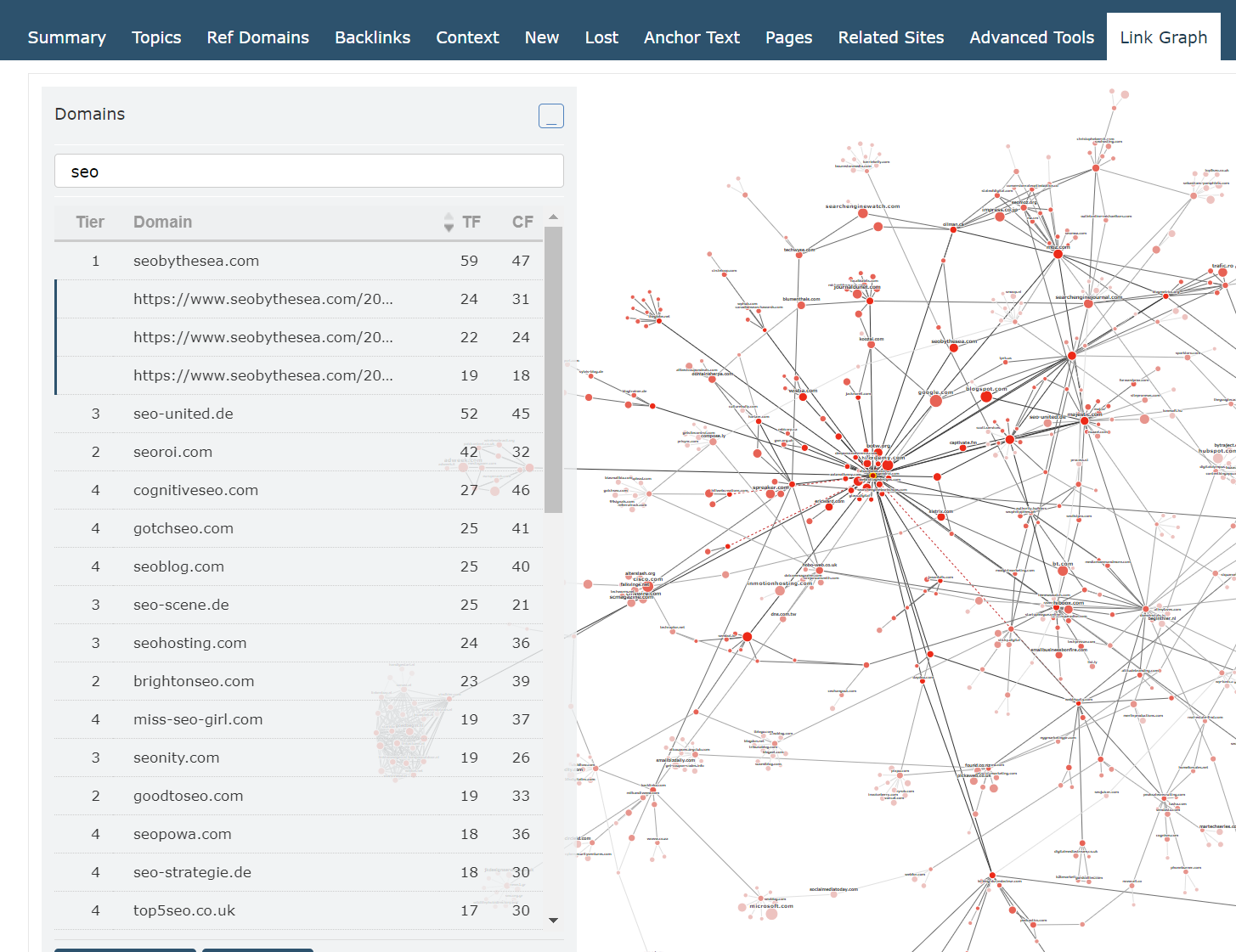 Expand URLs and use the Action cog
URLs are truncated, but don't worry. If you see seemingly identical URLs, you can hover to see the full path. This will also bring up the action cog should you wish to investigate further.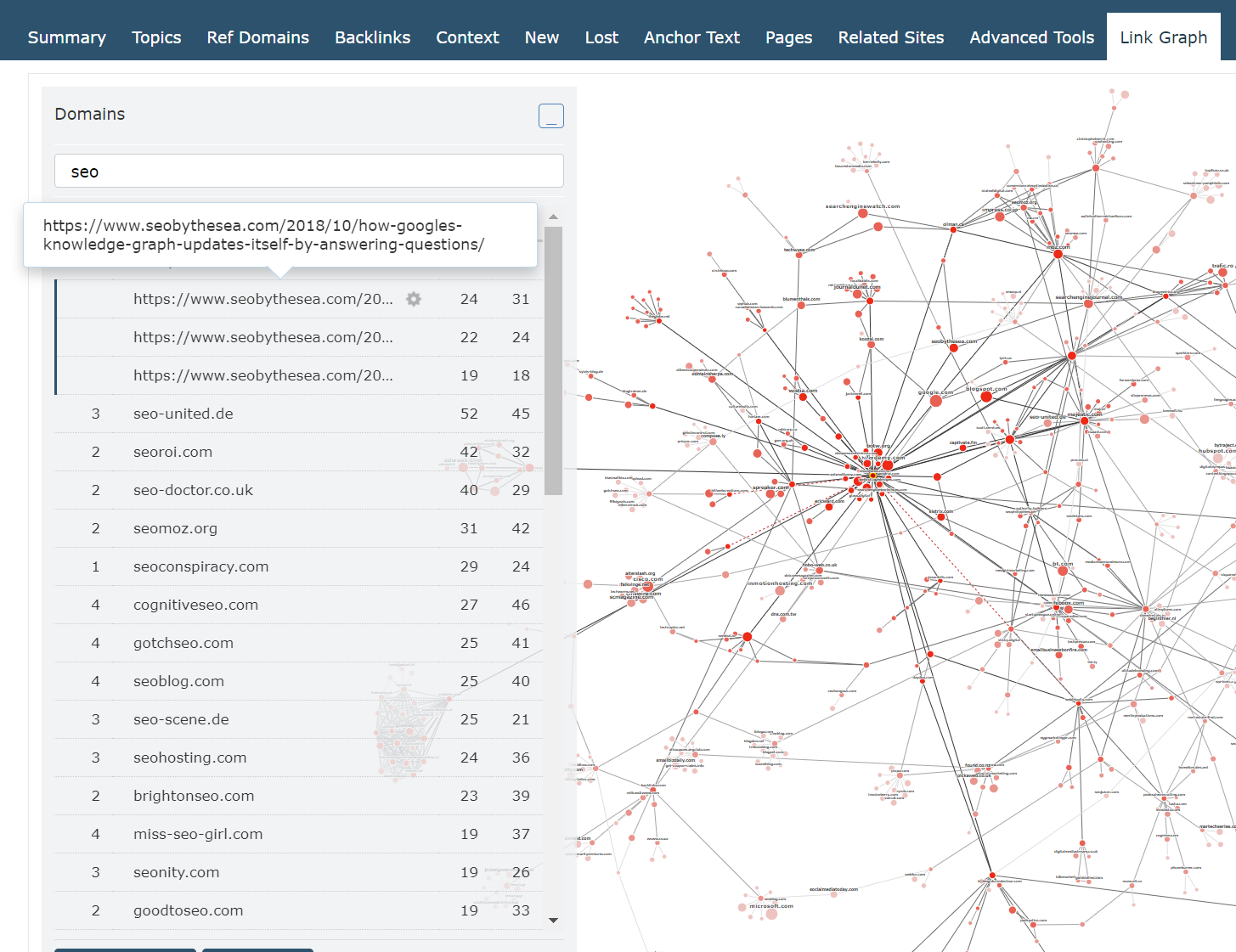 ---
Exporting the data
We are still working on an export format that we are happy with, and hope to to bring you some download buttons as soon as we can.
---
How to Get Link Graph
Link Graph and these new exports are available to all Majestic paid subscribers. Check out our plans.
If don't yet have a subscription, and you'd like to try out Majestic without CSV exports, here are links to check out Link Graph and Site Explorer with our free showcase site.
We hope that you find some great stuff with the data table. As always, if we can make your Majestic life easier, please get in touch with our lovely support team.
Latest posts by Steve Fitzpatrick
(see all)