Since 2020, Majestic customers have enjoyed best-in-class Link Graph visualisations. Our instant and interactive charts expose how close some domains and URLs can be to nearby link networks. To help your investigative work, we are delighted to share an update that adds a Related Sites highlight to our interactive link graphs.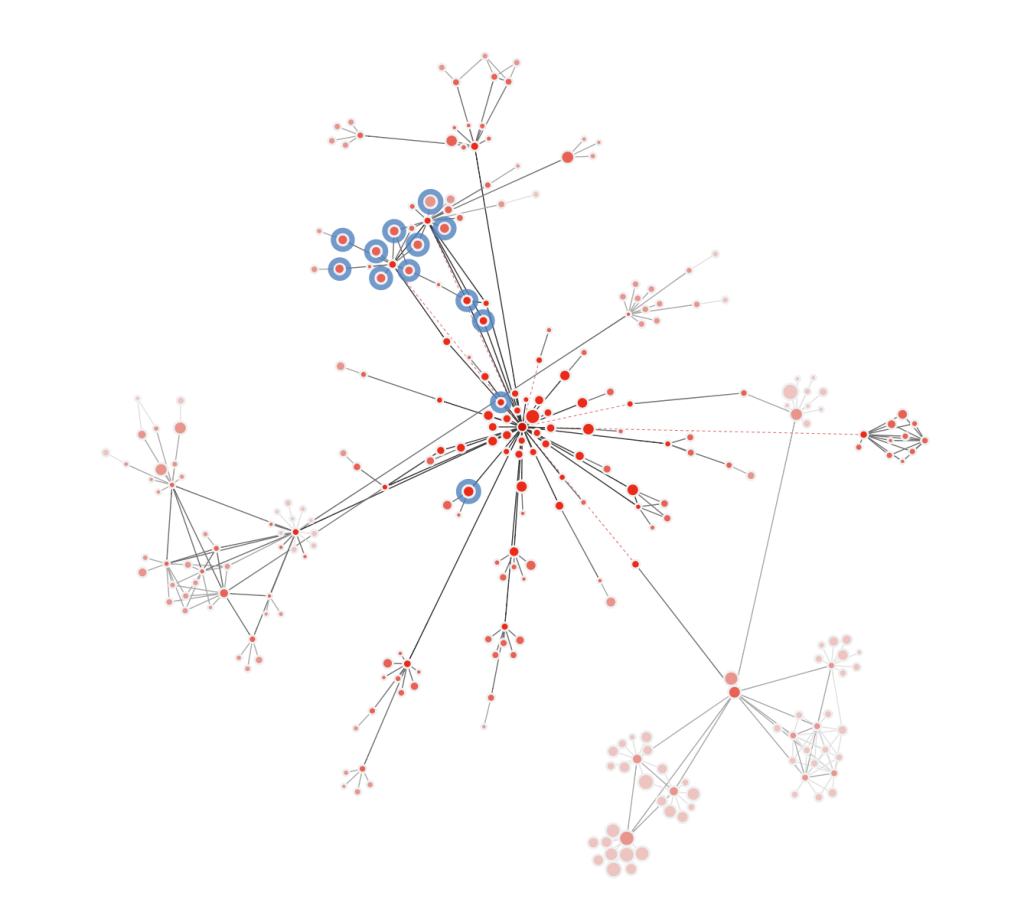 Link Graph and Related Sites, a Quick Refresher
Here is a TL/DR reminder of Link Graph and Related Sites.
Link Graph shows a deep network of linked websites. It takes the Top 50 links that point to a domain, subdomain, or URL of your choice, then uses those to build a network of sites that are up to three additional links away – checking to see how all discovered URLs and domains link to each other. This can expose interesting relationships and networks between apparently unrelated sites. Find out more about Link Graph.
Related Sites identifies which websites have most side-by-side, sibling, links on other domains. It shows how some sites are considered similar, even though they may not have any direct links between them. Find out more about Related Sites.
Overlaying Link Graph with Related Sites
If a Link Graph shows the linking relationship between websites and Related Sites shows non-linking relationships, then combining both on the same graph seems like it could be another key tool for your Link Intelligence activities.
Because, with both tools in one view, you can identify Link Graph sites that are doubly-related to your searched domain or URL, or even find out that some apparently unlinked Link Graph dots are actually related.
As an example, here is a Link Graph for the Dogs Trust in the UK. It looks like a very normal, natural and organic Link Graph. There's some sideways linking between sites, and that's reasonable for a reputable and well-established domain of this size.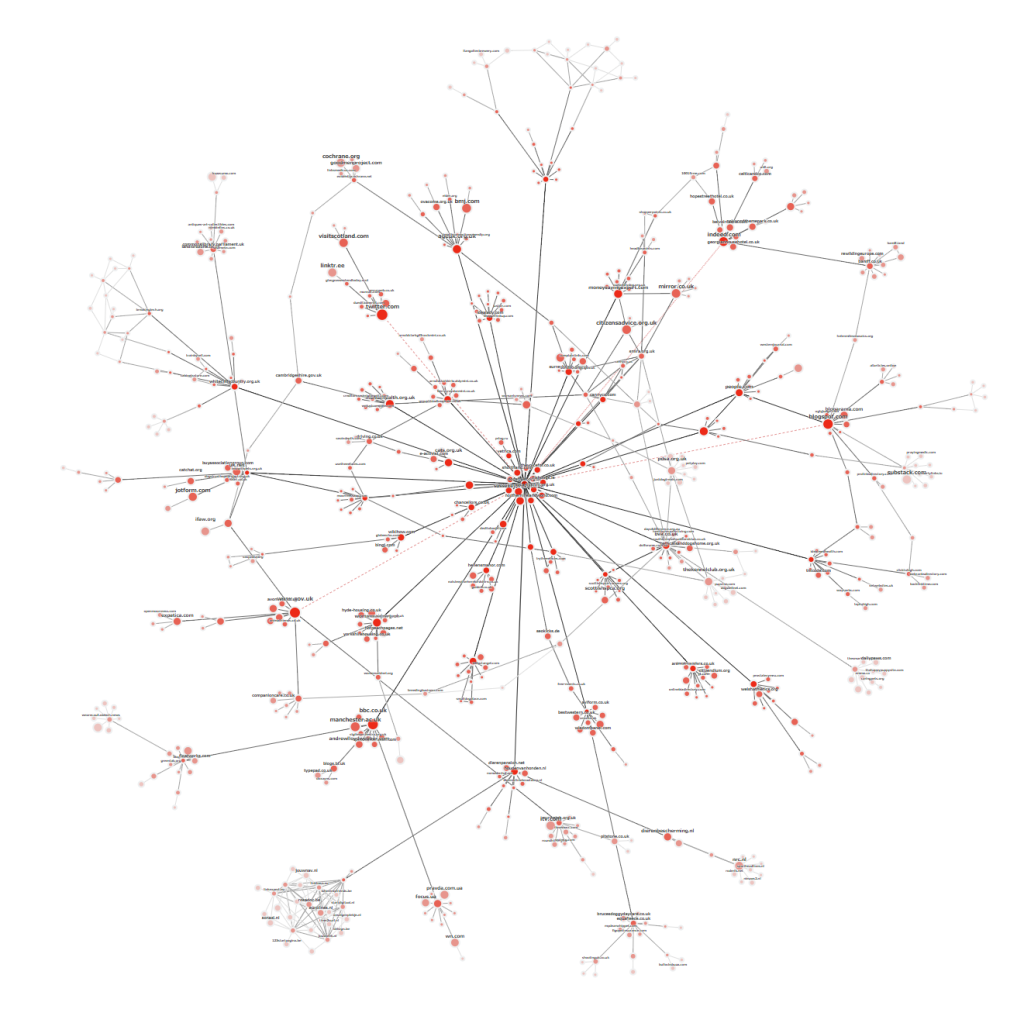 Now, what happens if we import the Top 100 Related Sites (which for the Dogs' Trust include sites like rspca.org.uk, and cats.org.uk), and highlight in blue any that appear in the Link Graph?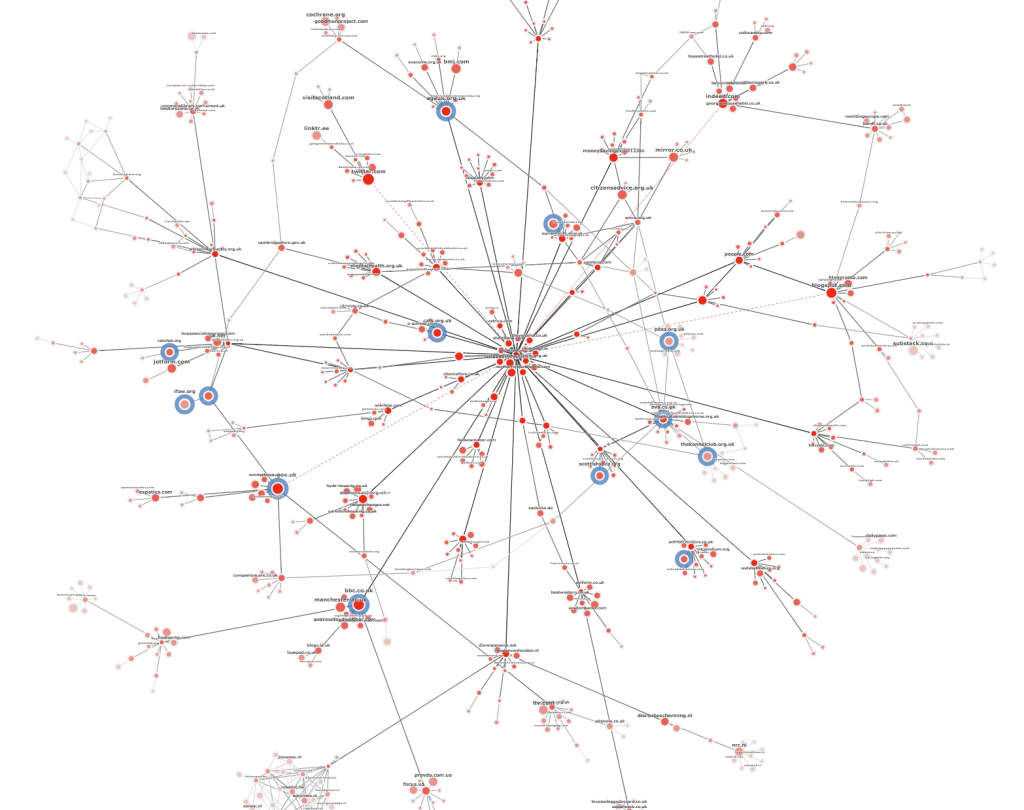 All of a sudden, as well as showing networks of links, Link Graph is now adding a visualisation of previously-hidden sibling relationships through the larger network. That is, the blue outlines are a join-the-dots for domains that usually appear beside each other on the web, even though they may not directly link to one another.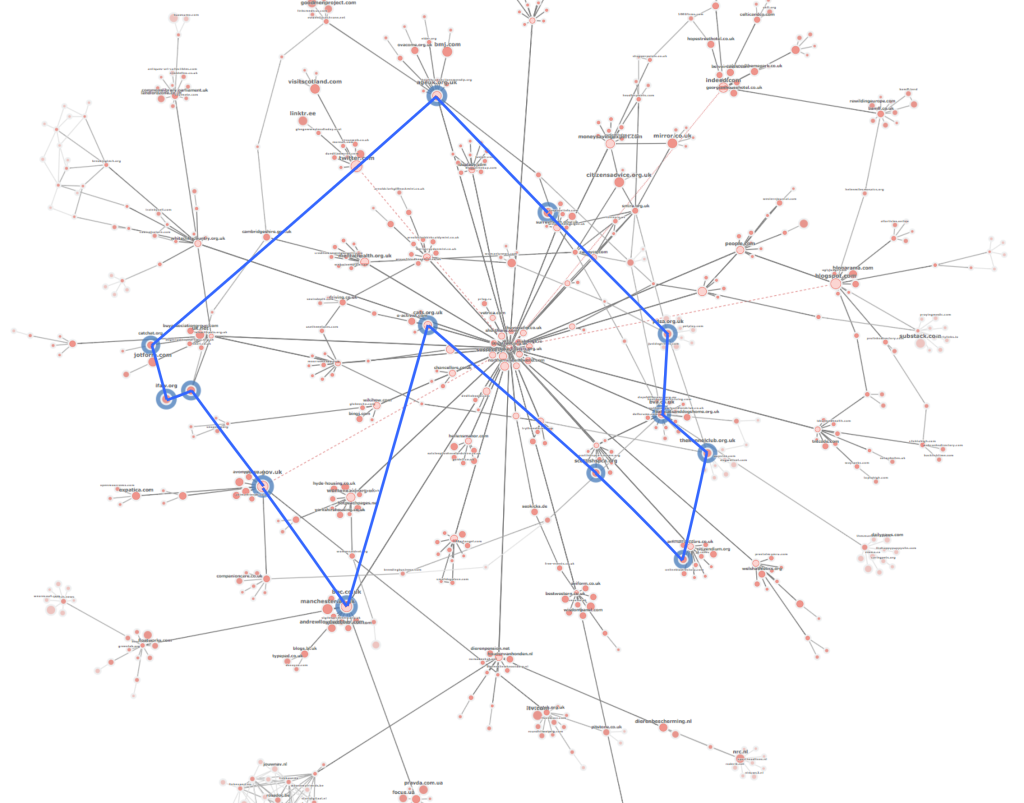 Related Sites in Link Graph show a new dimension of relationships that would be missed with a link-exclusive network graph.
Discover Related Sites in Link Graph Today
Related Sites in Link Graph is available, by default ,on all paid plans.
There is nothing that you need to do. Next time you visit an interactive Link Graph, we'll import the top Related Sites for your search, and highlight any domains that appear on the list.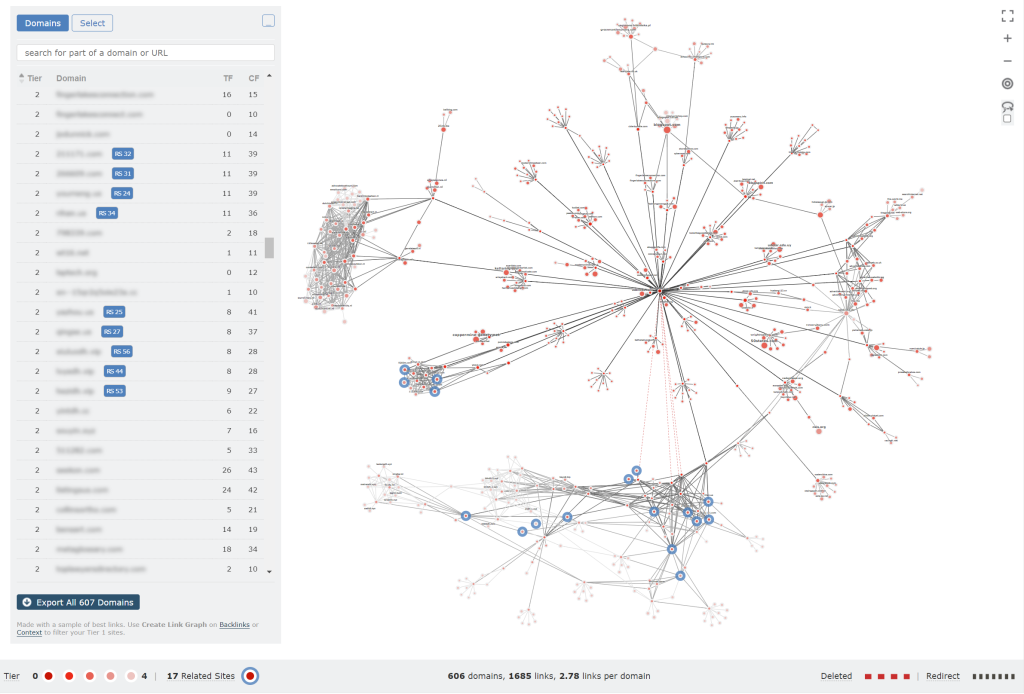 From today, when you load any of our interactive graphs, you will see these additions to any Link Graph that contains Related Sites.
1. Blue highlight in the graph
Any of the Top 100 Related Sites for your search that appear in the graph will be obvious, and will have a big, blue outline.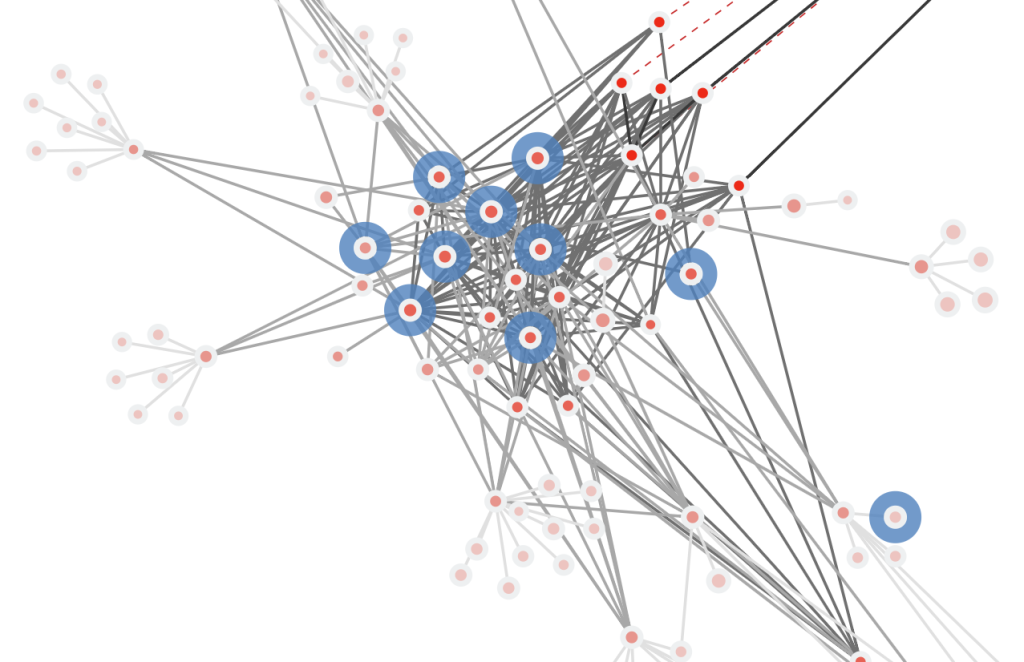 2. Identifier badge in the domain list
A handy "RS" badge in the domain list will show which of the Link Graph sites are also in the Related Sites list for your searched domain, subdomain, or URL.
The number to the right of the RS label shows the position of the domain in the Related Sites list. Sites with smaller RS numbers are closer to the top of the list, and considered "more similar" to the root site.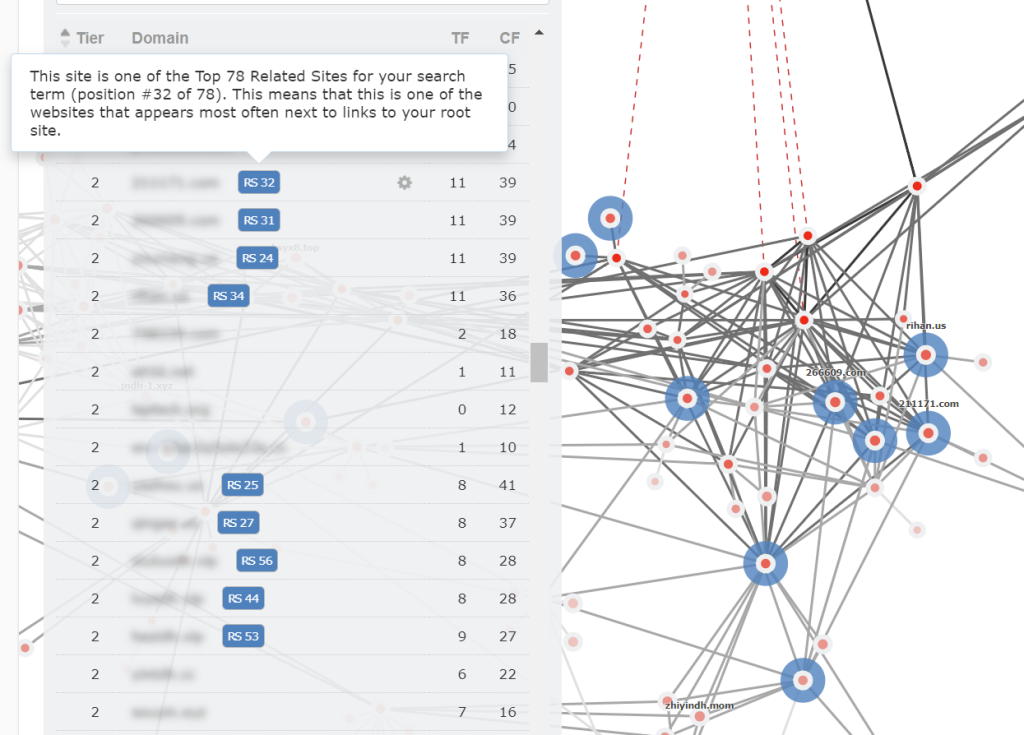 CSV exports from Link Graph will also include each related site's position (should it have one).
3. Footer summary count
For many Majestic users, we anticipate that the -count- of Related Sites in a Link Graph may be of more interest than the actual placement of related nodes in, or around, any networks. For those of you who would find this useful, we have added a count of how many of the Top 100 Related Sites appear in each graph.
In the instance below, there are 317 domains in this website's Link Graph. 42 of those are domains that also appear in the Top 100 Related Sites for this website.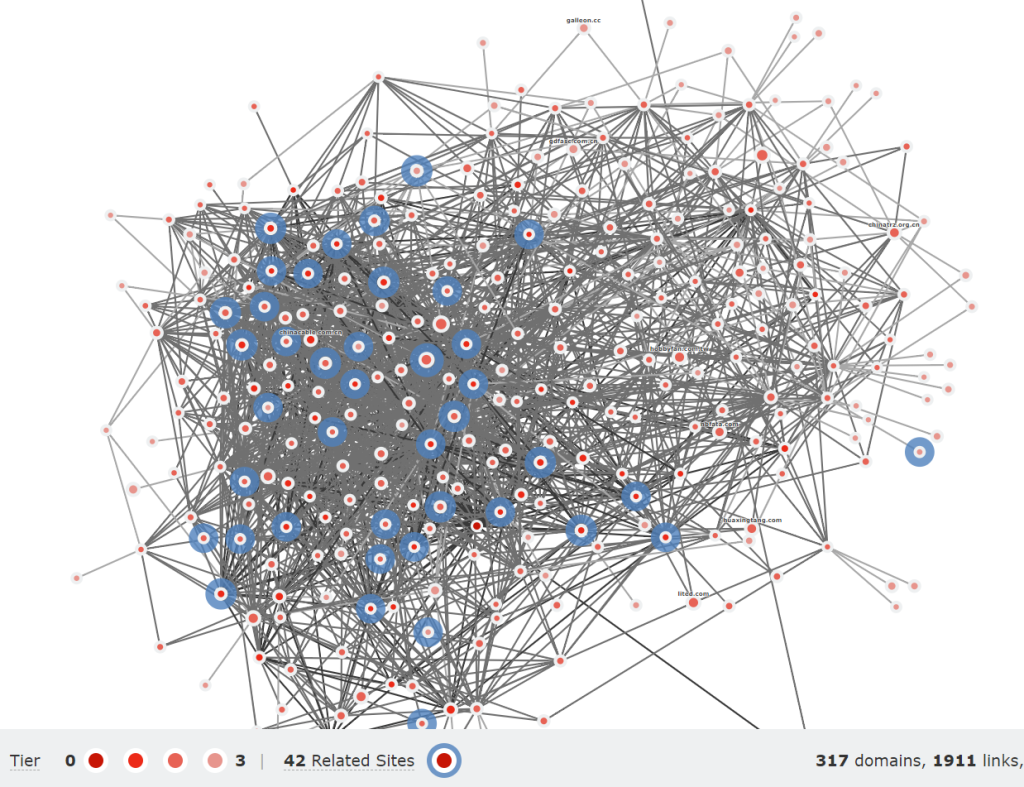 Note, 52 out of 100 total Related Sites is our record high score so far. Can you find more? 😀
4. Click-to Highlight
If you would like to investigate Related Sites only, we have added a toggle for you. You can use either the Select > Related Sites menu, or the shortcut in the footer, to show only Related Sites (and their links) in your graph.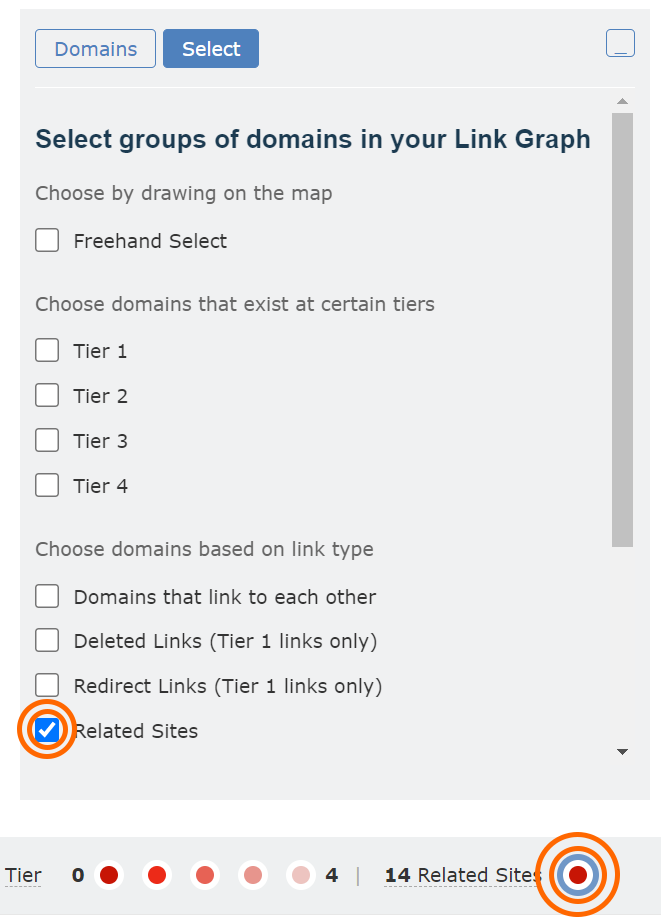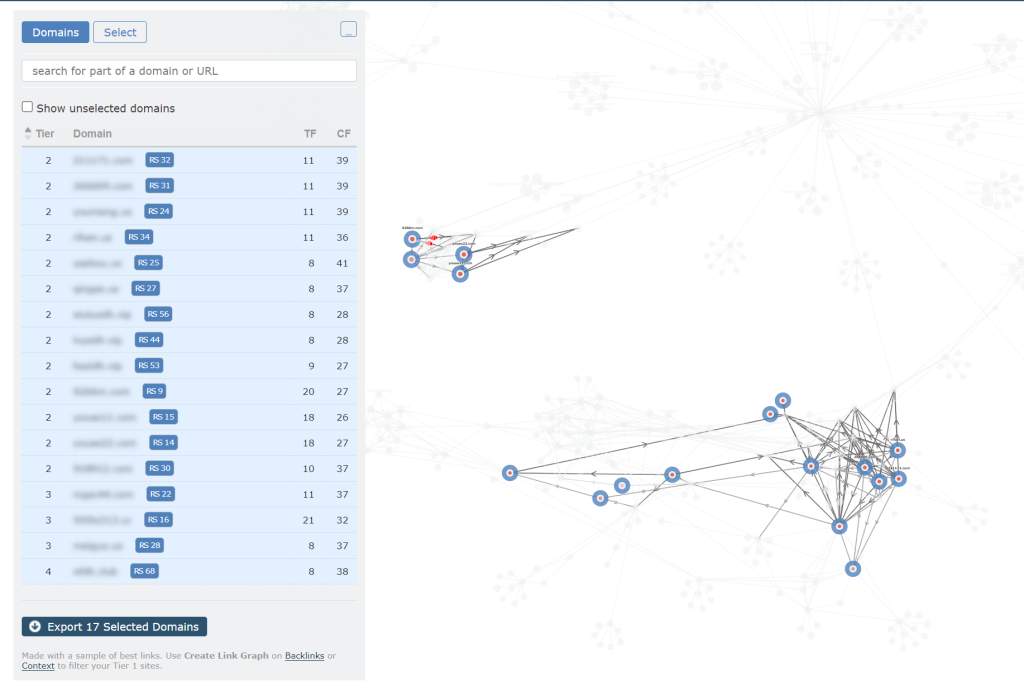 5. Hover confirmation
It's a small tweak, but we have updated the hover card for a domain to show that it is also on the Related Sites list for your search.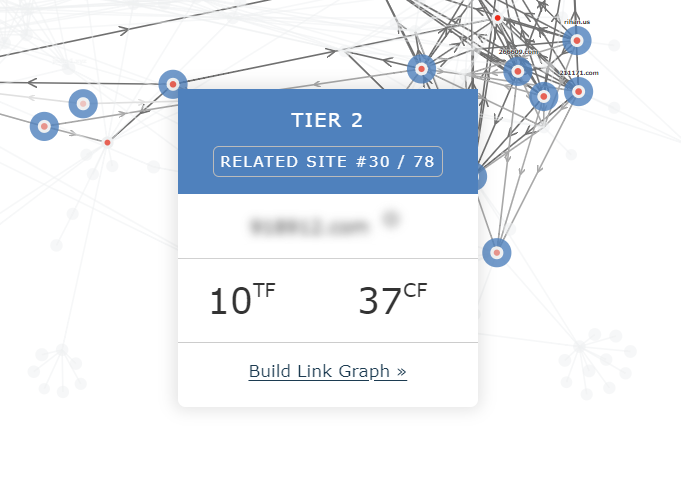 Note: You may notice that this particular domain is number 30, out of 78, in the list of Related Sites for this search. While Related Sites will usually show the Top 100 sites, some domains do not have that many, indeed the site in this screenshot only has 78 Related Sites in total.
How can you use this?
Related Sites will help some Digital Marketing and SEO professionals identify which parts of a Link Graph deserve the most immediate attention. And how you use their combined superpowers is entirely up to you.
Maybe you discover that Link Graphs with too many Related Sites suggest unnatural linking patterns?
Perhaps you notice that a Link Graph with relatively few Related Sites presents some great opportunities for targetted link building? There are Link Graphs out there that have 0 Related Sites. In theory, there would be up to 100 sites that are linked-to beside your site, and they're not appearing in your link graph.
Top tip: You can export individual CSV files for the Link Graph domains, and the complete Related Sites for any website or URL. If you cross reference the lists, you'll get a list of sites you link beside that are not in the extended link network derived from for your Top 50 links. Are there opportunities there?
Maybe you can use Related Sites in Link Graphs to identify different types of network? Is a network that contains Related Sites any different to one that doesn't? Can you learn anything from that? Is there a story there for a client report?
And what could you discover from doing this same work on your main competitor's Link Graph?
Try it out
Related Sites in Link Graph is available today, for all subscribers. To see it in action, just visit one of our interactive link graphs for your favourite search term.
If you don't have an active subscription, you are very welcome to try out Site Explorer Link Graph with our demo site. And if you want to know what the fuss is about and find out more about your own sites, brand new customers who try our Lite or Pro plans can enjoy a 7-day money-back guarantee.
As always, if you have any feedback, or know a way that we can make your Majestic life easier, please get in touch with our lovely support team.
Latest posts by Steve Fitzpatrick
(see all)