We'd like to share with you an amazing and insightful new view on Majestic data – Related Sites.
In part one of this week's blog posts, we introduced Original Patty Men, a Birmingham, UK based Independent Burger Restaurant that has collected around 600 backlinks from over 100 websites.
In this post, you can learn how even a small local website like OPM can use the new Majestic Related Sites tool to tame the huge quantity of Link Context data, and find a list of similar sites.
What's really amazing about this feature is how little data is needed to find interesting relationships between sites. As we will see – even for a local company with a small web presence, the Related Sites tab reveals:
Geographically Similar Sites
Competitors
Sites related by Business Relationships
Using Related Sites for Backlink Research
Let's begin by looking at Related Sites for OPM.
These are the top sites that we have produced algorithmically from backlink data, but before you look at the table, keep in mind that we are looking at similar sites for a very modestly-sized local restaurant.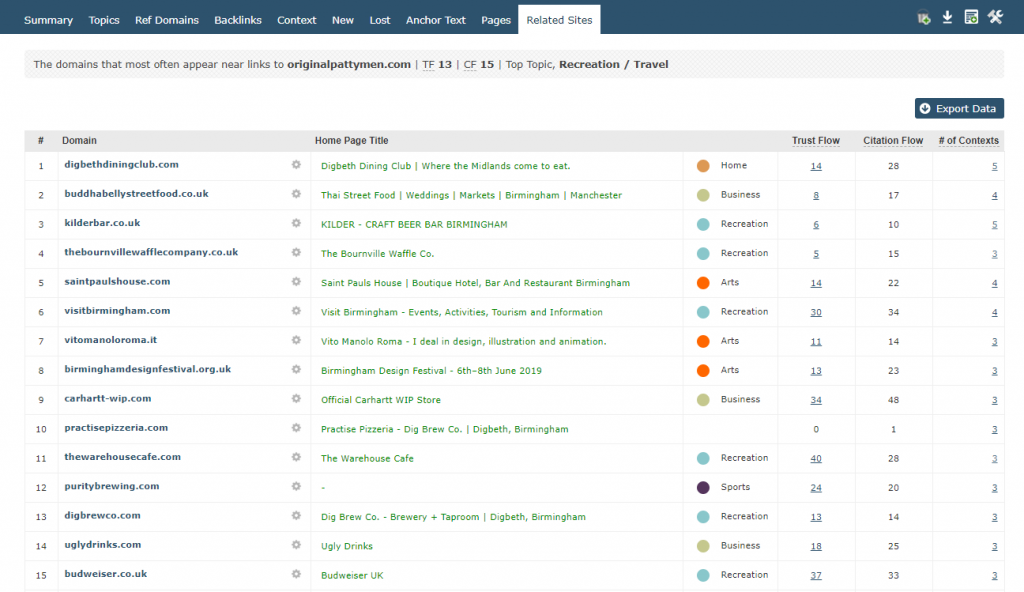 Wow. A look down the page titles suggests a number of potentially competing sites, possible promotional partners, and suppliers. When you consider that the OPM site only has 691 links listed in Fresh Index, this is a huge list of relevant and similar websites!
The eagle-eyed amongst you may notice that there are no "mega-sites" in the results. So that we can try to keep your list topically relevant, links to some of the internet's largest sites (eg Google, Facebook, Twitter) and content hosts (eg AWS) may be suppressed from the results.
To see the magic behind the curtain, let's take a look at where the data comes from…
When we see any backlink on a web page, we take note of all other links that are immediately nearby. This usually gives a very accurate list of competitors, or similar sites. The related sites you see in the table have been pulled from Link Context data for the "OPM" website.
A benefit of us linking up our new tools is that it's very easy for you to check back the Link Context data to see exactly why any returned site has a relationship with your search term.
If you're playing along at home, we're going to click the "# of Contexts" column for result #2, Buddha Belly, and go to Link Context…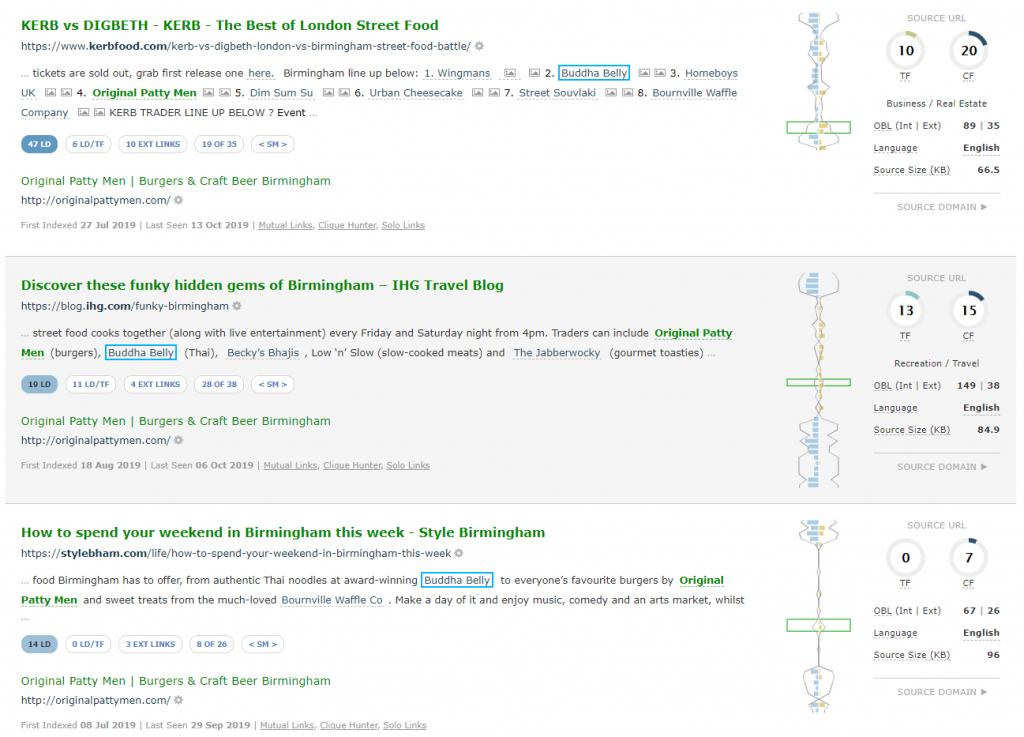 In the image, above, you can see every time that the 'Buddha Belly' restaurant appears in a Context row with a co-citation link beside the one to our original search term, OPM.
It looks like a street food blog and two 'things to do in Birmingham' lists are feeding the algorithm that determines whether these two sites are related. As all of these results look like they are from low Link Density context items (the relatively narrow sections of link density charts, to the right, give an at-a-glance indication of whether the link is in editorial content), it really reinforces that this co-citation is quite probably human-curated and incredibly accurate.
We see here what appears to be a convergence of traditional PR and Digital Marketing – the mentions above presumably being either being Earned commentary on the part of the restaurant as a result of its success, or perhaps the result of a well-oiled PR operation handling relationship management across a number of outlets.
Link Density Charts
With the Buddha Belly results, you can see how Link Density Charts will help you evaluate whether, or not, a link is the type of link that you are looking for. In two of the instances, our link (green box) is in a very narrow, editorial, section of the page.

There is nothing as good as reviewing a source page to understand a link, in context. But, as you are very aware, manually reviewing links is incredibly time consuming.
Link Density Charts help prioritise your efforts and make you more efficient at link audits and prospecting.
An example of how a Link Density Chart maps onto real page content from a link above is shown below.
A combination of the Related Sites tab and the insight provided by Link Context adds a new dimension to Link Prospecting and research for Digital PR.
How do Similar Sites help Digital Marketing & PR?
By now, the potential for relationship development should be apparent – by highlighting links occurring close together on a page, new relationships are uncovered. These new relationships may provide rich ground for a range of outreach and promotional activity.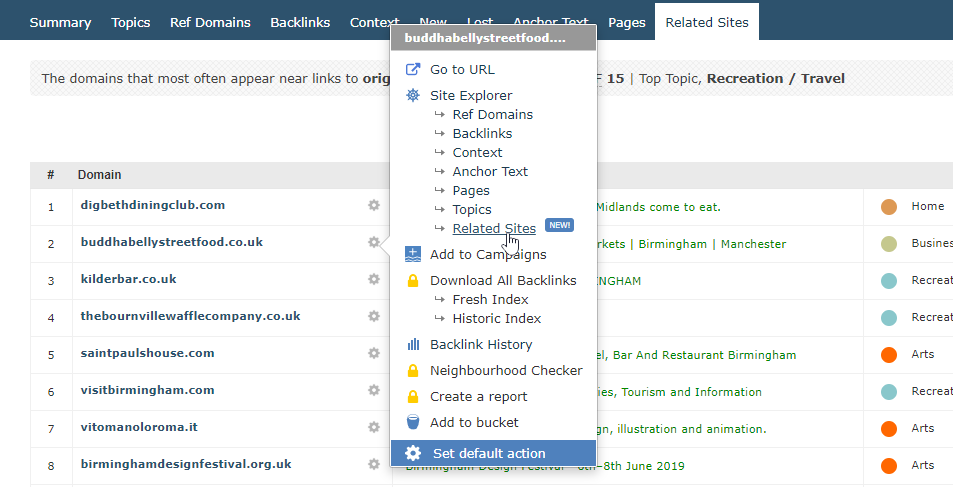 We can use this network effect to gather even more Link Intelligence data – by diving into "Related Sites of Related Sites". This Inception-like depth is only a click away. Hover over the action cog near a domain result, and choose, "Related Sites":
We then drill into the Related Sites for the Bournville Waffle Company to see a pivoted view on our original search for OPM related sites: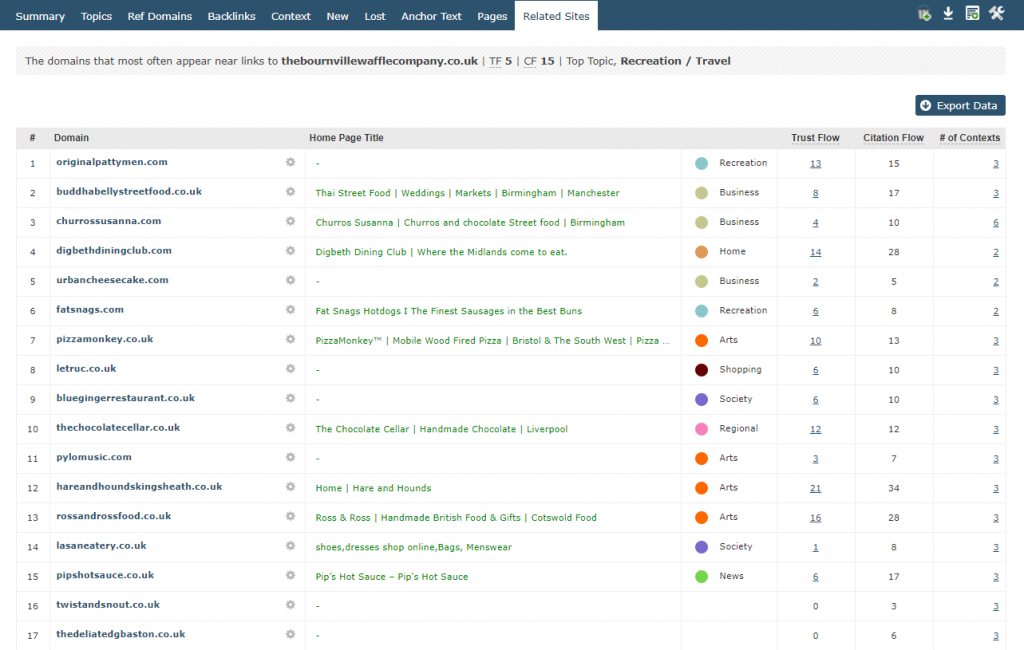 As with every Majestic data table, bulk results can be exported to Excel or Google Sheets via "Export Data". Alternatively, if you are plucking a handful of links from different pages, the "Add to Bucket" in the cog can create a convenient shortlist for export or further investigation in Majestic.
In just a short period of time, you can easily build up an impressive list of candidates for outreach activity, or further investigation.
Related Sites is available today on all Majestic paid subscription plans. If you don't yet have a subscription, but you want to check it out, we've set you up with the Original Patty Men website as a free backlink checker demo.