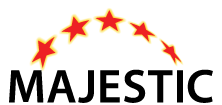 Everyone we've spoken to on the road over the last couple of weeks has welcomed the announcement about us dropping the SEO from our name. For those of you who we haven't had the chance to explain to in person, here's the lowdown on why we're now Majestic.com.
It's always a risk for any company to change their name, but we felt it was an important move to make. We are still proud to operate within an SEO industry, but at every conference we attend, someone asks us "Do you offer SEO consultancy" – A simple question, but one that made us reflect on what our name states and how we're perceived. We want to make it clear as to what type of business we are… We're an analytics business. At the heart of Majestic we are a big data company that is passionate; (if not a little nerdy), about data. We can offer tremendous insight not just to the SEO world but the digital entrepreneurs, PR professionals, social marketers, and analysts that are advising other businesses – all of whom are trying to succeed. So for us, by dropping the SEO it's not to say we have turned our backs on our roots, but means we're broadening our audience, giving us a better opportunity to educate and inform others beyond the SEO space.
Why now?
It's something we've been thinking about for a long time and once we secured the domain name, the autumn conference season seemed the best time to get out and tell the industry in London, New York, Las Vegas, Dallas, and Chicago to name just a few places.
Our more recent developments such as Topical Trust Flow demonstrate the power of Majestic and what can be done with our data. We're looking to improve and are scoping more innovative developments that will provide real commercial insight to different industries, in the future.
So what next?
Over the coming months, we plan to do more of the same, and then a bit more… This month we celebrate our 10 year anniversary and we want to use the celebration to capitalise on all that we've achieved to date, but also ensure we're the best we can be. This means making sure our new brand name fits what we provide – comprehensive real-time web data, so that our current customers or those who may be new to Majestic are fully aware of, and can understand the business intelligence we provide.
So on the Majestic social channels we're going to be promoting what exactly can be done with our tools and data – from regular infographics on our Google+ page to explain what's available, to informative blog posts right here on our new-look Majestic blog.
We want to inspire others! After all, as our new tagline states; "From Trust Flows Understanding" and we want to continue to develop the trust in our data and ensure users know about the importance of Trust and Citation Flow when analysing link data.
We've already updated a lot of the content on the blog, but we'll also be uploading event images on our Pinterest page and bringing out some new developments. Right now we're in Vegas, but we're also attending other events this year to answer any questions people may have, show and talk about our new branding as well as any latest product developments too. So please let us know your thoughts and we're keen to know what you think!
Latest posts by Nicola Carey (see all)