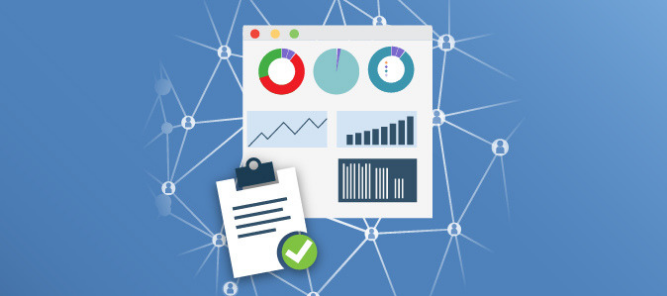 As an international SEO agency working across multiple industries we are tasked with auditing and improving link profiles varying in size. At a base level, 'smaller' or 'fresher' link profiles can be very simple to audit – but when auditing profiles with a rich history (not always positive), exposure to multiple markets internationally and with a large amount of referring domains outside of the control of the owner of the site, things can seem like a greater challenge.
The simplicity in understanding a link profile comes from knowing how to utilise the data you have and make informed decisions on data as needed.
Auditing Link Profiles with Over 250,000 Referring Domains Easily
The quickest and simplest way to audit profiles with over 250,000 domains is to use tools which offer snapshots of information. This starts with using extensions and tools that give you the information quickly, without having to dig. For this the Majestic chrome extension works perfectly: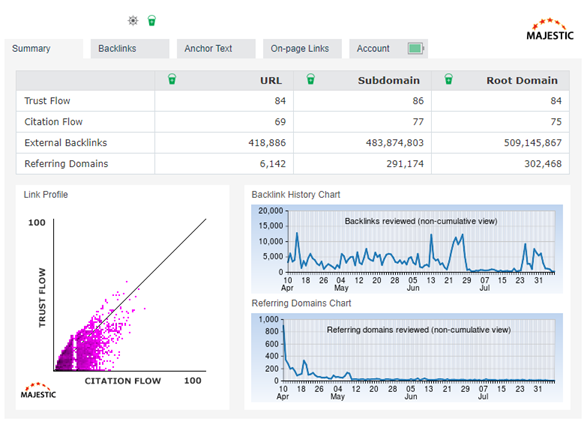 For the purpose of this blog, we've focused on a large online retailer link profile.
Within this screen, the goal is to identify any areas which need immediate attention, changes in trends and overall statistics on Trust Flow and Citation Flow.
For example, the about shows a drop in overall crawling of domains and a slight lean towards lower quality links – which could mean a bad profile.
The second port of call here is to then head into the profile and get some numbers to either confirm or debunk your initial thoughts.

Here we see a drop in fresh links, referring domains and referring IPs – backing up the suggestion that there's a potential change in link profile make up of the website in question.
Following this, the next port of call is to determine where this change is apparent from and determine whether this is active removal and changing of links, or whether there is a problem – such as links to pages which no longer exist.
This can be determined by looking at the Lost section – and will show changes. In terms of our example, this is attributable to the change in links from internal business websites (the retailer's (country code domains).

Next in the core audit is to understand where your market segments are – this again starts with the top-level option on the Summary:

Clicking through here will give you more information on the website and the areas from which its link profile is built and help build a topical trust flow.

Understanding the market your website is in will give an insight into understanding the detail needed to audit whether links are in the right market.
For example, the above example matches generally what would be expected – a high proportion in the target website market, with sub-categories splitting further out.
Issues would arise for example if there was a huge proportion of links from Science – as this would suggest the link profile is not targeted enough. Therefore, another immediate action would be to address this further and understand why this is the case (historic link profile, bad link profile etc.) and then rectify with a link strategy.
Next up, use the summary to identify anchor text and types of links pointing to the website. Any cause for concern can be investigated further.

Effectively, the entire process within the open phase of the research should be to pinpoint immediate issues for concern or further investigation. It is important to note that these need to be considered in context to the website in question – the example of links above being reduced because of internal processes being the prime example at this stage.
To determine the list of actions needed for further investigation we would recommend following this matrix:
| | | | | |
| --- | --- | --- | --- | --- |
| Area | Target | Current | Further Action | Priority |
| Total Referring Domains | 300,000 | 321,000 | N/A | Maintain |
| New Links | 10,000 | 2,354 | Increase rate of link growth – competitor targeting | High |
| Lost Links | 2,000 | 10,343 | Investigate link losses | High |
| Topical Trust | 80% Ecommerce | 55% | Target links to topic | Medium |
| Link Types | 80% text links | 81% | N/A | Maintain |
| Anchor Text | 90% Branded | 75% | Target links to brand | Medium |
This is a simplistic view of the data but shows clearly the goals, the immediate actions and the needs on the account.
At a very broad level, we now know we need more trusted links with a brand anchor text from sites within our industry. In turn, the SEO strategy has previously dictated this is how we improve search presence and rankings online.
Looking at Deeper Information
The next phase is to delve deeper into the genetics of a link profile and this is where large scale profiles can begin to feel overwhelming.
At a base level, the most import elements are outlined below.
Deeplinks
Deeplinks are links to the website which do not point to the homepage and as such point 'deeper' into the site.
When you consider the amount of different landing pages and categories on larger websites there is a huge challenge behind having these linked through to equally and not have a huge website wholly dependant on a homepage – which can sometimes feel like the case.
Our advice is always to aim for a deeplinking ratio above 98% but also spread across as many pages as possible, from blogs through to product categories.
HTTP vs HTTPS
Google's emphasis on secure sites for consumers is part of the everyday fabric of SEO and it should also be accounted for in your links profile. Use the summary of a link profile to determine the split between HTTP and HTTPS links – there's no balance here, a site should be driving towards a pure HTTPS secure link profile because Google will rate those websites more favourably than non-secure.
Do the Same for Competition
The next phase of this is to carry out the same work online and build a better understanding of what the competition is doing.
The initial steps to follow are the same, but the final step is to build a gap analysis and identify where positive links are being driven in your market.
To do this:
Pull referring domain data per competitor
Add to a spreadsheet
Outline instances using COUNTIFS
For example:
=COUNTIFS(C2:C15 "domainname.com")
The above formula will allow you to determine what referring domains are pointing to the domain you are measuring against – giving you a clearer overview of mutual or common links between different competitors and your website.
Beyond this, is the experimental tool from Majestic for Mutual links – which will allow you to build a breakdown of where links are seen between domains.

Action target links based on your above terms from this list and there will be positives associated with link profile growth in the short, medium and long term.
Understanding the Impact of Your Link Profile on Site Health
Historically, now and in the future – a strong link profile is pivotal to success online – understanding the profile and the needs of the site in question will result in a much better ranking online. Understanding your competitor profiles will allow you to control the market.
Latest posts by Keith Hodges
(see all)