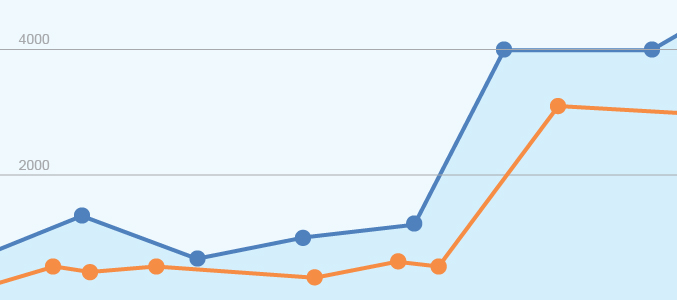 Understanding how to use backlink data, rankings and site authority to determine market share and opportunities for growth is of huge importance to successful SEO.
From natural links built through sharing content or business listing to links actively sought to improve Trust Flow, anchor text ratios or general brand awareness, there is a need to constantly evaluate and improve both the impact link acquisition is having on your website now and the possible impact it could have in the future.
Ultimately, taking the necessary steps to utilise backlink data, the impact this has on rankings (and therefore market share in any given sector) and growth opportunities off the back of this on a regular basis creates a culture within an SEO team where constant improvement can be sought, and link profiles do not become stale, dated or lose value over time.
Understand the current equity of your link profile
Websites
Anchor Text
Determine the space
How are rankings impacted
The obvious starting point for a link profile across an entire website will be the Majestic summary page.

The use of the page is simple – any immediate changes to a link profile can be investigated, top referring domains can be seen, highest use of anchor text audited and any glaring opportunities for improvement investigated.
Notably, in the example above, the BBC has seen a drop of 7 million links from its Fresh Link Profile. For an SEO Agency, this would create an immediate route for further investigation, as would the matching drop in referring domains.
Auditing Websites
The next step, where the real value is seen in discovering where a link profile comes from, is auditing the deep level domains associated with your website, comparing this with competitor websites and finding where the gaps in this data are.
Break this down into three stages.
Stage 1: Your link profile.
Use the referring domains tab to download the referring domains pointing to your website.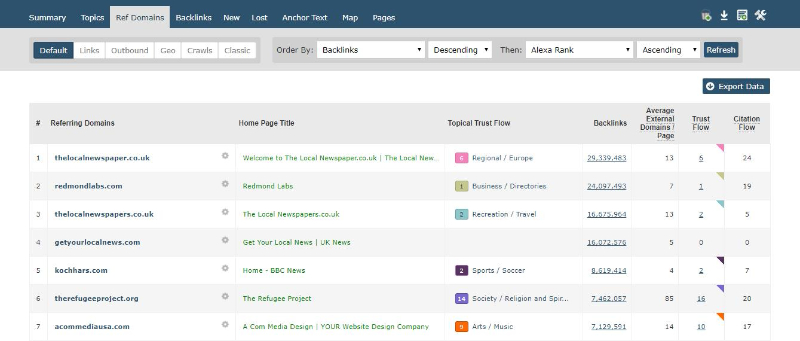 Use the downloaded spreadsheet with an additional column for the value of the link out of 10 – this value should be based on Trust Flow, Citation Flow, number of backlinks, average external domains per page, anchor text, link type and whether the referring domain is part of a larger network.
Score your links as appropriate and within context to your website and industry. For example, industry publications may have a Trust Flow of 35 and against something like the BBC's 94, this can seem low. However, in context this is could be a very positive link.
Once scored divide into three groups – Links to keep (anything scored six and above), Links to maintain a watch on (those between three and five) and links to remove (anything below a score of three) which you feel are having a negative impact on a link profile.
Stage 2: Look at your competitors
The next stage is to audit competitor profiles in the same way, but only for referring domains with a Trust Flow that meets a minimum requirement, say 25 for example. This will give you an idea of where you should be looking for links to match with competitors, further – the use of Clique Hunter will allow you to identify further opportunities.
Define competitor per keyword group as link targets and ranking needs will change per group. This way, you can build long-term targets based on the market share link domains have in each group.
Should you look at four competitors in each keyword group, plus Clique Hunter, it is likely you would have upwards of 100 link targets – but again, these need to be in context to your website.
Stage 3: Anchor Text and Targeted Link Ratios
The next stage is to highlight where a link profile can be improved with a new approach to anchor text.
Use the Majestic Anchor Text tool to identify the top areas of current anchor text and if improvements or changes need to be made. The approach to anchor text can be questioned and is open to debate.
Any SEO agency worth their salt will tell you that a greater focus of anchor text should be on branded or untargeted anchor texts. If you have an anchor text profile which is heavily weighted towards one exact match keyword, this could result in the downfall of a website – manual Penguin penalties are increasingly rare, but automated algorithm penalties can have a negative impact on your performance.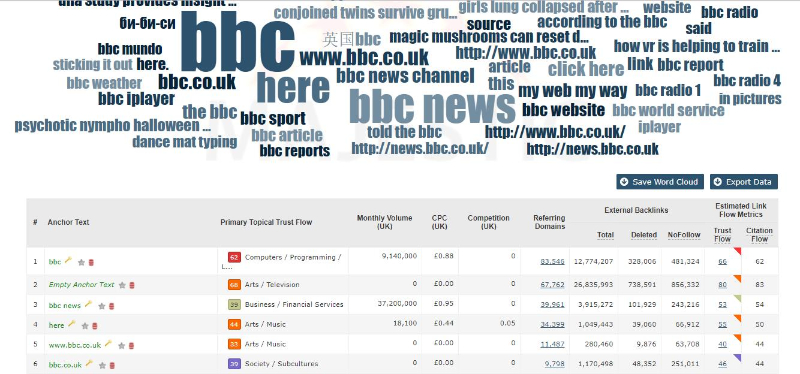 Defining market share and outlining linking opportunities
Gather the above data, current target keyword groups, competitor performance and differences in link profiles and rankings to build a map of where the opportunities for market share are.
Use your keyword groups as the starting point here – and not the referring domains. Each relevant referring domain should be attributed to a keyword group or groups. It's ok if it moves across groups, but remember linking is about relevancy as well as SEO metrics.
For example, if you rank position five for a keyword and your onsite metrics seem better than competitors, but your offsite metrics are missing a referring domain they all have in common or a Trust Flow that is 20% weaker, then an opportunity (and pathway) for improvement has presented itself.
Working out links in market share is a great way to structure a link acquisition campaign.
Again, this comes back to the positive ranking signals referring domains have in common with keywords. If 40% of page one ranked websites have links from one source that meets your Trust Flow value, and the other common website appears on 80% of the results, the latter has a greater market share of link equity for a keyword – and should be prioritised as such.
At the end of this analysis, you should be left with a clear breakdown of all links that need to be targeted, the relevant anchor text needed from a referring domain and approach needed in terms of priorities.
Target, build and re-evaluate
Following the successful contact of the link hitlists, you'll have a subset of links gained, in progress and rejected for any given reason. From here, revaluate all of the above and add new targets to your current list.
Latest posts by Keith Hodges
(see all)