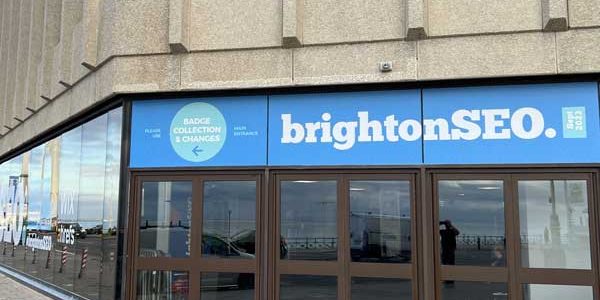 Majestic has been a regular sponsor and attendee at brightonSEO for years. This is one of the most fun events on our calendar, and we take it very seriously!
In this September's event, you can find us…
Sponsoring drinks at the SEO Mindset Podcast
Supporting Majestic Ambassador Bill Hartzer, who will be speaking about Link Analysis
Spending some time with old and new friends, while inviting you all to a demo of Majestic at Booth #16.
---
Drinks sponsor at SEO Mindset
On Wednesday evening, SEO Mindset and Search with Candour will join forces to bring you a LIVE podcast, in front of a live audience, from Projects the Lanes. We have heard so many great things about last year's event and are quite excited about this one.
SEO Mindset differs from other SEO podcasts in that it focuses on personal growth and career development. Previous topics have included imposter syndrome, burnout and anxiety. Hosted by Tazmin Suleman, Sarah McDowell, and Jack Chambers-Ward, SEO Mindset has featured on many of this year's 'Must Listen' podcast roundups.
This year's event is on the topical theme of, "Managing Energy Levels at Conferences." And to help settle you in, Majestic is very proud to support the event by supplying some drinks and snacks for the evening.
If you're reading this and think that you'd love to be part of that audience, you're in luck! Tickets to the session are free, and available on eventbrite.
https://www.eventbrite.co.uk/e/managing-energy-levels-at-conferences-live-podcast-plus-a-free-drink-tickets-662491398607
If you're interested, but can't make it along you can watch the event live on Silicon Brighton's YouTube channel.
---
Bill Hartzer on Links (Graphs, Analysis, and Building)
We are delighted that Bill Hartzer has travelled all the way from the US to appear in his first ever brightonSEO. Bill is an established industry figure with many talents, and has a particular interest when it comes to links, networks and domain names.
Recently, Bill appeared on August's Majestic SEO podcast, 'How should SEOs use link graphs," and previously presented a webinar series with Brooke Sikora and Kristine Schachiner called, "Understanding How Backlinks Influence Organic Traffic," hosted by Inseev Interactive.
You can find Bill in two places this week.
---
Meet us at booth 16
Philip, Kim and Tayyiba can't wait to see you all, and are looking forward to meeting all visitors to Booth 16.
If you'd like to pop by and say, 'hello,' we'd love to chat about SEO, Digital Marketing, or maybe even show you some data and cool tricks you didn't realise were possible with Majestic.
Maybe you used us years ago, and want to see what's new?
Perhaps you've heard about our instant Link Graphs, and want to find out how to make your own?
Possibly you didn't know that you can sort Link Context, based on where on the page we found the link
… or you hadn't read that the Historic Index shows all the links we've found since 2006!
Come along if you have anything that you'd like to know about Majestic. We'd love to meet you.
---
And elsewhere….
We're not only at brightonSEO to chat about Majestic… in addition to exhibiting, some of our team do attend brightonSEO as regular punters! We have a few team members who are taking advantage of the world-class training sessions, enjoying fringe events, and checking out the excellent array of speakers.
Hope to see you there!