Do you have a large file of back-links that you need to check? Today Majestic is launching a tool that will let you bulk upload links via CSV or TXT files, giving you much more scalability than you had before. By way of example, I'll take you through analyzing the back-links being reported by Google Webmaster Tools so you can assess which ones are strong and which are week.
The Tool is within our "Bulk Backlinks Checker" tool.
A new tab has appeared next to the bulk URL box, marked "upload file". You need a paid account to use this.
The tech savvy probably need no more guidance than this to get started – but let me take you through the process of analyzing the links reported in Google Webmaster Tools using this feature, as it should be a great time-saver for the majority of users.
What I'll do is take you through analyzing the back-links to my personal blog as reported by Google. It assumes you have a Google Webmaster Tools account verified for your site.
Export Google's Backlinks into a file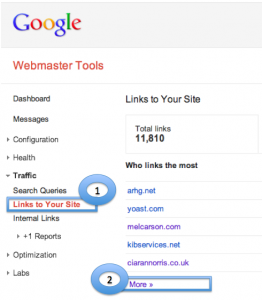 In your Webmastertools, the "Links" section is under the "Traffic" tab. Click there and then select the "more" button as shown. This will come to a screen that lets you download three different files. My advice would be to look at EITHER the SAMPLE links file or the LATEST LINKS file first. This is because these files have actual links in them, whereas the referring domains list will have a list of domains. If you upload a list of domains, then you will be asking Majestic to report on the number of links and site quality of each of the referring domains, which – whilst interesting – may not get you straight to the heart of understanding which of your links look good and which look bad, because at a domain level a website can be extremely big, but the links from that site to yours are so buried into the site that the URLs that link themselves may not have any importance at all.
The download options are "Google Docs" or "CSV" format. I recommend CSV format.
So you have now downloaded links from Google to your PC. You may alternatively source these from Bing Webmastertools, or any other data source. We have tried to make the upload relatively painless.
Upload your file to Majestic SEO
Select the "Upload File" from the Bulk Backlinks tool. Get to this file downloaded and make sure that "Comma Delimited CSV" is checked and "File contains a Header line" is checked. The system will check your data file, help you connect the right column for analysis and then start uploading and analyzing this data for you. Before it does, you get the opportunity to make sure you are not about to blow your monthly usage, by seeing not only how many rows of data you are about to analyze, but also the approximate percentage of your remaining allowance you will use. This percentage says "1%" even if the amount is much smaller, but the actual raw numbers are there if you think this is an issue for you. Basically – for most of us – 1% means this won't be a problem. 90% may mean we will need to consider upgrading of we start doing this very often.
What happens next?
These files could get pretty large, so analyzing them is not always instant. You may need to refresh the screen a number of times before the whole file is analyzed. Once it is, you will find the analyzed version of your file ready for download. If you went to get a coffee, these download files get stored for some days in the "downloads" tab in your reports folder so no worries about losing it.
Just download the file and this should open happily in Excel to show – for every link you uploaded – the following columns:
Item: The original link itself
Status: If we know it for sure, we mark it "found". If it is valid but not yet in our index, we mark it as May Exist.
External Backlinks: The number of back links we have seen to that URL
External Backlinks GOV: The number of Government back links we have seen to this URL
External Backlinks EDU: The number of Educational back links we have seen to this URL
Referring Domains: The total number of DOMAINS linking to this URL (So this number must be less than or equal to "External Backlinks"
Referring Domains GOV: The total number of Government DOMAINS linking to this URL (So this number must be less than or equal to "External Backlinks GOV"
Referring Domains EDU: The total number of Educational DOMAINS linking to this URL (So this number must be less than or equal to "External Backlinks EDU"
IP Addresses: One IP number could technically have many links from many domains, as many sites can exist on one IP number, but they are likely controlled by the same owner.
Class C Subnets: One Class C can contain many IP numbers, but they are likely controlled by the same Internet Service Provider, hosting company or data centre,
Citation Flow: The strength of link equity to the URL (from 1-100)
Trust Flow: The Trustworthiness of the links into the URL (from 1-100)
So why are there so many "May Exists"?
Before saying, "hey – you only see a fraction of the links that Google sees", please – bear on mind that we also see links that Google doesn't report or necessarily know about. The two data sets – whilst having large overlaps – are compiled entirely independently. Google gets data from other sources than crawling and there are also crawler issues that may affect one or both crawlers differently.
Latest posts by Dixon Jones
(see all)