Today Majestic have revamped their Site Comparator Tool to make it easier to see how up to five website s stack up against each other. I'll go into more detail shortly but first…
A quick guide to the improved Features in the Tool:
Compare up to five sites side by side
Easily switch between Fresh or Historic data; (we recommend you stick to Fresh)
Populate table directly from your Bucket List
Compare at URL/Subdomain/Root level or use Wildcard for directory level
The winning site shows darker background for visual ease
Absolute counts included for complete transparency
Easily jump to Backlink history chart, full reports, or add to bucket lists from the screen
Check Referring Domains, Flow Metrics, Indexed URLs,

.gov

and

.edu

data and subnets
Here's a screenshot:
So Why the Changes?
The most obvious change is that we have now made it much easier to see who "wins" in any one category – both by adding a shaded line to represent the number, and also by shading the "winner" in each category slightly darker. This means you no longer have to interpret the raw numbers in your head manually.
We have also changed the layout for when you compare two website s side-by-side, to make it even easier to visually interpret. For example – I'm not American but I understand two teams in a game similar to Rugby are going to the final at somewhere resembling a large Salad Dish: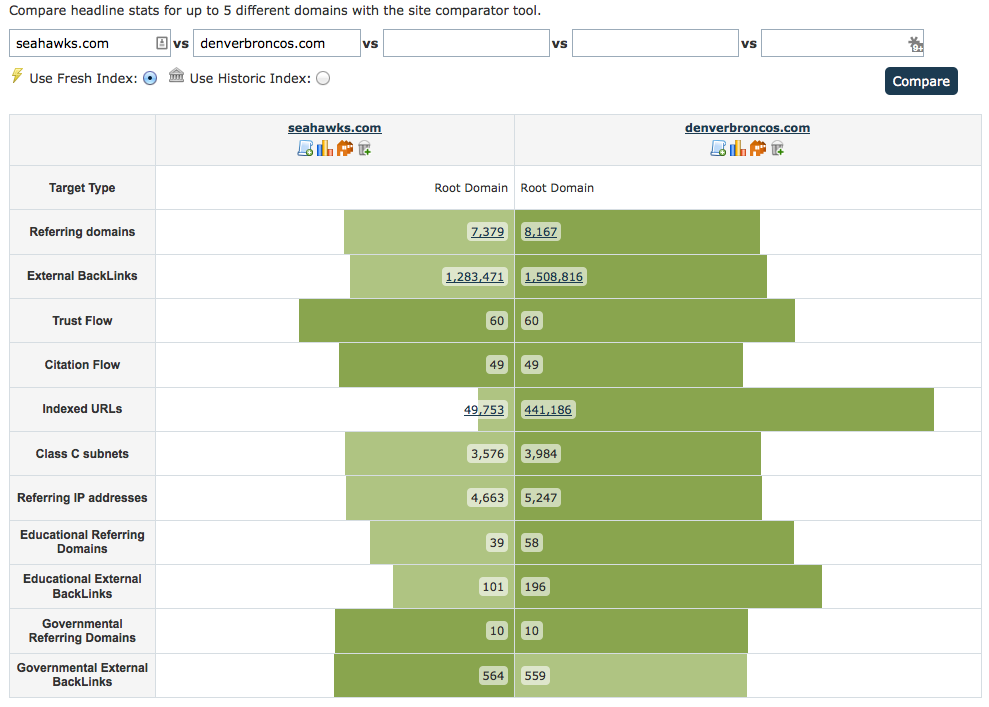 Now according to our statistics – even though one of our US Brand Ambassadors is based in Seattle, so our heart wants them to win, the evidence clearly suggests that the bulk of "online support" goes to the Denver Broncos. It's a close-run thing, though! The most important statistic is the Trust Flow for a generic – single number – of who is "better". As both sites score 60/100 then the next metric to look at would normally be Citation Flow. Again, both teams are even on 49. The class C Subnets and referring domain name counts show that there is just the tiniest bit more support for the Denver Broncos – but if your paranoia suggests that Government interference might be a factor then you'd swing back saying that the Seahawks win by the merest whisper.
Head-to-head, no two teams in the NFL are so close in terms of online influence. Should be a close game!
What Else can I do with this Chart?
We have tried to make it easy to get data into the chart and to navigate or drill down into the data further (see image below):
When would I use this?
Because you can use it freely in any paid account (subject to fair use) I would look to add it to any proposal that you put out to customers and also use it to compare relative market penetrations of up to five competitors in any niche.
I hope you give it a try.
Latest posts by Dixon Jones
(see all)