If you are (like me) a Firefox fan, then you'll be delighted to know that our Firefox extension has now got an upgrade to show Topical Trust Flow® for both inbound links and Anchor Text tabs. This follows our Chrome upgrade announced on the 2nd of March.
How to get the Upgrade
If you already have the Majestic link checker extension in Firefox, then you should have an orange star on the top right corner of your navbar. Sometimes it ends up hidden at the bottom right, but I would suggest moving it. Anyway – if you previously installed it, then Firefox should have updated it automatically. Don't worry – Firefox manually reviews every extension and upgrade to make sure it is safe on your computer. If you haven't installed it before, just head over here from within your Firefox browser. The plug in is free, but these upgrades will only show for Majestic subscribers. Then again, a subscription to Majestic is the lowest cost of entry than any other major link tools so no serious SEO should be without a Majestic account.
Topical Trust Flow® in Backlinks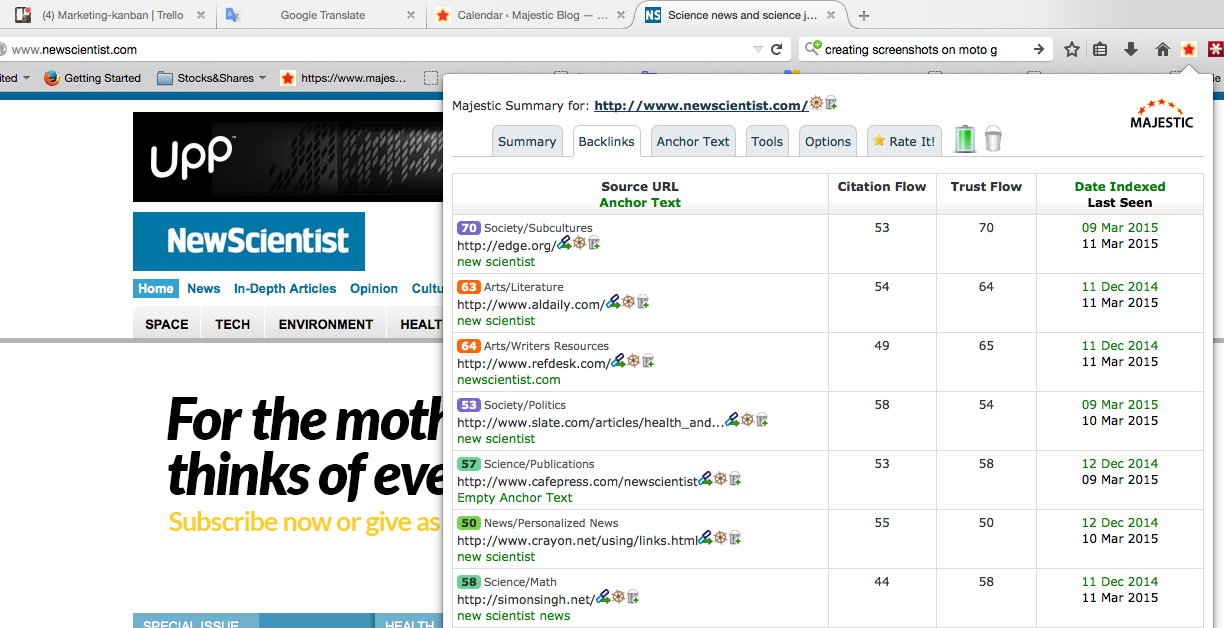 Once installed, go to a web page that everyone can see. Don't choose a page whilst logged in to Facebook, or a brand new Tweet that no search engine has had a chance to crawl yet. Click on the backlinks tab and now you will see the Primary Topic for each of the top links coming into the page.
If you are browsing the web and like how a web page gets into the search results, then look at the links to get a good idea of why. A handy tip is to then use the "add to bucket" button to easily submit the URLS into your bucket list on Majestic for further analysis later on.
Topical Trust Flow® in Anchor Text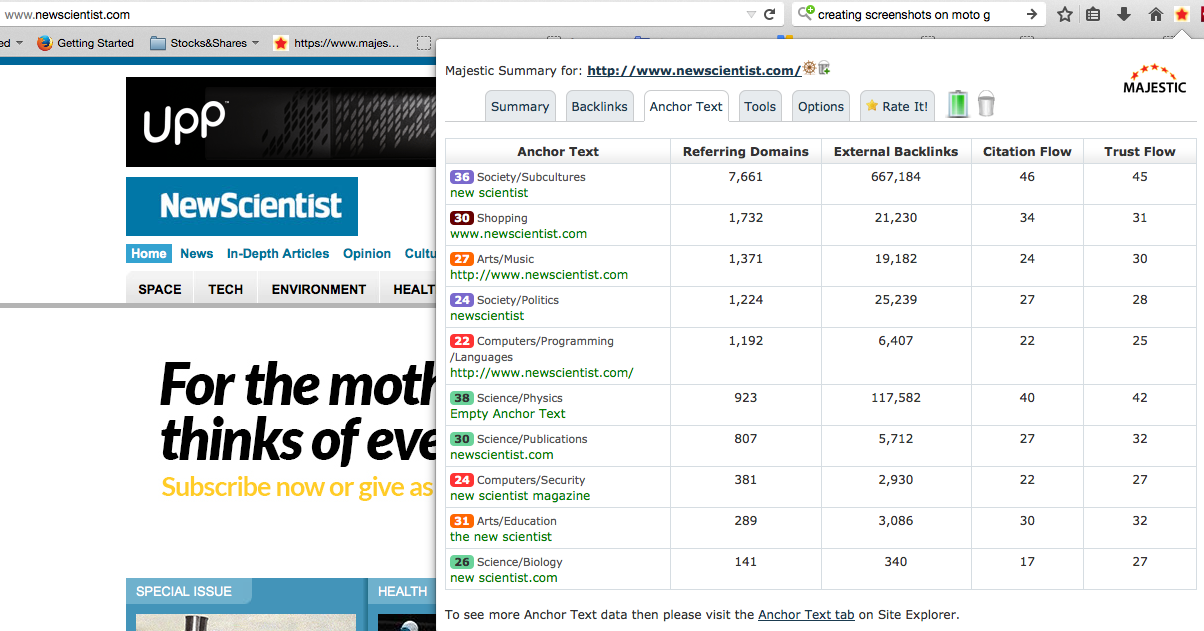 It turns out that we have categorized the word "New Scientist" under the genre of "Society/Subcultures", which I think sounds rather apt! This is the strongest anchor text for the newscientist.com (not surprisingly) and as with most honest sites, all of the top anchors in the screenshot above are variations of the main brand term.
What would you like next in our plugins?
Would you like the ability to easily strip off all the parameters of a URL?
Would you like the bucket function to allow folders or lists?
Would you like us to show Trust Flow of the links on the page itself?
Would you like other functionality?
Please let us know what functionality will help you and any other functionality you would like from our browser extensions moving forward.
Latest posts by Dixon Jones
(see all)