Oh wow are we excited. We have been working on this for months… and months… and months.
Today, Majestic SEO are really proud to announce two new and significantly improved evaluation metrics, based on link data. For the first time, we are now able to use an iterative process – flowing through our link map – to give you easy to understand numbers (between 0-100) on how effective a URL is based on the flow of a characteristic through the web.
When we looked at the page and domain metrics in the industry today, we found PageRank faltering (and trademarked) and that really left the industry leader as MozRank. SEOMoz and MajesticSEO have a friendly rivalry – we push each other to do better. We therefore encourage you to compare our metrics with theirs. We think we just raised the bar.
Today we are launching two metrics – Trust Flow and Citation Flow. These form the initial pillars of our new flow metrics algorithm and can be applied to any URL, any sub domain or root domain. Together they give you new information about backlinks and when you map all the Trust Flow and Citation Flow to a website, you also get a really cool chart showing the site's link profile graphically!
I'll tell you a bit more about how the Flow Metrics work in a bit – but let's have a look at the charts. Every link to a site has a Trust Flow value and a Citation Flow value between 0 and 100. So every link nearly fits on a 100 X 100 grid. Links with high Citation Flow end up more to the right… links with more Trust Flow end up higher on the chart. Of course, many links could have the same scoring, so the density and colour of the chart helps to visualize these.
Here we are comparing two sites with quite respectable link profiles – Search Engine Watch vs Search Engine Land. Almost every link flow chart that you generate for a domain will tend to have this elliptical nature and we expect SEOs will debate for months to come on what each chart means, but from our perspective, the area where the colours get dense look to be highly significant .
Visually – these link graphs seem very appealing. So is this a trick of the stats? No – there are now many iterative algorithm calculations going on now during each index update, so that if a URL has a high Citation Flow or Trust Flow score, then proportionally more of that value will "flow" through to the links from that URL. Doing this once is cool. Iterating this loads of times is incredibly difficult – but we have cracked it and now we are able to give this to you instantly in all your reporting tools.
Flow Metrics Explained
To help visualise how Flow Metrics work, imagine a wave coming up onto a shore full of rock pools. You want to predict which rock pools are likely to have water in them. The wave comes crashing over the rocks and we know that the first pools will fill up. When they fill up, they spill out into neighbouring rock pools. Water can flow from several pools to fill up a rock pool a long way from the shore line… but eventually the water will dry up. If your rock is still dry… it's not in the right place.
Graphically we can see what happens, by charting two Flow Metrics. Like fingerprints, we see the data come alive. Let's look at a respected site like the BBC and then at a less dominant site like XL Pharmacy. The lower quality site not only has LESS links, but the areas where the colour is darkest seems to be much lower on the TRUST axis and much closer to the origin. We seem to see this pattern over and over again and by the end of this post we expect many of you to stop what you are doing and start looking at these patterns for your own sites as well.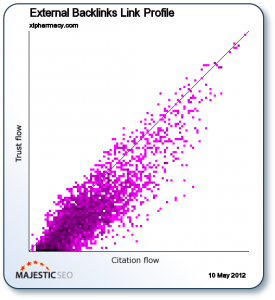 What is the difference between Citation Flow and Trust Flow?
These two metrics have intrinsic differences, which is why the charts are not symmetrical.
Citation Flow
This flows our old metric – ACRank – making it much more accurate at predicting how influential a URL might be based on how many sites link to it. Because backlinks are now not all created with equal weight – and because a strong link will have a relatively stronger influence on URLs further down the chain, you can see how much better Citation Flow is as a mathematical logic than the old metric of ACRank.
Trust Flow
We start with a large list on manually reviewed URLs. These have a crowd-sourced level of trust but by no means include all the trusted sites on the web. It turns out, though, that trustworthy sites tend to link to trustworthy neighbours. Those neighbours also tend to link to trustworthy neighbours themselves. In fact – after lots of iterations – those outside the circle of trust are put in the cold.  So Trust Flow, like Citation Flow passes THROUGH urls like sound passes through walls – with awesome effects.
In our tests, we see that most backlink profiles have better Citation Flow than Trust Flow – so if you see any sites with better Trust than Citation, we'd be interested in knowing about them as I am sure there will be more than one SEO starting to analyze these statistics.
Other cool things about these metrics:
1: We flow through internal links too
Bet you thought we didn't care about internal links? Well although we don't report on them, flow metrics do pass through internal links. This means a strong home page can influence the metrics of pages within its own site – although strong external links to inner pages will significantly boost a Flow Metric.
2: We aren't using anyone else's metric
We crawl the whole web. We'll make our own decisions about what is and what isn't "trustworthy" from now on. We think our way is better anyway.
3: They update every day
Every time our index updates, so do the Flow Metrics. For the Fresh Index, that means daily!
So how can you start using these new metrics?
We have built them in to our tools – from today. They will be in:
* Our bulk back-link checker tool – where we encourage you to compare en masse against anyone else's metric.
* Our Site Explorer – where you can also see our new flow profile charts
* Our standard reports – so you can drill right down to the detail.
We hope you get as excited as we are and invite you to start analysing our new Flow Metrics, comparing websites, comparing our metrics with the competition and giving us feedback. Please tread gently on our dreams, though. You would not believe the sleepless nights that Alex and Steve put into this work.
As of today, we will be making the system live with the Fresh Index. We hope you like it!
Latest posts by Dixon Jones
(see all)