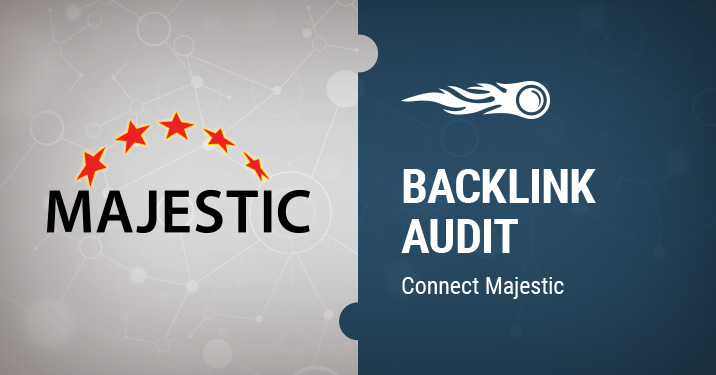 This is big.
For maybe a year now, SEMRush and Majestic have been sitting across aisles at conferences. We have a huge amount of respect for SEMRush and they seem to like us too, so it is really good to be able to properly share some news, that SEMRush have integrated Majestic in an enhanced backlink audit tool through our OpenApps technology, which can significantly enhance what you can do with our data in SEMRush.
You need both a SEMRush account and a Majestic account to get the best out of this new collaboration. Having both means that SEMRush can take our backlinks data, which is much stronger than SEMrush's on its own, and then SEMRush physically recrawls all those links to really understand their "Toxicity". It is a complete link audit which can go deeper than our Flow Metrics alone and you can use this to easily build and manage a powerful disavow file or manage link removal campaigns.
Backlink Audit Tool
The SEMRush integration is in their Audit Backlink Tool on the dashboard. You get there by logging in and going to "Projects". I started by setting up a project for my personal site, DixonJones.com and at the start you are not connected to Majestic, so the only links SEMRush knows are their own: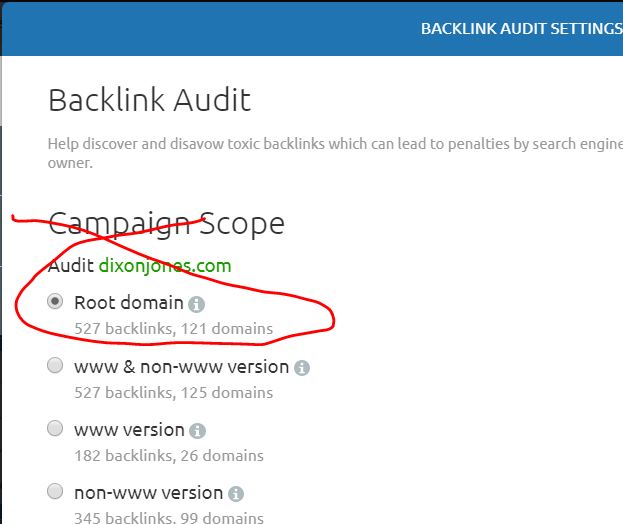 Well… I am now expecting great things with this integration, because on its own, the SEMRush platform is reporting 527 links from 12 domains. Let's see what KMajestic might bring to the table…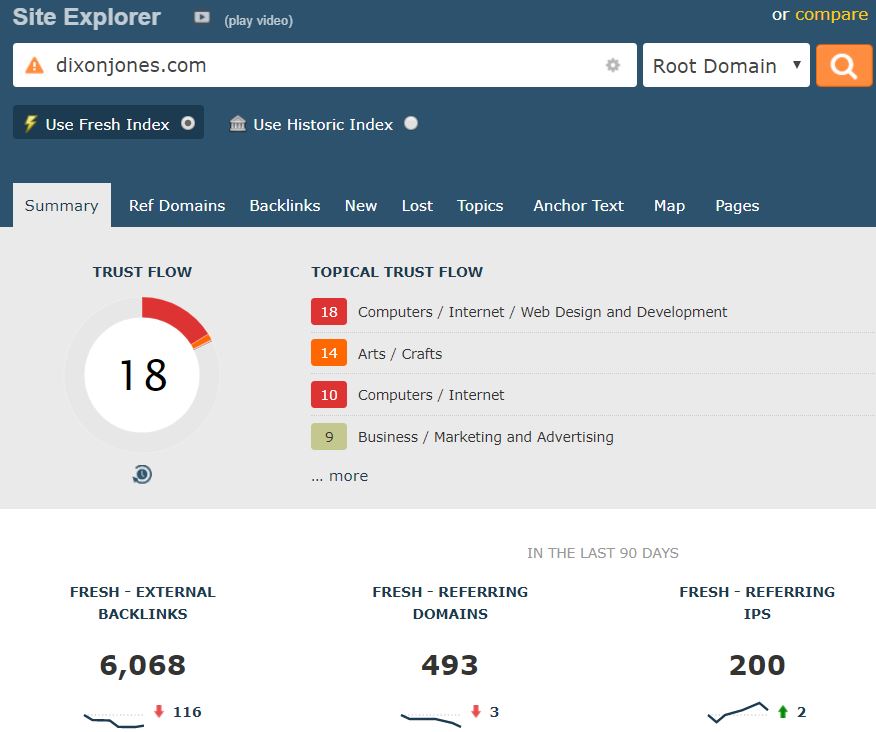 Majestic has 10X (1,000%) more links from 4X the number of domains! So this suggests a huge difference between the data sets. Not surprising, because the businesses do different things, but Majestic does links… SEMRush does amazing things too though… Together, what's the difference? Turns out it is an awful lot:
The difference in a SEMRush Audit, Before and after Majestic data
Before: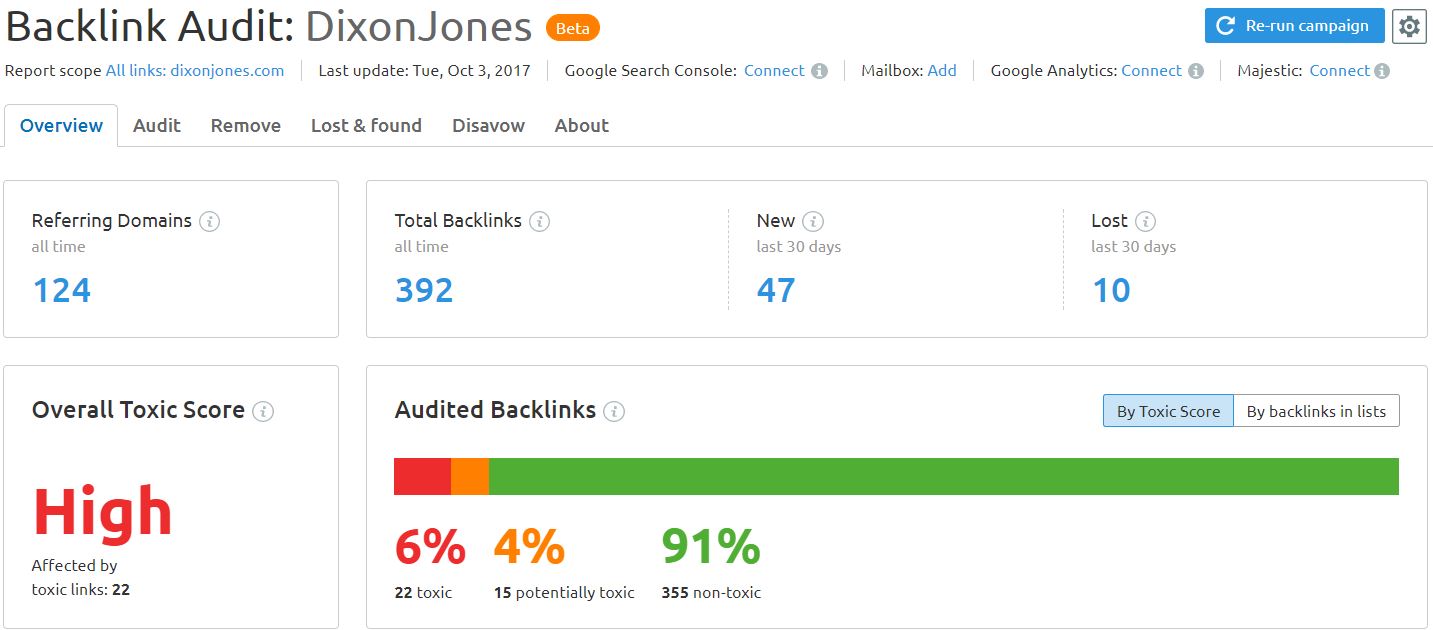 Then I linked Majestic here:

Link Audit on Semrush After Majestic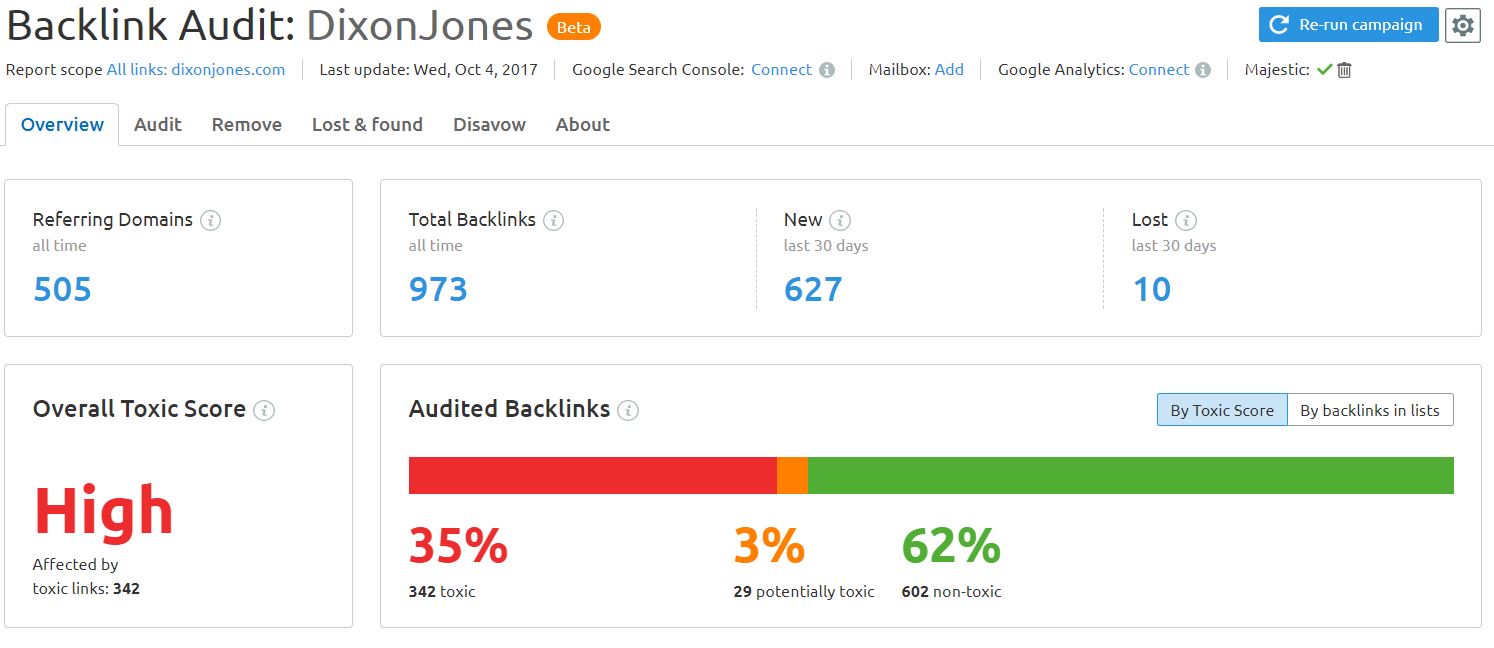 The bottom line:
Adding Majestic into SEMRush for this site had the following effect on the Link Audit:
Referring Domains increased by 404%
Links increased by 248%
Toxic Links identified increased by a staggering 1,555%
That's a significant enhancement!
Why Collaborate? Why doesn't Majestic or SEMRush Just build their own?
Majestic is a specialist search engine. We build an index which allows you/SEMRush/Anyone to make a request and get the results instantly. It is lightning fast only because we have to pre-populate an entire web index. This "need for speed" makes us good at crawling and our Flow Metrics are awesome, but we want to be custodians of the (link) data. SEMRush then physically recrawl all those links in real time and can therefore pull out data that is specifically useful for a Backlink Audit. Even auditing this small site took SEMRush maybe half an hour. Imagine if Majestic tried to pull all of that data for every single page on the Internet and process it ahead of time? I am not saying SEMRush won't build a bigger crawler in the future or Majestic will never build their own audit tool… but I AM saying that customers get the full power of both technologies today and without either party having to build out copycat architectures. In addition – you only pay for what you want. If you don't want link data… you don't need a Majestic account. Just use SEMRush. On the other hand, if you don't need PPC insights or other SEMRush functionality, then just stick with Majestic. But if you want a super-sweet link audit that uses loads of links, then consider using the two technologies hand in hand.
Latest posts by Dixon Jones
(see all)