Rank Tracking and organic Search Traffic tracking is a cornerstone for many SEO tools, but Google does not permit automated scraping of its search results. However – earlier this year Google upgraded its Google Search Console APIs to allow companies that do not scrape search results to see search console ranking data. Majestic is really pleased to be able to share today's release… Google compliant rank checking and keyword search data for your verified sites!
Here's some of what you can now see in Majestic for your own sites in Google Search Console:
Overall Daily search traffic from Google:

Impressions / Clicks and Click Through Rate (CTR)

Daily average search positions in Google by search term
Breakdowns of ranking position, impressions, Clicks and CTR by Keyword
Breakdowns of ranking position, impressions, Clicks and CTR by Page on your site
Organic search traffic from Google by country
…ALL blended with Majestic's Flow Metrics
…All collated so that you can store data for longer than Google Search Console.
This is rank tracking and organic keyword tracking implemented the way Google intended. We think it will really help agencies and businesses looking to enhance their own website data.
Excited? OK – let's jump right in…
Setting Up a Google Search Traffic & Rank Tracking Campaign
To get started you will need a Pro (or legacy Gold) Account or above, and a Verified Domain through Google Search Console. If you have never verified a domain through Majestic, here's where you start:

Then you can go to your Dashboard and create a new Search Traffic campaign:

Inside you can select a property (Google calls sites "properties") to track, as well as locations where your properties have been searched for. By default, we will always track your 'Global' results, and anything after that can be added in the country dropdown – just click the + to add more countries (more locations can be added at any time inside the report):

From there you will see your property added and we will start to track it. Initial set-up may take a few minutes to gather the data, but it won't be long before you are up and running.

The screenshot above is just the start – but if you have a bunch of properties, it lets you compare them to see which ones are doing best, comparing:
Google organic daily traffic
Google organic daily impressions and CTR
Google daily average position
Flow metrics (Trust Flow and Citation Flow)
Link metrics (link counts and Referring domains.
Let's Deep Dive into a single web property
Whether you have one website or many, this is where it gets interesting:

Summary SERP Data

Inside the report, your initial view will be of a Summary screen of your Global results (if you have specific country level reports, they can be switched to in the provided drop-down menu). The Summary screen lets you select a time period and you can also compare to the equivalent time period before it. For example, looking at the Month of October will compare against the Month of September.
We then show you a heatmap of the last 90 days for your Clicks, Impressions and CTR. Below the heatmaps are a couple of graphs for Clicks and Impressions, and then we have a breakdown of which devices were used to search for your property. Underneath that we have a few more graphs breaking down the phrases and positions of your results, and finally, we have a map which shows where the top clicks originated from (country level reports will not have a map as only one country is being tracked).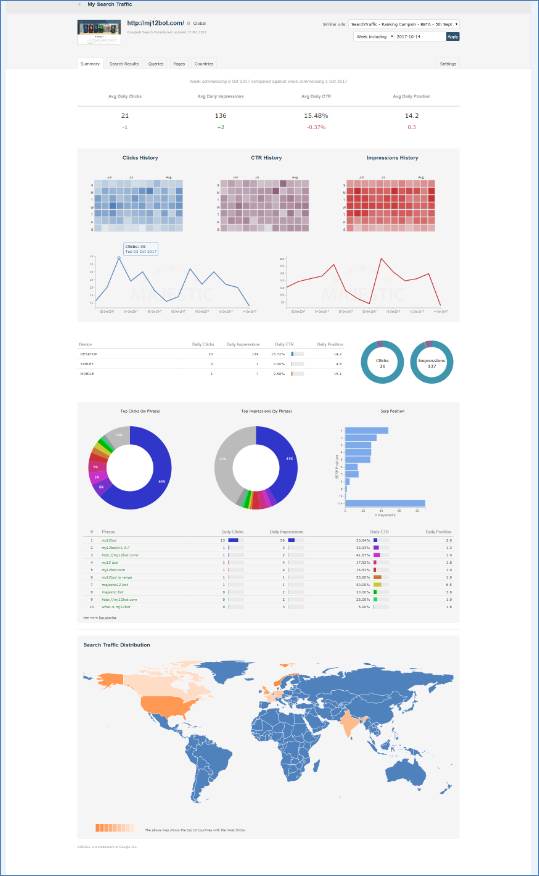 Wow… so if that's the summary page, what else have we got? Well the rest of the report is broken down across a number of tabs:
Search Results: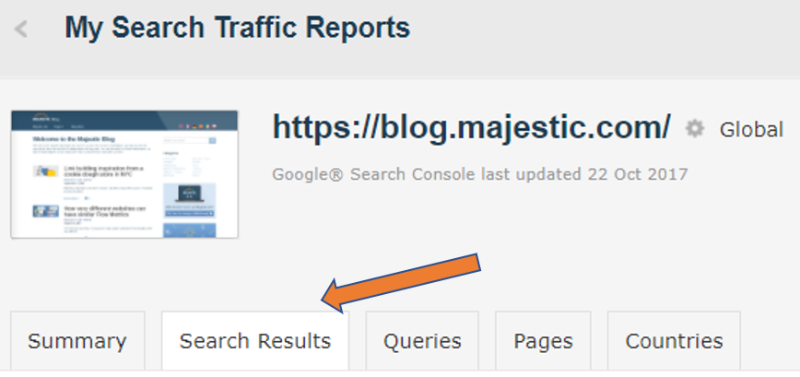 The Search Results tab lets you easily filter your search results by keyword, or perhaps by pages without many external links, or with Flow metrics above a certain value. Pretty much filter and sort on the fly, MUCH easier than from within Google Search Console itself:

This shows you the top queries and individual histories for the queries, the top pages for your site and the queries that were searched for to get that page to rank, a complete list of the countries that searched for your site and a breakdown of the 'Search Results' which show you which queries matched with the page, for example, see this screenshot:
Search Queries


Pro tip: Set up your Brand terms in your personalisation settings (Top right of the screenshot above)
Pages in SERPS


Search Traffic by Country

The Country tab tells you how much traffic each Google region is sending you. It is displayed in tabular format to differentiate from the map shown on the summary screen and also lets you export the data, as with all the other tabs.
What does Google Compliant Rank Checking Mean?
If you use a rank checking tool, then you can get SERP data for any search term you query. That's cool, but it if the data is collected though automated proxy scripts, this creates a massive problem for Google, because there are millions or perhaps billions of query searches every day that are carried out by computers instead of humans. The cost to Google must be high – not just the financial burden of maintaining servers just to serving all those queries that nobody will ever click on or even see – but also the lost revenues from Adwords and the reputation cost to Google that this brings. It is not surprising, then, that Google bans it even though it is common practice amongst SEOs.
So rather than recreating what these rank checkers do well anyway and annoying Google, Majestic decided to do it another way:
We do not scrape Google at all… we use your Google APIs
We do not use your GSC data for ANY other purpose than for you.
We will not share your GSC data or sell it
You control our access entirely.
Set it up to work your way
Brand Terms
we have a settings tab, which you'll see on the right-hand side of the tabs bar. We recommend you visit, as in here you can set up your 'Brand' and have a list of branded terms that we allow you to filter by and exclude by inside the queries section of the report, as well as being the main location to add and delete country level reports.
Boolean Expressions
More good news is we have tried to make this report as interactive as possible, so you should be able to filter, sort and order on each page, and use shortcuts such as > and < when looking at number columns to only see results that interest you.
We would greatly appreciate any and all feedback (and questions) you have to offer on this, as last time it helped massively to shape the project and focus it towards what we have here before you.
Enjoy!
Latest posts by Majestic Marketing
(see all)