We are delighted to announce that Majestic is now properly supporting all new gTLDs. It has taken just 8 links to realize that nic.hsbc is primarily about Domain names, not about banking: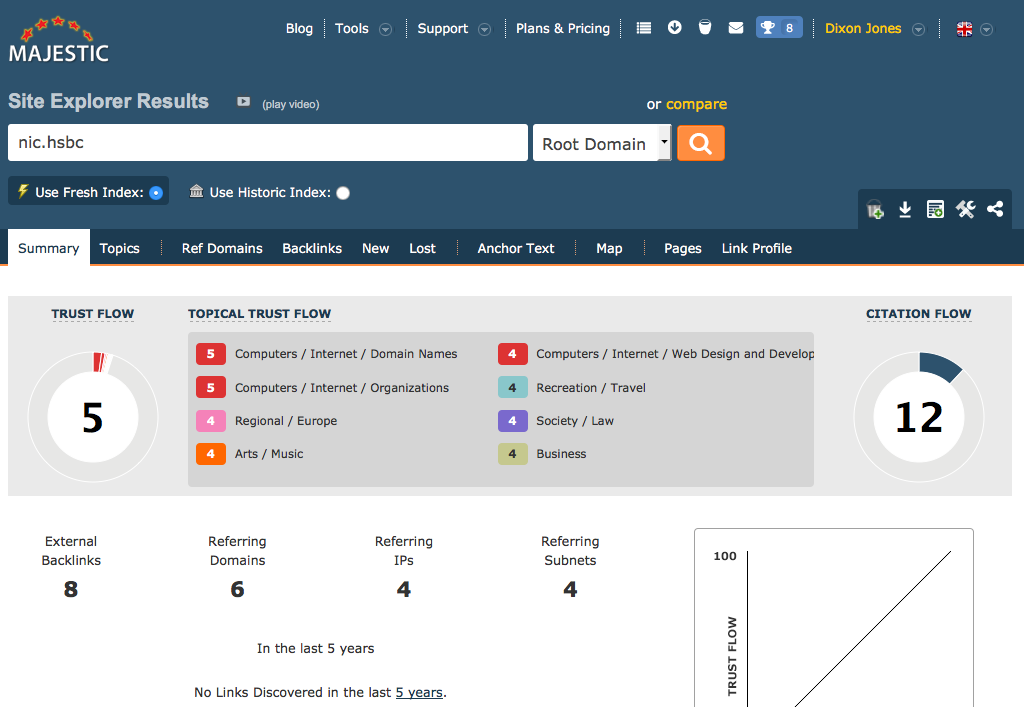 As I type, 774 new g TLDs have been registered, with another 564 applications in the pipeline. Even more have been rejected or otherwise not tome materialised.
What is interesting is the number of large brands grabbing their own gTLD. Omega, Chanel and Hyundai for example, to name just three. This makes sense for car dealership, for example, who can relax in the knowledge that each dealership can get a URL that will not be subject to compromise. I can see "Birmingham.hyundai" coming any time soon! It also makes loads of sense for banks and institutions that are in regulated industries. Banks in particular are prone to phishing attacks. If Barclays want one concerted campaign to stop phishing, all they need to do is make sure we all know that we only log on to .barclays domains. Then they can control their destiny at source.
So this all makes for interesting times ahead for SEOs and for digital marketers alike. Moving forward, we have to start spotting and tracking these new domains and so we have now linked into the central systems and should be able to start tracking new gTLDs as they come online.
Why Do the new gTLDs have so few links?
It is going to take up to 90 days for this data to properly  propagate through our systems and get into the Fresh Index. Even so, the new gTLDs are very much that… new. Most are still in planning. Especially those that have been bought up by brands. One of our US ambassadors, Bill Hartzer, went over to the recent ICann conference in Dublin. I asked him a few questions about the conference.
How many people attended the ICann conference?
2395 attendees, with 2426 devices connected to the network at peak!
"How were people there approaching the new gTLDs in terms of future marketing?"
I can't speak to the actual numbers, but most of the exhibit hall had booths related to the new gTLDs, and a lot of the sponsorship activities were related to new gTLDs. In fact, all of the sponsor signage was about the new gTLDs, you just couldn't miss it anywhere you went.
"What are the main things SEOs and Digital marketers should be doing to prepare?"
SEOs and digital marketers should be aware that the Not Com revolution is here, and companies are beginning to move their websites to better, more keyword rich domain names. There are proper ways to move a site and there are easy ways to screw it all up if it's not done properly. Based on Globe Runner research, we're seeing only positive ROI from moving to a new gTLD domain, especially when it comes to PPC like using Google AdWords. New gTLDs are converting much better, at a cheaper CPC.
"How can Majestic help Digital Marketers in the new gTLD Gold Rush?"
Majestic can help by providing the same link data that we've always been seeing from Majestic. Certainly during a site move we'll want to identify our best links and get those updated to point to the new location.
What else should we know about gTLDs?
Our latest research, which has been ongoing for a year and a half now, shows the new gTLDs are beating .COM.
Latest posts by Dixon Jones
(see all)