Today we're surfacing your 'Recent Activity' within Majestic as our latest workflow and usability enhancement.
Late last year, we sat down as a team, and decided to take a fresh look at the problem of giving you easier access to things you value in Majestic. Our mission: to come up with a hassle-free way of reporting on your recent activity in Majestic.
Our answer to this challenge is the new, straightforward and deliberately unfussy 'Recent Activity' report.
As the name implies, Recent Activity shows you the reports and domains that you've queried over the last 90 days, and offers you a potential new workflow. This report highlights when you performed certain actions. Domains can be revisited easily with just one click. Reports can be regenerated and downloaded.
Recent Activity also gives you a new view to review and access groups of tracked domains. Recent Activity is available now, as an option for Majestic subscribers, at no extra cost. Let's take a closer look.
What information is available?
Much of the information available in Recent Activity is already available elsewhere in Majestic. However, this data can be a pain to access. This is because Majestic offer a variety of reports, resulting in your data being reported on in a number of different places. To enhance usability, Recent Activity aggregates all of this data into one report. On top of aggregating existing reports, some extra information has been made available, most notably a richer report of Site Explorer activity.
Recent Activity gives you an at-a-glance view of activity on:
Advanced Report
Bucket
Bulk Backlink Checker
Campaigns
Compare Suite
Downloads
Keyword Checker
Keyword Report
Neighbourhood Checker
PDF Report
Search Explorer
Site Explorer
Standard Report
URL Submitter
Verified Domains
Recent activity aims to answer a number of questions, including "What was that domain I was researching the other day?". The Recent Activity report helps you find reports you've made for key domains, review what you were doing on certain dates, and check the completion of tasks such as submitting URLs for us to crawl.
How Recent Activity Works
The Recent Activity page shows you your activity across the Majestic website over the last few weeks, in one central location.
To use Recent Activity, you'll need to activate it.
If you don't like the thought of all of your Majestic Activity being listed in one location, simply turn it off, and the data will no longer be viewable. However – If you turn recent activity off, when you turn it back on again in future, most of the history will have been removed.
Once activated, you'll see a report offering three main views on the data:
By Date
By Domain
By Activity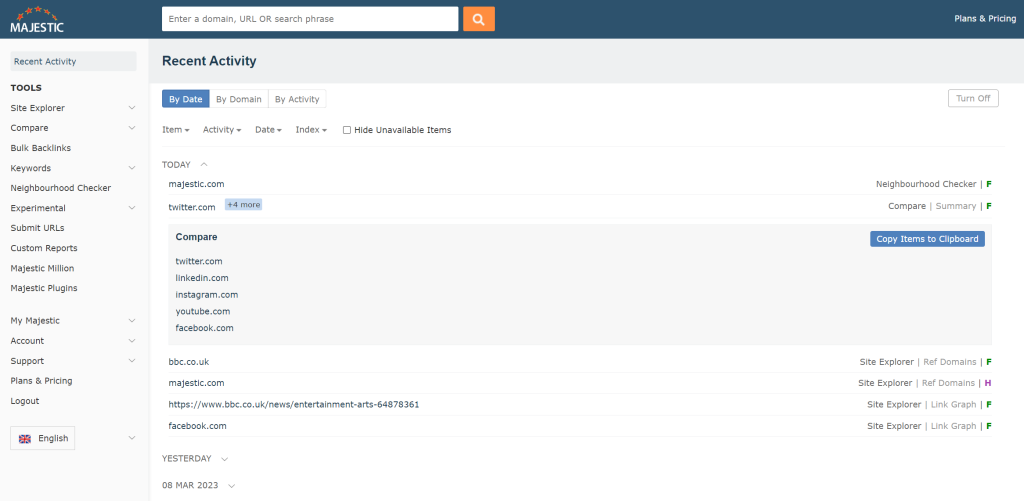 The headings should be self-explanatory. On the Date tab, all activity is listed by the day it was done. The Domain view instead lists the domains you have queried, and shows what reports have been created for them. The activity view highlights which tools you are using in Majestic, and for each tool, shows domains queried.
Each of the three sub-reports in recent activity work in a similar way. Activity can be explored by clicking a toggle (the down arrows shown in the screenshot above). The toggles can be expanded to show all the activities for that grouping.
Recent Activity does more than just show you the reports accessed. Clicking on an activity opens the search or report in a new tab – so that you can continue from where you left off. If you regularly view data for the same domains, you may find this a real time saver. Recent Activity is ideal for helping you access reports you create as part of your daily routine. They are now just a click or two away. Regular users may build up a fair bit of data in recent activity. To help these power users navigate, filters have been added to help narrow down your list of activities. This can be extremely useful on those occasions you're looking for something specific but can't remember exactly what activity was performed.
The filter panel gives you options to filter by a combination of Item, Activity, Date and Index. You can hide any campaigns, reports or downloads that have expired or been deleted.
The future of Recent Activity and you!
This work continues the overhaul of the User Interface performed last year. We hope that Recent Activity makes accessing frequently used reports or actions far easier, helping you perform Link Intelligence research quickly and effectively.
Please do take time to evaluate this tool. If you find it helpful, or if there is something we have overlooked that makes the tool inconvenient or unhelpful to you, we would love to know.
We hope this new 'Recent Activity' report streamlines your workflow in Majestic.