We're absolutely delighted to share the news that Site Explorer, Majestic's Backlink Checker, can now show you just the TOP backlinks to any URL.


This has consistently been the most requested Majestic feature over many years, and we're thrilled to be able to share it with you.
As this post will show, it will transform the quality of your link building. And if you make it to the bottom of this blog post, we'll also demonstrate why it is significantly better than any others on the market.
What Exactly has Majestic Launched?
We used to prioritise the strongest links in Site Explorer – even if they all came from the same domain.
From today, we will now default to show the single top (live) backlink for each referring domain, reducing the clutter and noise as you filter through your results.  If you're not interested, don't worry – you can use the toggle bar to go back to your preferred All backlinks per domain, or even find a middle ground with the Top 3 or Top 10 backlinks per domain selector.  You can also combine your choice with whether or not you wish to see deleted backlinks.
For some searches, this change can dramatically alter the look of the backlinks that we display in Site Explorer. In particular, the impact is huge on very large sites and sites that have site-wide links from large domains.
Let's look at how the links to bbc.co.uk improve: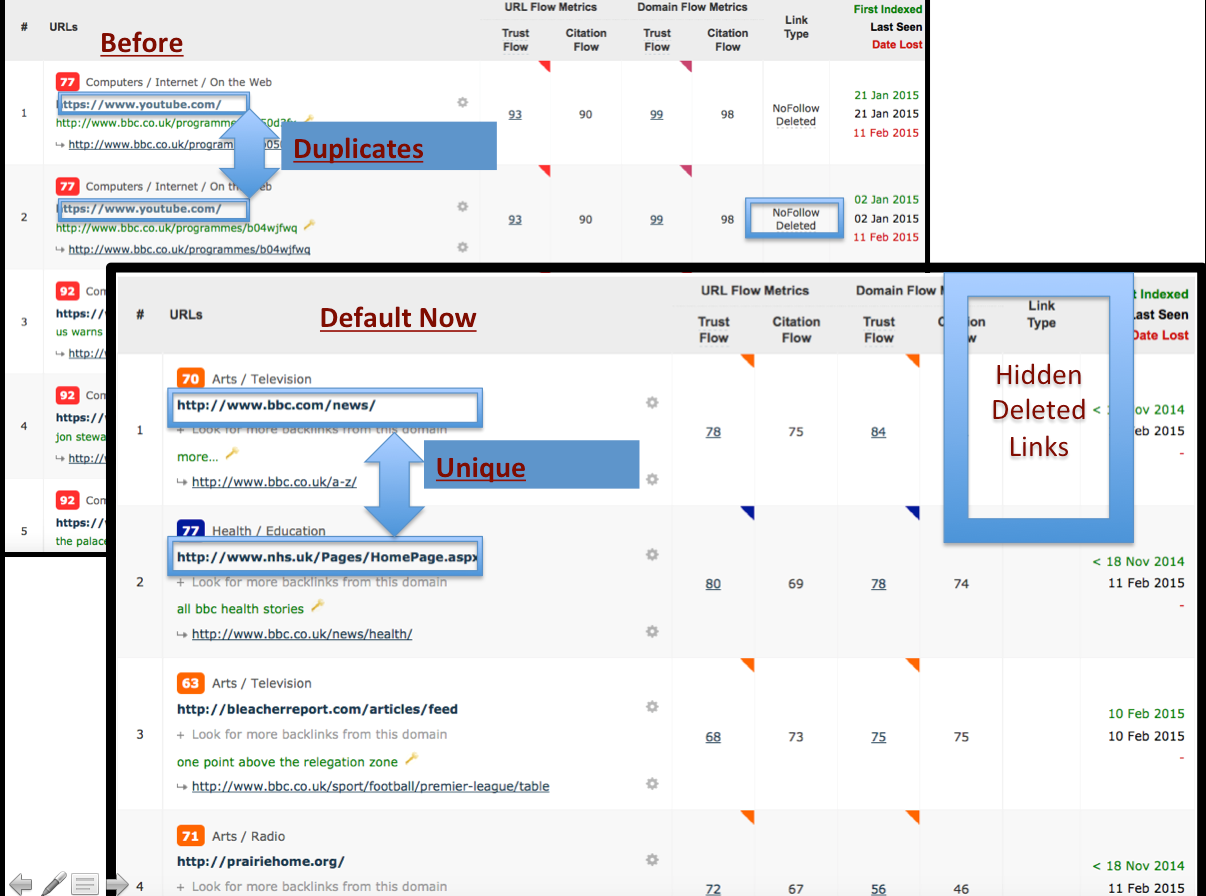 We have embedded this functionality right into the places you should most expect it.
The screenshot above is taken from the Backlinks tab in Site Explorer. If you want to drill down to see more links from the same domain, you don't have to leave the tab, just choose + Look for more backlinks from this domain and we'll drill down right there to show up to the Top 10 backlinks from that domain. No messing about (this should especially please Jim Boykin).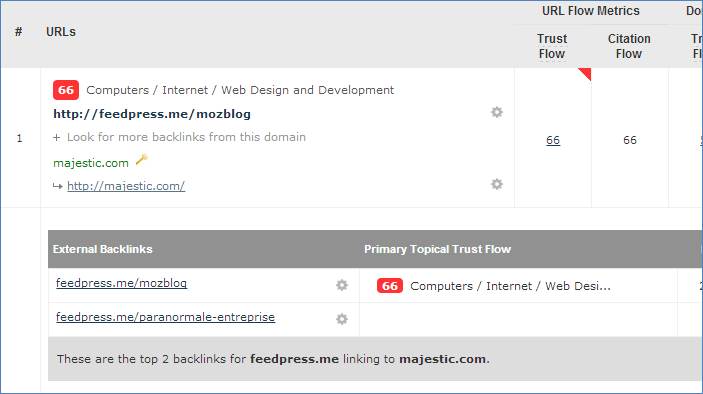 Once you have your list of backlinks from a domain, regular site actions open up.  If you're collating a list, you can always put the individual links into your Bucket List of favourites by clicking on the cog, or look to the bottom-right button of your inline table and download the top ten into a small CSV file.
Drill down in the Referring Domains Tab
We've also brought the new functionality into the Referring Domains tab. It's really, really easy to drill down into a referring domain and find the top ten backlinks from that domain.

Great News… It is in Clique Hunter as well!
Clique Hunter is an incredible tool for finding hubs of authority and link opportunities, but just because a site links to all your competitors, does not immediately make it a good candidate for link building.
Now, you can dive straight in and see the Top 10 backlinks from any hub site to you and your competitors, straight from the Clique Hunter interface: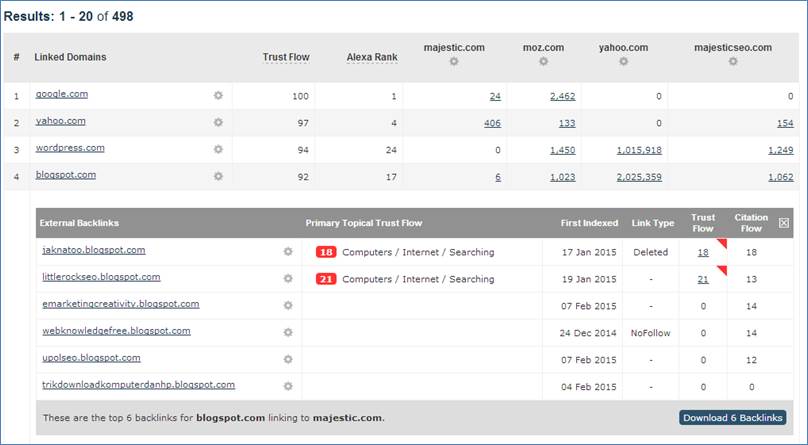 The Download Tab is more than Skin Deep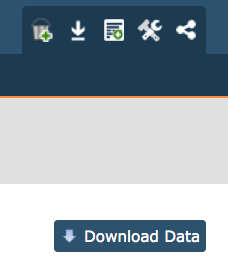 When you use Site Explorer, the number of rows of data that we show you depends on your subscription level. We show up to 5,000 rows of data for Silver users or 30,000 rows of data on Platinum.
You can either download the raw list of ALL your backlinks (using that down arrow in the image on the right), or you can download the data in the table. When you change to 1, 3 10 or "All" in the backlink filters, you will still get the full amount of data if we can… we don't just filter out the top links from the list of the first 5,000 – instead we drill down into the Site Explorer database to give you a new list.
So Why Did This Awesomeness Take So Long?
It is not often that Alex talks publicly, but this has been a hard graft and has given him something to really apply the grey matter to, so I asked Alex if he would give us some insight into some of the challenges.
Here's what Alex had to say:
---
It took us a while to offer this new functionality because we did not want to compromise on two important design goals:
1) to offer instant response to top backlinks queries regardless of how big the domain or URL is and
2) to always provide the best data from a full analysis of data available in index (a partial analysis of data is an unacceptable compromise).
Technically it is very difficult to satisfy those two goals because domains like Google.com have in excess of 16 billion links in our Fresh Index, and even more in Historic.
Our new system is flexible enough to provide limits of 1, 3 and 10 links per referring domain or no limits at all. This makes it useful for variety of different purposes.
Case in point:
Top 5 best links for google.com, comparison:
Top 5 best links for Yahoo.com, comparison:
In both cases Majestic returned data instantly and Competitor A took in the range of 30-60 seconds.
Why does Competitor A return such obviously substandard links? We can only speculate here but it seems that the reason behind it is technical in nature – due to the technology design choices Competitor A has made. To analyse all data on request, in our view, they choose to abort such processing early for large domains and thus provide only the best data they've found until the point at which they've setup the system to abort processing. In addition to this, their ranking algorithms appear to give very high ranks to some URLs that even intuitively should not be ranked as high. This may indicate fundamental problems with their link ranking algorithm which can compound the problem of partial data processing for large domains.
Alex.
---
Technical details and API
The new functionality is available in our existing API command GetBackLinkData:
1) to limit number of links per ref domain in response use the parameter MaxSourceURLsPerRefDomain=1 (also valid numbers: '3', '10' or '-1' for not limited).
2) to get up to 10 links per any ref domains supply parameter RefDomain=example.com
In both cases the "Mode" parameter can also be used to return top links (live or marked as removed/deleted) or just live links (not marked as removed/deleted).
Coming soon
The new API command that will allow you to create a download of up to 10 links for EVERY ref domain, more cost effective for large domains than existing DownloadBackLinks command.
In addition, the next Historic index, should also allow us to bring data into the full data set.

We've had great fun testing your new toy, and really hope that you love it as much as we do.
Latest posts by Dixon Jones
(see all)