We have boosted the at-a-glance data available to you in the Compare Summary.
Over the last year we have added more data points to the Site Explorer summary page for a domain, and from today you can see some of that new data, grouped and side-by-side, when you compare up to ten domains or URLs in the Compare Tool.
To look at the new data in action, let's use the official websites of the NFL's AFC West divisional rivals as the NFL was very much a talking point last month.
Here is a link to the Compare search we're about to use.

New: Page Titles and Topical Trust Flow
The first change that you may notice is that we're now returning the title of the root page, and primary topic of the website. This gives immediate reinforcement that we have the correct websites.
In fact, these two data points show that I do not have the correct URL for the Denver Broncos. Instead, I have a Broncos Fans Forum with so little Trust Flow that it hasn't found its way into the Sports / Football topic.
Let's try again with the correct domain.

That's better.
Now that I have the correct domains, I can compare the websites.
I see that they are all very similar. The darker blue bars show the 'leader' for each row. In this case, the Chargers have the greatest Trust Flow (63); the Chiefs have the best Citation Flow (51), and the Broncos the most backlinks and referring domains. The Chargers have most Indexed URLs (pages).
New: Average Total Outlinks Per Page
The next new piece of information to talk about is Average Total Outlinks per Page. This is new today, and shows how many outlinks are on a typical page on the domain.
In our example, we can see clearly that the Chiefs have, on average, 123 links on each page. By comparison, the Broncos have only 43. But, what's an Outlink? Is it an internal link, or external link?
Let's click the blue [+] and find out….

Both the Broncos and Chargers appear to be very stingy with their external links (only 8 each). In fact, as both of these teams will have links to their own social media sites, it's highly likely that most of their external links will point to their own assets on different platforms. In comparison, the Chiefs and Raiders have sites that are littered with links to external domains.
Why does this matter? You may not be looking to place your link on an NFL team site, but you now have a way to compare up to ten sites that you do care about, and immediately see which ones may be most receptive to a link request, or perhaps discount a low-quality directory site from your considerations.
New: Referring Domain Breakdown
Like the Average Outlinks, we have brought in the Referring Domain Breakdown from Site Explorer Summary.
Expand the Referring Domains row to see the breakdown of which type of links a site is getting from each referring domain.

In this view, it is possible to compare across each row. So, you can immediately see that with only 5,585 referring domains that have a Direct link, the small blue bar of the Chiefs is dwarfed by their rivals. In this instance, it tells us that the Chiefs have possibly changed URL recently, as most of their referring domains are redirected.
It's easy to investigate by choosing the cog beside chiefs.com, and right-clicking on Site Explorer > Backlinks to open in a new window.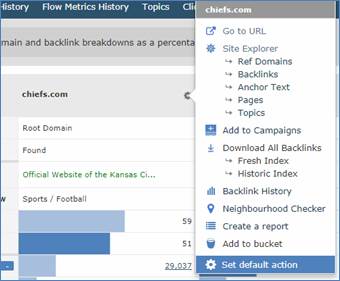 Immediately we can see that many of the Chiefs' links are coming through a 301 redirect from a former domain name.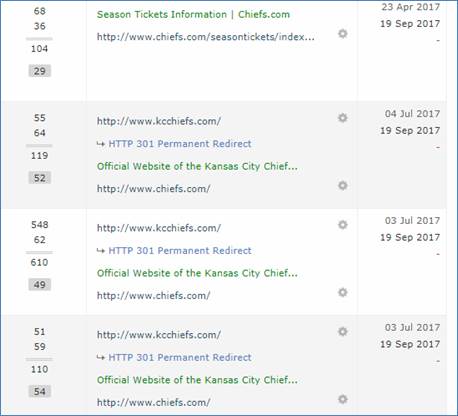 Why does this matter? By analysing the referring domain breakdown of similar sites in Compare, we can very easily see which ones don't behave like the others. In this case, I may not have noticed that the Chiefs were so reliant on 301 Redirects from a legacy domain name than if I had checked out their site in isolation.
New: Backlink Breakdown
Very similar to Referring Domains Breakdown, this area breaks down link types even further.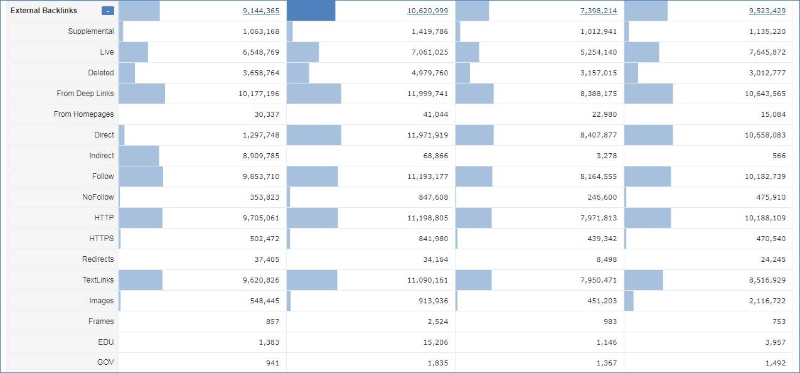 There's a lot to digest here, but two things jump out.
1. Reinforcement that the Chiefs are still migrating their link profile from a legacy domain… they have seven times more Indirect links than Direct.
2. While all teams have more-or-less the same number of backlinks, the Chargers (column 4) have a relatively small number of links from homepages when compared to their rivals. That would be interesting to investigate.
New: Breakdowns as Percentages
By default, as seen in the examples, we have left the number of Referring Domains and Backlinks as absolute numbers – this makes it easy to compare exact number across all competitors.
We realise that sometimes you will prefer to see what percentage of a website's links are Direct, or NoFollow, or from an HTTPS link.
In this instance, all you have to do is choose the "Yes" button at the top of the page.

When pressed, Referring Domains, Backlinks, Indexed URLs and Outlinks will all change to percentages.

It's important to note that these are percentages of that site's total for the category – so only 19.2% of the Chiefs' 29,037 Referring Domains have a direct link to chiefs.com.
New: Available in Fresh and Historic (and some limitations)
All new data points (apart from a single one) are available, in both the Fresh and Historic indexes.
The only new item that isn't available is the ability to see how many referring domains have an HTTPS link in the Historic index. Also, at the time of launch, Referring Domain Breakdowns are not available for URL searches.
We've had some niggles in implementation for both of these items, and we'd rather turn it off while we make sure that it's correct. We hope that you understand.
This brings an end to the update to the Compare Tool Summary. A full compare with up to ten different websites is available to all subscribers on our Pro plan and above.
As always, we really hope that you enjoy finding fresh insights with Majestic data, do let us know if you stumble across anything interesting that you'd like to share.
Latest posts by Majestic Marketing
(see all)