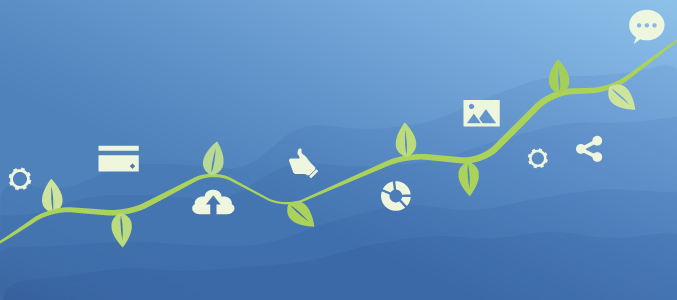 While we don't even notice most of these changes, Google tests about 42 new algorithm updates every month.
It gets better:
Thanks to independent web crawlers like Majestic, we know that Google has recently been playing around with their AI-powered Answer Box.
Google Answer Box is that little SERP feature that displays on top of the organic search results in the left column and tries to answer your questions directly.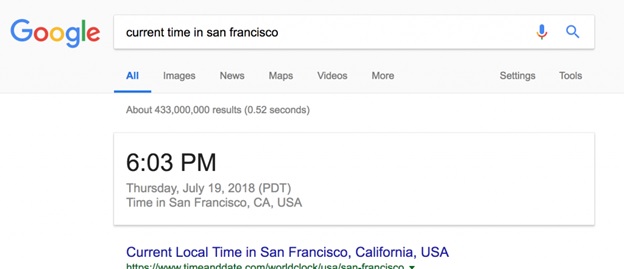 Ever since it launched, experts have been tensely watching how the Google Answer Box has been progressively covering a wider range of topics, giving birth to the idea that there might be a secret agenda behind these constant adjustments.
What if Google continues to absorb organic search results to the point traditional SEO is no longer worth the effort?
Think of it.
There's tremendous value hidden within every organic search result. It makes sense that a company like Google might want to use it in a different way that creates even more shareholder value.
As a matter of fact, several studies have proven that the Answer Box has been devouring the CTR of the affected organic search results (ouch!).
If we can no longer depend on organic search results, what we're going to do? Here you'll find a few ideas.
1. Turn to influencer marketing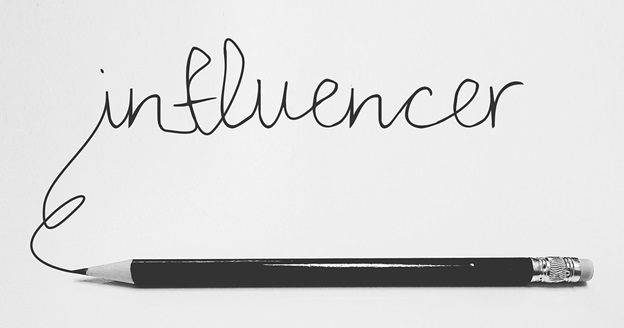 Every time an influencer uses a product or a service, they're shaping either positively or negatively, the decision making of those people who follow them.
Influencers are making top dollar promoting content and doing all sort of advertising. That's because they are excellent vehicles to spread the word about your products and services.
The real power of these influencers comes from the high level of engagement they achieve with their audience, coupled with the fact that the popularity of the social networks is off the charts right now.
However, the figure of a digital influencer has become a critical piece in online marketing, for its ability to persuade through content aimed at a specific audience, which goes beyond a social circle.
Similar to keywords, each influencer may perform better or worse depending on the audience they attract.
It's important to carefully study and select the best influencer for your business based on all the information you can gather and analyze
Turns out, with Majestic's side by side comparison tool you're able to spy and compare your target influencers.
Look at the following example: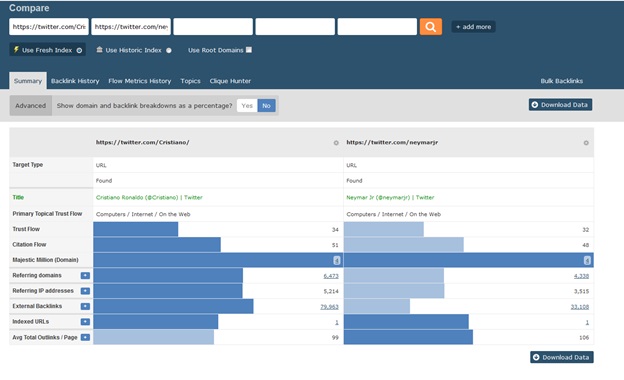 Here we're comparing two popular influencers on Twitter: Cristiano Ronaldo and Neymar Jr.
More specifically, we're comparing their influence on Twitter.
Analysing the data above, I catch the following takeaways:
Comparing the Trust Flow scores
Although both influencers are clearly well established, Ronaldo is seen as a slightly more trustable source on Twitter, with a TF score of 34 compared to Neymar Jr's 32 respectively.
Here's another one:
Comparing the TF/CF ratio
It is generally accepted that the higher the TF/CF ratio, the more trustworthy a website is. The same applies to influencers.
As a personal rule, I consider spammy/poor the sites with 0.39 and below TF/CF ratio.
Based on that, Ronaldo has a lot more external backlinks; (almost 80,000 compared with Neymar Jr's approx 33,000) which would suggest that Neymar is growing in popularity but is still a relatively new authority in the industry.
…and another one:
Comparing the Primary Topical Flows
The Primary Topical Flow provides us with a general estimate of each influencer's target audience. For both of these individuals, as you would expect, they cover the same primary topic of Computers / Internet / On the Web.
Wrapping it up:
You can always use the Compare Tool to check influence and see any potential opportunities, or other markets which competitors may be featured in, that you haven't quite explored yet.
But keep in mind it may prove more challenging as an unknown in a field, and probably more expensive too.
It may be easier to target a less or relatively new influencer, with a strong TF score, who like Neymar Jr, as a relatively new influencer and spectacular growth over the past few years, may be more contactable but still suitable for your brand.
Do you agree?
Let me know in the comments!
2. Turn to social networks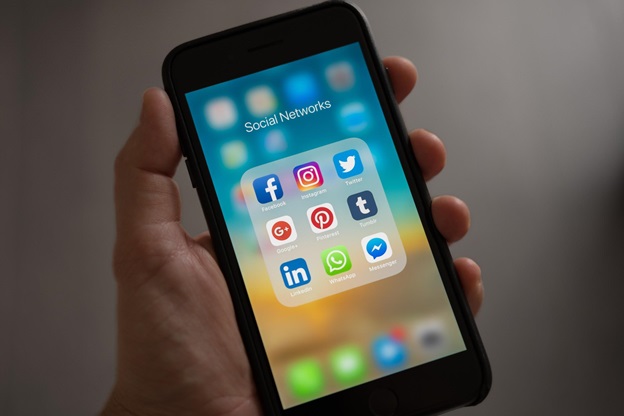 Or what I like to call "positioning through the use of social networks". Sites like Instagram, Facebook, LinkedIn, and Twitter are all excellent sources of referral traffic.
If used the right way, these networks could potentially drive even more traffic to your website than regular SEO.
And the best of all, you're not under the "Laws" of Google anymore.
3. Drive more traffic with Google image search

There's a huge traffic potential coming from image searches that marketers tend to overlook.
By properly optimizing your images, you could potentially get more traffic without relying exclusively on traditional organic search results.
Optimizing an image is very simple.
First of all, you'll need to name your images correctly. Try to keep it short by excluding SEO stop words, while including your focus keyword.
Secondly, configure your image's "alt" tag and include your keyword here as well. That's it!
4. Go all-in with videos on sites like YouTube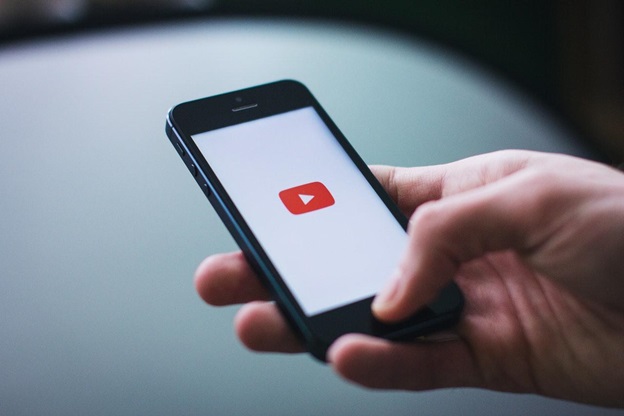 The video industry is literally exploding right now.
According to a research from Cisco, 80% of all web traffic will be related to online videos in 2021.
These days it is a very common practice to create video tutorials about anything related to your brand.
For example, imagine you are trying to promote your brand of wheat flour. So, you decided to make a few tutorial videos where you teach your audience how to prepare different types of pancakes.
Of course, you will recommend that to achieve the quality, freshness, and appearance shown in your videos, people should buy the same brands you've been using. Otherwise, they run the risk of not getting the same results.
This way, users will directly search for the same ingredients you used or even purchase them online in sites that sell your brand, making you less dependent on organic traffic.
This brings me to my next and final recommendation.
5. Invest in generating demand for your brand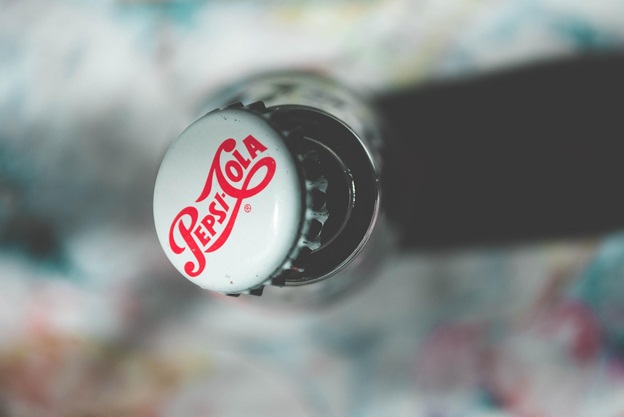 Regardless of the quality of a product, every time something new comes to market there is an initial reaction from the consumers: to try it.
That initial reaction, which may be good or bad, should not be taken as a guarantee of success or defeat, depending on the case.
It would be wise to try out some creative marketing techniques because no product of those that are offered on a daily basis in the world is sold alone.
It is very important to generate the feeling that if they do not acquire your product, they would be missing something unrepeatable and unparalleled. And yes, you can achieve that effect easily through influencers, social networks, and sites like Youtube.
Conclusion
The SEO industry is so dynamic it is almost impossible to predict what will happen next. However, one thing is for sure: There's life beyond Google's organic search results.
Social networks, influencers, video-sharing sites like Youtube, and good'n old branding are all great alternatives to consider. They all pack the potential to drive a similar amount of targeted traffic or even more if you excel at it.
Latest posts by Catherine Park
(see all)