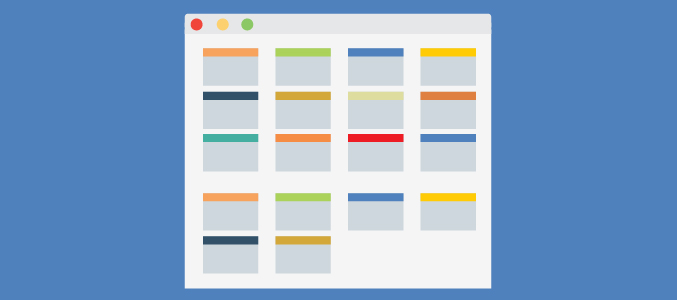 The client says to you, "Get me links – any link, all links!" Because all links are great? Not exactly. Not all links are created equally – and sometimes you'll need to explain to your client that it's worth disavowing a link.
In order to understand why you want to disavow an incoming link, I like to explain it to clients in terms of a bots as a surveyor of an enormous party.
The crawler's looking round and seeing who associates with whom.
It sees you (your website) and looks at the types of other folk (other websites) you're hanging around with.
If you're surrounded by low quality, thin content, spammy or sites not relevant to you, the search engine is going to think less of you. But, what do you do? This is where you're able to disavow those dodgy backlinks.
Effectively you want to wave your hands at the bot and say, "I am not with these guys."
In fact, you want to surround yourself with a more reputable company. Because if you're hanging around decent websites, then you'll be associated with them. Or, if I banish the analogy, you want sites with high traffic, high page rank, high DA, high PA – and to bring it back, you want to be around people living the high life.
But how do you spot those pesky links?
What is a good link?
It'll be obvious what a good backlink is if it comes from an authoritative site, such as The Guardian, BBC News or The New York Times. They're well-known. They're trusted.
But if you're running a small ecommerce build, it's highly unlikely you'll get these more lucrative backlinks. The BBC News might not want to hang around with you.
Never fear, you don't have to set your standards so high in order to be trusted. It's no good having hundreds of links from one domain. You want to be seen as a reliable and relevant source form a diverse range of sites.
Link building is incredibly important from an SEO perspective. Your site should always aim towards building a strong catalogue of strong links.
What is a bad link?
To decide what's a bad link is not as simple. You should consider a number of factors when carefully choosing which backlink to disavow:
Thin Content: a moderate way of evaluating relevancy is if the content on the page is gaunt or lacking any substance.
Not Relevant: relevancy is essential. If you have a huge number of links from sites juxtaposed to your core trade, this going to be flagged as suspicious by the crawlers.
Paid Links: they are unnatural and Google says so.
Spammy/Low Quality site: this is related to content as well, but if you see a site that's particularly buggy or not responsive it's worth deep diving into the site's metrics.
Links from outside your language: If your business is localised and you're getting heavy backlinks from across the globe in different languages, this may be a sign there's something weird going on, as this relates to the relevancy to the user.
Directories: one that rots at the back of most older sites is the ancient tactic of adding your site to as many directories as digitally possible. It's not only useless but could face penalisation from the search engines.
What you define as a bad link is up to your discretion. But you should think carefully and back this up with as much data as possible before giving the backlink the chop.
You'll have to make the bold choice of: "Whether tis nobler in the SERP to suffer the slings and arrows of outrageous backlinks."
(I wish the references to The Bards work would end here but they don't.)
Finding all the backlinks
You want to be collecting as much backlink data as possible from a variety of sources. The recent Majestic and SEMRush integration development gives you a platform to get various metrics to measure the bearing of the link.
Using this tool, it's never been easier to create a conclusive link audit side-by-side with metrics from both platforms, which makes compiling all the data an easier process.
Once you've exported all your data into a spreadsheet this will give you a good idea of the total linkage to your site and should look something like this: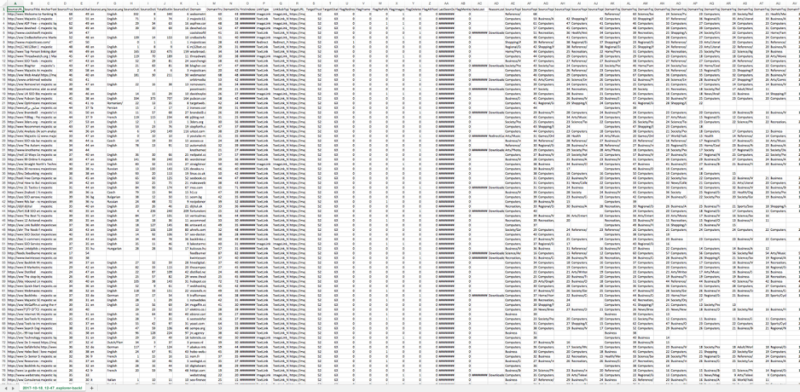 Measure relevance through metrics
The great thing about using backlink platforms is that they come with their own metrics, and they can advise when it comes to understanding how search engines see these sites. Some of these include a domain score, trust score, page score or spam score.
Here you can gauge the trustworthiness of the site. Using a series of algorithms, the metrics are based on numerous factors including links to the particular URL from high authoritative sites, internal to external link ratio or whether any potential spam warning comes up for that particular site.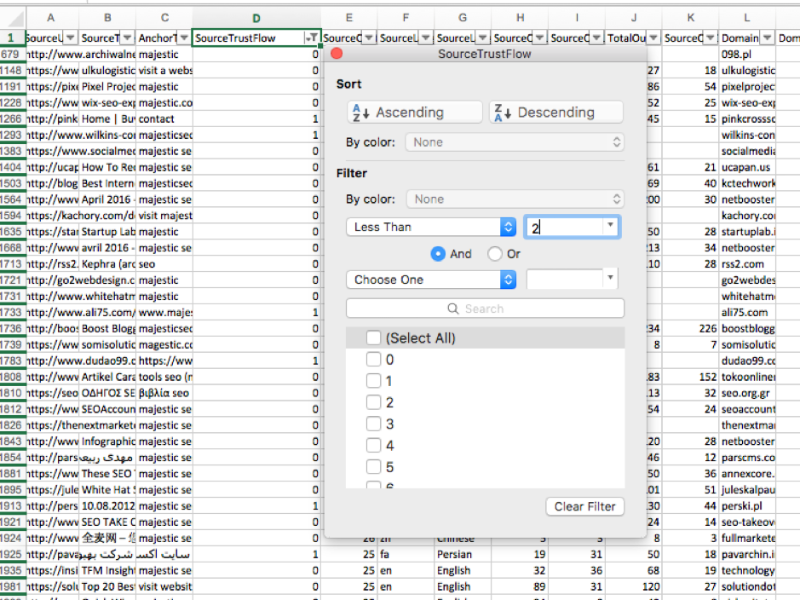 No matter what tools you've used, get a good spectrum of data across all the platforms. But don't be too judgemental, as low-value metrics may be due to the following factors:
The site may be fairly new and has not yet had the time to build a considerable body of links.
Some parts of the site may be blocking the crawlers.
Just because the domain of the link is bringing no value, this is no reason to add it to your own disavow list. When using the disavow tool, you want to be looking for harmful links and these have the potential to grow. But it's always best to monitor who is linking to your site as often as you can.
Other factors to consider
You may be stuck whether to disavow at the domain level or just the link.
For spammy sites disavow at the domain level. But if the site is reputable, just disavow the link, as even though the page that's linking to your site might not be relevant, it could be possible that you're missing out on any future opportunities.
However, this is very unlikely, and the rule of thumb is usually to disavow at the domain level.
If the site is of low quality you may think that it's not worth following if it contains the nofollow value. This may not be the best practice as you can't be monitoring external sites 24/7 and the site might change its current form. All those nofollow attributes from dodgy sites may become follow attributes in the future.
Results to measure once completed
Once you've submitted the disavow file, keep an eye out for any position changes within the SERP and traffic.
You may want to wait a while. You'll have to be patient as you'll need to hold for the crawlers to crawl the link.
Fluctuations may be subtle, but if you see a heavy downturn you should look at your what links you've disavowed, as you may have been a bit heavy-handed with the axe.
So, there you go. I hope this gives you some insight into what's a worthy link to your site, and remember the famous words of Shakespeare:
"Nothing is bad or good but linking makes it so"
Latest posts by Daniel Liddle
(see all)