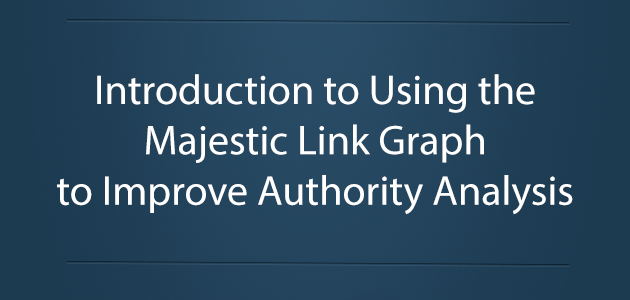 This webinar is the second in a three-part series helping marketers to understand the impact of backlinks on their website. We discuss how to use Majestic's new Link Graph tool to improve your SEO strategy in relation to a website's relative authority.
Take a look at our recap of the first webinar: Understanding How Backlinks Influence Organic Traffic
Once again the webinar was moderated by Kristine Schachinger, while Brooke Sikora from Inseev Interactive and Majestic Ambassador Bill Hartzer talked about the Majestic Link Graph, how to identify links with authority, and how to use the Link Graph to identify opportunities for new links.
You can watch the recording of the webinar below or view the slides:
Webinar Recap
Why are links important, what to look for in a Link Profile, and how quality and trust is defined.
Brooke and Bill started the webinar with a recap of why links are important.
Bill then went on to explain what to look for in a Link Profile, such as the relevance of the linking page to your site, the anchor text used to link, and the number of other outgoing links on the linking page.
Identifying Authority Links
In this section Brooke showed us a couple of videos of the Link Graph tool in action, and how it can be used to show the 2nd, 3rd, or 4th level Tweets.
Brooke shows how to build a Link Graph of sites where the Trust Flow is in a specific range, and how to download Tier 2 websites into CSV. She then demonstrates how create a Pivot Table, and highlight interesting prospects using a formula for determining authoritative sites with a healthy backlink profile (a Trust Flow : Citation Flow ratio of greater than 0.80).
How to use Link Graph to look for new link opportunities
Bill then shared a workflow for using the Link Graph to find new link opportunities:
On Majestic.com, go ahead and enter your URL, let's say I'm majestic.com.com, and then go to the backlinks tab. From there, if you see on the left hand side, you can narrow down to sites with a high Trust Flow, such as between 41 to 60. Then click on the 'Build Link Graph' button so we can start looking for opportunities.
Our site is that red and yellow dot in the middle of the graph, and as you mouse over the graph you can literally see the tier ones, tier twos, etc.
The tier ones are the links linking directly from one website to majestic, and the tier twos are the ones linking to the tier ones. So those are influential sites and are the opportunities that we can find, and in most cases they're going to be on topic.
If we filter more before hand, like we did with Trust Flow but with other factors, then we can narrow down more to find other influential links that we want to look at and see if we can get linking to us.
Building Authority Links via the Link Graph
Brooke and Bill then rounded off the webinar by sharing another way to use the Link Graph – and that was to use it to discover the influential tier 2 links in your competitors Link Profile, and then targeting those for your link building!
Q&A
At the end of the webinar Kristine kicked off the Q&A session with questions from you, the audience, where more tips on link building and outreach was shared, how to work out the relevancy of the target page when it becomes 2/3 links away, and how to use the Link Graph tool to find bad links to your site.
Next Webinar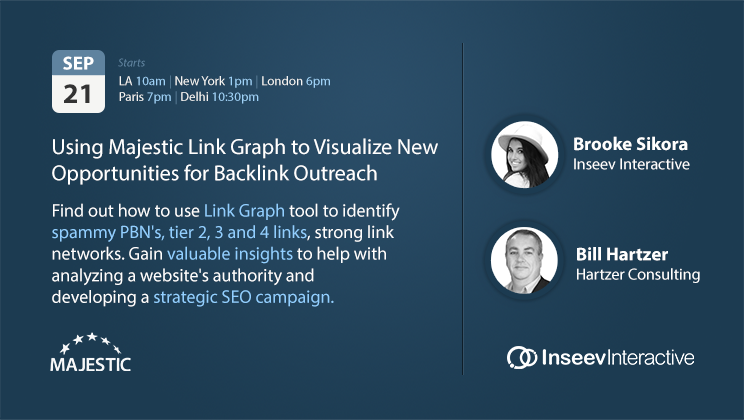 Join us on September 21st when we'll be looking at Using Majestic Link Graph to Visualize New Opportunities for Backlink Outreach. Brooke and Bill will provide a thorough analysis of Majestic's new Link Graph tool to identify spammy PBN's, tier 2, 3 and 4 links, strong link networks and more valuable insights to help with analyzing a website's authority and developing a strategic SEO campaign.