Many people are asking themselves the same question:
How can I find the

backlinks

to my

website

?
It seems too many people do not know how easy it is to download all their
backlinks
with one click.
It is also free for your own sites
. More about that in a minutes.
Every Backlink in One Click.
It doesn't matter if your site has 50 or 5 million links –
Majestic
can give you this data on demand for all except the world's largest sites. (Amazon and Twitter take a little more preparation!) We created our raw export button around Christmas time and this might be why so many people missed it.
How you can find

backlinks

to your site
Step 1
: Log in.This can be done starting on a free account. You do not need a paid subscription to
Majestic
to download your own link profile. More about verifying your account at the bottom.
S
tep 2
:
Type in the
website
you want data for.

Step 3
:
CLICK THIS BUTTON!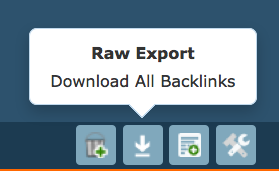 This button gives you every link into the site, with its overall Trust Flow score. If you had chosen the scope to be "URL" level (as opposed to root level) then you will get the links to that individual page.
Did you say FREE?
If you have a paid
Majestic
account, you can do this for most sites easily enough, but if you own the site and "FREE" is the only price you are willing to pay, then we still give you the data.You do, however, need to first verify that you own the
website
and that we have permission to crawl it. Verifying it is very easy. Just go to
https://www.majestic.com/webmaster-tools
and type in your
domain name
to see the various options. If you have verified your account in the
Google
Search Console, then that's probably the easiest way to also verify the site with us.Once verified, the Raw Export button above will work for your site too.If – on crawling – we report a 403 Forbidden or similar error, it is likely you have chosen a hosting company based on price and they are saving bandwidth costs by blocking bots.Please, in the first instance, contact your webmaster requesting that
Majestic
is given access to your site. It is a contractual requirement that we can crawl your site in exchange for your data free of charge.
What extra data do I get if I pay?
Free accounts get to see the overall Trust Flow and Citation Flow of each link and each site, but paid accounts get much more detail with our new Topical Trust Flow, showing you what topic each of the links is about. Flow Metrics are the simplest – and yet most sophisticated – scoring metrics for
web pages
and
web sites
. Considerably more useful than
Google
's
PageRank
.You can see more about Flow Metrics that come with a free account
here
and more about the new Topical Trust Flow for paid account only
here
.
Is it expensive?
Even though we have a larger index than anyone else (Today our Fresh index reports billions of URLs found…
click here
to see our plans and pricing .For a business that has to crawl 4 times and many pages in a day as there are Tweets in a day, this is a great achievement.
But I can see more links in

Google

Search Console
Google only lets you export 100,000
backlinks
– so if your site has crossed that threshold then this is unlikely. Even so, Google's crawl is independent of
Majestic
's, so they are rarely the same.Luckily, we do have a URL submitter service for paying customers – so you can upload up to 100,000 links through this tool and we will change our crawl priorities so that we can hopefully see and score these URLs.This link data can come from any source, as long as it is in CSV format. Another "trick" for advanced users is to export our historic index for your site and upload these to our URL Submitter and we will then go and recheck all of the data we have looked at over the last five years. Within a few days you should see all the relevant and current links in the fresh index.
Latest posts by Dixon Jones
(see all)