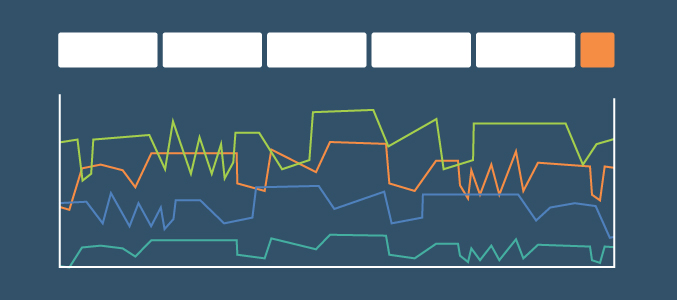 Trust Flow is a great metric by which to measure the importance of a website or a web page. However, it's clear to most people who use Majestic a lot that Trust Flow can rise and fall over time. Now, those important changes in value can be instantly found through the new Flow History Tool.
As Dixon mentioned in his post last month, the capacity of the history tool has been increased from 6 months to 18 months of data. This is the gateway to an incredible amount of information on both Trust Flow and Citation Flow.
I'm particularly interested in Trust Flow but the tool also allows exploring Citation Flow. In this article, I'll work through the type of data that you can get, and why it's important. It's still early days so rather than giving definitive guidelines, I'll run through a quick example and share 5 early observations that might be worth debating.
Video of this article
I've done a video version of this article – it's the same content in video format if that's what you prefer:
This video has now been added to our free Video course on Udemy, where we know have over 9,000 students. You can check out the course at
https://www.udemy.com/getup-to-speed-with-majestic-link-building
.
3 reasons to explore Trust Flow History
There are at least 3 reasons to consider:
you can compare how your client has performed against their direct competitors over a defined period of time.
analysis of how the metrics change gives you a benchmark against which to measure your and demonstrate your progress
the history tool gives you a neat way of showing the benefit of your work and the success you have achieved – very helpful in retaining clients.
How 10 fast growing startups from 2015 saw their metrics rise and fall
I found a list of 15 start-ups from 2015 in this article, 15 of the fastest growing startups in the world still flying under the radar. The Flow Metrics History tool compares up to 10 domains so I wanted to select the top ones.
I grabbed the 15 domains, entered them into the Bulk Backlinks tool and ranked them by referring domains. From this, I chose the top 10 domains, adding them to the bucket and then sending them to the Flow Metrics History tool.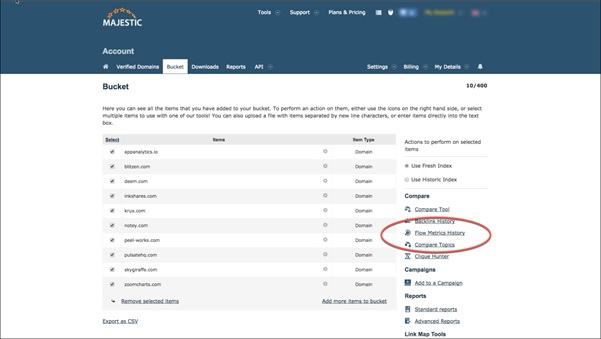 Here are the results: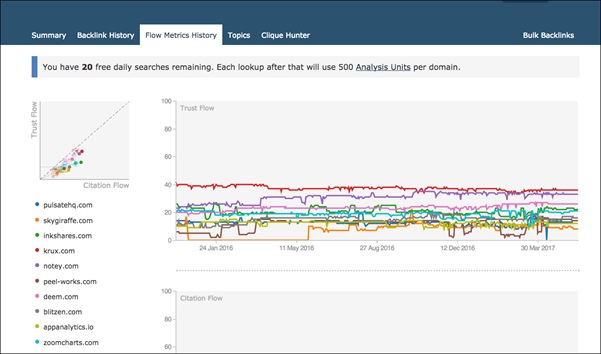 Now, at first glance you might find the results a bit overwhelming but the designers have made the chart interactive so that it's easy to dig down to the detail.
Here, I have clicked on the result for Notey.com at the start and then at the finish of the 18-month period:

You can of course do this for each 'domain line' and see the value at any point along the line. As you can see for Notey.com, the Trust Flow score at the start of the period was 23 on 4 December 2015, and on 23 May 2017 had risen to a score of 33.
By moving my mouse over the chart, I can then isolate any individual domain: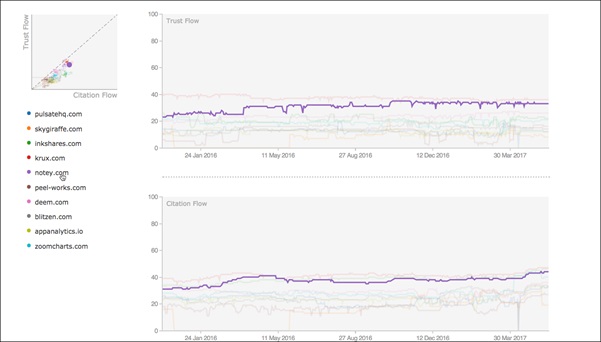 And the results can be downloaded as a spreadsheet file.
How did the metrics change over time?
Of the 10 sites I entered:
6 increased their Trust Flow
3 saw their Trust Flow fall
and one remained the same.
Here's a chart of the changes for each of the sites

So Notey, Skygiraffe abd Peel-Works made the largest gains, while Krux, Inkshares and PulsatehQ saw small drops.
Some early observations
It's early days yet, but I'm really excited about the potential of Historical Trust Flow. I think it can be a valuable way to gain insight into competitive environments, and perhaps, just as importantly, demonstrate the value of SEO and link building work that has been undertaken.
I think it's important to start testing the Flow Metrics History tool now, and explore how the results can be applied to your own situation.
Here are some of my observations – which may or may not be correct. I'm going to look forward to testing them out over the next few months, and would be delighted to hear your comments below.
Changes in Trust Flow metrics will be 'slow burn' rather than dramatic. You'll be likely to see only small changes over a period of time. Changes in Citation Flow will probably be more dramatic – however I don't think those are as important.
Managing increases in Trust Flow, say by 5 points, may be significant – but not that easy to achieve. So to achieve an increase in Trust Flow from say, 25 to 30 will be a big leap.
Changes in Trust Flow will tend to be on the conservative side. I think once established, reductions in Trust Flow will be less common than increases.
The higher your Trust Flow, the more difficult to raise it. As higher levels of trust flow are reached for strong domains, the task of improving them further will be increasingly difficult.
Active steps to increase trust flow will involve much more than traditional link building. Solid link building is of course a good start, but that will need to be accompanied by other significant work – good PR, building strong partnerships, gaining acceptance in the marketplace and building a loyal customer base.
Over to you…
So what do you think of the tool and my observations? What have I missed and what would you like to add?
Please share your thoughts in the comments below.
Save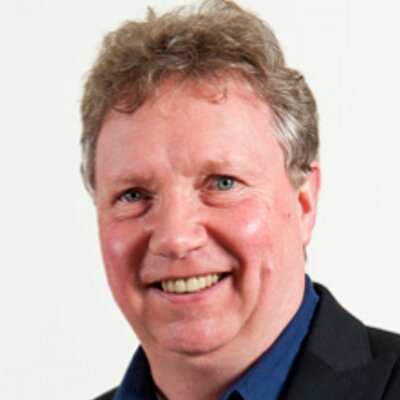 Latest posts by Ken McGaffin
(see all)