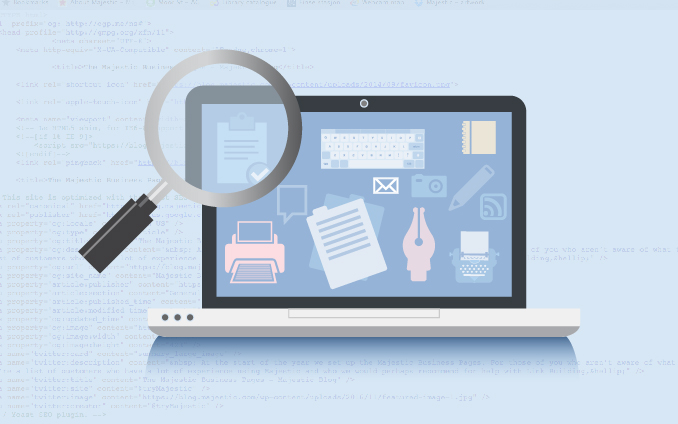 Eighty-five percent of B2B marketers cite higher-quality content creation as a factor contributing to increased success over last year, according to the 2017 B2B Content Marketing Trends—North America report from CMI and MarketingProfs. There are many reasons for a content audit, but these are the two primary ones:
Improve your content, improve your brand. At this year's Content Marketing World, Content Marketing Institute founder Joe Pulizzi's message was simple: "If you're not all in with your content marketing program, you should stop." A content audit is a way to enhance what your team's already produced. Even the very best blogs and publications have flaws.
Save time. It takes about a day to complete phases 1 and 2 to uncover numerous opportunities. That is time well-spent — now there's bonus time available to spend improving ROI.
In this article, I share a three-phase process for conducting an advanced content audit. Each phase includes actionable items for improving SEO and helping you exceed the content goals you and your marketing team have in place.
Let's dive into the first phase of conducting a content audit to improve your organic search presence.
1. Gather Data
1. Site crawl
To get a list of all your pages and the SEO info associated with each, use software to crawl all your content. Screaming Frog's SEO Spider works great for this. It quickly generates crawl data (including titles, meta, headers, etc.) for every page of your entire site. The paid version is worth the fee if your site is 500+ pages.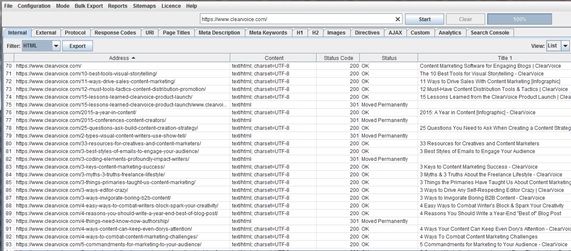 Once the crawl is complete, export your data for all HTML pages (found under the "Filter" drop-down in the upper left corner) to a spreadsheet.
In the sheet, keep your site's pages as organized as possible:
Start by sorting the URL column from A to Z
Then insert a new 'Content ID' column in which you'll give each of your URLs a unique identifier, starting with 'A1', 'A2' for the next URL, and so on up to 'A99'
Then go 'B1' through 'B99', Cs, Ds, etc. until you've got all URLs accounted for
The Content IDs are also what we'll use for mapping content to keywords and categories in the Analyse phase.
2. Backlinks
Inbound links are an important indicator of how valuable each piece of content is on your site, and we want to incorporate this component into the audit. Enter domain into Majestic Site Explorer and export all external backlinks to a new tab in our workbook.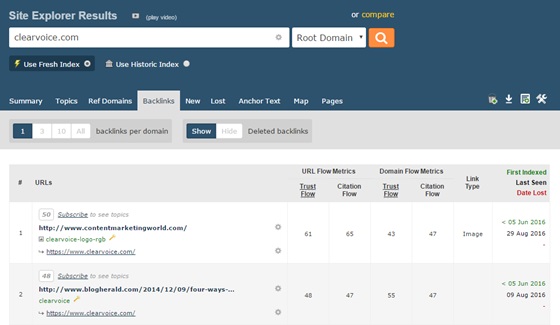 Next let's add a 'Referring Domains' column to the main sheet next to the URLs:
Add the number of referring domains by URL into Content ID sheet using the following formula (where the 'H:H' is your referring domains column range and the 'C' is your URL): =SUMPRODUCT(COUNTIF('referring domains by URL tab'!$H$2:$H$673,C5)
Your sheet with Content IDs and Referring Domains added in should reflect something like this:

If you've got your content marketing goals tracked in Google Analytics or elsewhere, you'll also want to pull and integrate newsletter subscriptions by URL into this sheet in a similar fashion. The same goes for average unique page views per month by URL. Also social shares, if you can obtain them.
3. Additional tabs
Lastly for this phase, create four additional tabs in your Excel workbook for more data gathering; we'll be adding to it in the next section.
Keep & Update. This bucket is for content that is great as is or can be improved.
Combine. This bucket is for content that is bad or doesn't fit a priority category and will be eventually 301 redirected into a superior URL on the site.
Keywords. This is where you'll add the priority keywords that you're targeting.
Categories. This is where you'll add your priority categories, where most/all of the content belongs to.
2. Analyse
Here's where the fun begins. Starting at the top of the list with Content ID 'A1', take a minute or two to evaluate each URL's content on the actual page and associated metrics on the sheet with the following lenses:
SEO lens – Is this post/page optimized? How much link popularity does it have? Review the SEO components — if you discover there are improvements that can be made, highlight and document the details in a 'Notes' column.
Content lens – Is it helpful content that your audience finds valuable? Does this post/page generate evergreen traffic/subscribers/leads/other content business goals? Does this post/page fit a priority keyword and category? Note the findings.
Once the first URL is evaluated:
Add the row of data (including notes) to 'Keep & Update' bucket tab if it's a keeper OR 'Combine' bucket tab if it isn't having much of a positive impact. Much of this is knowing your business and having a feel for what your audience finds valuable.
Add the URL's Content ID to all corresponding keywords on keywords tab
Add the URL's Content ID to the corresponding category on categories tab
On to the next Content ID with the evaluation process. As you progress down the list, many insights will appear:
You'll begin to see which content is performing side-by-side with what isn't. Take note of any themes here. For example, content about a few particular topics may, on average, generate more traffic, subscriptions and links than others.
You'll start to see the inventory and gaps of content with target keywords (including any potential keyword cannibalization):

You'll also see the inventory and gaps of content with categories:

By the time you've evaluated each page, you'll see more opportunities to improve your SEO and content marketing efforts than you initially anticipated.
Congrats! Now it's time to act on the findings and opportunities. This brings us to the last crucial phase of the content audit.
3. Take Action
By this point you've spent a decent chunk of time working on essentially creating more work to do, but hopefully you've identified several good opportunities for improvement.
Here are steps to take with each of the additional tabs we've created and added audit info to:
1. Keep & Update
Make all of the identified SEO improvements. This can include anything from adding a missing keyword component in the title tag and updating the URL slug to improving the alt tag of an image.
Make the content more helpful. For example, you could update copy to be more robust if people have commented asking for clarity.
Insert new links that readers would find helpful. These could be:
Make any image/video improvements to improve look and layout
2. Combine
Add column for 301 Redirect address.
Enter most ideal piece of content you're keeping to redirect the combine piece into (this should be easy, since you've just reviewed the entire collection).

Once finished, have another member of your marketing team — someone who's familiar with your company's content — review your work, so you're not permanently redirecting a post/page that shouldn't be for reasons that may not be obvious.
Implement the permanent redirects.
Prioritise Keywords & Categories.
Use this info to inform your company's updated content strategy moving forward by:
Documenting what is working well (and not so well) for the business
Identifying where the content gaps and opportunities are.
A content audit is a grind of a project, but it's an effective way to improve your SEO and content marketing and drive results on your company's content business goals.
About the Author: Ethan DeYoung is the Director of Marketing Strategy for ClearVoice, a content marketing software and marketplace connecting teams for efficiency. Connect with him on LinkedIn.
Save
Save
Save
Save
Save
Save
Save
Save
Save
Save
Latest posts by Ethan DeYoung
(see all)