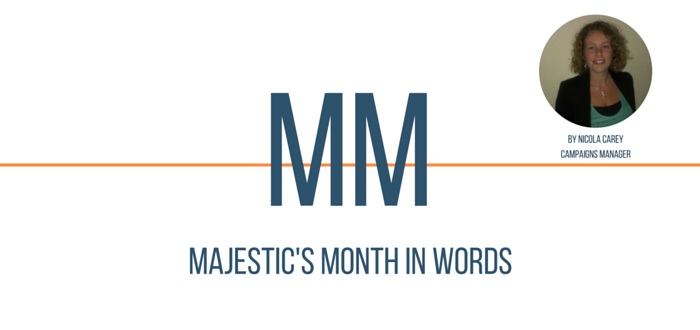 So following on from the first edition of "Majestic's Month in Words" in May which recapped the things I'd learnt in the last month, it's time for June's insight.
June was still a busy event period for Majestic as we supported six more shows across the globe. The first one started on the very first weekend in June and gave me the opportunity to travel to Spain for Congreso Web, which took place in Zaragoza.  For those of you who don't know, I am unable to fly at the moment so I'm travelling about via train; that in itself is an experience but should you have about 8 hours to sit on a train from Paris Gare de Lyon to Barcelona Sants then I actually recommend the views between the two stops; (just try to avoid any strike action on the days you travel… two hours standing in one carriage because the train's overcrowded from other cancellations I do not recommend!).

Now, I have to confess I can't actually speak much Spanish – "Hola" (hello) and "Gracias" (thank you) is pretty much my limit, but that didn't stop Congreso Web being a learning curve for me as Miguel Lopez spoke about the importance of the Clique Hunter tool to find networked links in his presentation; "How Pirates and Bucaneers compete in Google". The organisers also allowed plenty of time for networking and in fact, I have to say a special thank you to Café con Web, one of Congreso Web´s organizers for their hospitality and wine! I also want to say a big thank you to all those I spoke to who gave me directions and shopping tips. Yes, I made the most of the fact shops are open far later in Spain than they are in the UK; (a handy tip indeed!) 😀
But in Spain and throughout the month of June, at presentations from Web Marketing Training and  SEOontheBeach I picked up more professional tips and a reminder that SEO isn't just about boosting posts, paying for ads, analysing data, providing content to the audience; (although of course all this has a time and place), it's also actually about engaging with people.
What I learnt…
If you want to build your website, customer base or fundamentally your online profile, you also need to build your face-to-face networking and visibility offline to encourage your users, customers and potential new clients to actually like your brand and want to interact with it. Yes, it can be scary to do, but without trying, it's unlikely you're going to be able to continually deliver a product that develops a strong customer/brand relationship, and a link online or offline, as you're not going to give yourself chance to listen to the needs of your target market. I know, this may not sound like a particularly new idea, but I think it's sometimes the simplest ideas which are overlooked.
So if you're at an event I'd recommend not just attending the sessions but have a drink at the networking party – the crowd has to be the people you want to learn from or you wouldn't be there… right? Use backlink tools, such as Majestic (of course), and find who is linking and therefore liking your content. Use tools to discover who is no longer linking to you and find possible relationships which have been lost. See if there is more that can be done between the online relationships you have to widen your network or new bloggers/professionals who you can reach out to. In turn you will then build your own credibility and also that which you work on… your company, brand, website and so forth. Oh, and I'd also say, if you are reaching out don't be afraid to be a little bit different. At Jono Alderson's talk at UnGagged London I sat there with aluminum tinfoil on my head as he explained how to" Survive the Machine Revolution as a Digital Marketer of the future". I may have looked a bit unique, but it didn't stop me learning more about the control consumers have, and the importance of developing products based on user experience, for greater sustainability.
Save
Save
Save
Latest posts by Nicola Carey
(see all)