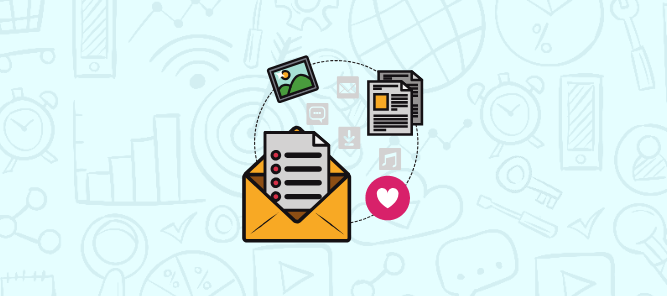 Trying to land quality media coverage before they launch is not something many start-ups would think possible. But Deborah Christel, founder of Kade & Vos believes different, and she's been rewarded with some fantastic coverage and PR links from the New York Times, Forbes and many others. Andrea Pretorian tracked her down to find out how she did it.
With product pre-orders set to launch in the summer of 2018, Kade & Vos is disrupting the fashion industry by accepting all body shapes and sizes. "We embrace curves but we don't design just for the plus size woman, we design for the real woman," says founder Deborah Christel.
Kade & Vos has already received high-profile media attention and editorial links from the New York Times in 'Bringing a Personal Touch to Plus-Size Fashion', and her local News-Tribune, 'Starting your own business in Tacoma?', and all the way through an upcoming interview in the September 2018 issue of O Magazine. They've generated a ton of buzz for being fearless about delivering quality regardless of size, which has helped them round up plenty of pre-orders.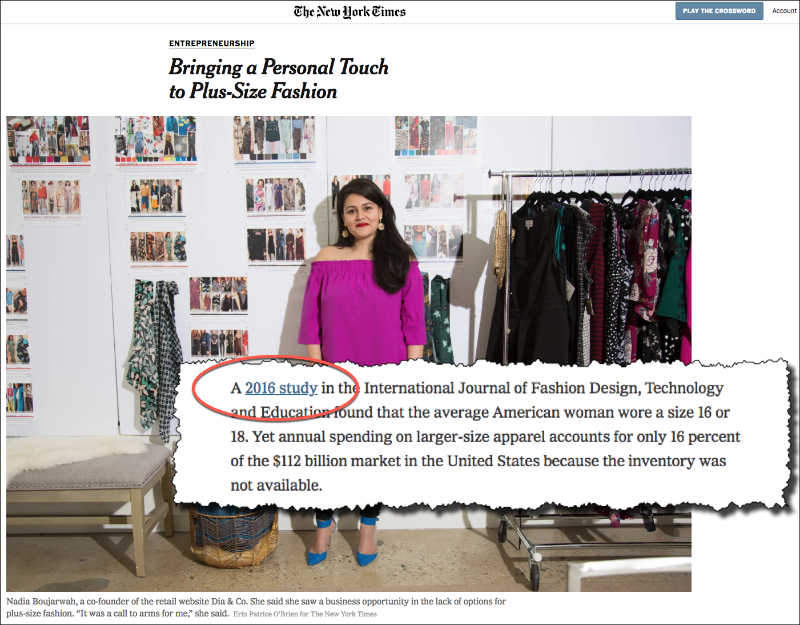 It's never too early to earn PR links
Wait a second. Kade & Vos has garnered an impressive array of top-tier publications (and pre-orders), but they haven't even launched their product yet? The short answer is yes.
In fact, their coverage has built them a huge following. After the New York Times article went live, the website saw a significant rise in site traffic, an increase in mailing list subscriptions, and higher brand awareness.
They could focus on what they set out to do in the first place: make the best possible quality product available, with a rapidly growing body of customers rallying behind them. They didn't have to worry about who'd be buying their stuff when it's ready.
---
 "The NYTimes did confirm they were going to link – waiting for that one to be published was nerve wracking – we were all so excited!"
---
So, take every excuse you can think of as to why you can't earn PR links and throw them all out the window.
No matter where you are with your business, there are powerful lessons to be learned from Kade & Vos on how to earn PR links—and build community in the process.
Here's the top 6 tips Christel shared in our interview.
#1 Never turn down an interview
The success we've seen from Kade & Vos is not the result of pure luck. They made a deliberate choice to make their brand easily accessible and highly visible in multiple ways – you can learn from them and apply them to your own business.
For starters, Christel doesn't worry about the small size in her business in her search for PR coverage.  "Don't ever turn down an opportunity to talk to someone," she says, "because even though it might be in a small college paper, that's an audience, and there will be a ripple effect." Even if you are short on time and swamped with tasks, making time to speak to people who reach out to you is a critical way to stay relevant and continue to grow.
---
"Even though it might be in a small college paper, that's an audience, and there will be a ripple effect."
---
#2 Make it easy for journalists to reach out
Kade & Vos has a full-time, in-office staff of only three people, and yet they have found the time to both launch their business, earn coverage and talk to the public. On their website there's an entire section of materials for the press, ranging from a simple, ready-made press kit through highlights of their coverage and a fast-track for media inquiries.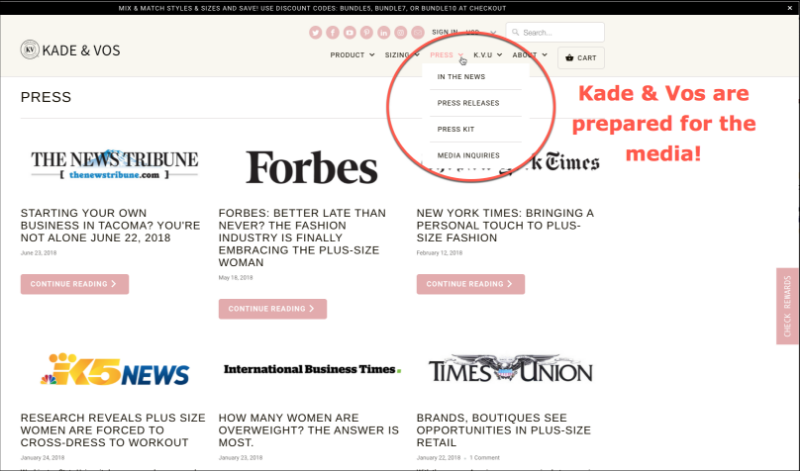 Christel knows that she is tied to her email, so she makes sure that it's front and center "so that people have a direct way to connect with me." The NYT reporter—who specializes in entrepreneurship—had heard about Kade & Vos and knew about Christel's academic background.
Being able to easily reach out to Christel helped the journalist set up a convenient, quick interview. "They also confirmed that they were going to link to our site," Christel adds, "waiting for that one to be published was nerve-wracking – we were all so excited!"
#3 Flaunting your expertise can win you PR links
Before leaving her post, to found Kade & Vos, Christel was a professor at Washington State University. Fueled by her hunger for knowledge, she still immerses herself in academic literature, with a particular focus on fat studies.
Citing recent evidence that shifts science away necessarily correlating high body weight to poor health, she noted, "What makes someone unhealthy is their behavior." She is always ready to speak to this—and the press noticed.
The New York Times was just one of the stories resulting from Christel discussing her academic expertise. But even if you don't come from academia, confidently using your work experience or interests will make you an expert in something.
Sharing this expertise can create natural PR opportunities for your business. Just look at how Christel uses her academic experience on Google Scholar: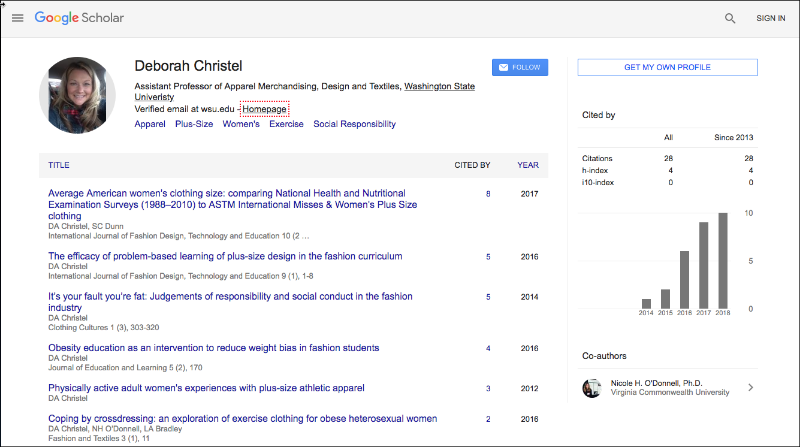 That's a clever piece of work and the page will rank well in the search results and is likely to impress any journalist looking for people to interview. This leads to a question every website owner should ask, 'Am I taking every opportunity to let people know about my own expertise?'
---
---
---
"Every website owner should ask themselves, 'Am I taking every opportunity to let people know about my own expertise?"
---
The Kade & Vos' team keeps up to date by reading all they can—everything from the news all the way through peer-reviewed studies—and finding ways to connect over what they read. Having an up-to-date Google Scholar profile has been an easy way for Christel to participate in academia and maintain a presence that highlights her interests and expertise.
#4 Keep listening to your audience
Kade & Vos has developed the healthy habit of listening to their public, with one of their key metrics being the number of comments they receive on social media.
By being aware of what needs exist in women's fashion and society's notions of appearance and body image, and specifically how this relates to their audience, they can position their messaging exactly where it needs to be.  The company can facilitate and guide these very conversations to lead back to their own brand and products. Don't limit yourself to conversations in your own vertical, rather reach out and connect with others.
#5 Local business experts can help you win PR links
Local business experts can share press contacts and can help spread the word about your company.
---
"One thing I think really helped us is that we connected with our local small business development center – they actually have a lot of press connections."
---
"One thing I think really helped us is that we connected with our local small business development center – they actually have a lot of press connections," Christel says, "That's as well as helping with many aspects of your growth."
Christel kept in touch with the office as Kade & Vos approached its launch date, keeping them abreast of developments and in return receiving relevant press contacts.
Christel encourages everyone to connect with other local businesses or start-ups and learn from their experiences, tools, and stories. After all, there's always something you can take away and apply to your own business life. But, she warns, "During any 'networking,' don't make it about yourself or your business. Make it about everybody else." This is a way to organically grow community, which in turn helps you increase brand awareness and facilitate publicity opportunities.
#6 Get some paid-for help if you need to
Don't be afraid to spend a bit on getting some extra help with your PR and social media, as a little investment in an expert can go a long way.
Although one of Christel's co-founders does most of their social media, Kade & Vos does work with a part-time publicist who helps them stay organized. "He follows us and keeps track of what we're doing on all our media channels, and he reaches out to point out strong points or where more posts are needed."
This helps the team focus on being where they need to be to grow out the business while also making sure that they maintain enough of a social media presence to sustain brand awareness.
Final words: Love your brand!
While it may not be surprising that this professor is finding some success through experimenting, what stands out with Christel is her awareness of those around her.
This feeds naturally into how she connects with anyone she's speaking to. She's clearly very aware of her brand and loves to talk about it, but she's always in tune with what the people around her want to talk about—whether a reporter, an obesity expert, or a random person on Facebook, she always knows her audience.
Many businesses get hung up on constantly trying to identify new perspectives or "the next big thing," which can feel so daunting they give up or don't really start their social media or PR efforts.
While there plenty of lessons to take away from Kade & Vos' success, the biggest takeaway is to never stop engaging. No matter what links or mentions you earn, buzz about your brand will always keep you connecting with new people—the very people who will spread the word about you, and ultimately who will buy your products.
---
---
Latest posts by Andrea Pretorian
(see all)